Coffee. A beloved beverage by many. Those who need their caffeine fix usually drink about two to three cups a day to keep their day right and sane. If you are going to have that many cups in a day, owning a coffee machine sounds just about right too. Look at it as a long-term investment instead of spending RM11 to RM14 on your daily visits to the cafe. On the bright side, you get to also play the role of a part-time barista and control the kind of coffee you want to create once you've mastered the technique of pulling a shot as well as steaming the milk.
What Are The Best

Home Coffee Machines

Out There? 
There are a slew of coffee machines in the market from DeLonghi and Nespresso to PerySmith and Giselle, and they come in a wide range of designs from elegant and retro to industrial-looking ones. There are brands that you haven't heard of before, but there are also others that have made a household name for themselves for decades. All were created with the sole purpose of ensuring we have a decent cup of joe even for beginners, whilst making our kitchen look like a magazine cut-out. 
Here, we feature 11 best home coffee machines that are under RM1000 in which Malaysians are seen to be purchasing online for their affordability and aesthetics. If you are more than okay not to own a Breville espresso machine, or the La Marzocco's of the world, then scroll! These machines are just as functional and will do the job for you.   
That said, we'd like to remind you to read up on the reviews by customers, and do thorough research on these machines before purchasing them so you are well informed of the pros and cons, and what would suit your needs better.
Home Coffee Machines

Under RM300 
Coffee makers are simple and low-tech. They retail around this price range because they only have one main function – produce coffee automatically. Coffee makers are usually best for offices, or if you are someone who prefers their coffee just black. 
Pensonic Coffee Maker

PCM-1902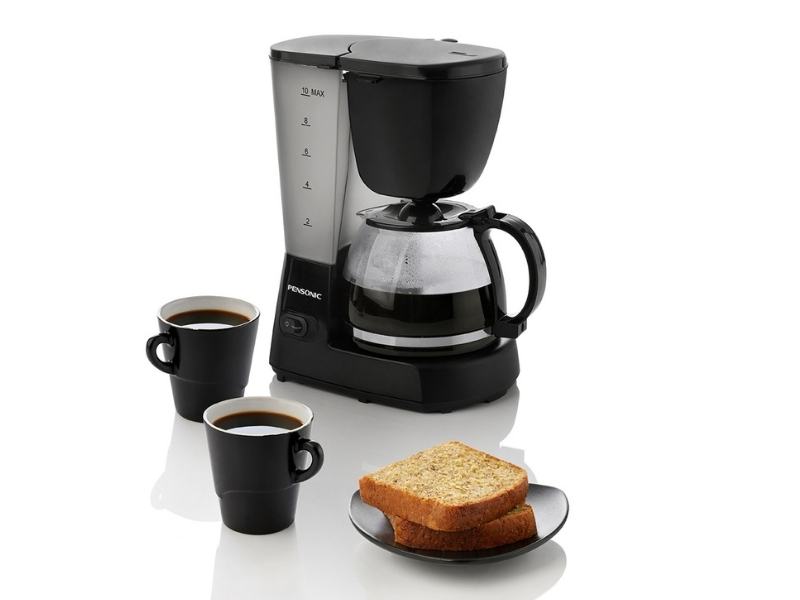 With the capacity to produce about 10 cups at a time, this Pensonic PCM-1902 coffee maker is perfect for those with a big household of coffee lovers. It is also quick and easy, especially for those who do not have time to sit and wait. All you need to do is put in the coffee grounds, fill in the water tank, and let it do its job. The Pensonic coffee maker also has a warming plate to keep your beverage warm. 
Capacity: 1.25L
Weight: 1kg
Price: RM67
Samu Giken Drip Coffee Maker CM10WT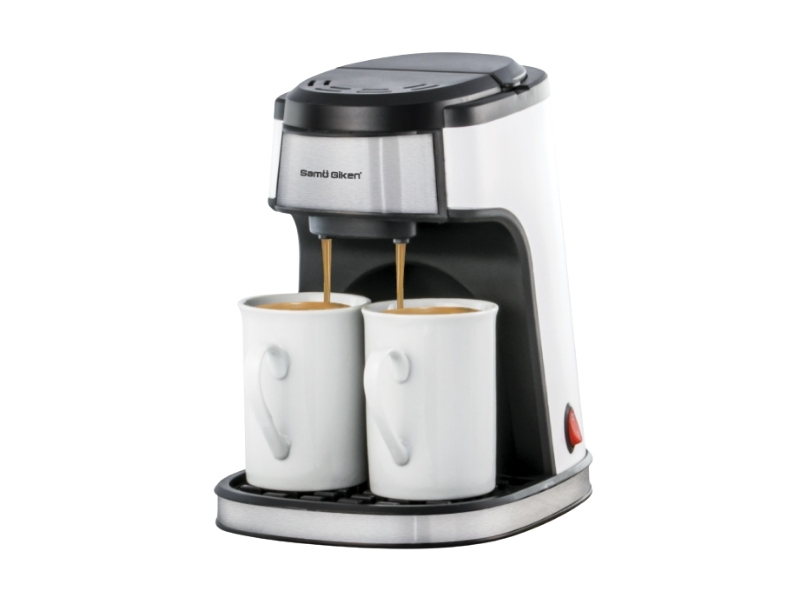 Samu Giken, a name we have been hearing a lot in recent years, and with positive reviews on their small appliances. The Samu Giken Drip Coffee Maker model CM10WT here makes fewer than 5 cups of coffee, but you can double up to make tea as well thanks to its drip filter. The machine comes with two ceramic mugs and a coffee spoon so you're all set with the accessories without having to spend another Ringgit. Apart from this, Samu Giken has other coffee machines with prices no more than RM1000… and we must say, they're pleasing to the eye like the Samu Giken Espresso Machine CM20RG model. 
Capacity: 240ml
Weight: 2kg 
Price: RM159.90 
KONKA Coffee Maker KCF-CS2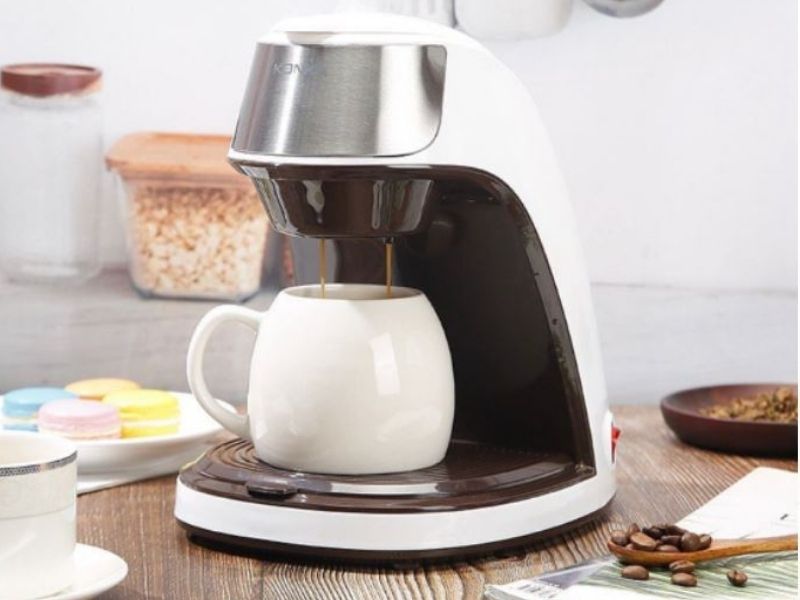 Sleek and just downright cute—what a way to greet you in the morning. The KONKA KCF-CS2 coffee maker functions like its two contenders up there. All you have to do is pour in grounded coffee into the filter, add water in a separate compartment, and press the button to start. It takes about 4 minutes to extract a cup of coffee. You can also make tea with this, and with its compact size, you can place it anywhere. This appliance is also easy to disassemble and clean. 
Capacity: 300ml
Weight: 1.61kg
Price: RM202 
Home Coffee Machines

Under RM500 
This is where it gets a little bit more complicated now that the machines come with more than one feature. This includes a steam wand that is attached to the machine for you to steam your milk. You don't need to invest in a separate milk frother if you love latte or cappuccino more than Americano.  
You may feel overwhelmed by the many buttons and what have you, but this is also where the fun begins because you get to play barista and build a close relationship with the machine. 
Lebensstil Kollektion 15 BARs Pressure Espresso Machine | LKCM-112X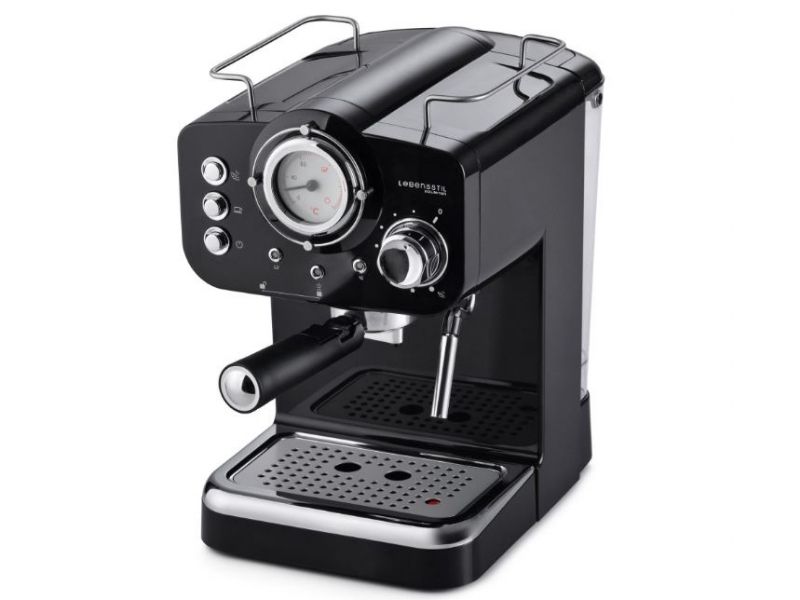 A beginner-friendly machine because it is basic, easy to operate yet has the important features. The Lebensstil Kollektion LKCM-112X is equipped with lighted indicators and a detachable transparent water tank. Seeing as it uses 15 BARs of pressure, you can expect the machine to produce rich and creamy espresso. "BAR" is a measurement for atmospheric pressure exerted upon coffee grounds. In simple terms, this just means the pressure that is used to push water through coffee grounds and along with it extract flavours, oils and other soluble components. 
Capacity: 1.25L
Weight: 3.9kg
Price: RM499
Giselle Espresso Machine KEA0330RD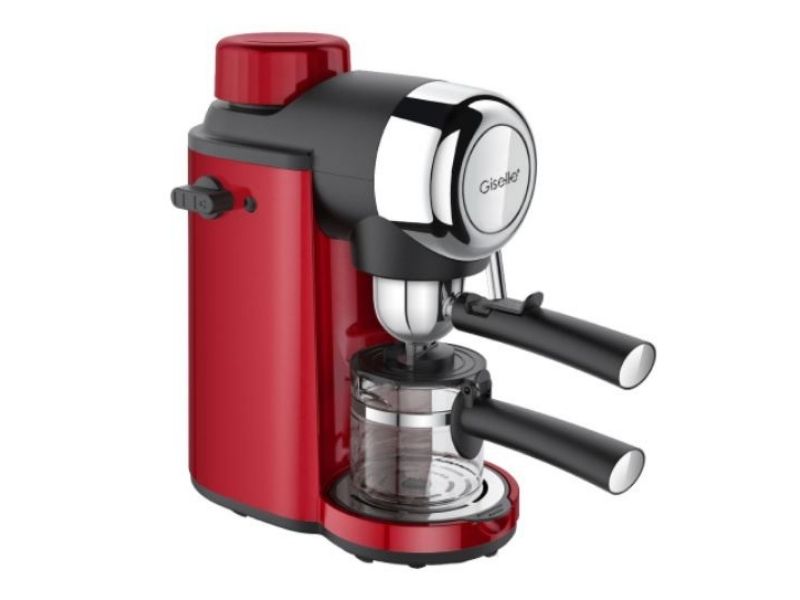 This Giselle Espresso Machine KEA0330RD packs a punch that even its tagline "Coffee so good, it'll make a barista cry" has to justify its performance. For those who love coffee and everything red, we dare say this could be just the toy for you. Simple and clean, this little one is also recommended for beginners. We say this because you practically control everything, from producing espresso to steaming the milk, with just one knob. 
Capacity: 240ml 
Weight: 1.84kg
Price: RM499
Home Coffee Machines

Under RM700
Best part about owning a coffee machine is that you can make coffee at any time of the day. Here are some of the considerably affordable espresso machines that continue to impress us with their functionality and aesthetics. 
Nespresso Essenza Mini

Ruby Red D30-ME-RE-NE2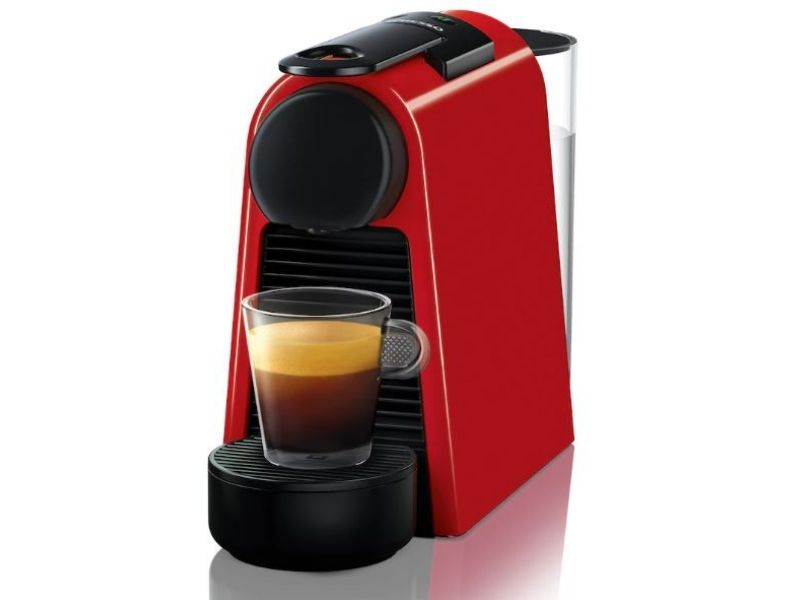 If the process of grinding your own coffee beans, then putting them into the portafilter before spreading and compacting the grind is a lot of work, it's okay! Don't feel bad because if a step is done incorrectly, it could cause a bad extraction of your coffee. Consider Nespresso which has a variety of compact coffee machines for you to choose from, including this Nespresso Essenza Mini Ruby Red D30-ME-RE-NE2. We know of someone who actually has a Nespresso Essenza Mini at his desk in the office and he swears by it. All you need to do is put the water in the tank, add in the coffee capsules (it has to be Nespresso capsules) and wait for your coffee to be produced. What's exciting is that the coffee capsules come in a wide assortment of flavour profiles and intensity for your ever-evolving taste buds. 
Capacity: 600ml
Weight: 2.3kg
Price: RM649
Petrus PE3320 20 BAR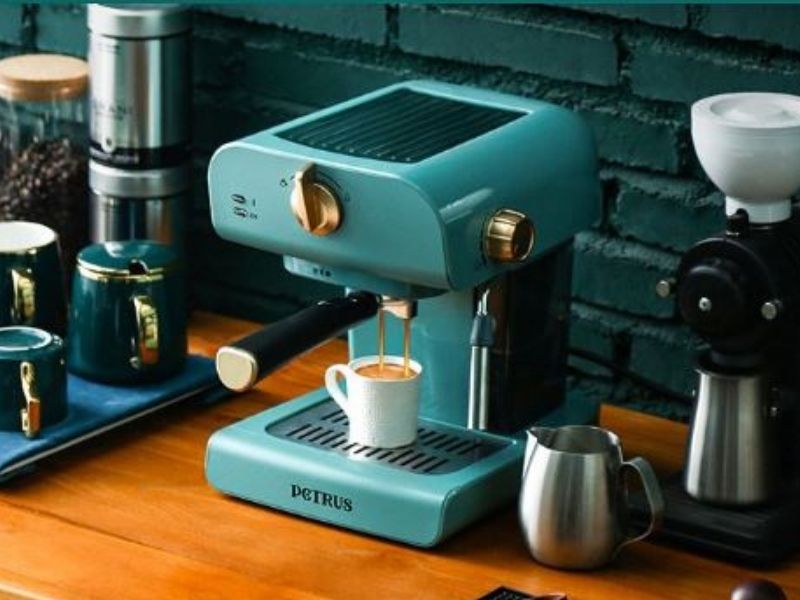 A retro-looking coffee machine that would make your minimalist home cantik, and your kawan jealous. The Petrus PE3320 is also easy to use, so you can make them doubly envious of your coffee-making skills. Two knobs control the processes: one that lets you determine whether to pull an espresso shot or steam the milk, while the other controls the steam pressure coming from the steam wand. Plus, this one uses 20 BARs of pressure although some may dispute it as producing over-extracted and burnt espresso if it is over 15 BARs.  
Capacity: 800ml
Weight: 3.2kg
Price: RM699 
Giselle Espresso Coffee Maker

KEA0334CR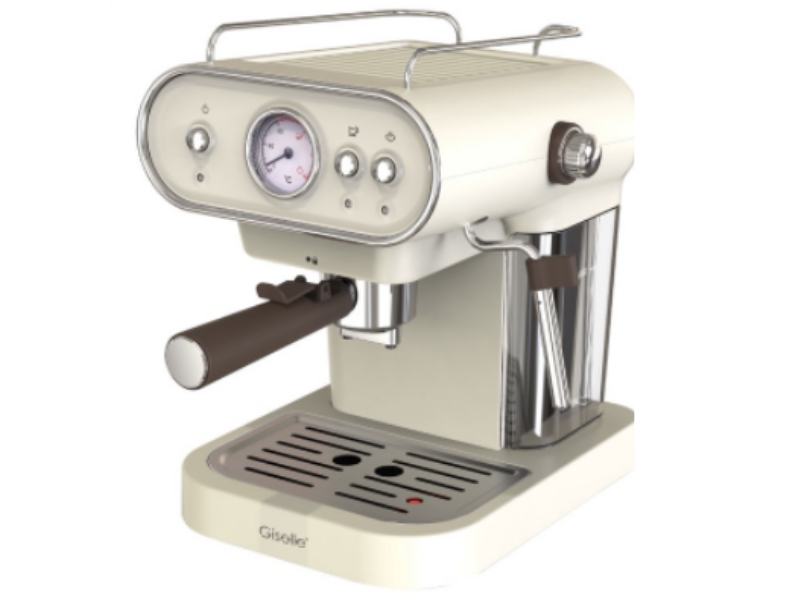 Another good-looking machine to populate your IG with #brewathome and #espresso pictures. Giselle Espresso Coffee Maker KEA0334CR functions just like the other coffee machines. What's interesting is its flexibility because you can either pull shots through coffee grounds or use a coffee capsule. That offers you the opportunity to be lazy on some days and hardworking for the rest.
Capacity: 1L
Weight: 3.54 kg
Price: RM599
DeLonghi EC230BK Stilosa Manual Espresso Maker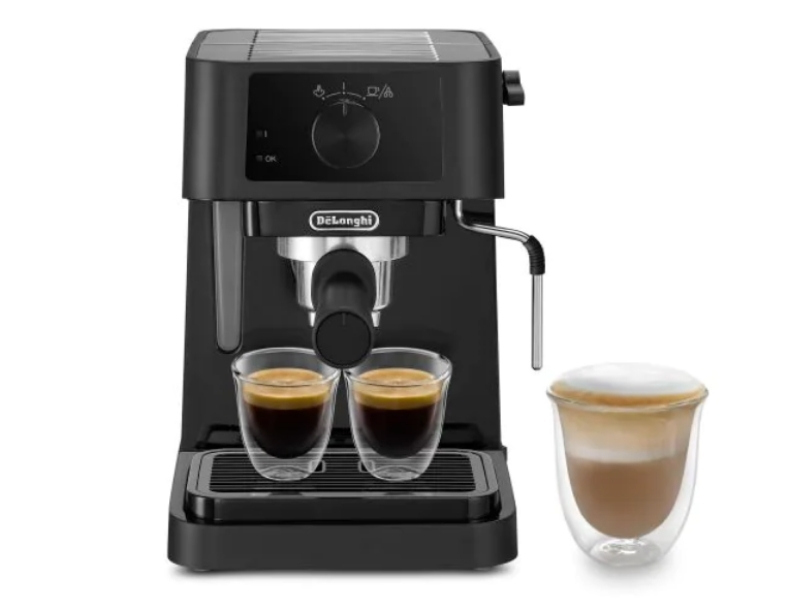 The DeLonghi EC230BK Stilosa Manual Espresso Maker is one of the more affordable DeLonghi espresso machines by the brand. Its 15 BAR pressure pump allows for a delicious espresso with nut-coloured crema, and would make any owner proud. Who wouldn't be if your espresso is produced by a world-renowned brand for its coffee machines? This DeLonghi espresso machine also features a removable drip tray that allows extra space for a bigger mug (110 mm height), and a stainless steel boiler that makes it high in durability, thus ensuring consistent in-cup results. 
Capacity: 1L
Weight: 4.3kg
Price: RM664
Home Coffee Machines

Under RM1000 
The list continues with coffee machines from brands such as MBH and PerySmith, but there are other brands too including Samu Giken and Nespresso with similar offerings within the price range. That said, don't be bummed by the figure because the brands do extend discounts every now and then, or when there's a sale taking place.  
MBH Barista Pro 20 BAR Espresso Machine  
Reviews by customers have all pointed to the satisfactory usage of this machine – MBH Barista Pro 20 BAR. While it is easy to operate with the push of the buttons, many have also exclaimed that the MBH Barista Pro 20 BAR produces good quality espresso with crema. On top of that, the steam is powerful which makes for good latte art. 
Capacity: 1.5L
Weight: 4.5kg
Price: RM899.90            
PerySmith Espresso Coffee Machine Retro Series RT2000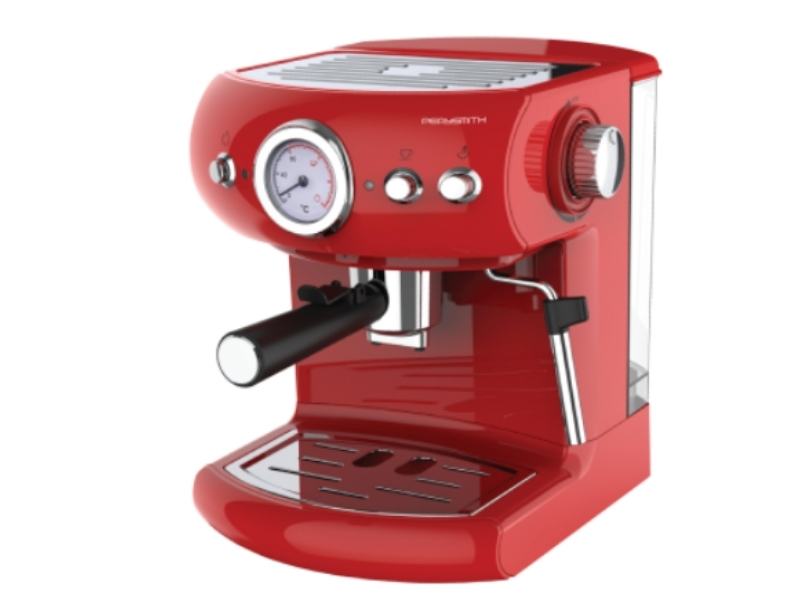 A red, retro-design coffee machine for that splashing statement amongst your kitchen appliances. It even has a steady top cover to place your mugs for easier reach. PerySmith Espresso Coffee Machine Retro Series RT2000 is engineered with a 20 BAR pressure pump so you can expect a robust shot of espresso. On top of that, its quick heating system allows for fast preheating of the water in just 60 seconds, and 9 seconds to make the coffee. Adding on to its appeal is the 2-in-1 coffee capsule and powder usage which allows you to make your coffee using grounded coffee or a capsule. 
Capacity: 1.5L
Weight: 5kg
Price: RM919
Make Awesome Coffee With These

Home Coffee Machines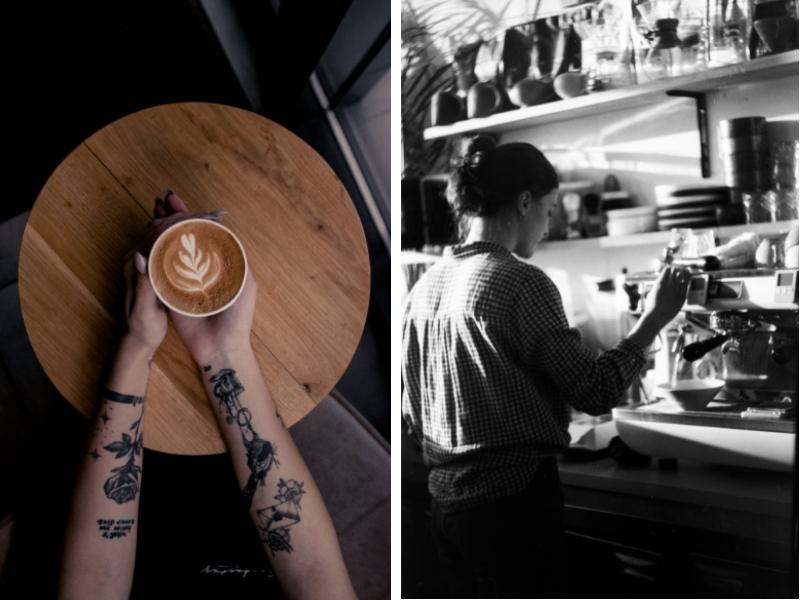 While the list above is not exhaustive, we hope it will give you an idea of the kind of coffee machine that would make a great coffee companion for your daily fixes. And it's nothing like experiencing the journey of making a cup of coffee and taking slow sips knowing that you put all the love and effort into making it. Should you find coffee machines too bulky because of space constraints, then learn how to make coffee at home without owning a machine. If, after months of consideration, you think going to the cafe is more your cup of tea, then don't hesitate to explore the many, and latest, cafes in KL & PJ.