Running out of ideas on what healthy snacks to prepare for your kids? You're not the only one. After all, growing children are in constant need of brain food that's vital for their learning and development. Sure, they'll happily munch on anything that's available in the kitchen (even more so when it's in the form of chips or cookies), but as parents, you'd want them to consume more protein and fibre. If your child is already bored of the regular piece of fruit or granola bar you're serving them, here are nine healthy snacks for kids they'll actually look forward to eating. Trust us, they taste just as good as they look!  
Healthy

Savoury

Snacks For Kids
Zucchini Pizza Bites 
Does your little one like pizza? Then try this healthier—but still equally yummy—recipe that replaces the pizza dough base with a more nutritious alternative: zucchini. That's one good way to introduce some greens into your kid's diet while allowing them to enjoy their favourite food. Plus, the bite-sized pieces make them a healthy snack for kids that are so easy to eat!
Recipe Ingredients: 
Veggie Dipping Cups
Get your kids to eat their five a day with these simple veggie dipping cups that you can prepare in a jiffy or in advance. The trick here is to ensure you're including a dip they'll actually enjoy. This recipe uses ranch dressing, but feel free to pair the chopped veggies with hummus, salsa, or a Greek yoghurt base. And since children tend to eat with their eyes first, do arrange your selection of brightly-coloured vegetables in a nice mason jar as a visual treat.
Recipe Ingredients: 
Sun-Dried Tomato And Basil Pinwheels 
Don't be intimidated by the sheer amount of ingredients in this recipe. These sun-dried tomato and basil pinwheels may look complicated (and not to mention fancy!) at first glance, but really, all you have to do is mix, spread, roll, and cut. It's a fun-looking healthy snack for kids that tastes so delicious, it'll be hard to resist a second helping. Guaranteed to be a crowd-pleaser at potluck gatherings or a children's party too! 
Recipe Ingredients: 
Tuna-Filled Cucumber Cups 
Tuna is a rich source of protein, but instead of making a predictable sandwich with it, why not pair it with some cute cucumber cups for a low-carb alternative? Just scoop out the centre of the cucumber with a melon baller or spoon to create a well, then fill it with the tuna mixture. This recipe keeps it simple with some low-fat mayonnaise and a dash of salt and pepper, but you can always switch things up for added flavour or texture to keep things interesting for your child. 
Recipe Ingredients: 
Healthy

Sweet

Snacks For Kids
Frozen Yoghurt Granola Cups
If your child has a sweet tooth, this healthy snack for kids comes with natural sources of sugar thanks to the fresh fruit toppings. The base is a homemade granola mix for that added crunch, the middle section is a smooth layer of yoghurt (opt for dairy-free if you're vegan), and the toppings consist of an array of fruits in the colours of the rainbow (a nice touch your kid will appreciate). You'll need a muffin pan for this recipe, which makes 10 cups. 
Recipe Ingredients: 
Apple 'Cookie' Slices 
Turn your little cookie monster into a healthier one with these apple slices that are quick and easy to make. All you have to do is slice the apple into rings to make them the 'cookie' base, then spread a natural nut butter (preferably a non-sweetened version) before sprinkling some almonds and chocolate chips on top. Now that's a healthy cookie sans the high levels of refined sugar! 
Recipe Ingredients: 
Chocolate Chia Seed Energy Bites
Don't be fooled by the sinful appearance of these treats—they're actually nutritious and your kids may devour them in minutes. Packed with protein, fibre, antioxidants, as well as essential vitamins and minerals, this healthy snack for kids is perfect for beating the afternoon slump without causing a sugar rush. Best of all, this gluten-free recipe doesn't require baking and any leftovers can be kept in the fridge. 
Recipe Ingredients: 
Related: 7 Easy Dessert Recipes That Require No Baking
Frozen Watermelon Popsicles 
This healthy snack for kids is great for substituting regular ice cream on a scorching day. Plus, your kids will love the layered appearance of the watermelon popsicles that resemble the actual fruit! For starters, you'll need a few things: a blender, a popsicle mold, and some popsicle sticks. Then, simply follow the recipe to create the three different layers of the popsicle (we'd suggest cutting down on the sugar though). You can also make other frozen fruit ice pops using the same method by swapping out a few ingredients.
Recipe Ingredients: 
Homemade Chocolate Chia Smoothie 
Forget pre-made chocolate beverages. Make your own healthy smoothie concoction at home for the kids with this easy recipe that packs an energy-boosting punch thanks to the addition of chia seeds. Just blend all the ingredients, chill them in the fridge, and you're done! Great as a midday pick-me-up or a breakfast drink.
Recipe Ingredients: 
Making

Healthy Snacks For Your Kids

Will Ensure They Get Their Essential Nutrients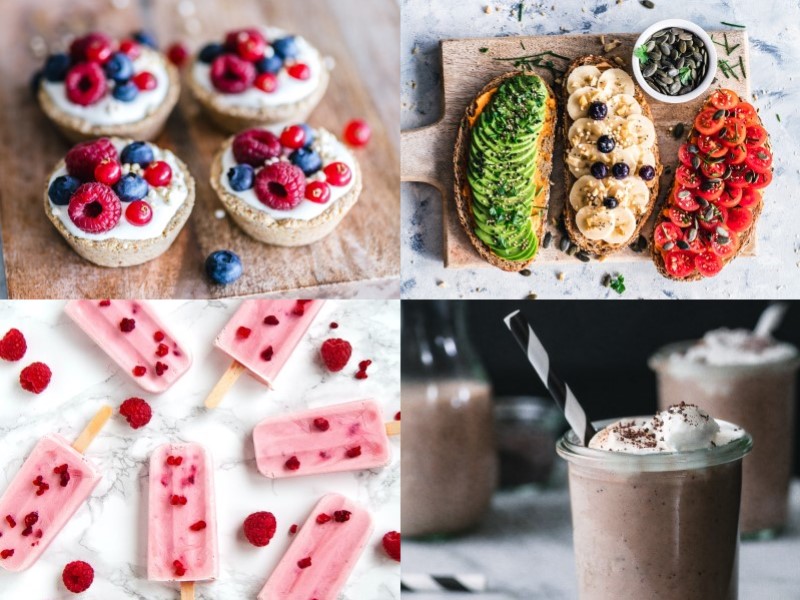 We hope you're now inspired to make some healthy snacks for your kids with this list of easy recipes that are both nutritious and appetising. Whether your child has a preference for savoury or sweet treats, there are plenty of ideas to explore in the kitchen to keep them happy and well-fuelled. PS: Ensure they're also eating well at breakfast with these balanced meals.