From mom jeans to baggy jeans, it's clear that loose bottoms are all the rage in 2022. Besides denim, there's another pair of trousers we've noticed embracing the baggy style: wide-leg pants. These tailored bottoms are the perfect solution to looking sleek and polished while staying comfortable. Interested in the trend but don't know how to style them? Well, sit back, as we take you through how to style your wide-leg pants outfit in six ways. 
10

Outfit

Ideas For

Wide-Leg Pants
Suit Up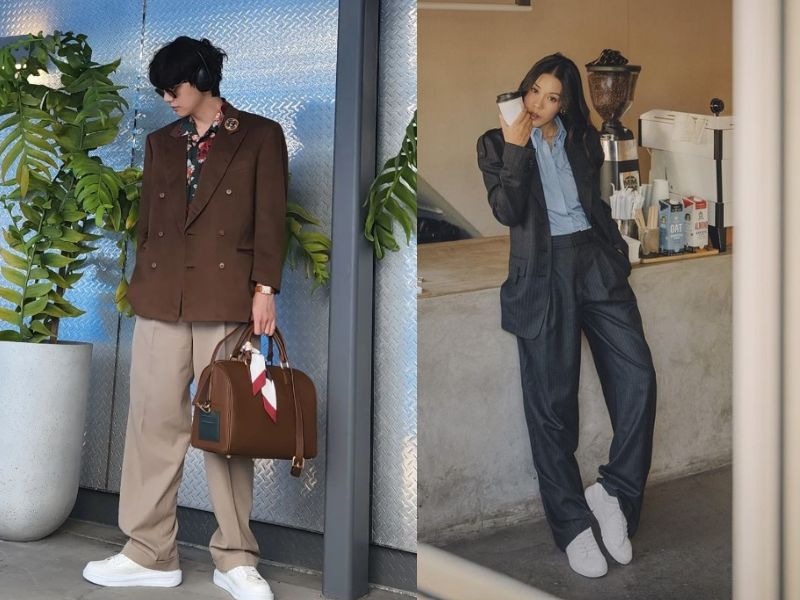 Forget about your traditional concept of tapered suits, because this slouchier silhouette is making waves all across Instagram in 2022. BTS' V gives a summery spin to his loose, oversized suit with a tropical shirt. Meanwhile, fashion influencer Jenny Suet decides to keep her wide-leg outfit print-free, giving her a chic and clean look. Alternatively, you could also swap the button-up shirt with a T-shirt if you want to stick to the casual route. 
Shop this style (outfit 1):
Shop this style (outfit 2):
Related: From Cropped To Oversized, Here's How To Style The Blazer Jacket In 14 Outfit Combinations
Sporty Preppy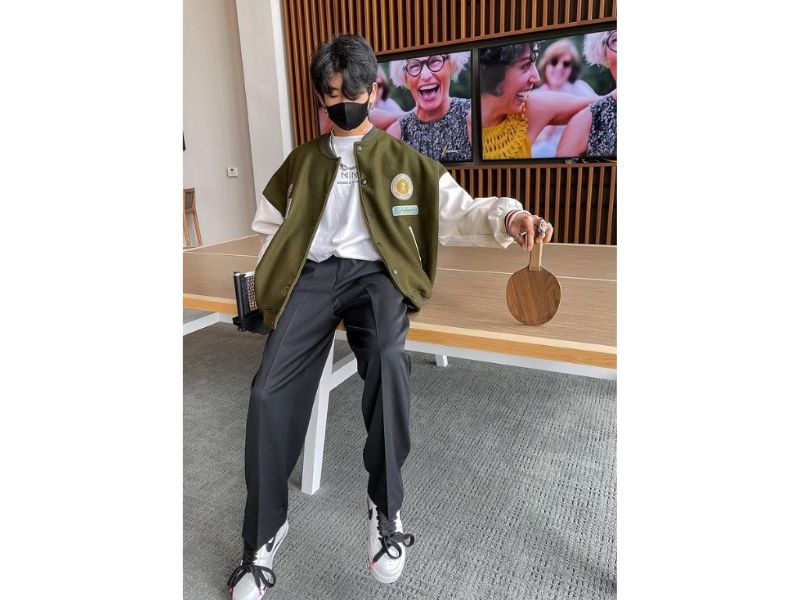 Not a big fan of blazers? Then opt for an oversized varsity jacket to give your wide-leg pants outfit a cool and sporty touch. Since both the outerwear and pants have a looser silhouette, it's better to choose a T-Shirt that fits more closely to your frame. Another option is to change the way you tuck in your T-Shirt. Instead of tucking your top fully, try rolling up the hem around two to three times first and then tuck into your pants. This will prevent any billowing and keep your T-Shirt from spilling out. 
Shop this style:
Related: Preppy Style Is In, These Are The Staples You Need To Rock The Aesthetic
Sweater Weather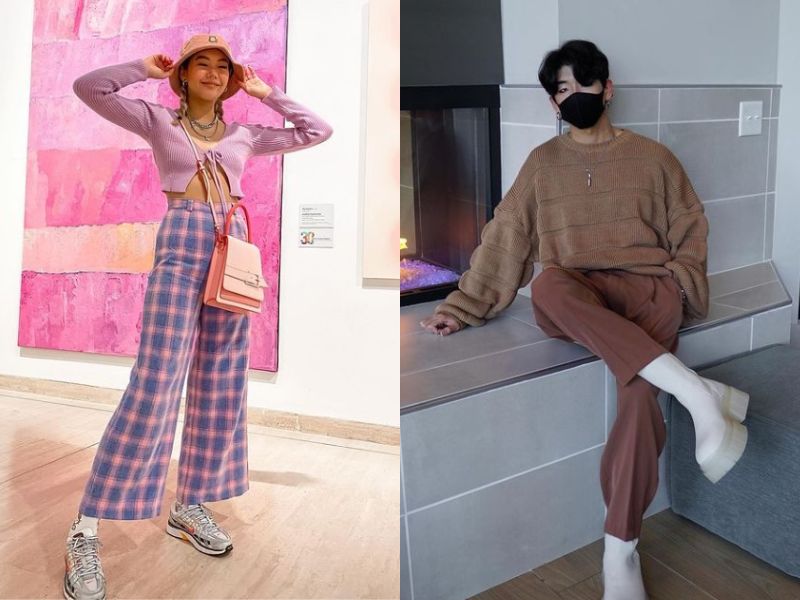 Channel your soft girl and soft boy aesthetic with the cosy cardigan sweater trend. Ladies, you can take cues from fashion influencer Alyssa Lee, who looks really cute in this monochromatic pink ensemble. We love how she's taken care to coordinate her hat and bag to match the rest of her colour scheme. For the fellas, you can draw inspiration from another influencer Jjang E and try elevating your wide-leg pants outfit with a striking pair of white boots. This will help break up the monotony of your look and give it a fresh contrast of tones. 
Shop this style (outfit 1):
Shop this style (outfit 2):
Related: Styling Cardigans Tips For Women: 9 Outfit Ideas To Copy RN
Hot-Girl Summer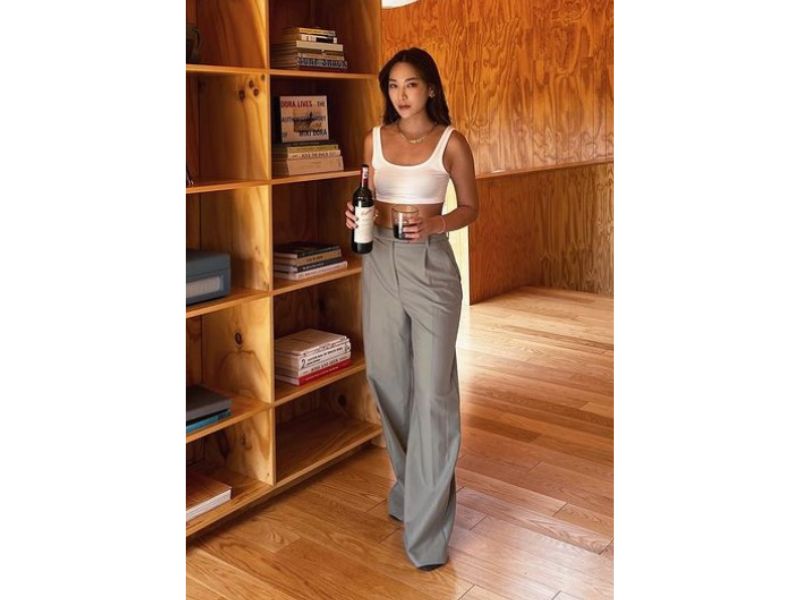 The weather in Malaysia has been sweltering hot these past few weeks. While shorts and singlets are usually the go-to uniform for unbearable heat waves, here's another way to switch up your hot-girl-summer outfits. 
As seen on Jane Chuck, a comfortable bralette top is a great way to combat the humidity without compromising your sense of style. The top is super casual on its own, but instantly looks more put together when paired with a smart-looking set of wide-leg trousers. Don't feel comfortable wearing anything cropped? Then replace the bralette with a white tank top instead. 
Shop this style:
Casual Vest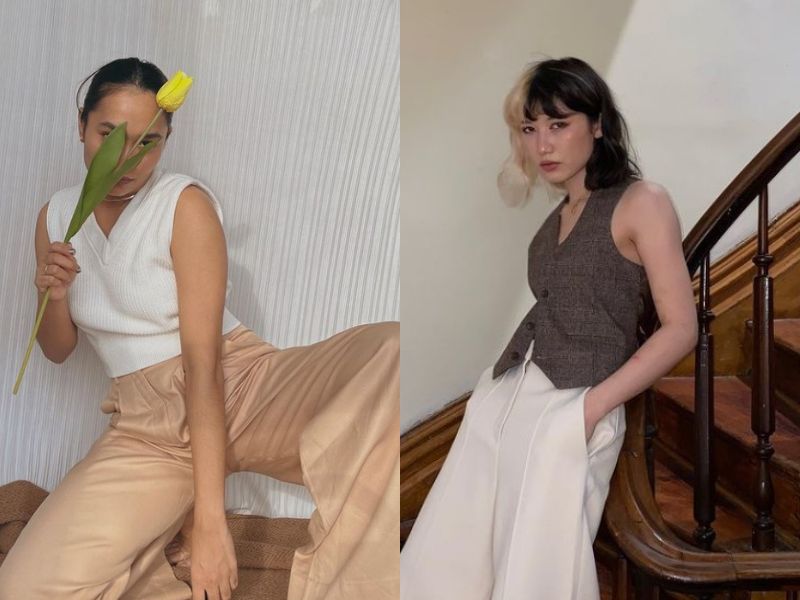 Vests have become a solid preppy piece that everyone has fallen in love with over the past couple of years. Though layering over a T-Shirt or button-up is a common style pairing, 2022 is all about wearing your vests as a sleeveless top. We suggest going for a cropped vest to complete your wide-leg pants outfit. This will help balance out the proportions of your outfit while creating the illusion of a smaller waist. 
Shop this style (outfit 1):
Shop this style (outfit 2):
Related: Sweater Vests Are Trending, Here Are 8 Ways To Style The Knitwear
Smart Casual Button-Up 
There's nothing more polished than a crisp button-up shirt. Styling-wise, you can't go wrong with a cream and white colour scheme as Jenny Suet has done for her outfit. Otherwise, you can also wear your button-up as a lightweight jacket instead to elevate your T-Shirt and pants combo. 
Shop this style (outfit 1):
Shop this style (outfit 2):
Related: Fashion Basics For Men: How To Make The Most Of Your White Button-Up Shirt
Look Sharp & Chic With These

Wide-Leg Pants Outfits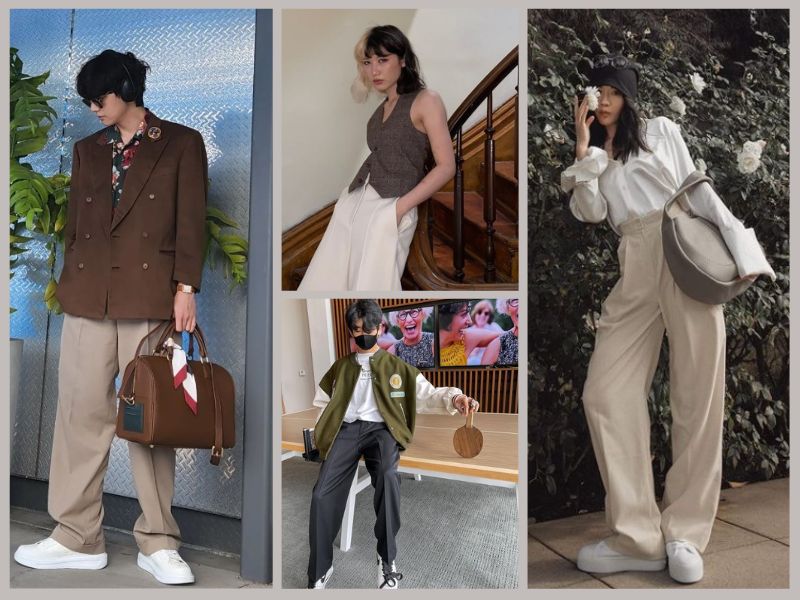 Besides these various ways to style your wide-leg pants outfits, another tip you can use to switch up your aesthetic is through hats! The beanie and bucket hat are some of the streetwear favourites. However, if that's not your thing, you can browse through our guide on the different types of hat trends to find one that suits your personal tastes!