From CD-ROMs to digital releases on platforms such as Steam and Epic Game Store, PC gamers have been purchasing games to play on their system for the longest time. But that decades-old practice may be seeing its days numbered with the arrival of game subscription services. For the first time, gamers will be able to enjoy buffet-style access to content with a monthly subscription, ala Netflix and Disney+. Call it "Netflix for gaming" or whatever, the arrival of PC Game Pass in Malaysia is a major boon for local PC gamers. Here's what you need to know about the service.
What Is PC Game Pass?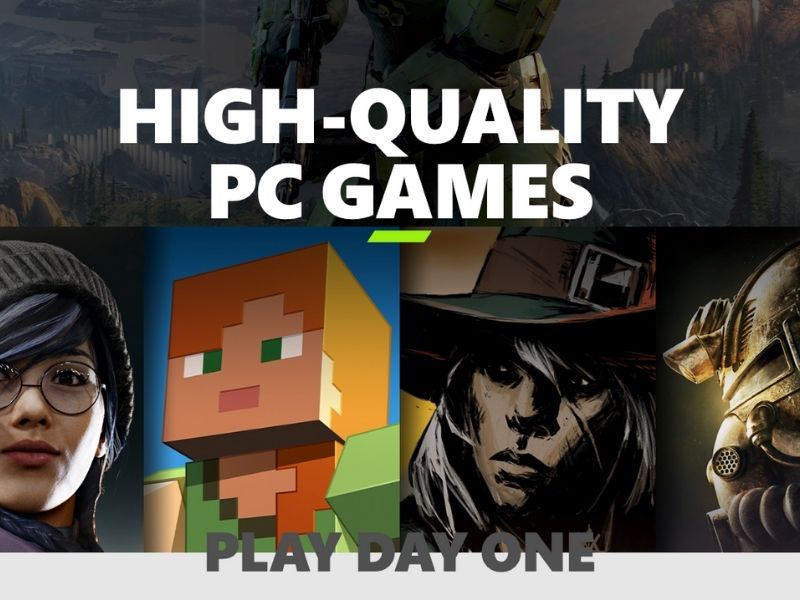 PC Game Pass is an online subscription service that gives users access to high-quality PC games on Windows 10/11 devices. With currently over 200 titles in the library, PC Game Pass features games from some of the top video game studios, including Xbox Game Studios, Electronic Arts, and Bethesda. Apart from Malaysia, PC Game Pass was also recently launched in four other Southeast Asian countries.
New games will be constantly added to the catalogue. On top of existing games—which are a mixture of tentpole and indie titles—users are also served day-one releases of some of the hottest games!
How Much Does

PC Game Pass Cost In Malaysia

?
PC Game Pass costs RM15/month in Malaysia. However, you can enjoy the first three months of your subscription for only RM5 when you join the service now.
How To Get

PC Game Pass In Malaysia

?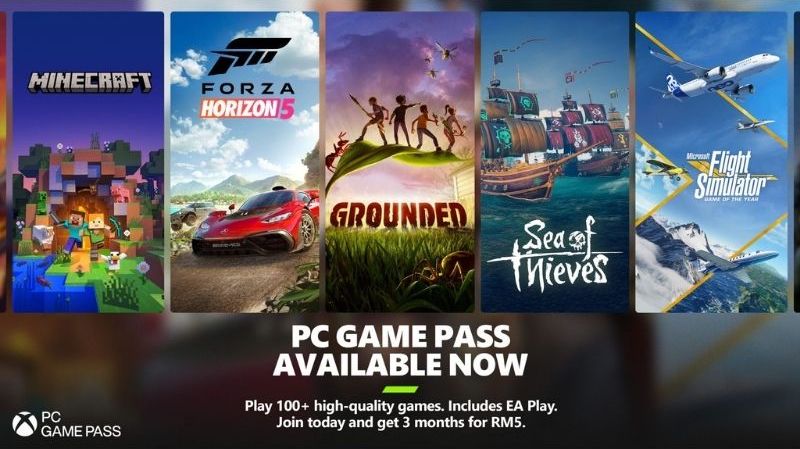 You can subscribe to PC Game Pass in Malaysia by going to this link. Once you have signed up for an account, you can start downloading the hundreds of games to your computer via the Xbox app for Windows PC. You will have continuous access to the vast game library as long as you keep your subscription active. 
PC Game Pass Lets You Play All These Great Games And More
With hundreds of games for your picking, being spoiled for choice is an understatement. Here are just some of the awesome titles waiting for you when you subscribe to PC Game Pass in Malaysia.
Forza Horizon 5
The Forza Horizon series is often lauded as the best by both critics and players alike in the open-world driving sim genre. In the latest instalment, you get to virtually drive some of the world's most famous cars as you explore the vibrant landscapes of Mexico, which include historic cities, hidden ruins, and yes, sandstorms.
Microsoft Flight Simulator
Who hasn't dreamed of piloting an aircraft to any destination in the world? No, you don't need to spend your entire fortune getting an aircraft licence. Just kick back, relax, and fly any plane you can think of from the comfort of your home in Microsoft Flight Simulator. This is as real as it gets to flying an actual aircraft, with ultra-realistic graphics and a weather system that feeds on real world data. 
HITMAN Trilogy
Do you have what it takes to be the ultimate professional killer? Take on the role of Agent 47 as you are sent on globetrotting missions to take down an eclectic mix of characters in this trio of games (Hitman, Hitman 2, and Hitman 3). Unleash your cunning creativity as you dispatch your targets in every manner possible, all without leaving any trace behind.
Jurassic World Evolution 2
Everyone loves some good dinosaur action. As a management simulation game, Jurassic World Evolution 2 lets you be the architect of your own Jurassic Park. Indulge in building the best dinosaur-themed park ever, or dive into the thrilling Campaign mode which features the original voice casts from the blockbuster movies.
It Takes Two
Winner of Game Of The Year 2021 award, It Takes Two will send you and your playing partner on an emotional journey filled with laughter, tears, and relationship lessons that you can take to heart. The perfect game to play with your significant other on a lazy weekend.
Life Is Strange: True Colors
Fans of narrative-driven games should not give Life Is Strange: True Colors a miss. It has heartfelt storytelling, and banging soundtracks that will leave you all warm and fuzzy. And like all prior Life Is Strange entries, the latest is about player choices and actions that will determine the course of the game plot.
The Yakuza Series
How about some Asian flavour? The decade-spanning Yakuza franchise has been gripping gamers with its high drama, set in the Japanese underworld. The popular series also doesn't take itself too seriously as it sprinkles its brand of oddball humour. Trust us, the entire series is a wild, wild, ride.
Ori and the Blind Forest & Ori and the Will of the Wisps
If you like your games to give you a kick in the butt (in a good way), the two-instalment Ori series is a must-play. Gamers have been raving about these titles which not only present a tough-as-heck challenge but also feature gorgeous animations and a narrative that will tug at the heartstrings. May require tissues and a punching bag.
Star Wars: Squadrons
There are many Star Wars games that can make you feel like a lightsaber-wielding badass, but few that let you partake in epic space dogfights. Aspiring X-Wing and TIE fighter pilots can now live their dreams in Star Wars: Squadrons. The game recreates the adrenalin-pumping space battles from the movies that had you at the edge of your seat.
Two Point Campus (coming August 2022)
You've managed a household full of Sims, a hospital, and a megalopolis. Now get ready to try your hands at managing a university! Build the campus you have always dreamed of in this wacky management sim from the folks who gave us the classic Theme Hospital and its spiritual successor, Two-Point Hospital.
Say Goodbye To Buying Expensive Games With

PC Game Pass In Malaysia
For the cost of a cuppa, you can enjoy playing all the titles featured above (and more!) which otherwise would have cost up to a thousand Ringgit collectively. So, whichever way you look at it, PC Game Pass is one hell of a gaming deal for any avid PC gamer. Like a good all-you-can-eat buffet, it will leave you feeling satisfied knowing that it is money well spent!  
Related: Want To Play Awesome PC Games For Free? These 8 Don't Cost A Thing