If there's one thing we can agree on, it is the feeling you get when you see the amount of Shopee Coins on your homepage increasing. And you have earned all that from playing games in Shopee Prizes, using the Coins cashback vouchers, swiping your Maybank Shopee Credit Card out of the app, making a payment via ShopeePay to a merchant offering coins cashback, rating products, coins giveaways during Shopee Live sessions, and checking in daily in the Coins Rewards page. 
Most of you, if not all, will already know that the main use of coins is to offset the price of your purchase(s) on Shopee upon checkout. Here, 100 coins are equivalent to a RM1 discount. Buyers will be able to offset their purchases with Shopee Coins when they purchase from Shopee Mall, Preferred and 10% Cashback Programme sellers only. 
What Are Shopee Coins? 
Shopee Coins reward Shopee buyers with more savings on their next order or use the earned coins to redeem vouchers. The vouchers can then be used to enjoy discounts or exclusive promotions from Shopee's sellers and partners. 
Shopee Coins cannot be exchanged for cash or transferred to another account. They have a three-month validity period; the coins will expire at the end of the third month from when the buyer receives the coins. To illustrate, if a buyer received Shopee Coins on 1 January, the coins will expire on 30 April.
How Much Is 100 Shopee Coins Worth? 
For every 100 coins, buyers can get RM1 off of their orders from Shopee Mall, Preferred Sellers, or 10% Cashback Programme sellers. There is a daily limit to the amount of Shopee Coins used by a buyer. 
How To Use Shopee Coins

? 
Apart from using your Shopee Coins on your orders on Shopee, ShopeeFood, payment to ShopeePay merchants, and the purchase of e-vouchers, you can also use the coins to redeem vouchers with really attractive deals at the Coins Rewards Page! 
Coins & Vouchers Galore
From your Shopee homepage, just tap on the Coins wallet bar [1]. Alternatively, search for the in-app portal called Daily Coins & Vouchers [2] when you click on the See More icon. It has an icon bearing a stack of gold coins.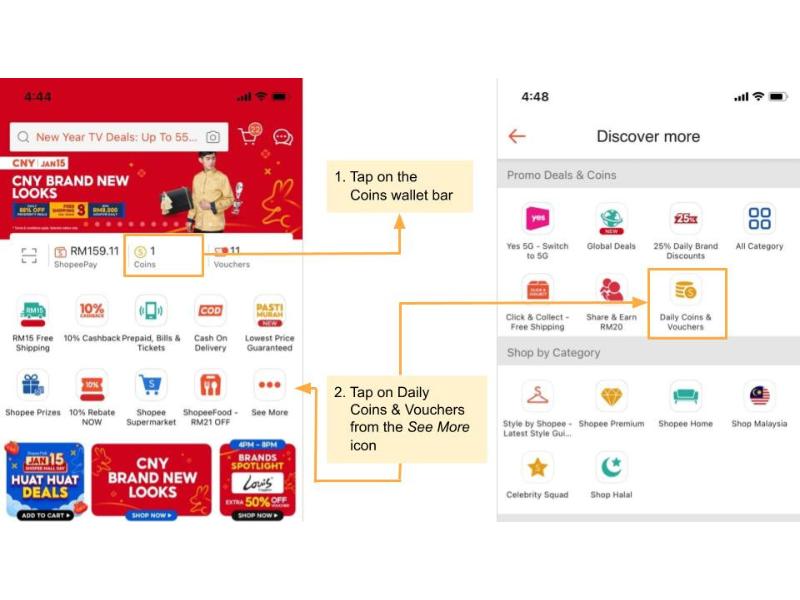 But before you go down the rabbit hole, don't forget to check in and receive one (1) Shopee Coin for free! Make it a daily ritual because as the saying goes, sikit-sikit, lama-lama jadi bukit. Before you know it, you have damn a lot of coins to use.
Once done, scroll down to be greeted by vouchers after vouchers of deals from a wide assortment of brands, sellers and partners that Shopee has been working very closely with to reward its users. Here's how you can use your Shopee Coins. 
Redeem Mouth-Watering Deals From These Daily Coins Rewards Partners And Sellers  
From food, groceries and electronics to travel, beauty, fitness, and fashion, we dare say the page offers an insane amount of vouchers that will suit everyone's liking. If you're having trouble thinking about what to redeem for yourself, have a look below! 
1. Eat Cake Today 
We're topping off our list of Daily Coins Rewards with a delish voucher deal from Eat Cake Today. This platform, which houses a long list of home bakers and cafes, has been our lifesaver whenever we need to send a cake to someone. So here's how you can use your Shopee Coins! Eat Cake Today is treating you to a RM10 off voucher with a minimum spend of RM100. Now you get to try one, or more, from its stable of over 1200 premium cakes. How's that for icing on the cake? 

Voucher redemption period: Now till 31 May 2023 | Voucher validity period: Now till 31 May 2023
Coins to redeem voucher: 200 
2. Pizza Hut 
Who can say no to Pizza Hut—a place where we grew up celebrating our birthdays with our friends or to paktor, or weekend treats with the family after a good bout of shopping. Use your Shopee Coins to redeem a memorable meal at Pizza Hut with 50% off large pan crust pizza. 

Voucher redemption period: Now till 10 March 2023 | Voucher validity period: 30 days from date of redemption
Coins to redeem voucher: 450 
3. PAPER+TOAST Private Office Day Pass At RM120 Off 
If you need a working space without the distractions, and one that is conducive enough to promote collaboration and innovation, PAPER+TOAST is your answer. With your coins, redeem this voucher for a private office day pass at RM120 off. This coworking space is situated in the heart of Bukit Bintang, Kuala Lumpur, and is designed with comfort and a collaborative environment in mind so you can be your most productive self!

Voucher redemption and validity period:  Now to 24 Feb 2023
Coins to redeem voucher: 1200
4. Agoda 7% Off Accommodation Bookings
Itching to quench your thirst for travel? Here's how you can use your Shopee Coins with Agoda! Claim this voucher with just 150 coins and apply it when you're making your next accommodation booking. Need we say more?


Voucher redemption and validity period: Now to 31 March 2024
Coins to redeem voucher: 150
Redeem to Win Contest
On top of all that, give yourself the chance to participate in really cool contests by the Daily Coins & Vouchers team! Check out the Chinese New Year version of the Redeem To Win campaign happening from now to 5 February 2023. Double your huat by winning not one but two exclusive prizes! So who will be that lucky winner?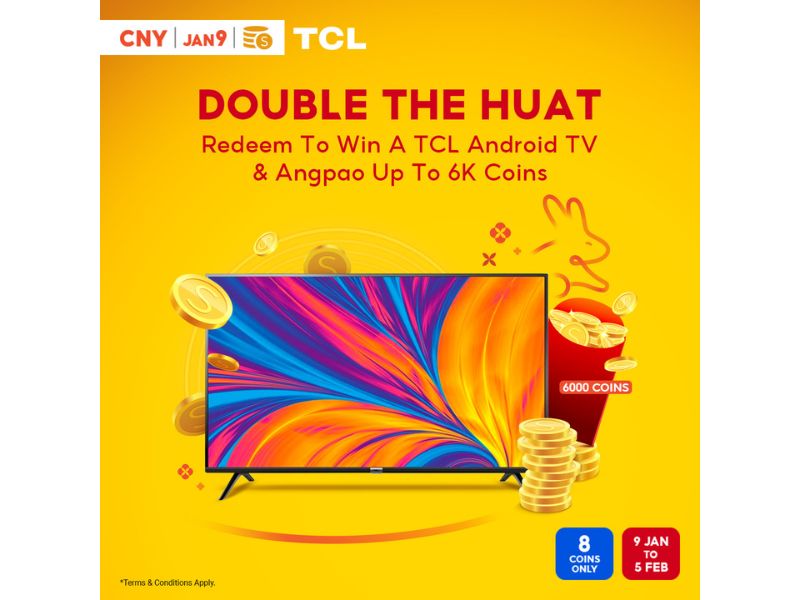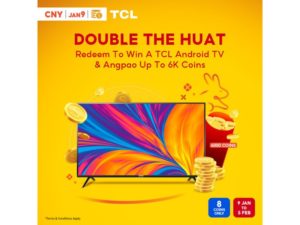 What You Need To Do: From now to 5 February 2023, redeem the voucher from the Shopee Coins Rewards Page with eight (8) Shopee Coins. One user is allowed to make multiple redemptions (up to 9,999 times) for higher chances of being selected.
You can videw the step-by-step on how you can redeem the voucher here.
Don't forget to also follow the shop of the seller on Shopee who is sponsoring the prize of that round. You can find the seller store here.
What Happens Next: The user who has made the highest number of redemptions will be crowned as the winner for that round. They'll be informed via Push Notification on the App and email within three working days (3) after the end of the giveaway period.
Visit the microsite for more info!
Reward Yourself Or Loved Ones With These Vouchers   
There's no better time to redeem and enjoy these awesome vouchers from the Coins Rewards page than today. To redeem a voucher on the page, select REDEEM for a voucher you want and Exchange coins for the voucher. 
The voucher will then be saved into your My Vouchers page. 
Remember to read the terms and conditions prior to redemption to ensure you have enough time to utilise the vouchers! Shopee Coins used to redeem the vouchers are non-refundable, even if the voucher is unused or expired.  
If you are looking for inspiration and want to take a break from shopping, head over to our Shopee Blog for ideas. It's a space with specially-curated articles from parenting tips, food and drinks to fashion and beauty style guides, and everything tech. Give it a read! You might just find what you need.