Everyone should own a crisp, white button-up shirt in their closet. After all, its versatility allows it to be worn on both formal and casual occasions, giving you plenty of style combinations to work with. But let's be honest, how often do you wear your button-up beyond just your typical office wear or any other top and bottoms pairing? If you're struggling to get the most out of your button-up, don't fret, because we've compiled six white shirt outfit pairings to help you get started! 
White Shirt Outfit

Combinations For Men Beyond Just Office Wear
White Button-Up Shirt With Graphic Tee And Baggy Jeans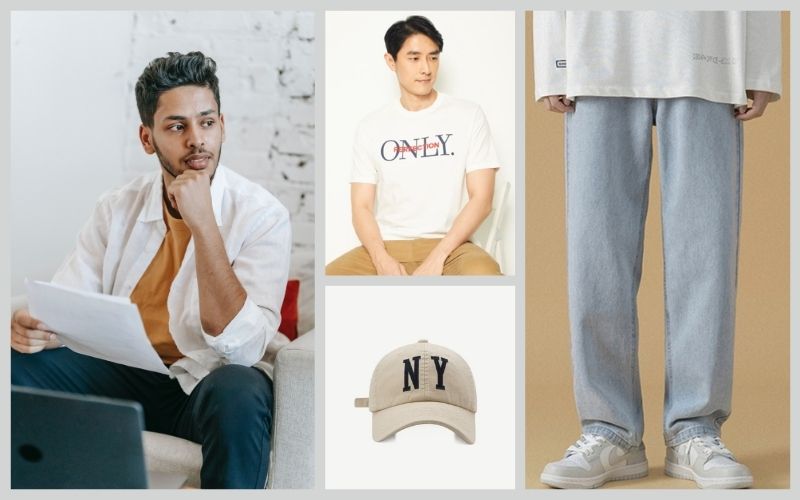 You don't have to strictly wear your white button-up only as a shirt. Instead, try styling it as a loose outerwear over your graphic tee and baggy jeans. This will instantly elevate your basic, everyday white shirt outfit and feel less insulating than a thicker-fabric jacket. Then top it off with a nude-coloured baseball cap for an even sportier touch. 
Shop this style:
Related: 19 Outfit Ideas To Rock The Trendiest Types Of Hats In 2022
White Button-Up Shirt With Short-Sleeved Turtleneck And Pleated Pants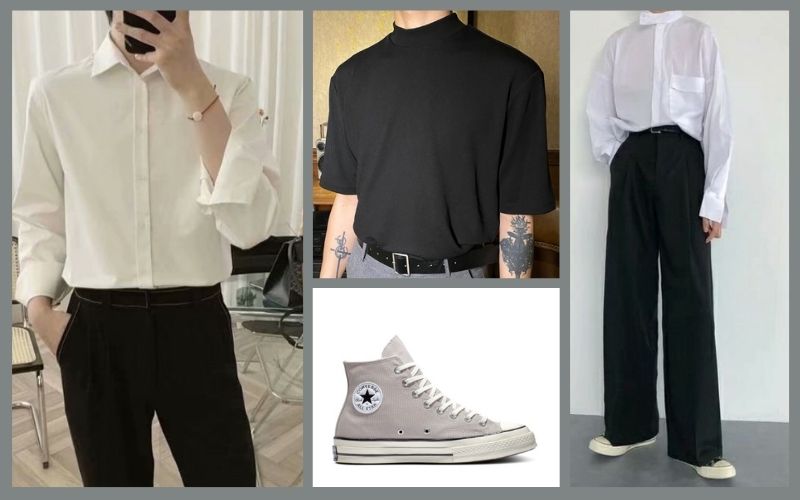 Want to make your smart-casual white shirt outfit less basic? Take a page out of K-Fashion and layer a turtleneck top underneath your button-up, leaving the first two to three buttons undone. You can opt for a lightweight mock-neck T-shirt to create a similar look without overheating in Malaysia's sunny and humid climate. If that's still too hot for you, simply ditch the shirt and wear a fake turtleneck collar underneath instead. Who's going to know? 
As for pants, we recommend experimenting with different silhouettes like these wide-leg pleated trousers, for a slightly bolder look. You can cuff up the hems to show off your sneakers or choose to leave them unfolded to maintain the pants' dramatic flair. It all depends on what style you're going for! 
Shop this style:
White Button-Up Shirt With Sweatpants And Combat Boots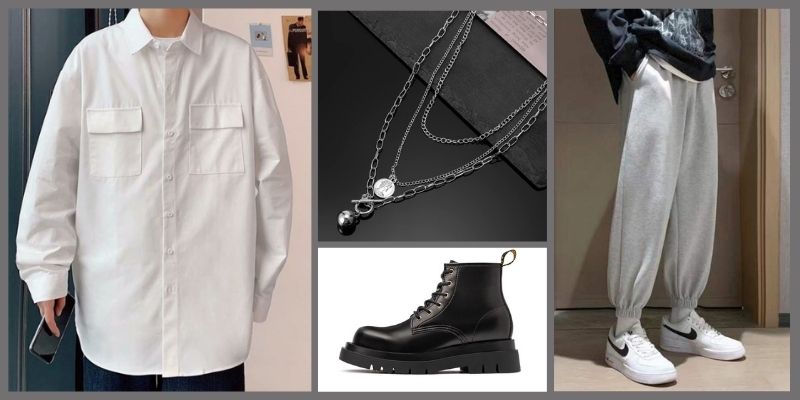 Playing around with silhouettes can apply to your choice of shirts as well. Oversized fits are a great option for a cooler vibe befitting of the streetwear aesthetic. Meanwhile, you can replace your formal bottoms with cosy sweatpants to stay true to your effortless style. If you prefer an edgier style, complete the outfit with a pair of lace-up combat boots and layered necklaces. 
Shop this style:
Related: Sweatpants, Elevated: 7 Stylish Ways To Dress Up Your 'Lazy Day' Joggers
White Button-Up Shirt With White T-Shirt And Chino Pants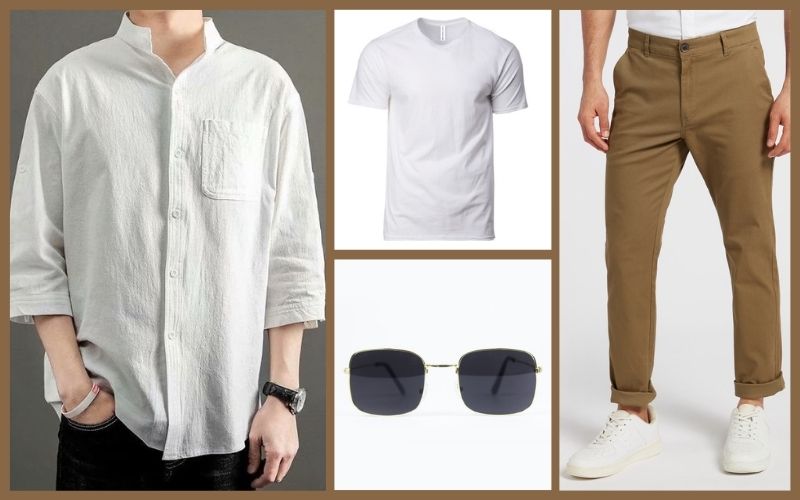 Besides looking at the fit, textures can play a huge role in setting the overall theme of your white shirt outfit. Planning to make a trip down to the beach for a little holiday getaway? Then reach for linen fabrics in your tops, as they're great for creating a casual and summery vibe. 
Bermuda shorts are typically the go-to pairing. Alternatively, you could also opt for smart-looking chino pants if you don't feel comfortable bearing skin or got a fancy dinner date later. 
Shop this style:
Related: 10 Beach Outfits Besides Swimwear & Sunnies To Wear On Your Next Vacay
White Button-Up Shirt With Sweater Vest And Denim Shorts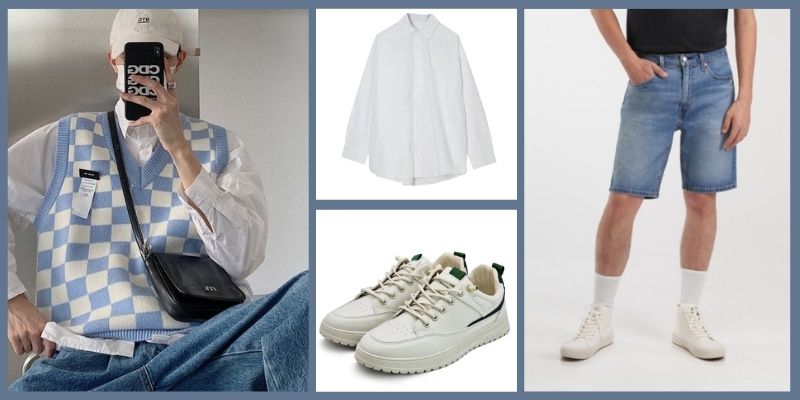 Sweater vests have been the ultimate layering piece these past couple of years. And while there are many different ways to style this trendy knitwear, there's nothing quite like the classic white shirt outfit combination. Want to put a more Malaysian-friendly spin on this look? Try replacing your long bottoms with three-quarter shorts instead. 
Shop this style:
Related: Sweater Vests Are Trending, Here Are 8 Ways To Style The Knitwear
White Button-Up Shirt With Cargo Pants And Bucket Hat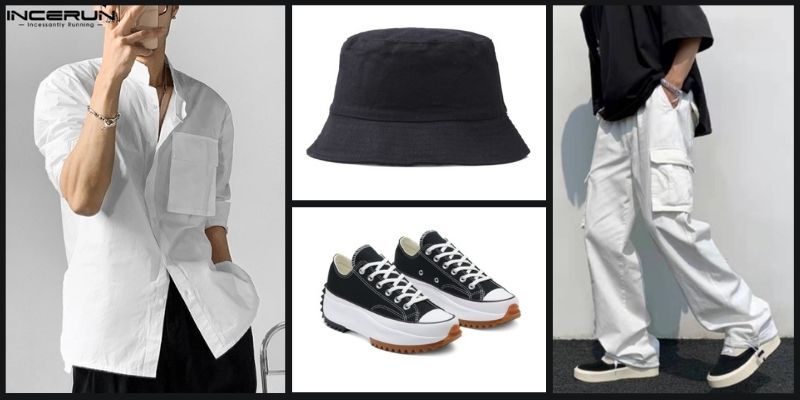 Prefer an edgier style over the preppy aesthetic? Complete the look with cargo pants to give your white shirt outfit a rugged, utilitarian touch. Camo prints or solid army green hues may have once been the standard choices, but we'd recommend going for a solid all-white ensemble to look more put together. As for your bucket hat, you can choose to stick to the same colour palette, or go for black to add contrast. 
Shop this style:
Related: Cargo Pants Are Not Just For The Military, Here Are 11 Ways To Rock This Utility Trend
Expand Your Wardrobe With These Cool

White Shirt Outfits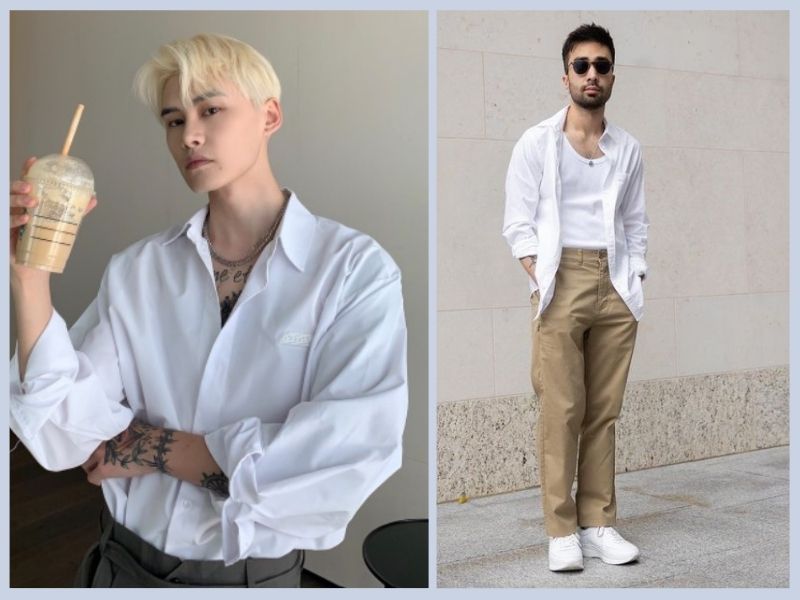 From wearing it as a loose jacket to a utilitarian style with cargo pants, the button-up doesn't have to be a boring work top. These white shirt outfits are proof of that! Remember, every good outfit lies in the foundational wardrobe staples. There's nothing wrong with following the latest trends, but make sure they don't overwhelm your personal style. Need a crash course to go back to the basics? Then check out our guide on the basic casual wear essentials for men. Head over to Style By Shopee for more fashion updates!