Dressing yourself in stark white from head to toe may seem daunting, especially when white clothes have a tendency to stain, or worse yet, resemble a uniform. But wearing white certainly has its redeeming qualities. It can reflect sun rays, which helps you keep cool during warmer months. It's also one of the easiest and most impactful ways to style more pared-back looks. Here are 13 clean and striking all-white outfits for the ladies and men, and trust us, you'll want these major looks in your warm weather lookbook.
8 Chic Ways To Style

All-White Outfits

For Women
Ladies first.
1. The Suit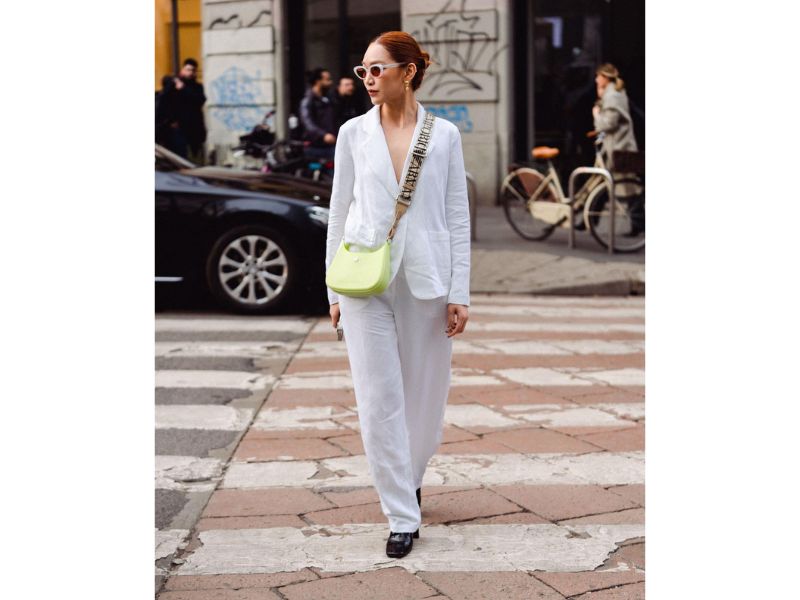 Suits aren't just for formal occasions, and Malaysian multi-hyphenate Jane Chuck proves that you can pull off an all-white suit as a daytime outfit. If it's warm or summer where you are, you'll want to go with natural fabrics like cotton or linen to keep it comfy and breathable.
Shop this style:
2. The Shirt Dress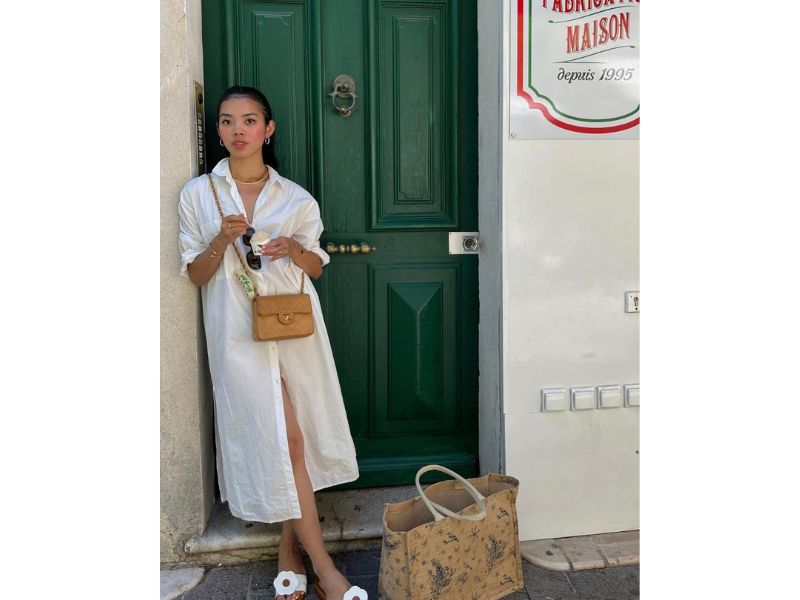 No time to match separates? Then throw on a midi shirt dress with a cute pair of slides and you're good to go. Keep the dress a little rumpled, roll up the sleeves, and leave a couple of buttons undone for an effortlessly chic look. And if you're walking about town, a pair of chunky white sneakers could take your comfort level and outfit up a notch.
Shop this style:
3. The Long Skirt
If you'd like your legs covered, try pairing a long skirt with a cropped top. Some black shoes and shades will offer a nice contrast to this all-white outfit, but like Ashley here, try to keep it muted for the rest of the accessories.
Shop this style:
4. The Corset Top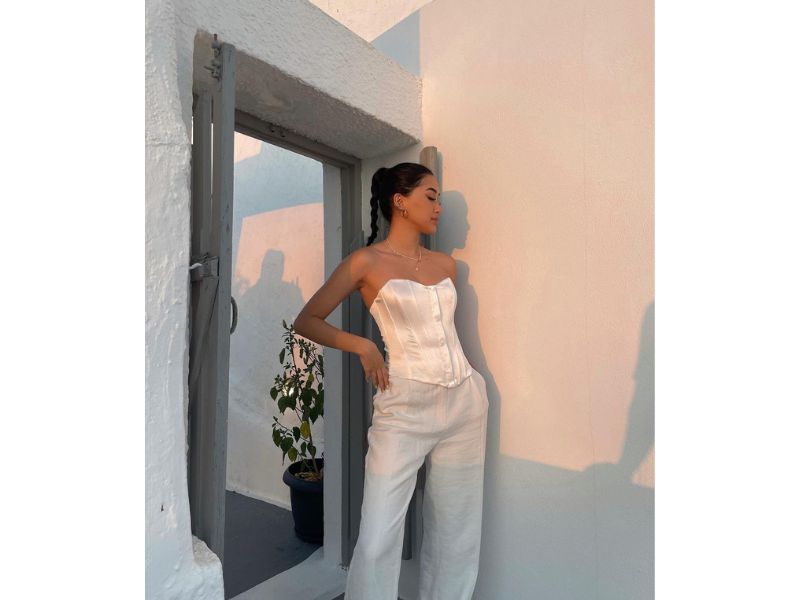 For a sultry evening look by the beach, a white satin corset top and a pair of white linen straight-leg pants will command attention. Just add a couple of subtle gold accessories to break up the monotony and weave your mane into a high-ponytail braid to finish the super-sleek look.
Shop this style:
5. The Slip Dress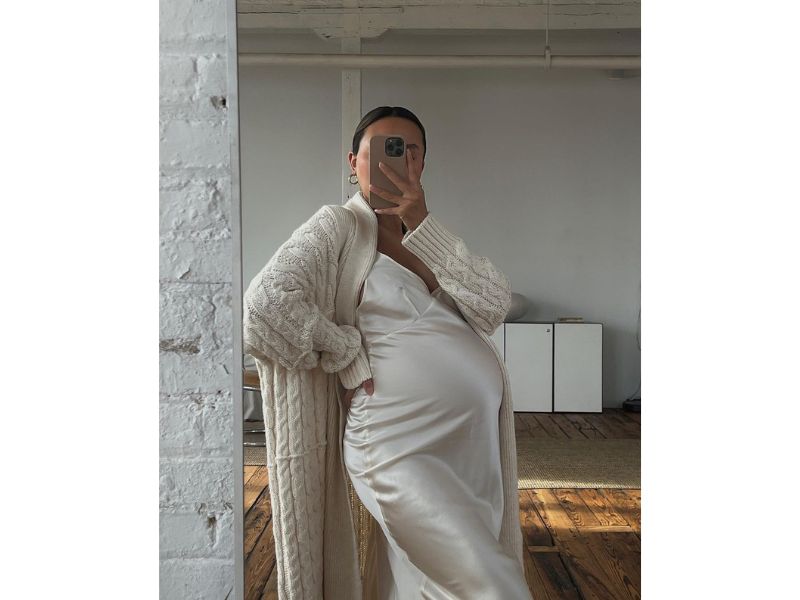 If your #outfitgoals is peak cosiness, this satin and knit combo is second to none. A slip dress, chunky cardigan, and gold hoop earrings are all you need to put together this refined all-white outfit. Minimal effort is needed in the hair department too—simply pull it all back into a low chignon.
Shop this style:
6. The Vest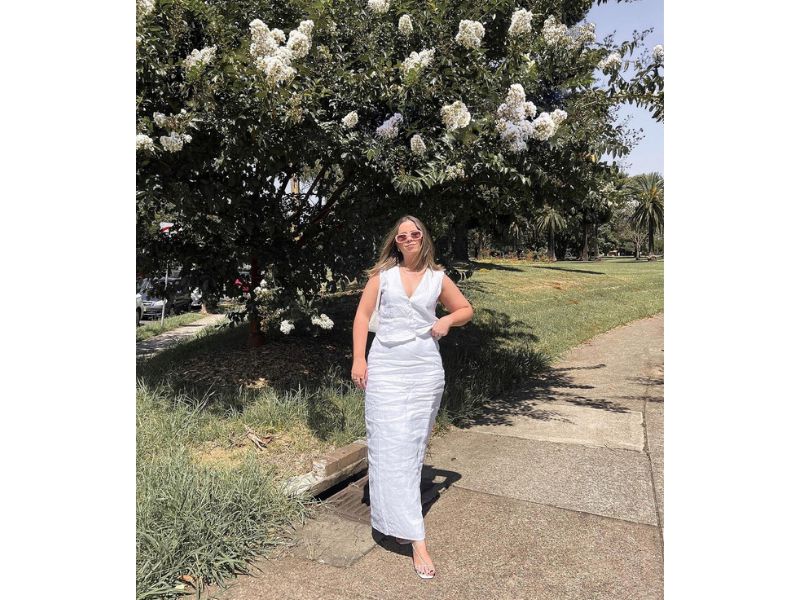 As far as all-white outfits go, this reimagined version of the classic men's suit might be one of our favourites yet. Pairing a vest and a maxi skirt, it's easy enough to throw on in the morning for days you'll need to head into the office. Of course, you could also switch it up with wide-leg pants if you need a little more mobility.
Shop this style:
7. The Statement Sleeves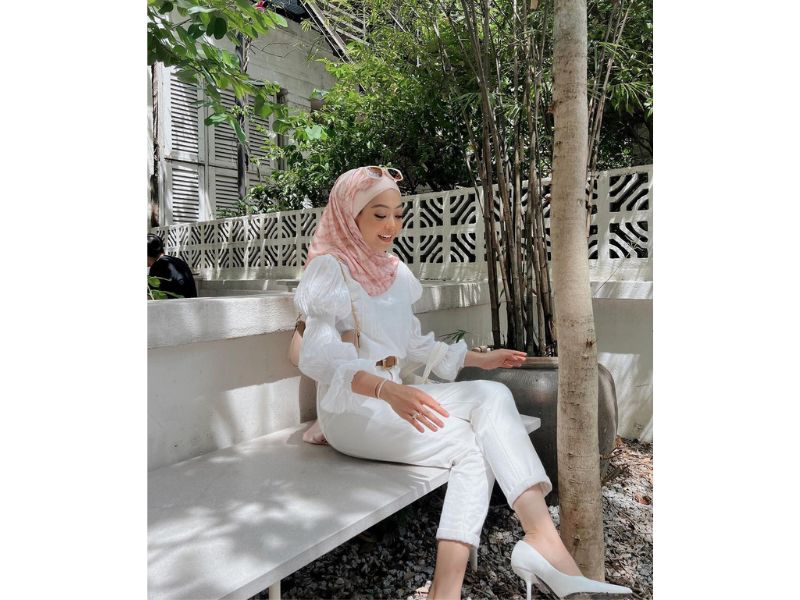 It's easy for a monochromatic all-white outfit to look boring, but incorporating a statement piece can often help keep things interesting. In this case, it's a blouse with puffy Elizabethan sleeves. You'll want to keep your bottoms simple with a pair of tapered white jeans, though you can add a nice pop of colour with your bag and headscarf.
Shop this style:
8. The Cargo Pants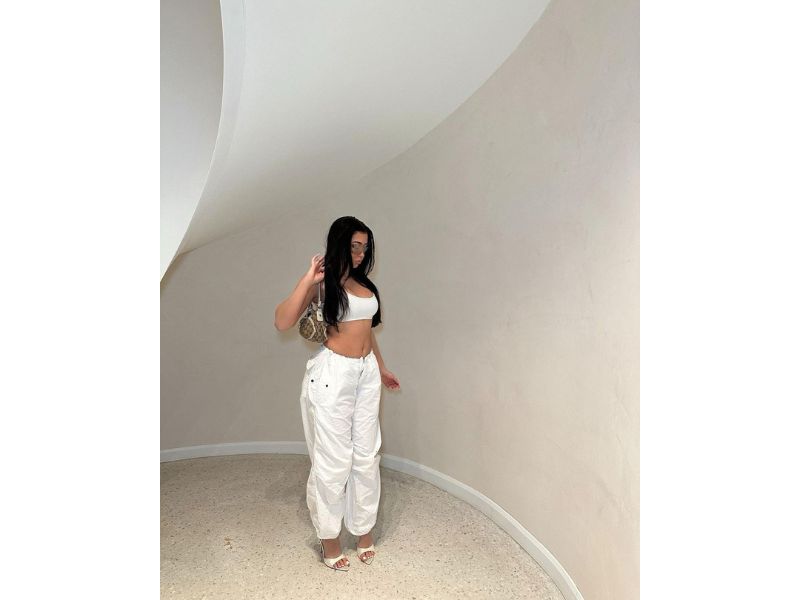 Here's one way to jump on the cargo pants trend, and it takes only three items—a bralette, said cargo pants, and some peep-toe heels. Definitely NSFW, but you can easily adapt this for Casual Work Fridays with a wardrobe hero, the white tank top.
Shop this style:
5 Cool Ways To Style

All-White Outfits

For

Men
Time to give your all-black outfits a break. 
9. The Cosy Set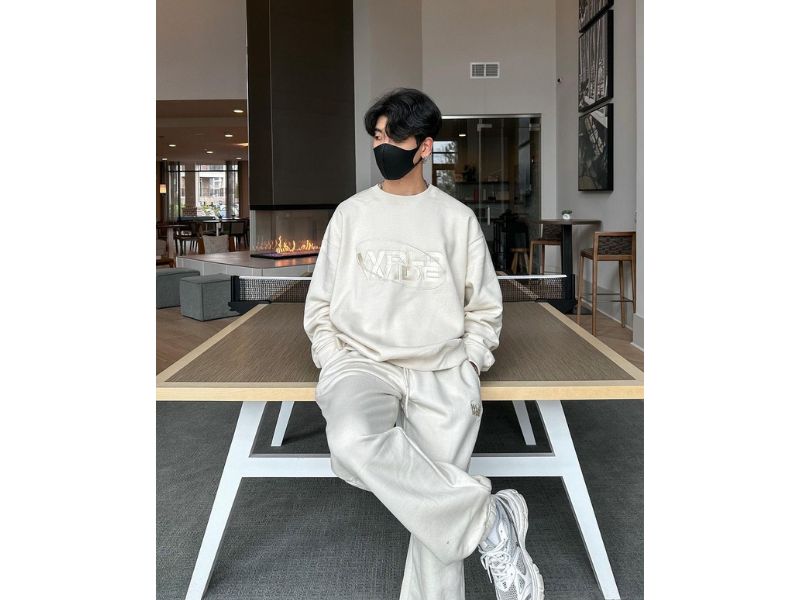 Stay comfy and casual with this all-white outfit idea for men. Just remember to keep the sweatshirt and joggers oversized for an edgy streetwear vibe.
Shop this style:
10. The White Denim Jacket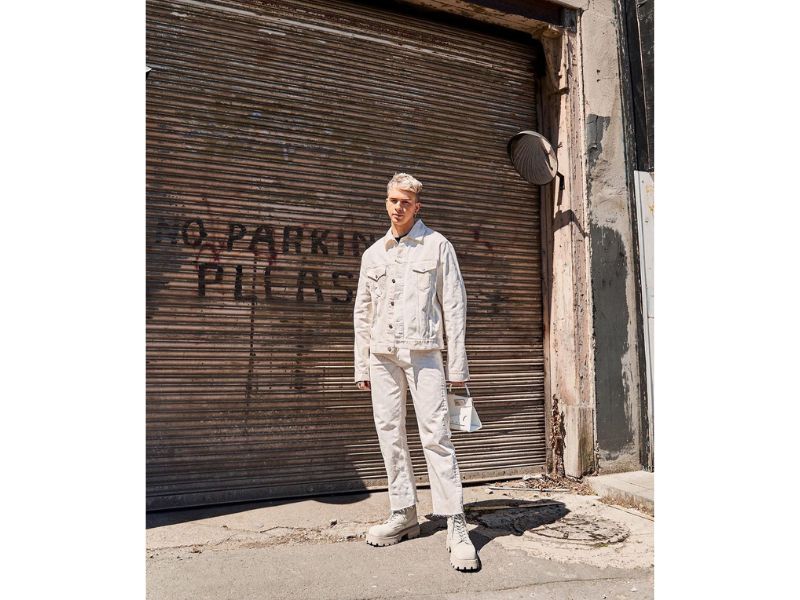 The easiest way to elevate an all-white outfit for men is to add some layers, like how streetwear fashion influencer Gallucks does. Start with a T-shirt and raw hem jeans (if you can't find them, consider snipping the hems off a regular pair yourself), then layer on a white denim jacket and finish with some chunky combat boots.
Shop this style:
11. The Suit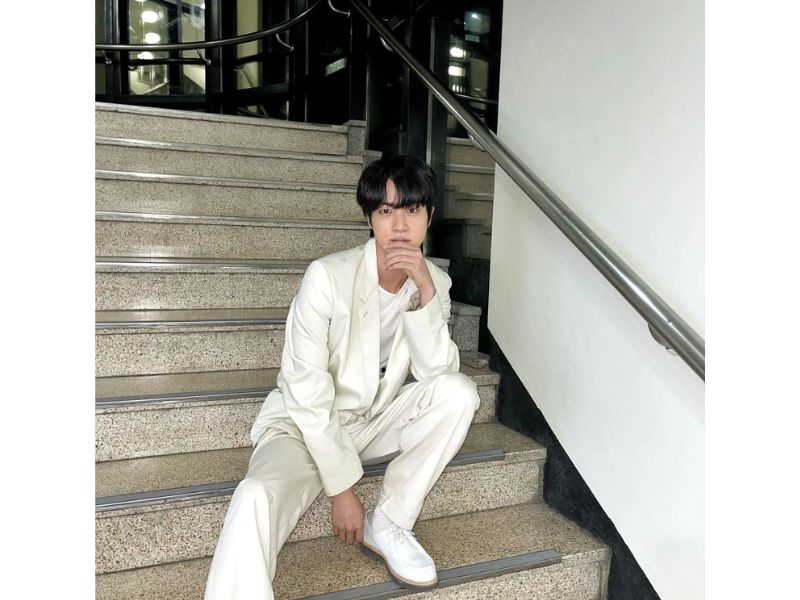 BTS's Jin knows how to rock an all-white suit, and the good news is, it's not difficult to cop the oppa-worthy look. Don a white tee, slacks, a suit jacket, any white shoes of choice, and you're golden. Since the ensemble is so simple, consider playing up your hair with these Korean hairstyles.
Shop this style:
12. The Athleisure
Hit the town or gym with this athleisure-inspired all-white outfit for men. Don't stop at the usual activewear, fellas. Throw on a pocket-laden utility sports jacket to keep things stylish and practical.
Shop this style:
13. The White Button-Up
For the men, nothing says fresh quite like a crisp white shirt in an all-white outfit. A regular Oxford shirt will bode well for a dressier look, but a mandarin-collared one would feel a tad more relaxed. Pair it with white sneakers and you'll look slick as a whistle.
Shop this style:
Look Fresh And Immaculate With These Monochromatic

All-White Outfits

For Ladies And

Men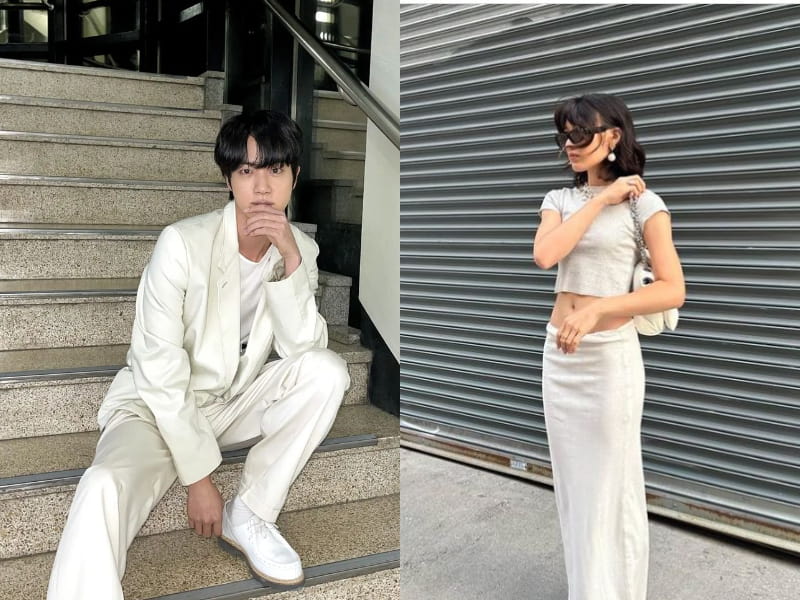 If you're planning to pull off some of these all-white outfits, keep in mind that white clothes stain easily. So it would be wise to carry a pocket-sized stain remover with you wherever you go. More than that, a key mantra to remember is that style is personal. While you can take inspiration from these outfit ideas, feel free to mix and match according to your style and what's flattering for you.
Speaking of flattering, how familiar are you with your body type and the types of clothes that look best on you? If you're unsure, it's time to find out once and for all with our guides on men and women body types. And don't forget to hit up Style by Shopee for fashion deals, vouchers, and coin cashbacks on clothes in all colours!
Cover photo courtesy of @jin and @best.dressed on Instagram.