Are you a mum running out of ideas on how to style your kid's hair? Or a dad trying to figure out what else to do besides ponytails? Let braids come to your rescue! They're not just cute, they're also practical to keep your kid's delicate locks neat and tidy. If you want to work your way up from easy to advanced types of braids, here are 12 simple braid hairstyles for every skill level.
Easy

Types Of Braids

For Kids
Zero experience with hair braiding? Take it easy, and start with these basic types of braids.
Rope Twist Braid
This is a type of braid that's great for squeezing into your tot's morning routine before heading to school. Just start with a high ponytail, then twist, twist, and twist for a rope effect. For a neater finish, spritz some hair gel onto the plait to tame flyaways and prevent the hair from splitting out towards the bottom.
What you'll need:
Pull-Through Braid
Pull-through braids may look complicated, but they're actually one of many types of braids that are beginner-friendly. All you need to do is comb, clip, and tie until you complete the whole head of hair. While you do the heavy lifting, get your kiddo to pick out the colours of the hair ties!
What you'll need:
Double Bubble Braid
Much like the braid above, this simple braid hairstyle doesn't involve actual braiding. Only tying up sections of hair then tugging on each to create puffy 'bubbles'. If your little one is a fan of Aladdin, you can easily recreate Princess Jasmine's look by modifying this style into a single braid.
What you'll need:
Hair elastics in assorted colours
Three-Strand Braid
This basic three-strand braid is a must-learn before you move on to the next types of braids. Simply split your child's hair into three sections, then cross the right section over the centre and repeat with the left. Keep going, then secure the loose ends with a hair tie. It's as easy as that!
Intermediate

Types Of Braids

For Kids
Now that you've picked up the basic three-strand braid, level up with more intricate types of braids.
French Braid
After the basic braid, graduate to simple French braid hairstyles like this one. It starts off just like a regular braid, except it incorporates more hair from the sides as you go. It's a tighter and neater type of braid that's great for school or sports. Just double the braids for adorable pigtails.
What you'll need:
Spray bottle with water

Tail comb

Rubber band

Hair spray

(optional)
Dutch Braid
Mastered the French braid? Pivot to the Dutch version! The only difference is that the Dutch one requires the left and right sections of the hair to go underneath the middle section, rather than above. This simple change of technique produces a more three-dimensional braid.
What you'll need:
Spray bottle with water

Rubber band
Waterfall Braid
The horizontal, half-down version of the French braid is the waterfall braid. It goes all the way around the back of the head, with sections of hair 'dropped' to create a cascading effect. Unlike other types of braids, this one is best plaited loosely for a soft and flowy look.
What you'll need:
Elsa Braid
Got a Frozen fan at home? This simple braid hairstyle tutorial will show you how you can recreate Elsa's iconic tresses on your little girl. With a diagonal French braid and some loose tendrils in the front, you'll have an Elsa lookalike in minutes!
What you'll need:
Advanced

Types Of Braids

For Kids
Ready to advance to the next level? Challenge yourself to these multi-braid hairdos.
Fishtail Side Braid
If you've conquered French and Dutch braids, fishtail braids are easy peasy. They're slightly different in technique compared to those types of braids, but they result in beautiful herringbone-like patterns.
What you'll need:
Spray bottle with water

Tail comb

Hair elastics

Hair spray and spray gel (optional)

Bow clip
Braided Updo
Elegant but simple, this braid hairstyle takes only five minutes to do. After plaiting two pigtails, simply tuck and pin them across the back of the head. Add a pretty bow right below the braids, and you've got an updo fit for Bridgerton!
What you'll need:
Spray bottle

Paddle brush

Rubber bands
Side-Part Triple Braid
Want to give regular types of braids a little twist? Then try this side-part triple braid. It comprises a three-strand braid on the left, and a small three-strand braid incorporated into a big braid on the right. It's sleek, with a little style thrown in.
What you'll need:
Spray bottle with water

Hair gel

Hair elastics
Anna Braid
Of course, we didn't forget the Anna fans! Her look requires a couple more steps than Elsa's, with twisted sides and two braids converging into one. But we're sure you can pull it off, if you've made it to this level.
What you'll need:
Tail comb

Bobby pins

Hair elastics
Say Bye To Bad Hair Days With These 12

Types Of

Simple

Braids

Hairstyles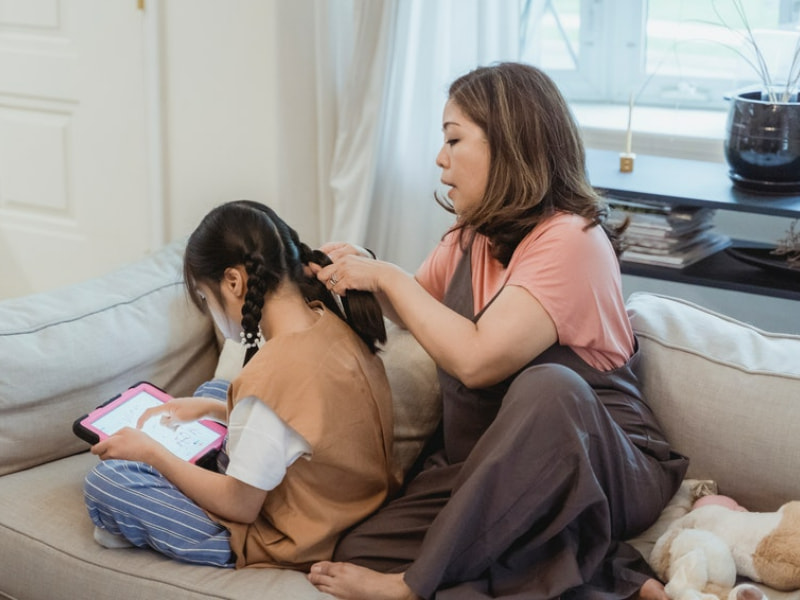 Whether you're a mum or dad, kudos to you for taking the time to learn different types of braids for your little one. Hopefully, these simple braid hairstyles will come in handy for school, sports, or parties. If you find your kid a little fidgety, try distracting them with some books or games while you braid. Otherwise, consider it a little bonding moment between you and your child!