Great live music, infectious crowd energy, and a night that lives long in the memories. Music festivals provide a form of sensory entertainment like no other. The likes of Coachella, Glastonbury, and Tomorrowland are some of the biggest music festivals in the world. But there is no shortage of world-class events in our own backyard. The Rainforest World Music Festival—one of the most prominent live music fixtures playing out in Malaysia—is back this year with in-person stage performances after two pandemic-ravaged years. Here's what you need to know about the much-anticipated music event, and also the Borneo Jazz Festival that follows after.
What Is The

Rainforest World Music Festival

?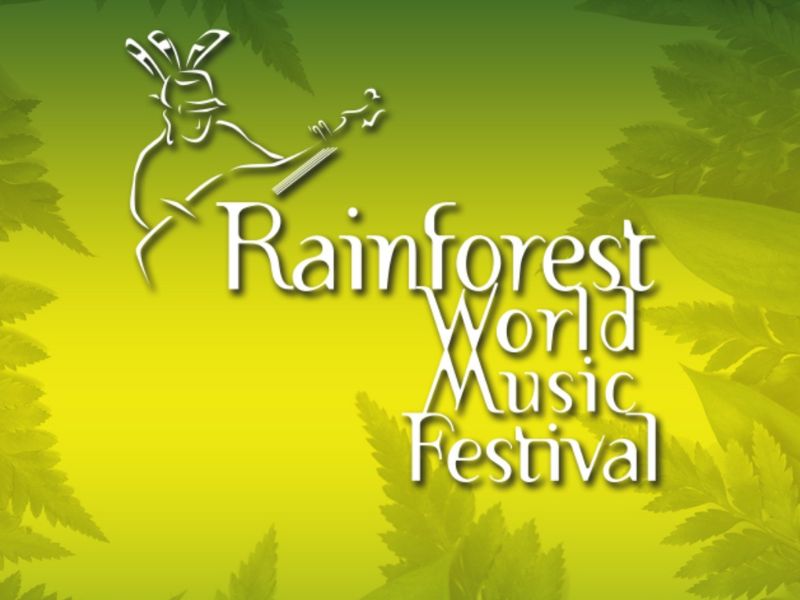 The Rainforest World Music Festival (RMWF) is a three-day event which brings together indigenous musicians from the interiors of Borneo Island plus renowned world musicians from all continents. It is more than just music performances, as there will also be daytime music workshops, ethno-musical lectures, and cultural displays.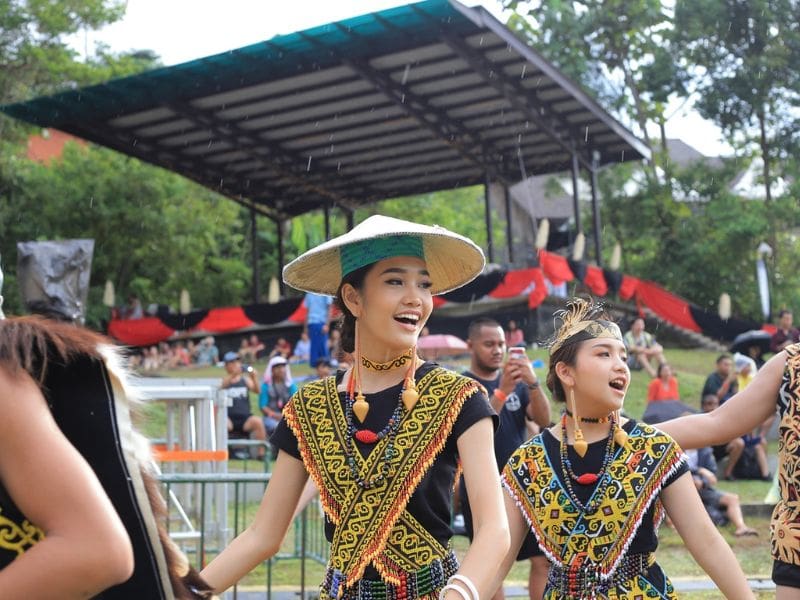 The annual event has been running since 1998 with an audience crowd that grew from 300 to 20,000. Following the cancellation of the 2020 edition and the virtual-only 2021 edition, RMWF 2022 welcomes back live audience members in a hybrid format that will also feature livestream performances.
The Rainforest World Music Festival 2022 will also be a celebration of its 25th-anniversary and goes by the theme "Legendary Rainforest Celebration".
Where And When Is The

Rainforest World Music Festival

2022 Held?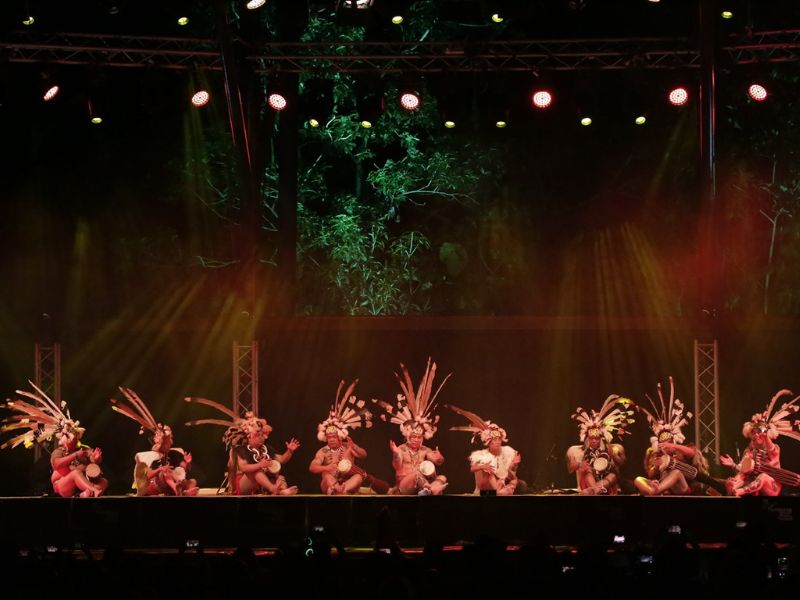 This year, the Rainforest World Music Festival will take place from June 17 to June 19 at the Sarawak Cultural Village, against the backdrop of the legendary Mt.Santubong.
Tickets, which start at RM165 for an adult 1-day adult pass and RM85 for a child 1-day pass, can be purchased online at rwmf.net or through ticket resellers. Virtual tickets for the livestream are available at RM25 per one hour block.
Who Will Be Performing At The

Rainforest World Music Festival

2022?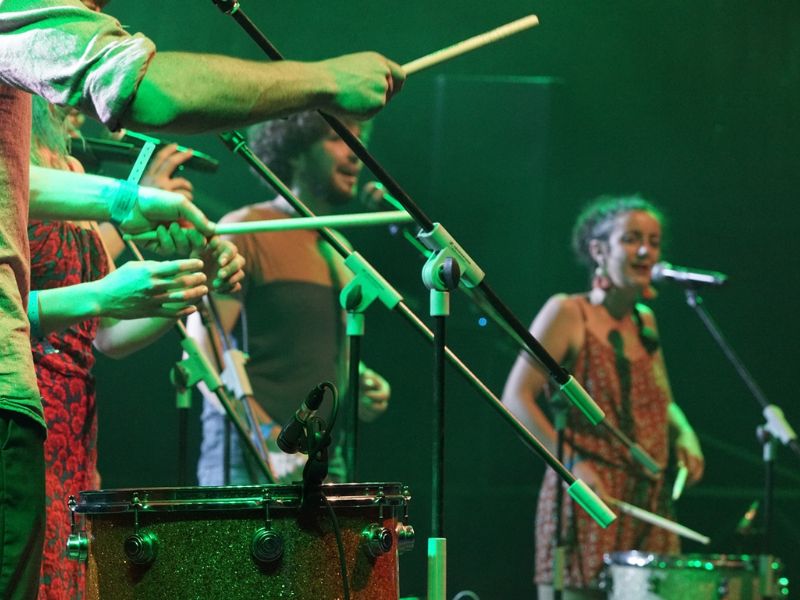 The Rainforest World Music Festival 2022 will be hosting a diverse lineup showcasing Malaysian talents such as Alena Murang, At Adau, and Bamboo Woods, in addition to featuring international performers from Canada, India, USA, Finland, Thailand, Indonesia, Vietnam, Singapore, Japan, Australia, Madagascar, Ukraine, China, Bhutan and Seoul, among others.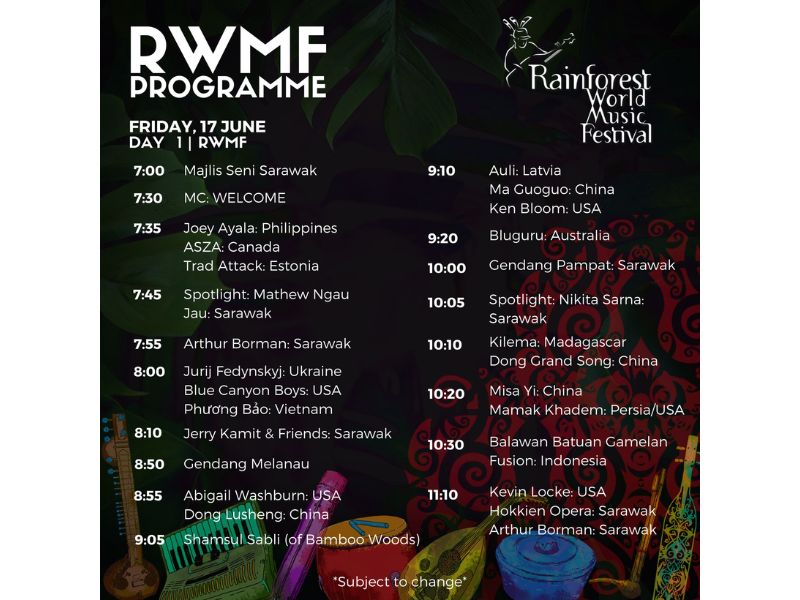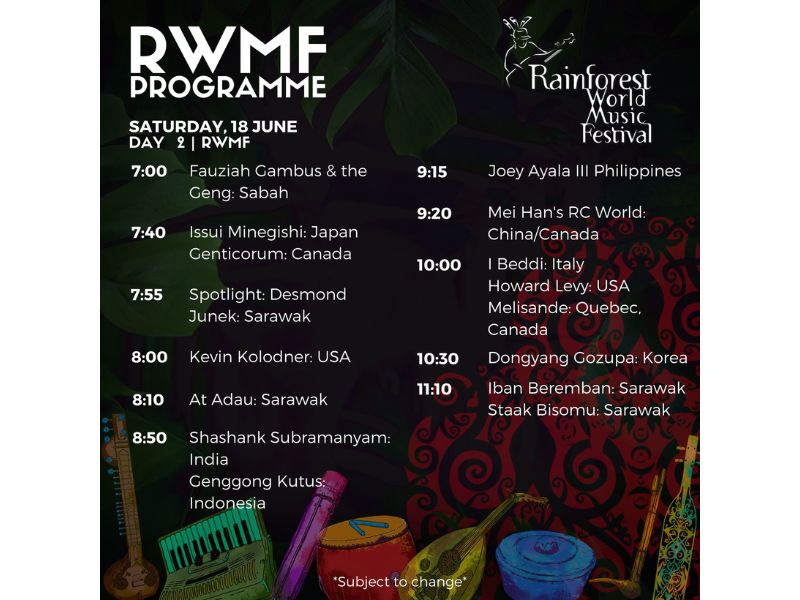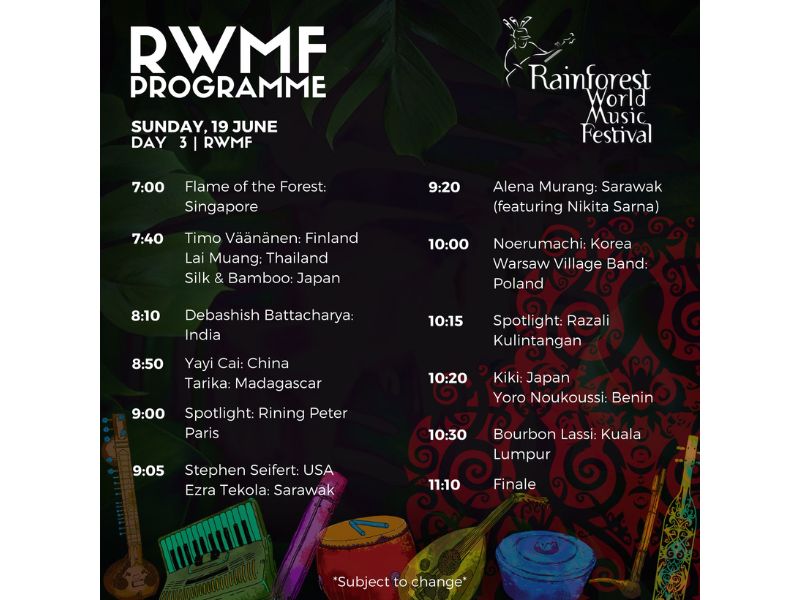 No less than 60 acts will be taking to the stage for a wondrous music celebration. Here are some of the highlights. 
Alena Murang (Malaysia)
The Sarawak native is the first professional female sape' player who sings in the endangered languages Kenyah and Kelabit. The award-winning and multi-talented musician also performs the ngarang hornbill dance. She has won the Best Asia and Pacific Music Video and Honourable Mention for Best Costume awards at the International Music Video Awards in the UK for her music video Warrior Spirit.
At Adau (Malaysia)
With their catchphrase "Music That Heals", At Adau aims to share the beauty of music that inspires people. The Sarawakian sextet experiments with a fusion of modern and traditional musical instruments including the sape', percussion, Djembe and Dunun from West Africa, Congas from Latin America, and electric guitar.
Bamboo Woods (Malaysia)
Bamboo Woods showcases their brand of unique musical style and presentation by using 100% bamboo and wood instruments. The eight-member group's innovative music has won them a string of recognitions which include Best Musical Award in bamboo music (2017) and Most Creative Talent in Borneo at the Borneo Talent Award (2017).
BluGuru (Australia)
The trio of Josh Bennett, Andrew Clermont, and Parvyn make up BluGuru from Down Under. Self-described as "a twisted tale of Indian, Blues, Celtic, Swing, Jazz, Bluegrass, and adventure". Expect the unexpected from the genre-hopping BluGuru, who will be dishing out instrumental plays, vocal harmonies, and dances.
Debashish Battacharya (India)
Indian classical musician, singer, composer, and educator Debashish Battarcharya has garnered global attention for his originality in music. At just the age of 15, he designed his first Chaturangui (a guitar with an additional blend of four tones) and even created a genre, Hindustani Slide Guitar. He was a nominee for the Best Traditional World Music Album accolade at the 2009 Grammy Awards.
Timo Väänänen (Finland)
Timo Väänänen plays the kantele, which is the Finnish national instrument. Well-known for playing both traditional and new music, he performs solo as well as with his bands. You may have heard his work from the 2005 Disney movie The Chronicles of Narnia: The Lion, the Witch and the Wardrobe, in which he was a featured soloist.
Dongyang Gozupa (South Korea)
Translated as "Eastern High Frequency", Dongyang Gozupa is an innovative and progressive rock band that plays the Gugak (traditional Korean music) with Yanggeum (Korean hammered dulcimer), bass, and percussions. Their music combines various elements such as progressive rock, post-rock, and traditional melodies.
Flame of the Forest (Singapore)
Flame of The Forest (FOTF) is an instrumental world fusion music group that produces music with modern interpretations. The band synergizes different ideas and concepts from all other music with their understanding of Indian Classical and Folk music.
Kilema (Madagascar)
Clement Randrianantoandro or Kilema is a well-travelled musician hailing from Madagascar. He has brought his fusion of traditional and world music to prestigious music festivals around the world since the 90s. Kilema is also currently the worldwide ambassador of Madagascar.
The Music Celebration Will Continue With

Borneo Jazz Festival

2022!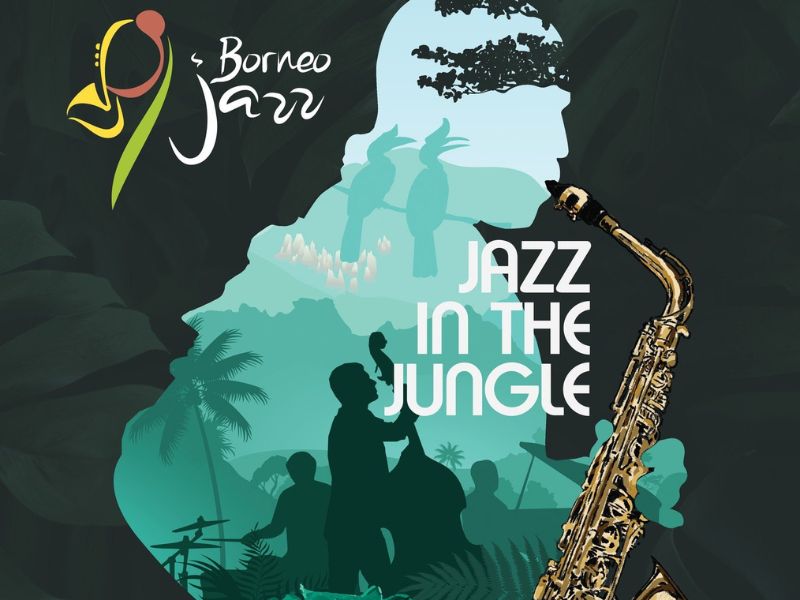 Music lovers and festival goers will not be left to cure a great hangover after the curtains come down on the Rainforest World Music Festival just yet, as the Borneo Jazz Festival is set to take over the spotlight the week after!
The Borneo Jazz 2022 is happening from June 24 to June 26 at Coco Cabana in Marina Bay, Miri, Sarawak. An eclectic mix of jazz musicians, rappers, and DJs from the across the globe will be headlining the show. Some of the artists slated to light up the stage include Alema Fernandez, Masia One, Q Sound Band, DJ Estephe, and Jase Sng. It promises to deliver a spectacular fusion of jazz and hip-hop, tribal vibes, world beats, and electro-jazz grooves!
Similar to RWMF 2022, the 17th edition of the Borneo Jazz Festival will be held in a hybrid format with performances to be livestreamed. More details can be found here.
From a rainforest celebration to jazz in the jungle, these two music festivals are definitely not to be missed! 
For more stories, check out our Shopee Blog on curated food guides, the latest fashion and beauty trends, tech tips, home hacks, parenting ideas and more!