Wireless charging has come a long way. From its early years when it was seen as convenient but slow, to this day where it can juice up a phone just as quickly as charging with a cable. If you have purchased a smartphone in the last two to three years, chances are it comes with the ability to be charged wirelessly. We have gathered some of the best wireless phone chargers for Android phones and iPhones, and our top recommended models are a great place to start if you have no clue where to start or what to look out for. 
4 Best

Wireless Phone Chargers

To Buy For

iPhone
Apple MagSafe Charger
For Apple users, it is always recommended to get official and genuine accessories to avoid any potential issues or harm to their phones. If you own a model from the iPhone 12 and iPhone 13 series, then you know it comes with the MagSafe magnetic charging feature. Opting for Apple's official MagSafe Charger is a no-brainer and the safest bet for a quality wireless charger for your iPhone that does its job well.
Belkin BOOST↑CHARGE PRO 2-in-1 Wireless Charger Stand With MagSafe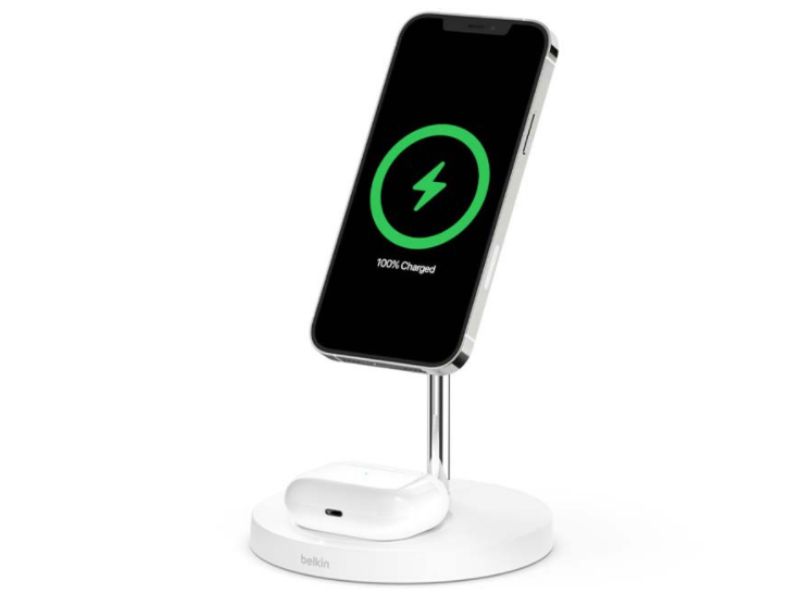 The Apple MagSafe Charger too plain and boring-looking for you? Then jazz up your desk or bedside table with the Boost Charge Pro 2-in-1 wireless charger from Belkin. It has a minimalist yet stylish look that is accentuated with a stainless steel stand. Besides propping your phone up for easy access, the MagSafe wireless charger for the iPhone also has a built-in second charging pad at the base made for AirPods and other compatible wireless earbuds. Should you also own an Apple Watch, Belkin has a 3-in-1 version that is just as aesthetically pleasing.
Aukey LC-A3 3-in-1 AirCore Wireless Charging Station Stand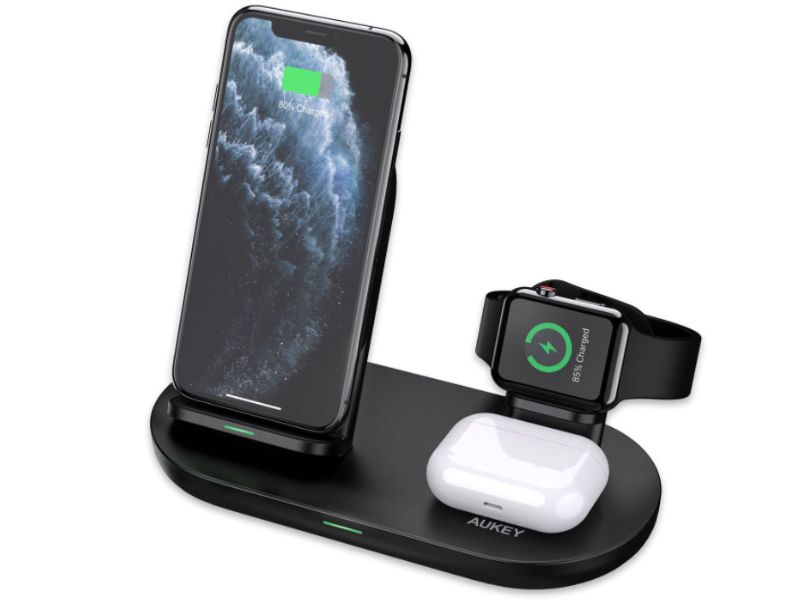 For those who do not have a MagSafe-compatible iPhone, you can take a look at the Aukey LC-A3 3-in-1 AirCore. The wireless charging station stand comes ready with the necessary docks and pads to charge not only your phone but also your Apple Watch and AirPods. Its fairly inexpensive price tag makes it a good all-in-one charging solution for your Apple gear.
Apple MagSafe Duo Charger
hink the Apple MagSafe Charger, but better and more portable! The MagSafe Duo Charger not only lets you conveniently juice up your iPhone wherever you take it, but it can also do the double duty of charging an Apple Watch at the same time. All in a slim, wallet-like form factor that you can easily slip into a bag.
4 Best

Wireless Phone Chargers

To Buy For Android Phone
Samsung Wireless Charger

Trio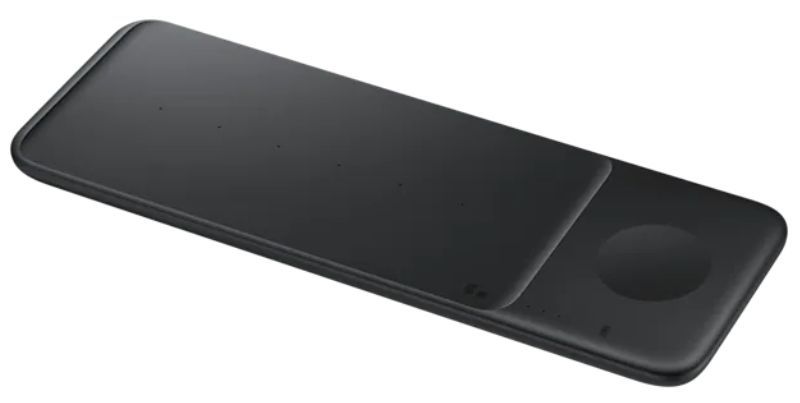 Like Apple with its official accessories, Samsung also makes wireless chargers that work best for its own devices. The Samsung Wireless Charger Trio is a great option not just for Samsung but also for any Android phone. It has room to hold three devices—a phone, a smartwatch (only works with Samsung Galaxy Watches), and a wireless earbuds case—at once. With a total of six coils inside, you have more leeway to put down your devices at will without worrying about them not picking up a charge.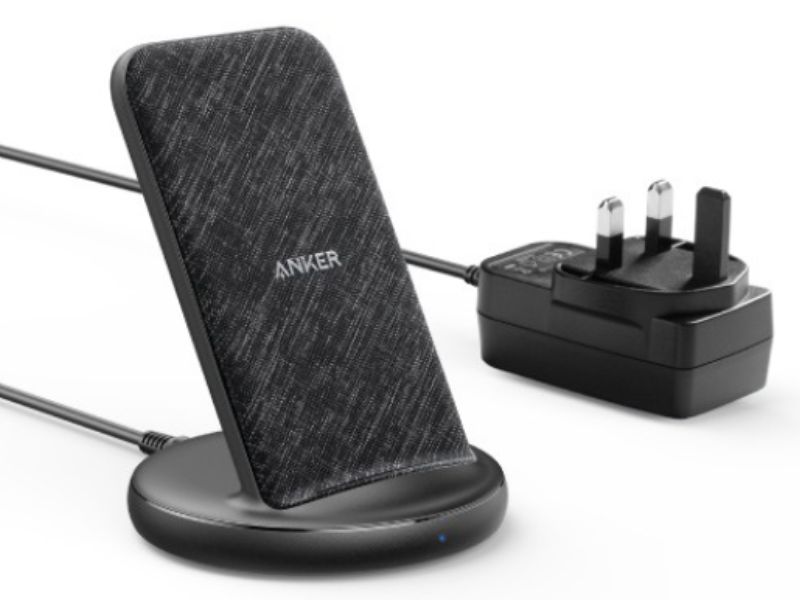 If you have limited desk space, something like the Anker B2529 PowerWave II might be just what you are looking for. The wireless charging not only can charge your phone vertically but also horizontally, which means you can do video calls or watch videos while charging simultaneously. Moreover, it has an adaptive power feature that can detect almost any mobile device and subsequently delivers the optimised charging output accordingly.
Xiaomi Mi Wireless Charger Speaker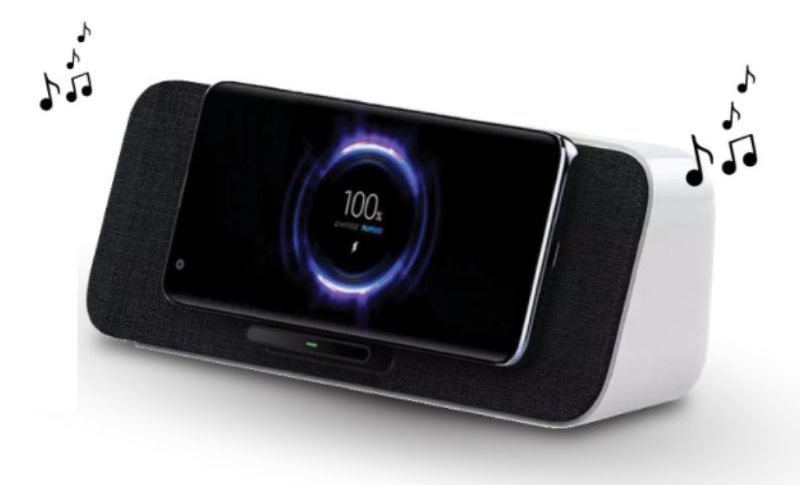 Yes, you read that right. This Mi wireless phone charger from Xiaomi also doubles up as a Bluetooth speaker! Who doesn't love a multi-functional device? Whether it is jamming to your favourite tunes or catching up on K-dramas before bedtime, you can do all that and more without having to worry about your phone's battery getting drained. Not only that, Xiaomi has also included a dual bass speaker system to offer a much better listening and viewing experience than what you get straight out of your phone.
Samsung UV Sterilizer With Wireless Charger
Speaking of a multi-functional device, how about a wireless charger for your phone that also eliminates bacteria from the surface of your device? Whilst living in a pandemic, you may want to consider getting the Samsung UV sterilizer with wireless charger. Tested and verified by two independent certification companies, this 2-in-1 wireless charger is capable of killing up to 99% of harmful germs and bacteria from any item (not just phone) you put in the enclosure. Oh, and it charges your phone too while doing its cleaning job, in case you need a reminder.
Ease Your Charging Woes With The Best

Wireless Chargers For Your Phone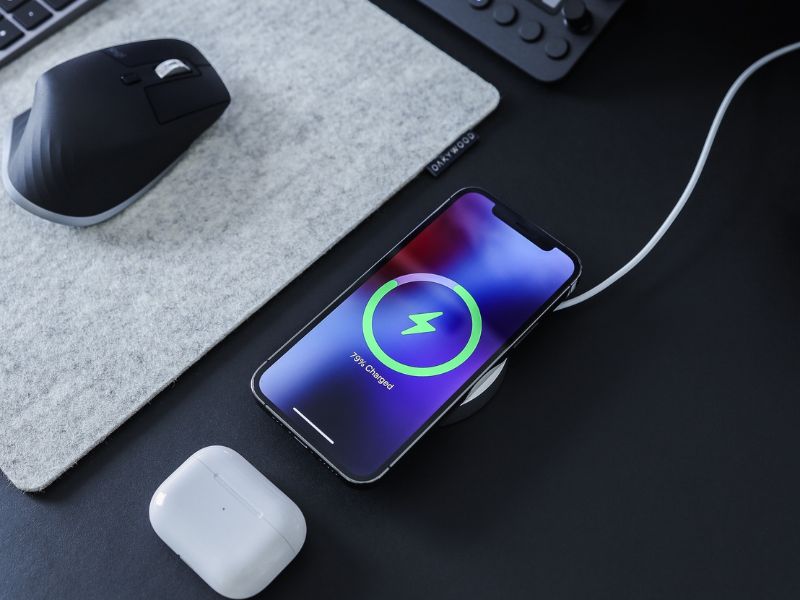 If you haven't gotten into the world of wireless charging, what are you waiting for? With plenty of choices, there is a wireless phone charger that suits your specific needs. While we still dream of a future where our devices can be charged by us simply walking into designated "charging zones" (and without needing to place them down on a pad), wireless phone chargers are still the way to go for the most hassle-free charging experience, for now.
Related: Don't Just Buy Any Power Bank, Get These With Fast Charging Speeds
Check out Tech Thursday for 1-day only lowest price, unbeatable deals, and extra 20% Coins Cashback every Thursday!