Another month, another K-drama to binge. Released on February 12, Netflix's latest Korean series, Twenty-Five Twenty-One, has everyone eagerly tuning in each weekend to see what comes next for our leading characters. It tells the story of a teen fencer, Na Hee-do, diligently pursuing her dreams against all odds and a young adult, Baek Yi-jin, who's striving to turn his life around. They first met when they were only 22 and 18, and fell in love when their paths crossed again 3 years later at 25 and 21. Get ready to bring out the tissues, because we just know it's going to be an emotional ride. 
But the heartwarming, coming-of-age journey isn't the only thing that's caught our attention. Fashion-wise, all eyes are on Baek Yi-jin for his effortless boyfriend material aesthetic. Below, we've compiled some of his best Korean casual outfits from episodes 1 to 8 that you can emulate in your everyday style. 
The Best

Korean Casual Outfits

Worn In Korean Drama

Twenty-Five Twenty-One
The Bookstore Heartthrob (Episode 1)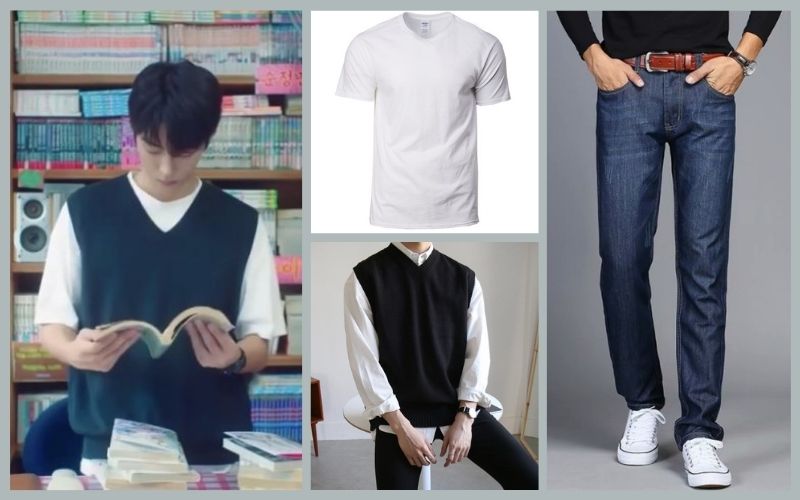 Baek Yi-jin's style is relatively clean and simple in Twenty-Five Twenty-One. He alternates between basic wardrobe staples in most of his outfits, consisting of simple white tees, baggy jeans, and button-up shirts. Here, he elevates his everyday work ensemble with a plain sweater vest. Let's just say, the manhwas are not the only things we'll be visiting the comic book store for. 
Shop this style:
The Soft Boy (Episode 1)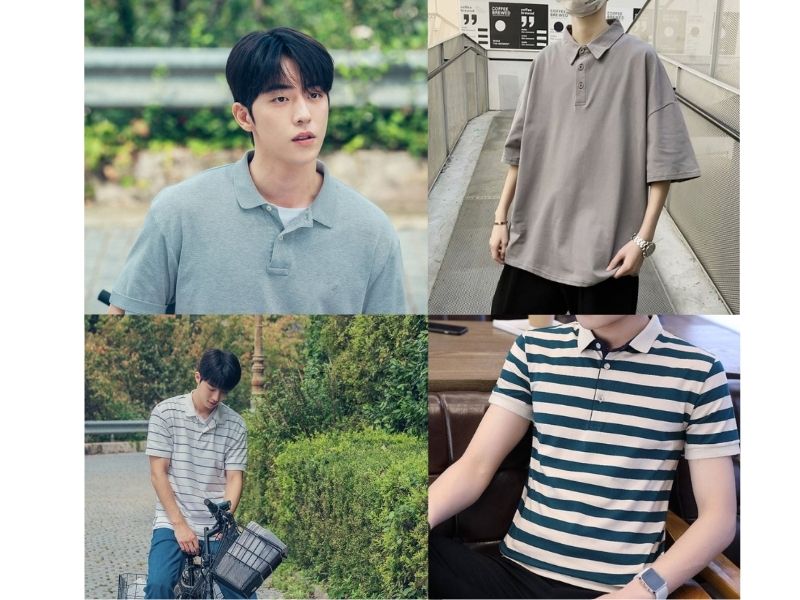 On days when he's not in a button-up, you can find Baek Yi-jin in an oversized polo shirt instead. He favours minimalistic solid colours, as seen with his grey polo and black pants combination. Otherwise, you'll also find him sporting striped patterns, which plays off his youthful, soft boy charms. 
Shop this style:
The Classic Korean Boyfriend (Episode 2)
Layering a T-shirt underneath a button-up shirt is the quintessential Korean casual outfit in practically every K-drama. Baek Yi-jin enhances his boyfriend-material vibes even further by tucking his shirt into his jeans and leaving the first three buttons unbuttoned. 
Shop this style:
The Skater Boy (Episode 3)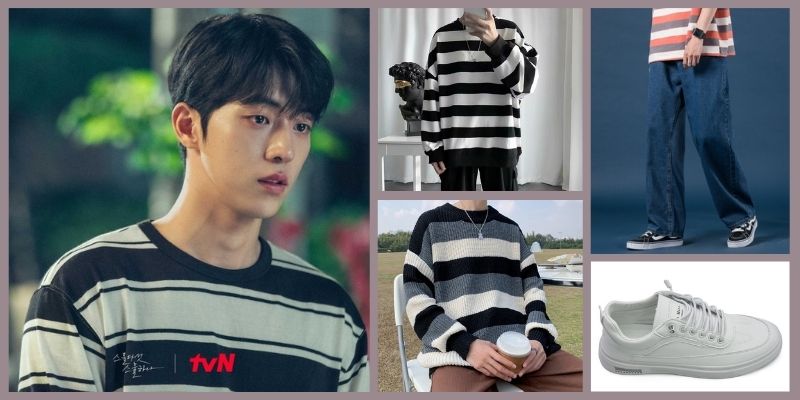 Episode 3 sees the Twenty-Five Twenty-One male lead sporting a skater-boy inspired style in his look. In contrast to his collared tops, this is perhaps one of the most laid-back outfits on Baek Yi-jin. He embodies a more retro style by tucking his shirt in. If not, you could also leave it untucked to fully embrace the oversized trend. 
Shop this style:
The Cool (Episode 4)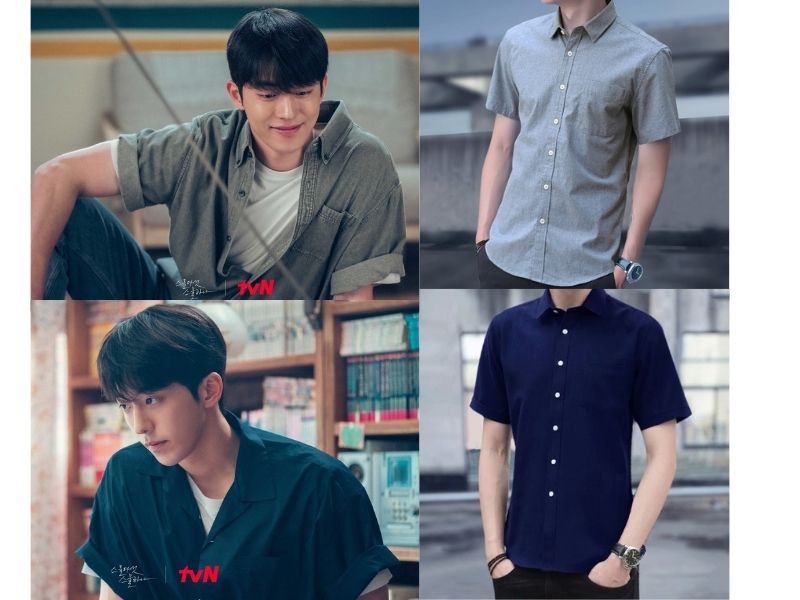 Short-sleeved shirts are his go-to when he wants to dress up yet remain casual. Similar to the long button-ups, Baek Yi-jin likes styling these shorter shirts with a white T-shirt underneath and a pair of baggy jeans. He also has his sleeves rolled up, adding a subtle hint of sexiness to this Korean casual outfit. 
Shop this style:
The Rugged (Episode 5 & 6)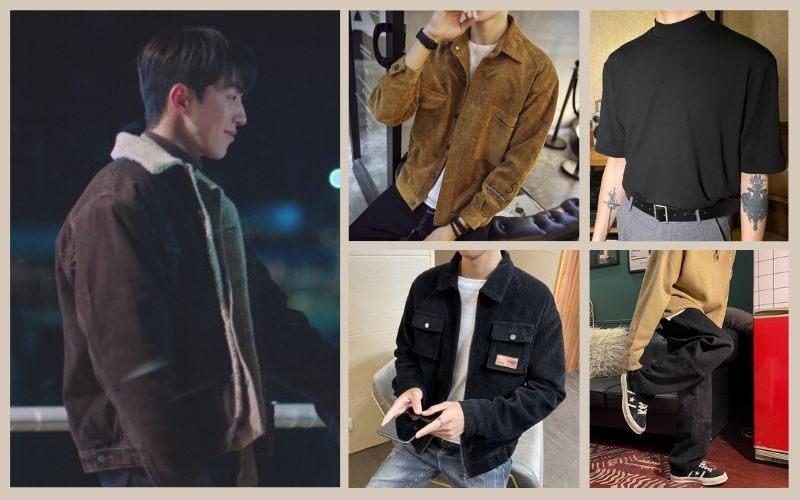 Bundled up in a thick Sherpa jacket, Baek Yi-jin somehow manages to look suave even in the dead of winter. To recreate his look to fit Malaysian's tropical climate, simply ditch the extra layers and opt for a short-sleeved turtleneck T-shirt instead.  
Shop this style: 
The Effortless (Episode 3 & 8)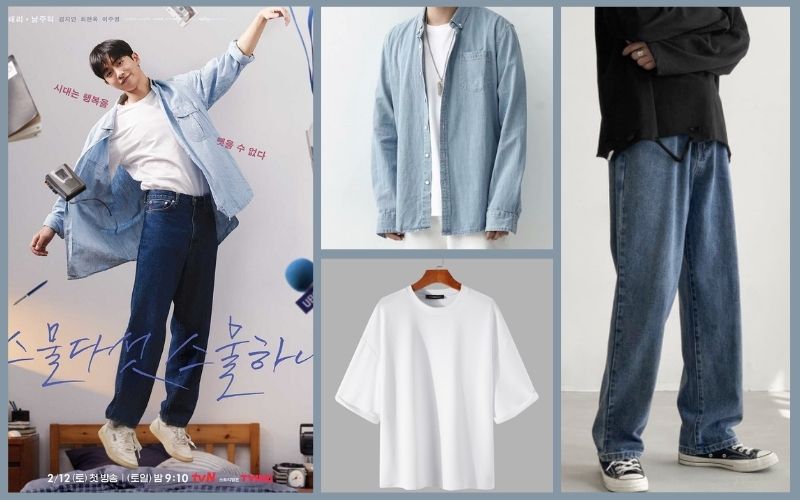 Seeing how frequently it's featured in the series, this denim on denim ensemble seems to be his favourite look. As opposed to his clean-cut Korean casual outfit in the second episode, he's opted to wear his button-up shirt as a loose outerwear jacket this time. It's the perfect look to run errands with (which he usually does in this outfit), as it's loose enough to be comfortable yet chic. 
Shop this style: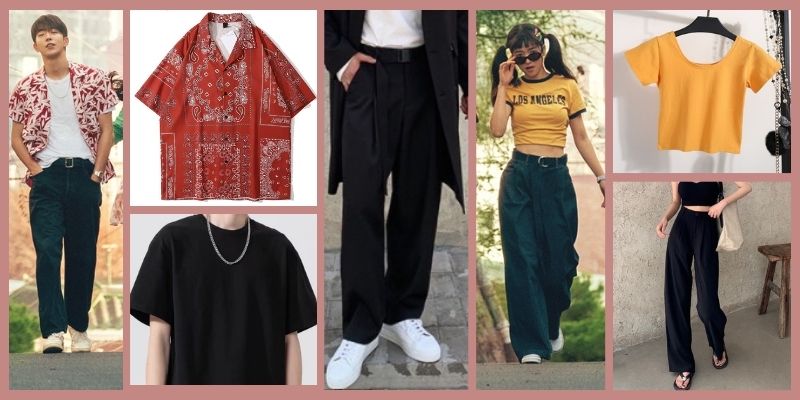 Want to bring your girlfriend into the fun? These are the looks to recreate! Okay, we know these outfits aren't featured in the series, but we just had to include them here. This teaser photo sees our two main characters all decked out in '90s swag along with the rest of the cast. Baek Yi-jin has swapped out his minimalistic, neutral colour palette for a bold printed top. Meanwhile, leading lady Na Hee-do highlights her small waist in a bright crop top and wide-leg pants. 
Shop Baek Yi-jin's style:
Shop Na Hee-do's style:
Channel Your Best Boyfriend Vibes With These

Korean Casual

Outfits 
Transform your everyday style with these Korean casual outfits inspired by Baek Yi-jin from Twenty-Five Twenty-One. Want to take your brand new K-drama aesthetic up a notch? Then give these Korean hairstyles for men a try! Or if you're more of a K-pop fan, check out our guide to these K-pop inspired outfits for men instead. 
Find more Korean-inspired trends here.