"Wait, what? realme makes laptops now?" remarked someone in surprise when she spotted this laptop that we have in our hands. Yes, ladies and gentlemen, realme makes laptops now, in addition to smartphones, wireless earbuds, wearables, and a plethora of smart home devices. But this is not the first time that a brand known primarily for making smartphones also dabbles in laptops. We have the likes of Xiaomi, Huawei, and Honor as the early trailblazers. So, is the realme Book any good? Here, we take a closer look at the laptop and give you our take after using it ourselves.
Look And Feel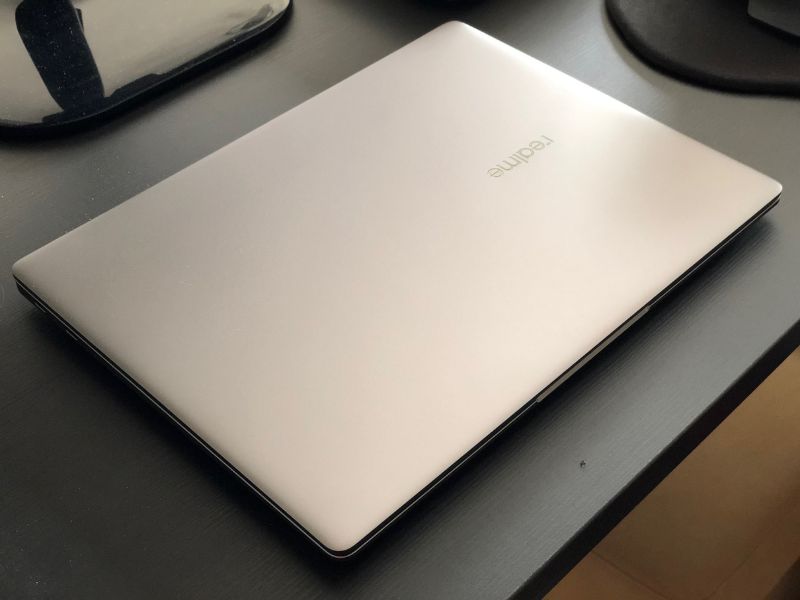 In terms of the looks, there is no mistaking where realme takes its design cues from. Not to say that is a bad thing, as there is undeniably a lot of love for the iconic sleek design of Apple's MacBooks. But in copying much of the good stuff, realme also copied some of the not-so-good stuff.
The realme Book is more of a MacBook Pro than a MacBook Air as far as thickness and weight are concerned. It isn't the lightest laptop around. But at less than 1.5kg, it certainly is a highly portable one. Now, onto the less remarkable attributes.
MacBooks of recent years are not known for offering the greatest of ports variety. Regrettably, realme sees it fit to adopt a similar limiting port selection. The realme laptop offers two USB-C 3.2 ports (with one of them also being a Thunderbolt 4 port in the i5 variant), one USB-A 3.1 port, and a headphone jack. No, there is no HDMI port, ethernet port, and SD card reader.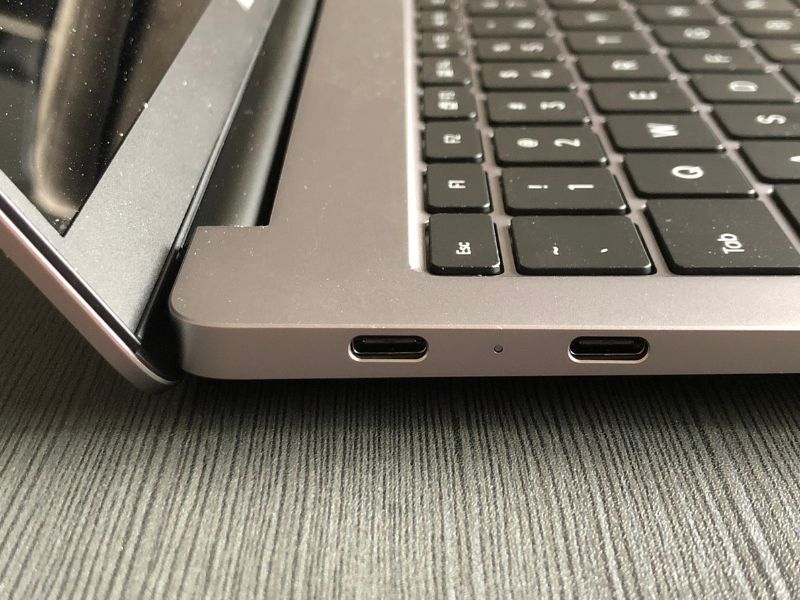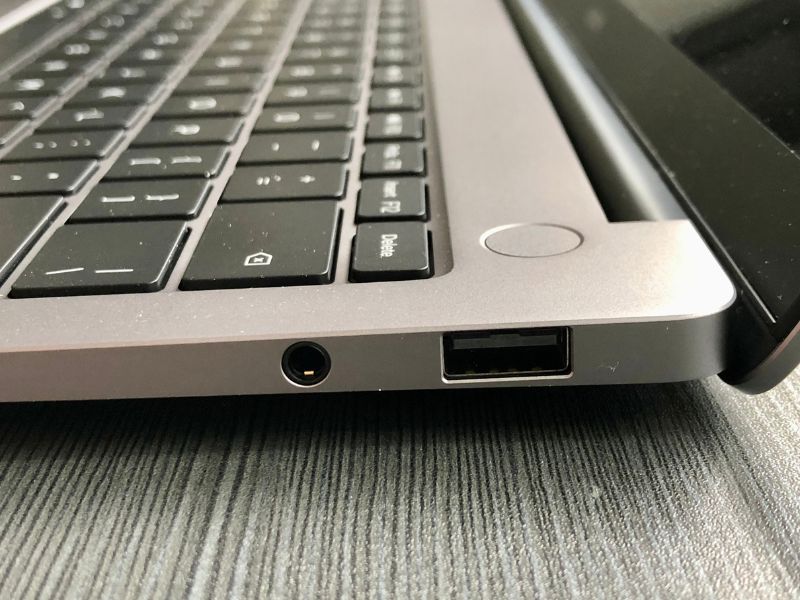 If you spend a majority of your time using your laptop while it is connected to a power source (which many of us do), that leaves you with only one USB-C and USB-A port free for other peripherals, which isn't ideal. The lack of an HDMI port is also a major inconvenience if you frequently hook your laptop to a bigger display. This means getting a dongle is almost certainly a must, though it is not the most elegant solution to the problem.
Pros: Lightweight and portable; looks sleek.
Cons: Limited ports. Lack of HDMI and ethernet ports could make life difficult for a lot of users.   
Display, Keyboard, Trackpad, & Webcam
The star of the show is the 14-inch 2K display (with a 2160 x 1440 resolution). It is a 3:2 screen, which is a newer and taller form of laptop display ratio that is good for productivity. It is ideal if you work with a lot of Word documents and spreadsheets as the display will be able to show more items on the screen vertically. For everything else, it is undoubtedly a gorgeous screen to look at with a heightened resolution. Web pages and videos look great on the glossy display (which, by the way, is not touch-enabled).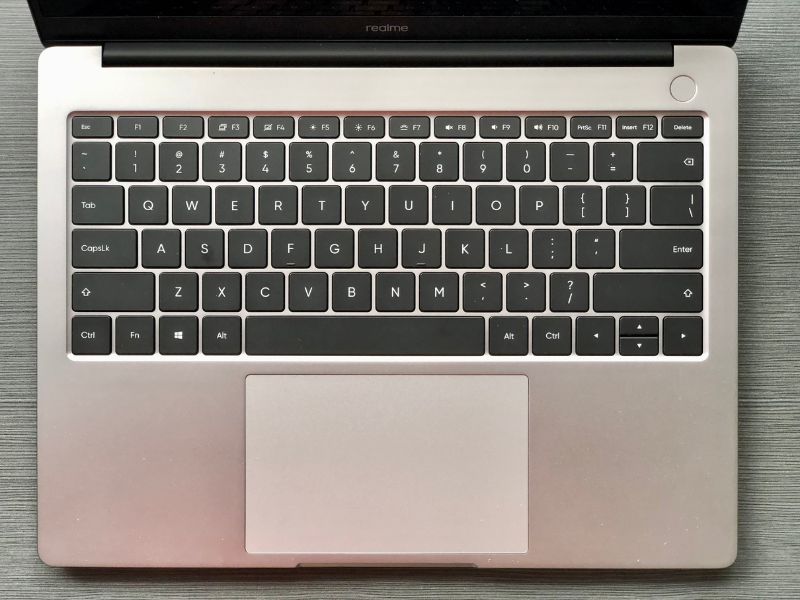 The keyboard is decent enough for typing, though those who wish for highly "clicky" keys might be left slightly disappointed. They are also backlit, which is always a welcome feature. Just below it, you get a generously sized trackpad. While not as huge as the one on a MacBook, it provides plenty of space for the finger to glide around without feeling restrictive. The trackpad experience is, for the most part, above average compared to the ones on a typical Windows laptop, and it does its job well.
Above the keyboard, you will find a responsive fingerprint scanner that logs you into the system quickly and efficiently. Rounding up the hardware features is a 720p HD webcam camera which will do a serviceable job for all your videoconferencing and virtual meeting needs. It would be nice if it comes along with a webcam shutter for greater peace of mind, but that's a minor gripe.
Pros: Awesome display to enjoy viewing content on; 3:2 screen aspect ratio great for productivity; spacious trackpad.
Cons: Webcam could use a physical shutter for added security and privacy.   
How Using The r

ealme Book

Is Like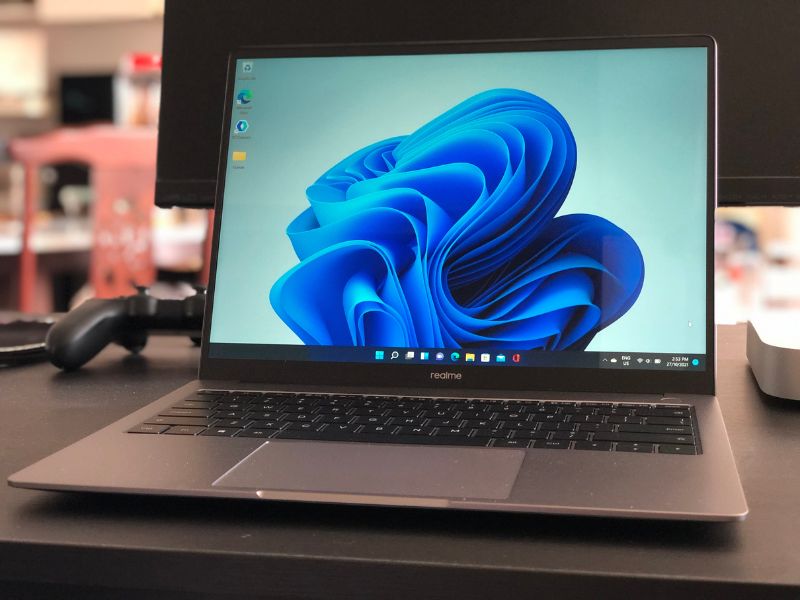 The unit we have for review is equipped with an Intel Core i3 processor (11th Gen) and Intel UHD graphics. An i5 variant with Intel Iris X graphics is also available at a higher price tag. A powerhouse, it is not. But for doing everyday laptop business, it is more than sufficient. If you intend to get this laptop primarily for surfing the web, working on documents, and watching videos, you aren't going to have many issues.
What will be an issue is if you have the intention of doing some heavy gaming. Let it be clear that the realme Book does not offer much mileage in the way of running games. We tried firing up Control—a popular game released in 2019—and it runs at a sluggish frame rate that is barely playable, even after most of the graphic settings have been dialled down to the lowest levels. If there's any consolation, light gaming is still possible on this machine. We had some fun time fishing out the impostor in Among Us.
Also, a thing to note is that it will run the latest Windows 11. Our review unit came pre-installed with Windows 10 out of the box, and we were able to upgrade it to the newest operating system immediately with no issues. We are also happy to report that Windows 11 operates smoothly on this system with no hiccups in performance.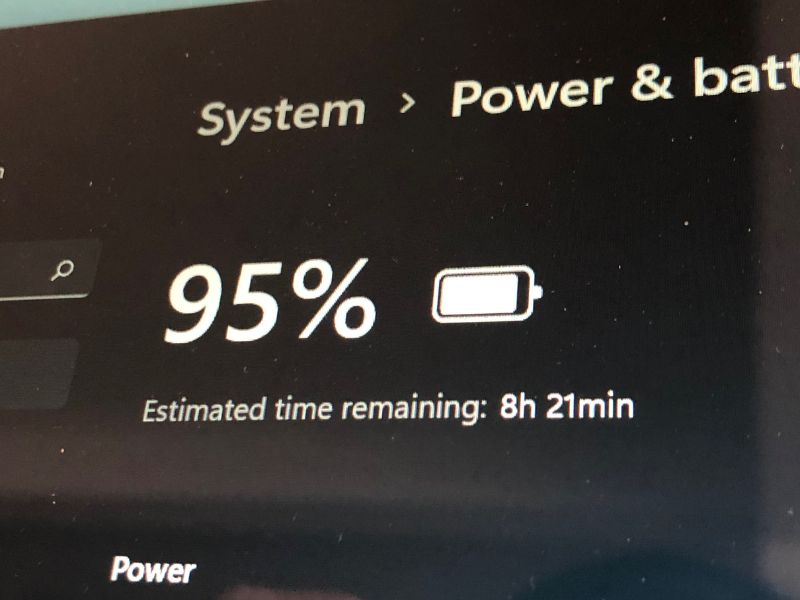 realme claims that its laptop can run up to 11 hours on battery. From our usage of mainly surfing the web and watching videos on YouTube without stressing the system too much, it mostly holds up to that claim. Charging it back up is a quick process with the included 65W fast charger.
Pros: Runs Windows 11 well; solid battery life; 65W fast charging.
Cons: Not for gaming. 
Should You Get The r

ealme Book

?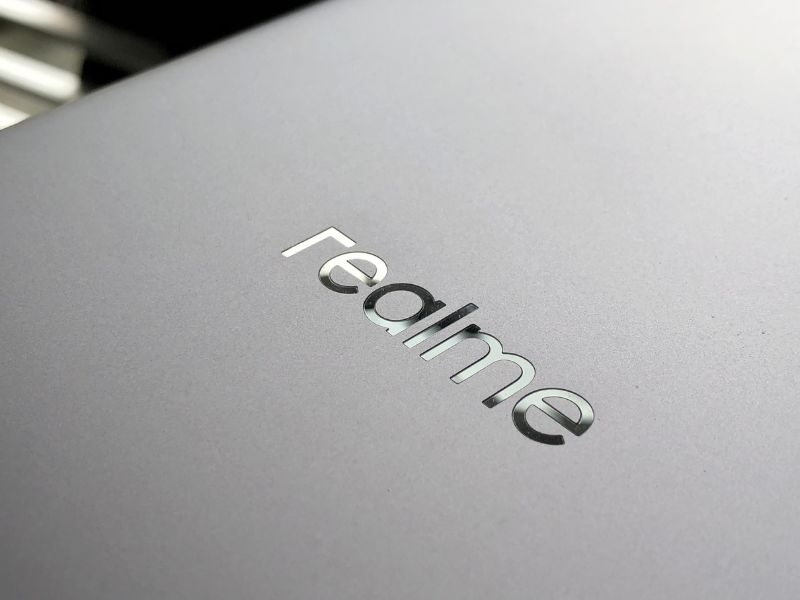 While the realme Book is a good-looking (albeit uninspiring) laptop, using it is both a pleasant and frustrating experience. The display is definitely the highlight here, and watching content on the gorgeous screen is fantastic. The solid battery life and fast charging speed mean using it on the go will present less of a challenge. On the other hand, the lack of ports could pose a headache for some users' workflows. Forget about connecting it to most TVs or monitors if you do not have an adapter.
With the pricing starting at RM2,999 (though you can occasionally find it being offered at cheaper promotional prices), the realme Book is in the same ballpark as the likes of the Huawei MateBook D14 and Honor MagicBook 14. No doubt each laptop has its pros, but if you want that sweet, sweet 2K display more than anything else, there's currently no other laptop with that feature at a similar price point.
realme Book

Price And Availability In Malaysia
The realme Book officially retails at RM2,999 for the Core i3 variant with 8GB RAM and 256GB SSD. Meanwhile, the Core i5 variant with 8GB RAM and bumped up 512GB SSD will cost RM3,499.
Both models are available to purchase online at the realme official store on Shopee Malaysia in Real Grey and Real Blue colour options.
Check out Tech Thursday for 1-day only lowest price, unbeatable deals, and extra 20% Coins Cashback every Thursday!