Thinking of finally getting a brand new TV? Now is as good a time to do so as we continue to hunker down at home. That said, picking the right TV isn't going to be a walk in the park as you can be looking at dozens upon dozens of models to choose from, and that can be overwhelming. Fret not, as we are here to make your life a little bit easier by highlighting some of the best smart TV you can buy in Malaysia right now that suits your budget.
Best Premium Smart TV To Buy In Malaysia
LG C1 OLED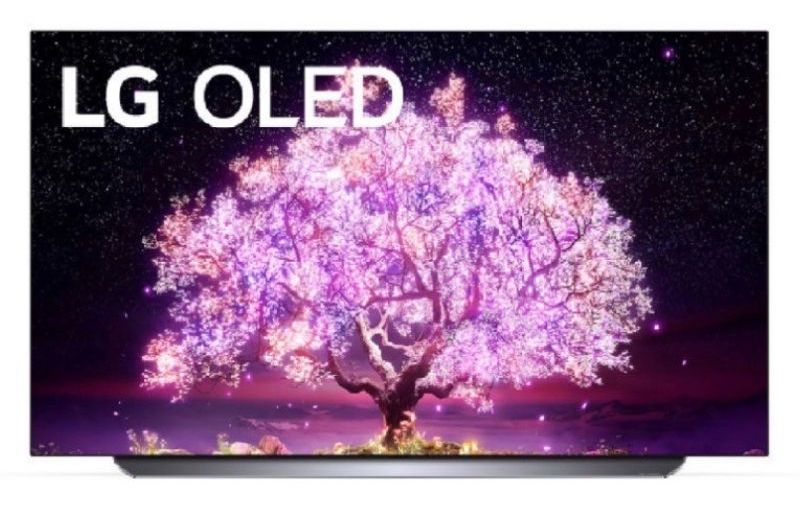 LG makes some of the finest OLED panels for television in the industry. Its OLED TV models feature stunning picture quality thanks to their self-luminous display technology that produces perfect black, infinite contrast, and accurate colours that blow LED TVs out of the water.
The LG C1 OLED not only offers you a spectacular cinematic viewing experience at home, but it is also the almost perfect TV for gaming, while boasting the latest features such as HDMI 2.1, a high 120Hz refresh rate, as well as support for VRR and ALLM. Hands down, it's one of the best smart TVs available in Malaysia.
Samsung The Frame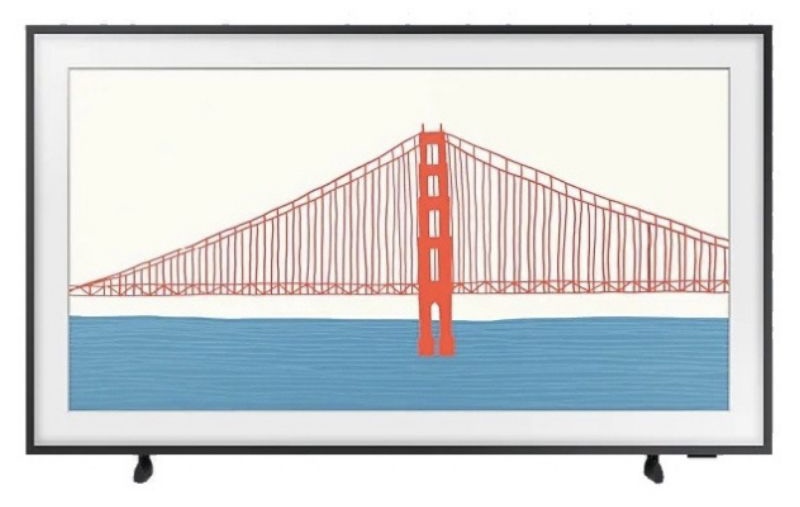 Samsung tries to break the convention of TV design with The Frame, a television that also looks like an elegant, giant photo frame. If there is an award for the best-looking smart TV in Malaysia, this will certainly be a worthy winner. 
The Frame packs many of the latest in TV technologies, but the design is no doubt the scene-stealer here. When not in active use, you can have the TV display artworks and masterpieces from famous painters. Get this if you are all about the home living aesthetics.
Related: Samsung The Frame – Probably The Most Gorgeous TV You Can Buy Today
Sony Bravia XR X90J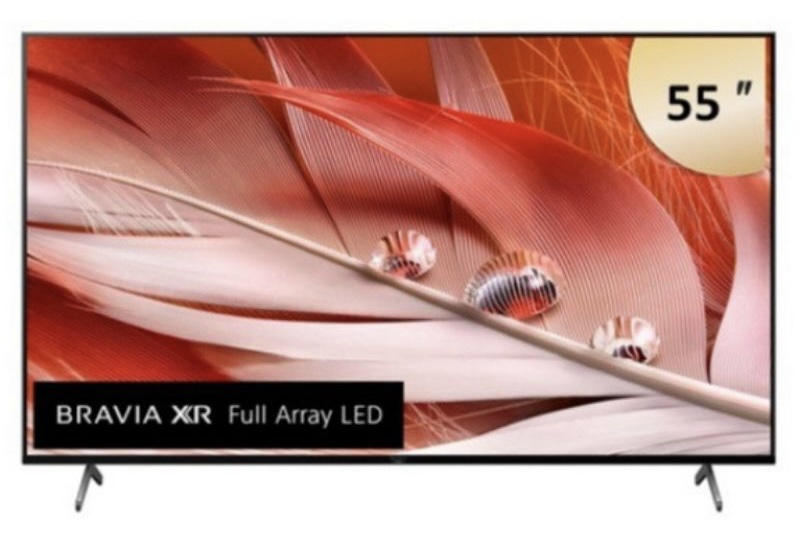 Sony has been making great TVs for decades, and their Bravia series is well-known for being some of the best in the market. If you like what the series offers, you should definitely take a look at the Sony Bravia XR X90J, which is one of their more popular models.
Touted as the world's first cognitive intelligence TV, the 4K LED panel boasts Cognitive Processor XR that promises an unparalleled immersive experience in both the visual and audio departments. For those who own a PlayStation 5 (or are planning to get one), there are few better TVs to get as the Bravia XR X90J is PS5-ready with support for 4k/120fps graphics.
Huawei Vision S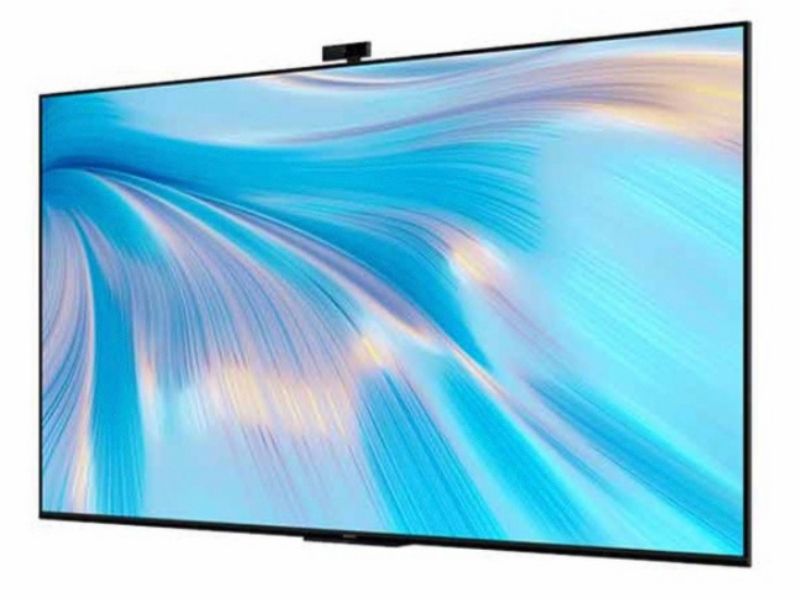 As far as specs go, the Huawei Vision S packs some impressive tech which includes a 120Hz high refresh rate and a quad-speaker system. But it also has a feature you won't find in any other smart TVs—a (removable) front-facing camera.
Fancy having a video call right on a big-screen TV? You can do just that with the built-in MeeTime Video Call feature. Another bonus is if you have a Huawei phone as it can connect seamlessly to the TV and do things such as transfer multimedia content and gaming with the phone as the gamepad. The Huawei Vision S is available in 55-inch and 65-inch variants.
Samsung QN800A NEO QLED 8K Smart TV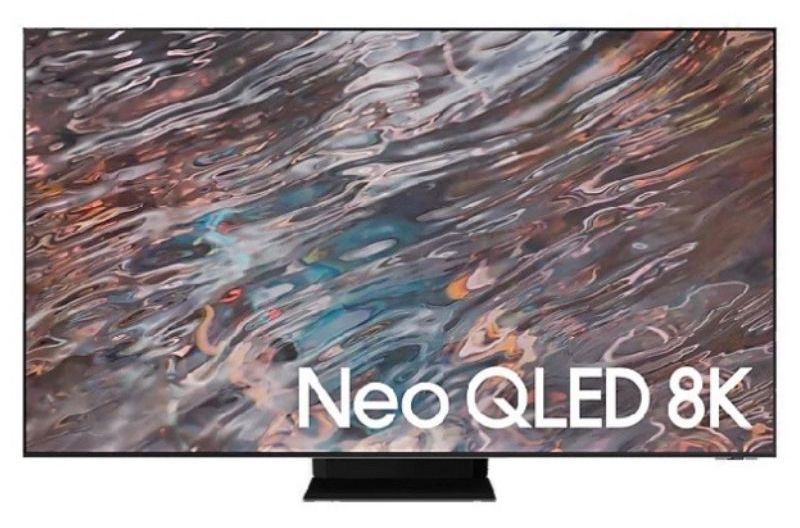 While 4K is the current industry standard, 8K is never too far away. It may still be years before the latter becomes common in households, but you can get ahead of the curve by investing in an 8K TV right now.
As for the 8K TV of choice, the Samsung QN800 NEO QLED is a top drawer. Sure, you may be paying a high premium here, but you will be getting next-level visuals with Quantum Mini LEDs capable of producing the deepest blacks to the brightest whites. 
Best Budget Smart TV To Buy In Malaysia
Hisense 4K Smart LED TV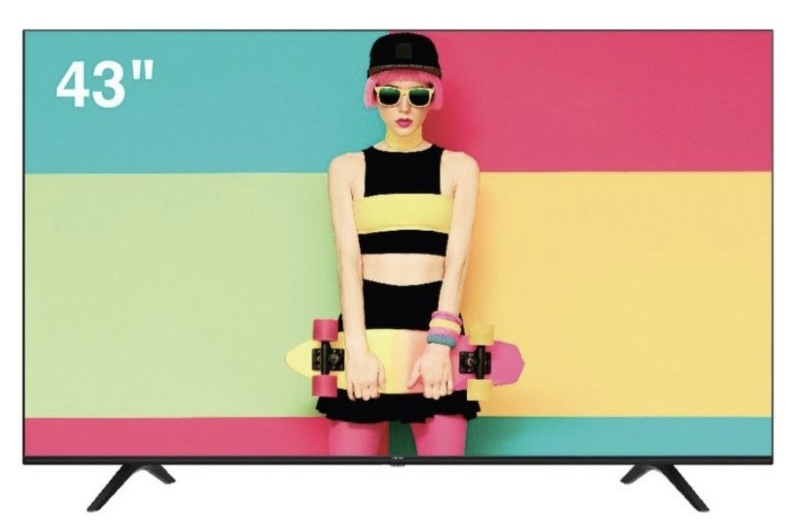 Hisense is fast emerging as a top TV brand that makes high-quality panels with competitive price tags. In fact, their range of 4K Smart LED TVs has been frequent bestsellers.
You can get a decent 43-inch or 50-inch TV with 4K Ultra HD for under RM2,000 with the E6F series, while a 65-inch panel hovers around RM3,000. These are nice and affordable TVs to have for watching Netflix and YouTube in high visual fidelity.
Xiaomi Mi TV P1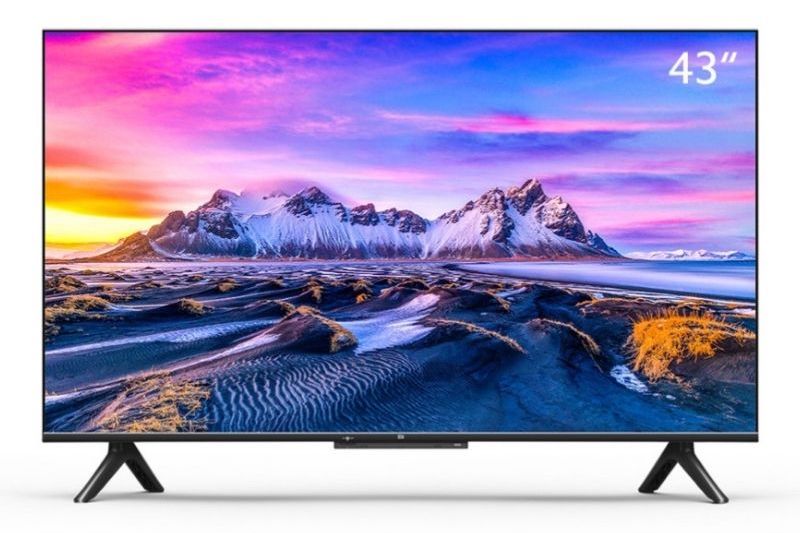 Besides smartphones and smart home devices, Xiaomi has also been making high quality and value-for-money TVs over the years.
Their latest models, the P1 Series, were launched in Malaysia in May 2021. The Mi TV P1 43" and Mi TV P1 55" pushes 4K UHD resolution, while the Mi TV P1 32" is a Full HD model. All the models run on the Android TV operating system with Google Assistant voice command support.
Megra 4K UHD Smart TV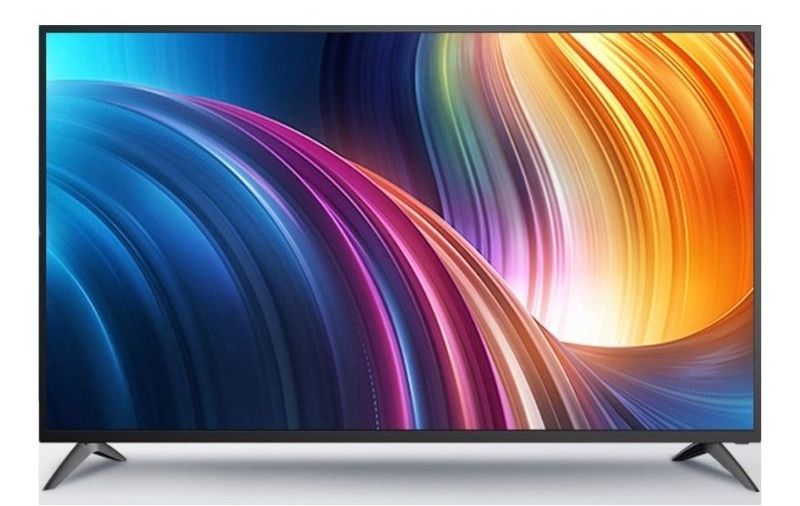 How about supporting a local brand? Megra has been making audio and video products for over two decades now, and their brand of affordable smart TVs have been quite a hit.
Their 50-inch Smart 4K UHD TV offers great value at just under RM1,700, while a slight top-up will get you the 55-inch model. They come with the standard features found in most modern smart TV, such as HDR and Netflix + YouTube integration.
realme Smart TV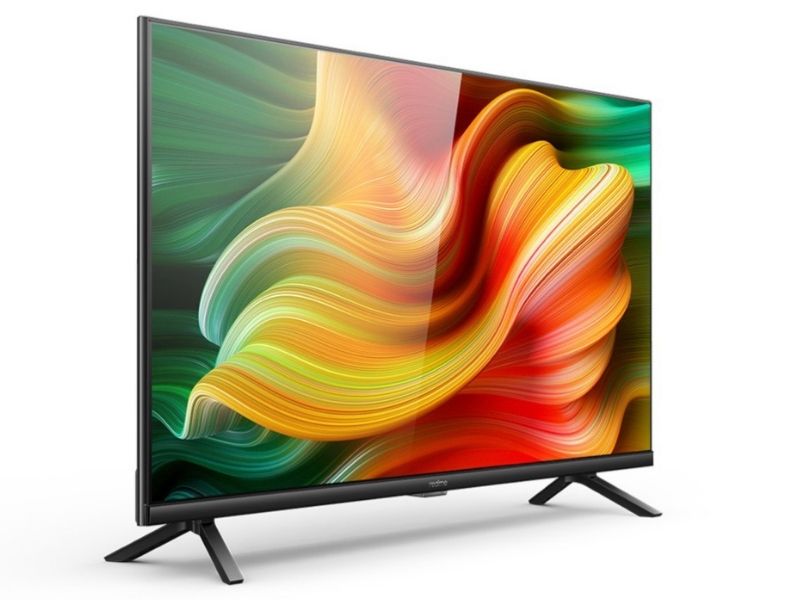 Not everyone needs a 4K-capable TV. For those who can get by watching 1080p content, the realme Smart TV could be just what you are looking for. With prices starting from only RM899, it could be one of the best value-for-money Smart TVs in Malaysia. 
Available in 32-inch and 43-inch models, the realme Smart TV has an almost bezel-less design with a display boasting realme's proprietary Chroma Boost Picture Engine for clearer and brighter visuals. The Android TV also comes with built-in Chromecast, which means you can conveniently bounce content from your mobile devices to the bigger screen.
Get Only

The Best Smart TV On Shopee Malaysia

This 9.9 Sale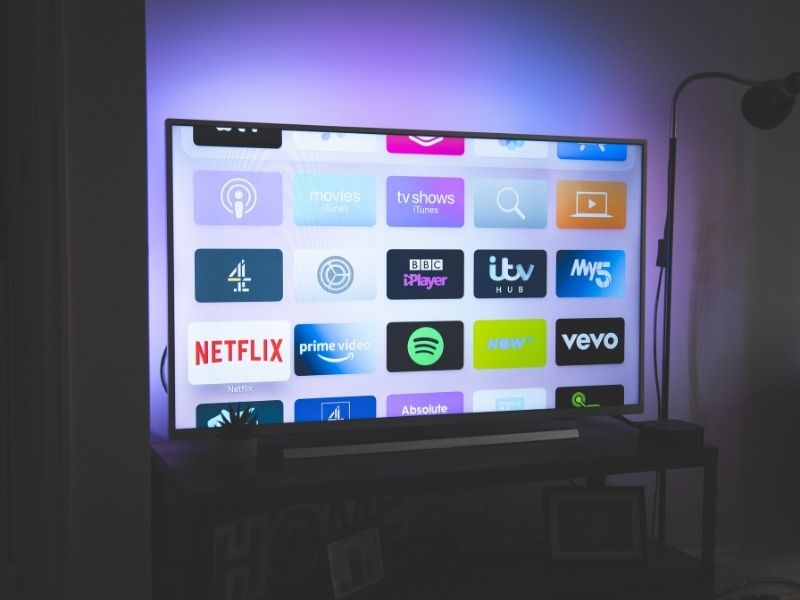 What's better than enjoying great deals all year long on Shopee Malaysia? Grabbing the best discounts during one of the biggest sales of the year! Don't miss our 11.11 Big Sale where you'll find even bigger and better deals than previous years (plus our biggest giveaway yet). Expect the very best smart TV deals on Shopee Malaysia during the sale with all-time low prices!
You Can Get Up To RM400 Off Selected Home Appliances Via SAVE 3.0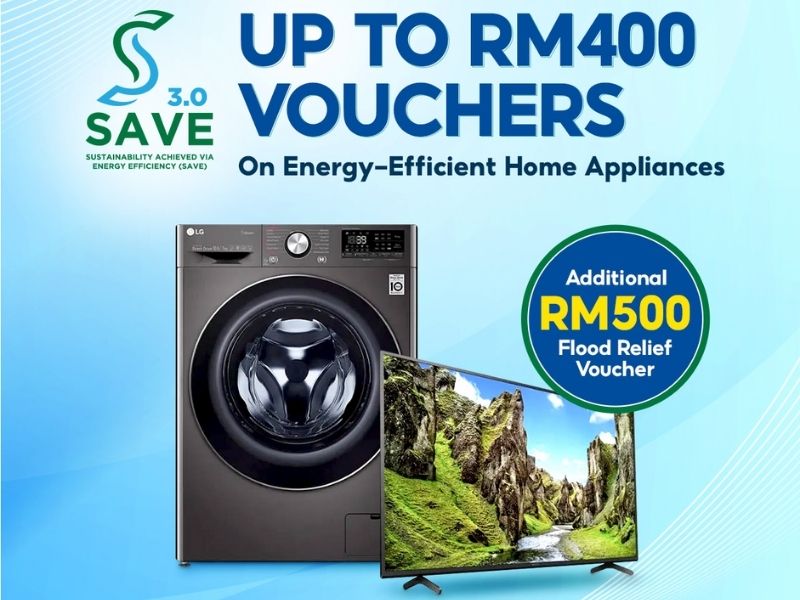 In a follow-up to the Sustainability Achieved via Energy Efficiency (SAVE) 2.0 rebate program introduced in 2021, the Ministry of Energy and Natural Resources has once again collaborated with Shopee Malaysia for SAVE 3.0. The new program now offers a maximum RM400 eRebate to domestic households purchasing selected energy-efficient home appliances. Additionally, victims of the recent floods are eligible to apply for an extra RM500 voucher on top.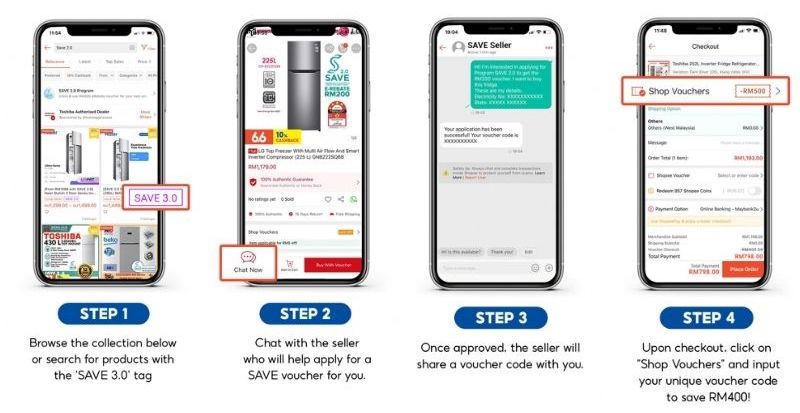 To use the eRebate, just look for home appliances with the "SAVE 3.0" tag and then chat with the seller who will assist you in applying for the discount. If successful, you will receive a unique voucher applicable on the checkout page to get up to RM400 off your cart instantly!
To learn more about SAVE 3.0 and shop eligible products, head over to this page.  
Check out Tech Thursday for 1-day only lowest price, unbeatable deals, and extra 20% Coins Cashback every Thursday!