Ladies, we all know that a good hairstyle plays a major role in highlighting your best facial features. And where better to take inspiration from than your favourite Korean celebrities? From the edgy hime cut to Han So-hee's trendy see-through bangs, here are seven of the hottest Korean hairstyles for women to try right now. Make sure to bookmark this page for your next trip to the salon! 
7

Korean Hairstyles For Women

Inspired By K-Pop Idols & K-Actresses
Hush Cut And See-Through Bangs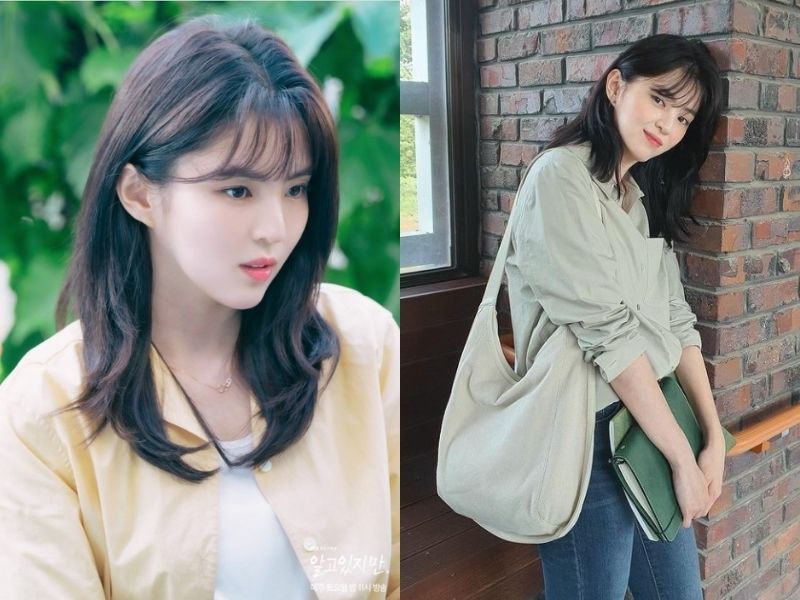 Han So-hee kick-started a new TikTok hair trend with her character as Yu Na-bi in one of 2021's hottest K-dramas: Nevertheless. Her subtle layered waves and wispy see-through bangs give the elegant actress a more youthful appearance befitting a typical university student. You can achieve this Korean female hairstyle with a flat iron, curling inwards or outwards accordingly for a windswept effect. Or show your go-to hairstylist the video below to professionally recreate the look. Don't forget to ask for styling tips while you're at it! 
The Bold And Daring Hime Cut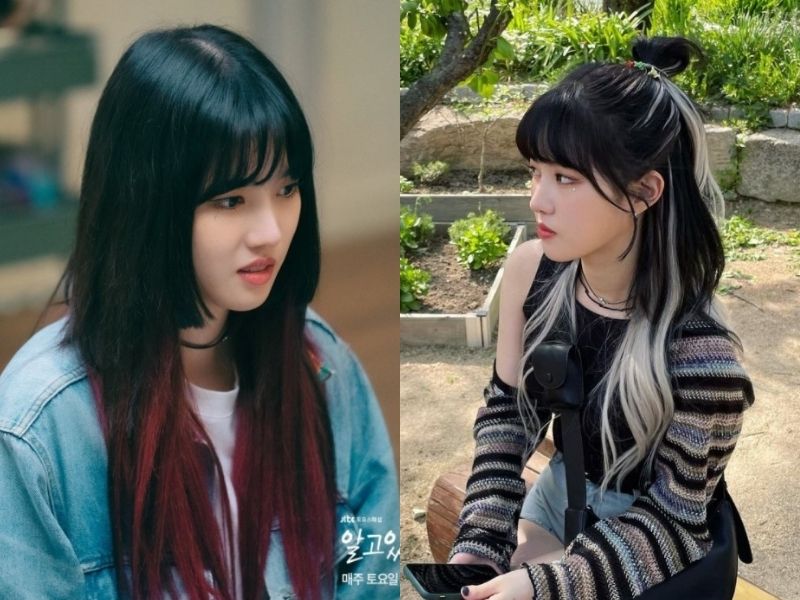 Besides Yu Na-bi, Yang Hye-ji's role as Oh Bit-na also stole the show with her bold two-block haircut, otherwise more famously known as the Hime cut. This hairstyle first originated from the Japanese imperial court during the Heian period. The Royals would grow their hair out but never let their fringe go past their eyebrows and had their sidelocks cut at cheek length. 
It's a popular look among the gothic Lolita community and it's also making a huge splash among Korean women, especially in K-pop. Draw inspiration from Twice's Momo and Oh My Girl's Mimi to learn how you can style your hime cut in many different ways. High ponytails, pigtail and side braids, soft waves, or simply left straight, there's no limit to how creative you can get with this unique hairstyle. 
Short, Blunt, And Straight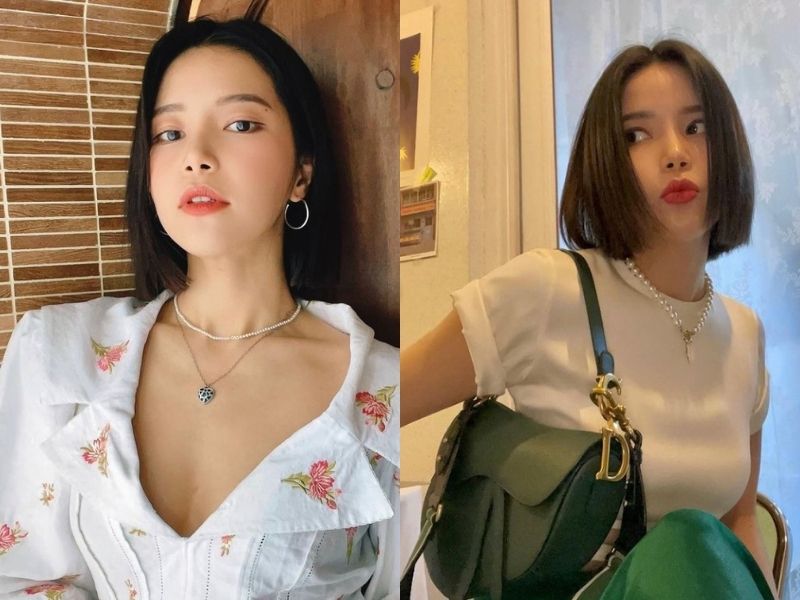 Mamamoo's Solar has experimented with many types of looks. From the pink and black two-toned hair colour in their 'Hip' music video to wearing a bald cap for her solo album teasers. But if sleek and sexy is what you're aiming for, then this Korean female hairstyle is for you. Her short blunt bob does an excellent job at bringing out her magnetic charisma, especially when it's styled straight. 
And for many of us Asian gals with pin-straight locks, this hairdo lets our natural hair texture do all the work. Simply spritz on some heat protectant spray and touch up your strands with a flat iron to make your locks even smoother. And just like that, you're all set and ready to head out the door or to your next Zoom meeting! 
Shaggy And Layered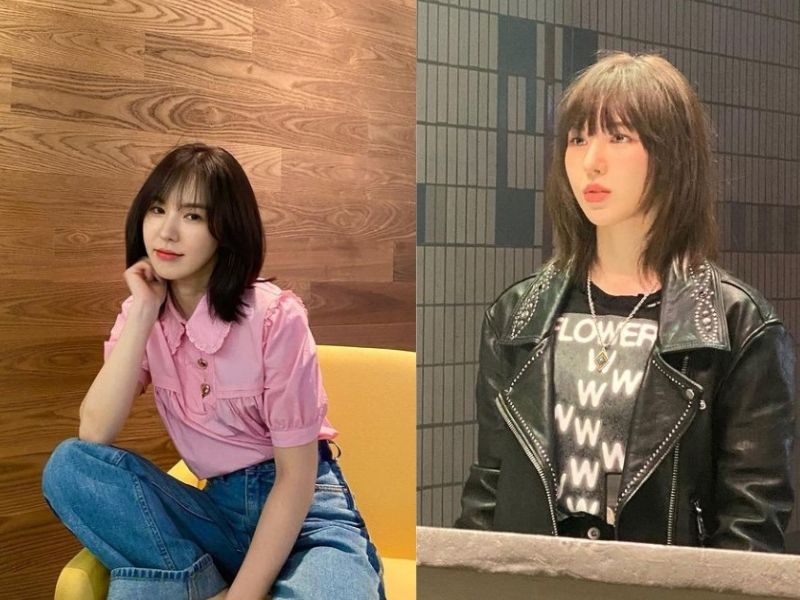 Red Velvet's Wendy can practically rock any Korean hairstyle for women that their hairstylist puts her in. If we need to pick our favourite, however, her short hairdo takes the win every time. It's dubbed the "sharming" cut—a fusion of the "shag cut" and the word charming. However, this look is so popular amongst fans that they've come up with their own name and started calling it the "Wendy Cut" instead. 
The best thing about this Korean female hairstyle is how versatile it is. It can look delicate and feminine with soft, flicked-out waves. Or it can also have a tougher, femme fatale appeal with a straighter style that allows the layers to shine. Learn how to achieve the "Wendy Cut" with the video below. 
Bob With Bangs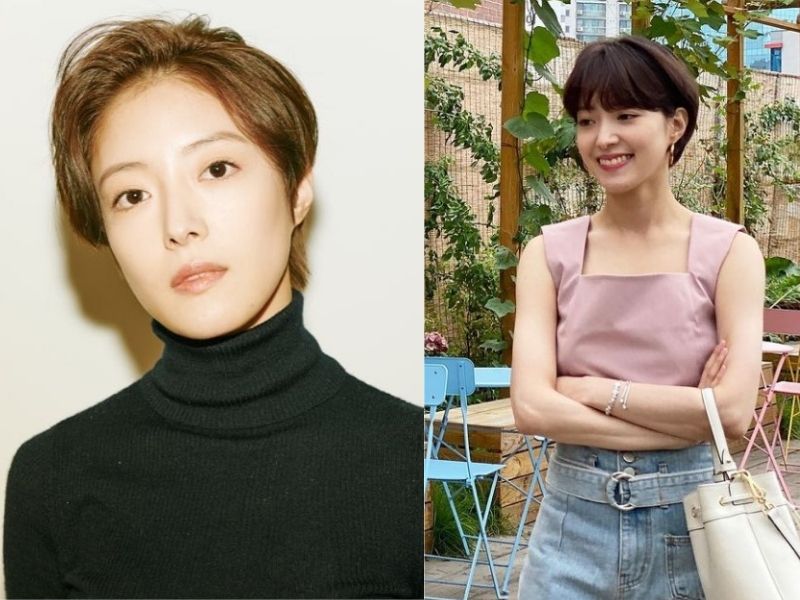 If you're willing to go even shorter, why not opt for a voluminous bob at a pixie-cut length? Take a page from A Korean Odyssey star Lee Se-young and rock 2021's trendiest Korean hairstyle for women: bobs and bangs! This look is great for those with thicker hair, as it adds shape and structure to your mane while maintaining its volume. And even when your bangs grow out, you only need to sweep them to the side for a sharp and killer vibe. 
Related: Revamp Your Short Hair With These 8 Fashionable Hairstyles For Men & Women
Hippie/Jelly Perm
The hippie or jelly perm is something you might like to try for wild and messy curls. Inspired by the hippie hairdo of the '60s and '70s, this Korean hairstyle for women gives a casual, retro touch that looks chic and effortless. IU sports a sweet and demure interpretation of the look with her loose, mermaid-esqued waves. Meanwhile, Blackpink's Jisoo had fans fawning over her tight, springy curls featured in her W Korea photoshoot. 
And on IZ*ONE's Wonyoung, this hairdo breaks away from her graceful aura and gives her a more modern, edgier style. If you don't feel comfortable committing to a perm, then you can fake it with a hair waver to achieve similar results (see video below for tutorial). Remember to prep your locks with hair care products beforehand. 
Bouncy And Voluminous Curtain Bangs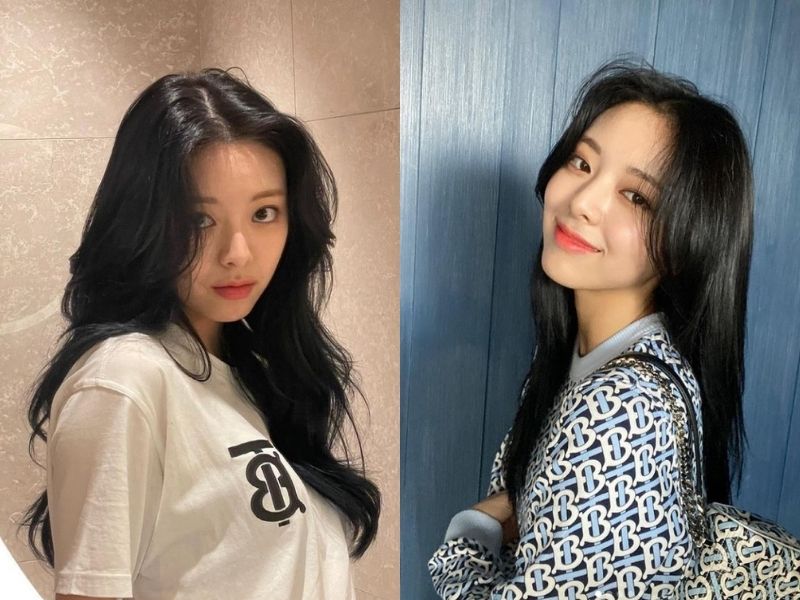 Curtain bangs are one of the trendiest Korean female hairstyles in 2021. Whether worn straight or curled, this simple middle-parting exudes a timeless elegance that suits just about anyone. They immediately add dimension to any long layered haircut and fall nicely around the sides of your face, creating the illusion of bouncy, fuller locks. 
And the good news? They're super easy to achieve! Styling your curtain bangs doesn't require much. First, straighten your bangs with a flat iron and curl inwards when you reach the ends. Then use a hair roller to hold the curl in place while you style the rest of your hair. And that's all there is to it! 
Curtain bangs tutorial:
Voluminous waves tutorial:
Take Centre Stage IRL With These Best

Korean Hairstyles For Women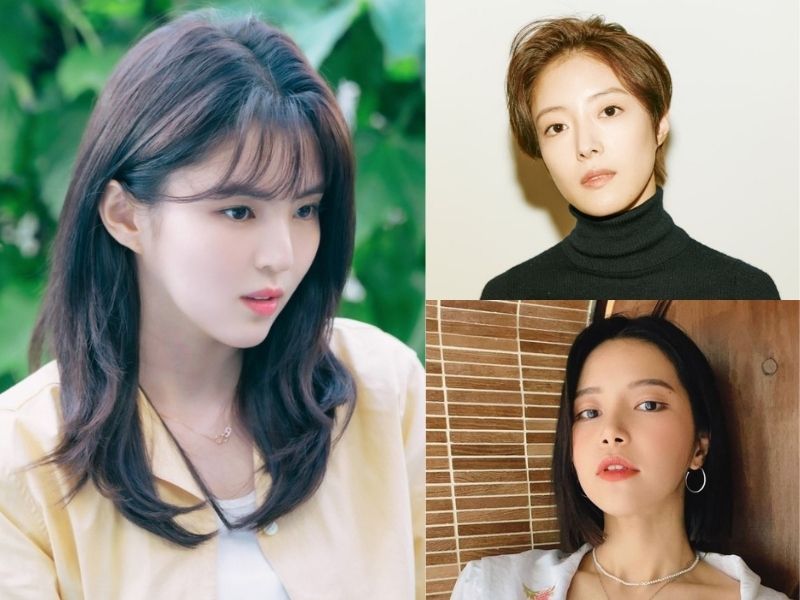 And there you have it! The hottest, most sought-after Korean hairstyles for women that are inspired by our favourite K-celebs! Now you have plenty of hair inspo material to show your hairstylist when you go for your next haircut. Keen on adding bangs to your look? Read up on this handy fringe guide for every face shape. As for oppa-inspired hairdos, take your pick from these Korean male hairstyles!
Craving for more K-fashion and K-beauty inspo? Consider these 15 popular K-drama outfits and youthful Korean makeup tricks.
Find more Korean-inspired trends here.