Growing up Malaysian, there are a couple of mandatory items on the menu for tea. Together with savoury pastries and a colourful assortment of kuihs, there's also the fluffy and decadent chiffon cake. Soft to touch and almost weightless, the cake has been a staple of households throughout the nation for two obvious reasons: It's delicious and a breeze to make! In an ode to this classic treat, we searched all over the internet to find these chiffon cake recipes for you to try.
Best

Chiffon Cake Recipes

For The Ultimate Malaysian Snack
Pandan
Starting the list is the undisputed flavour of chiffon cakes everywhere—pandan. Light and moist with a distinctive fragrance and sweetness, this pandan chiffon cake recipe utilises the tropical plant efficiently, not wasting any of its essential nutrients. Did you know pandan is rich in antioxidants? Aside from a handful of ingredients, you'll also need an oven and a cake mould. Once done, pair it with a hot beverage for the perfect afternoon pick-me-up!
Recipe Ingredients: 
Vanilla Chiffon Cake 
With a texture resembling a fluffy feather pillow, this vanilla chiffon cake recipe is simple and straightforward. The inclusion of vanilla subtly enhances the flavour of the cake with hints of sweetness and aroma. There's also a small touch of lemon zest for a zingy aftertaste. With a prep time that takes about 15 minutes, you can pretty much make this any time of the day!
Recipe Ingredients:
Orange Chiffon Cake
Love fruits in your cake? Then give this recipe a go. Using fresh orange juice for a nice citrus tang, the cake also includes milk for a creamy mouthfeel. Don't discard the orange skin because you'll require the zest too. The result is slightly heavier than the usual chiffon cake, but still equally delicious and memorable. 
Recipe Ingredients:
4 egg yolks

¼ cup of oil

⅓ cup of orange juice

15g of milk

1 cup of cake flour

¼ tsp of

baking powder

½ tsp of

salt

1 tsp of grated orange peel

4 egg whites

¼ cup of sugar

½ tsp cream of tartar
Earl Grey
Teas and cakes are a match made in heaven, but if you can't get enough of this duo, then you're in for a treat! Similar to the pandan chiffon cake recipe earlier in the list, earl grey tea leaves are sifted through a strainer with hot water to extract flavour. This cake is a sure-hit among non-tea drinkers as well because the earl grey tea aroma isn't overpowering, taking more of a backseat in the overall taste. Set this up with your favourite beverage, a copy of your favourite book, and you're set for a relaxing afternoon. 
Recipe Ingredients:
2 tsp of loose

earl grey tea leaves

1 tbsp of loose earl grey tea leaves

90ml of hot water

3 large eggs

85g of sugar

3 tbsp of

vegetable oil

75g of cake flour

1 tsp of baking powder
Green Tea
A delectable treat with lingering bitterness and umami, this chiffon cake recipe is for all matcha lovers. By omitting sugar from the recipe, you'll get an authentic taste of the matcha powder, complemented by the airiness of the cake. Have it with a steaming cup of ocha for a double dose of green tea goodness!
Recipe Ingredients:
3 large egg yolks

85g of sugar

3 tbsp of vegetable oil

4 tbsp of water

75g of cake flour

1 tbsp of

matcha powder

1 tsp of baking powder

3 large egg whites
Coffee
Prefer the caffeine rush of coffee over tea? Can't start the day unless you've had your cup of espresso? Well, you'll thoroughly enjoy this recipe then! The base chiffon cake is not any different from the usual, except for the addition of instant coffee powder. What you get right from the oven is the permeating aroma of the coffee, which will certainly wake the senses of everyone at home. 
Recipe Ingredients:
4 egg yolks

2 tbsp of sugar

1/4 tsp of salt

3 tbsp of corn oil

5 tbsp of milk

8 tbsp of cake flour

3 tsp of instant coffee powder

2 tsp of warm water

4 egg whites

10 tbsp of sugar
Chocolate Chiffon Cake
Chocolate is one of the common ingredients in baking because of its versatility and characteristic flavours. This chocolate chiffon cake recipe takes in everything you love about chocolate cakes, but without the heaviness, so you can have seconds and thirds without feeling sinful! 
Recipe Ingredients:
6 large eggs

75g of vegetable oil

½ cup of cake flour

¼ cup of

cocoa powder

½ cup of milk

2 tsp of

white vinegar

75g of sugar
Key Lime
Based on appearance, key limes look exactly like regular limes. Both are green and round. But that's where the similarities stop. Compared to regular limes, key limes are tart and super-aromatic. Their skins are thin, meaning they have a shorter shelf life. Key limes make great pies and cakes—as shown here! This recipe also includes icing, which tastes as good as it looks. 
Recipe Ingredients: 
5 egg yolks

2 tbsp of caster sugar

60ml of corn oil

30ml of fresh

lime juice

70ml of water

1 tsp of grated lime peel

1 cup of plain flour

5 egg whites

90g of caster sugar
Icing:
Cream Cheese
Although tasty, traditional cheesecakes are heavy desserts. They weigh you down if you have one too many slices, causing you to feel bloated. Enter the cream cheese chiffon cake. This alternative is light and fluffy and has just enough cheesiness to satisfy everyone. 
Recipe Ingredients:
70g of cream cheese

25g of milk

3 egg yolks

20g of sugar

1g of salt

25g of vegetable oil

2g of vanilla extract

60g of cake flour

2g of baking powder

3 egg whites

60g of sugar
Have The Perfect Snack By Trying These

Chiffon Cake Recipes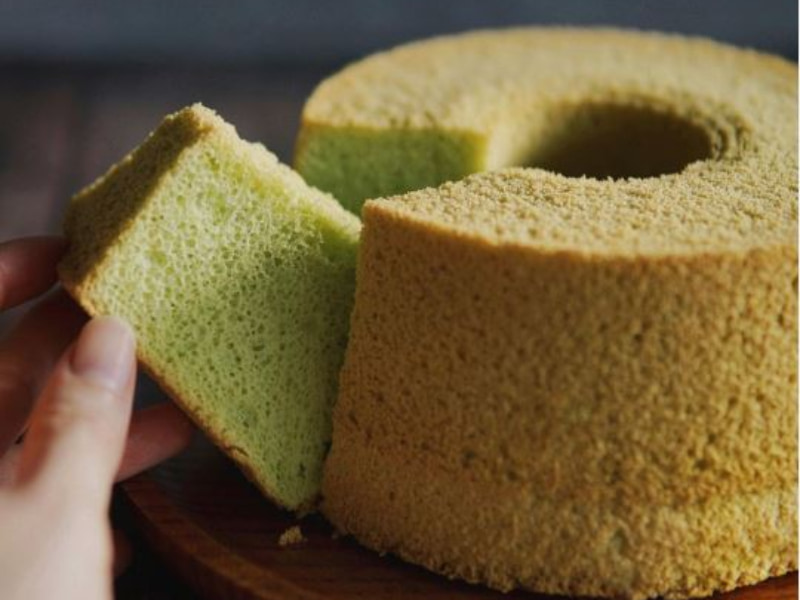 Baking is often perceived as a complex process with multiple steps and a plethora of ingredients. That's not the case for chiffon cakes. It doesn't take a trained baker to make a fluffy and mouth-watering chiffon cake. In fact, anyone can do it! So, whether you're pulling off pandan chiffon cake recipes, or venturing Japanese with a green tea variant, it's almost as easy as one-two-three. 
Fun fact: Did you know you can bake a cheesecake with a rice cooker? Here are more dishes and desserts you probably didn't know you could make with the kitchen appliance. Separately, check out this list of childhood snacks every Malaysian grew up eating.