Remember the simpler times? Fewer cars on the road, fun and games outdoors, and chowing down a wide variety of simple yet addictive Malaysian childhood snacks. After all, did you truly experience a Malaysian childhood if you didn't always have a steady supply of rainbow-coloured ice gems and Choki-Choki chocolate sticks?
Strap in as we take a journey down memory lane, reminiscing on the sweet treats that gave us one too many toothaches, and the biscuits that we snuck into our rooms in the middle of the night. Ready for a taste of nostalgia?
Malaysian Childhood Snacks

: Sweets & Candies
White Rabbit Candy 
Creamy and milky, eating this chewy treat is a decision process. Do you eat the thinly-veiled rice wrapper around the candy? Or do you gingerly peel it off? We prefer it with the wrapper for the full White Rabbit experience!
Fizzy Kola Candy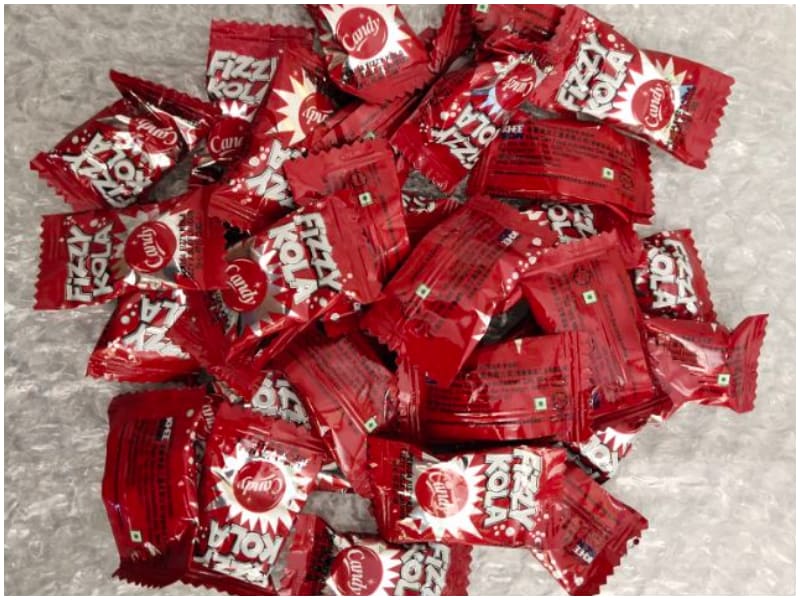 How can you not love these tiny heart-shaped candies with fizzy bits encased inside? They're perfect for moments when we wanted a soda but couldn't afford one.
Murukawa Bubblegum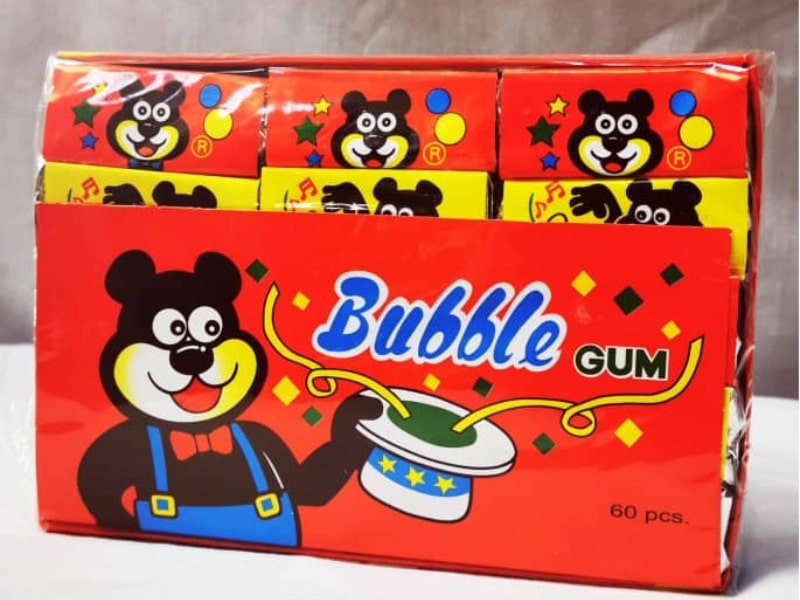 The bubblegum of all bubblegums. The OG. The Murukawa bear. Aside from hours of chewy fruity goodness, they also come with temporary tattoos for temporary swag. 
Yupi Gummy Burger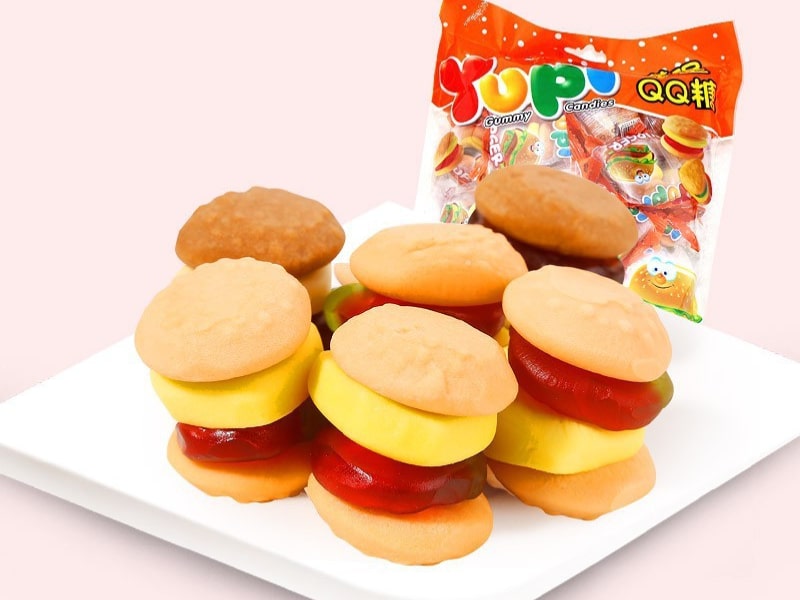 Hands up if you eat this "burger" by tearing the components apart! While it tastes nothing like patties and ketchup, this Malaysian childhood snack is still darn finger-lickin' good. 
Choki-Choki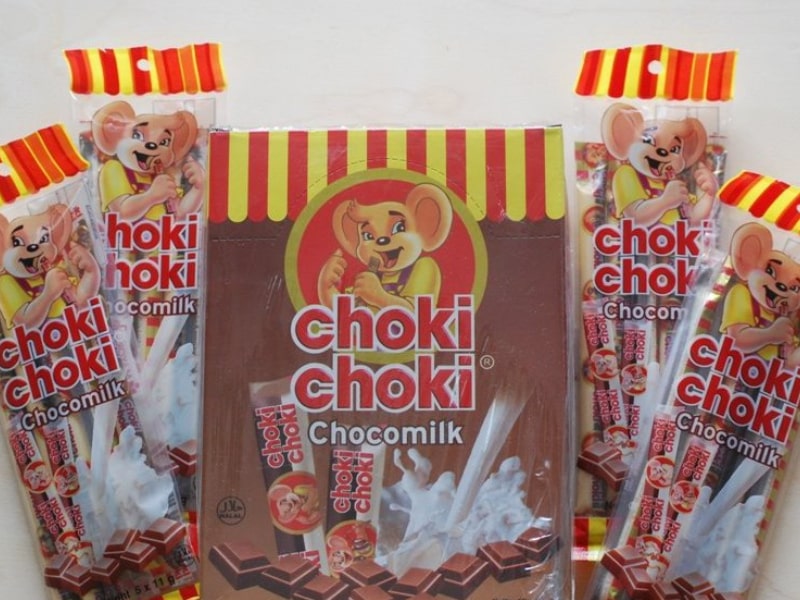 Enjoying these slim sticks of chocolatey goodness is equal parts satisfying and frustrating. Squeezing the brown sticky concoction out of the narrow tube can be challenging, but the sugar rush is well worth indulging in this beloved Malaysian childhood snack. 
Tora & Ding Dang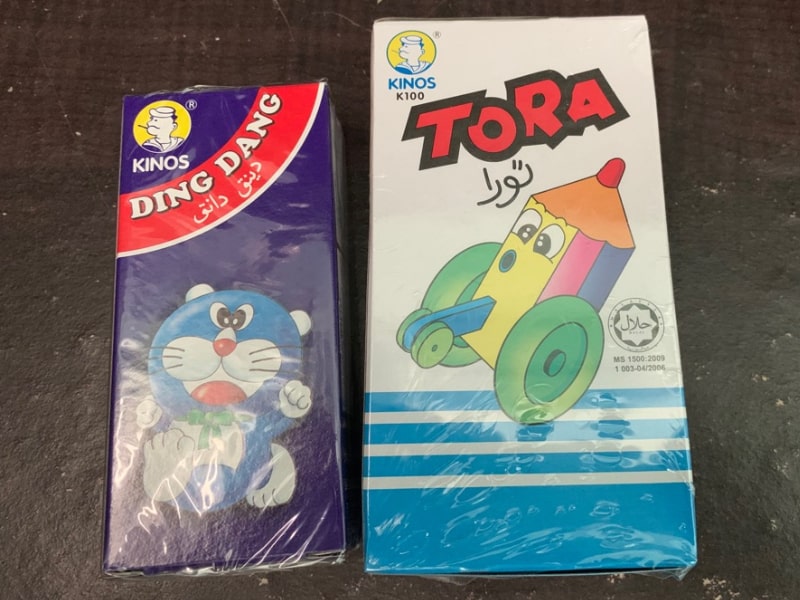 Before Kinder Eggs, the original snack that came with a mystery toy inside was Tora and Ding Dang. To be honest, most of us were more excited about the toy than the chocolate. That's understandable, considering that you'd never know what you'd get!
NanoNano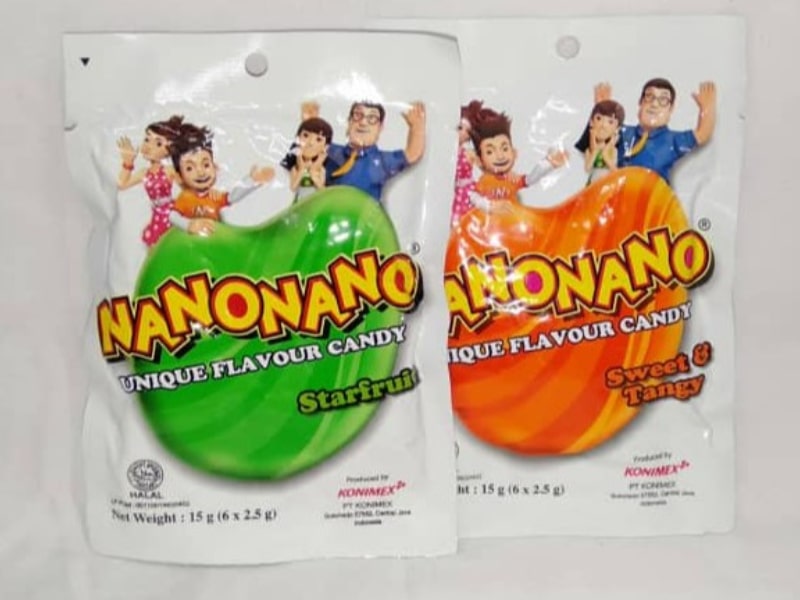 A candy that tastes sweet, sour, and salty? Only NanoNano! This Malaysian childhood snack often gives us funny faces because of its unique taste, but that hasn't stopped us from enjoying it.
Jelly Cups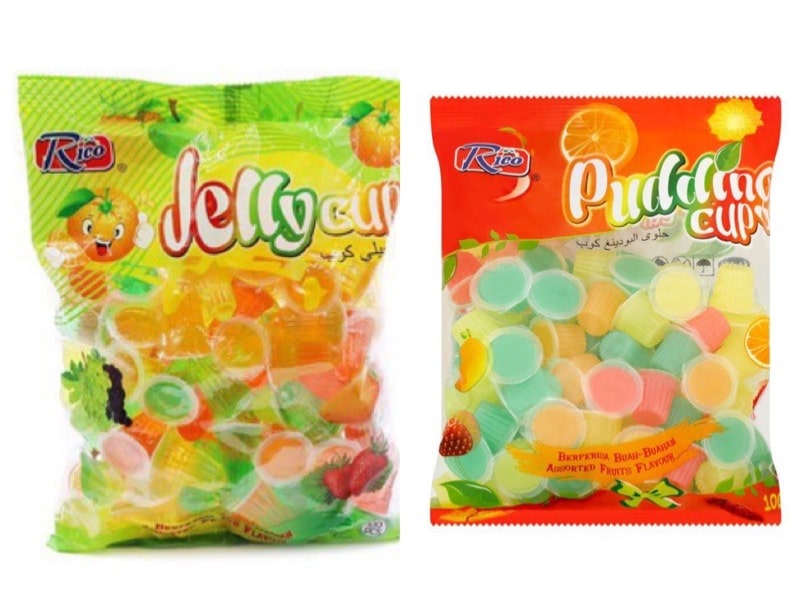 Available in an assortment of fruity flavours like orange and apple, all you need to do is peel off the plastic top and slurp the syrup and the jelly in one big gulp!
Kopiko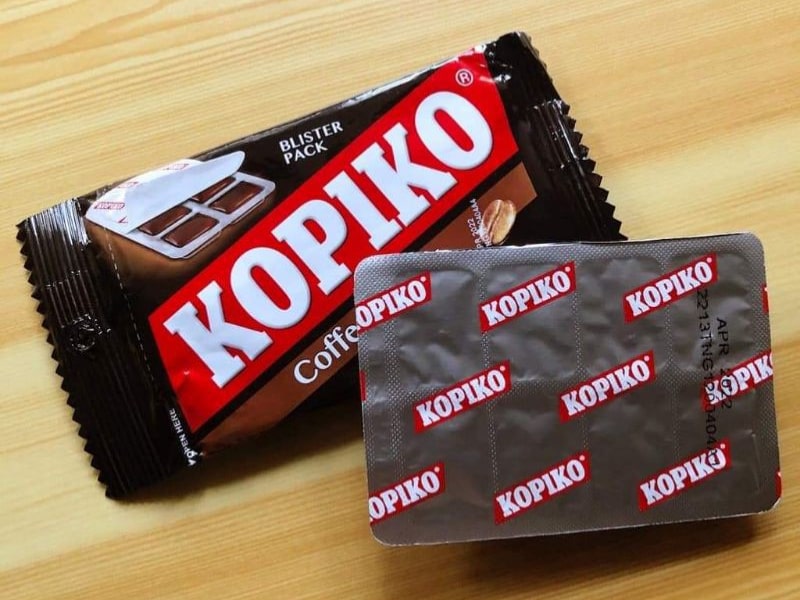 Still popular to this day, this was the closest thing to a cup of coffee. Besides the classic kopi-o flavour, this kopiko candy is also now available in a modern cappuccino option. 
Sugus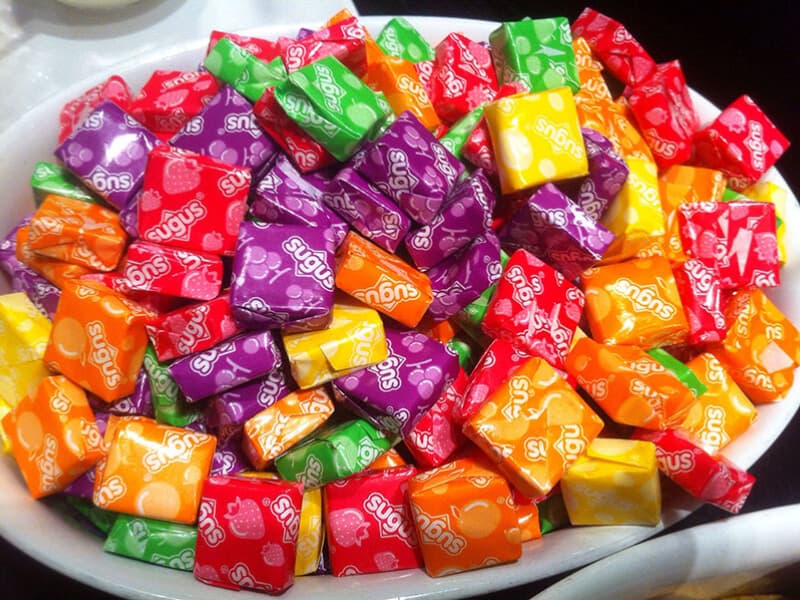 Sticky juice squares nicely packed in colourful packaging; that's Sugus! We're all guilty of overindulging in them, which probably explains the frequent trips to the dentist. Lesson learnt: never neglect oral hygiene!
Haw Flakes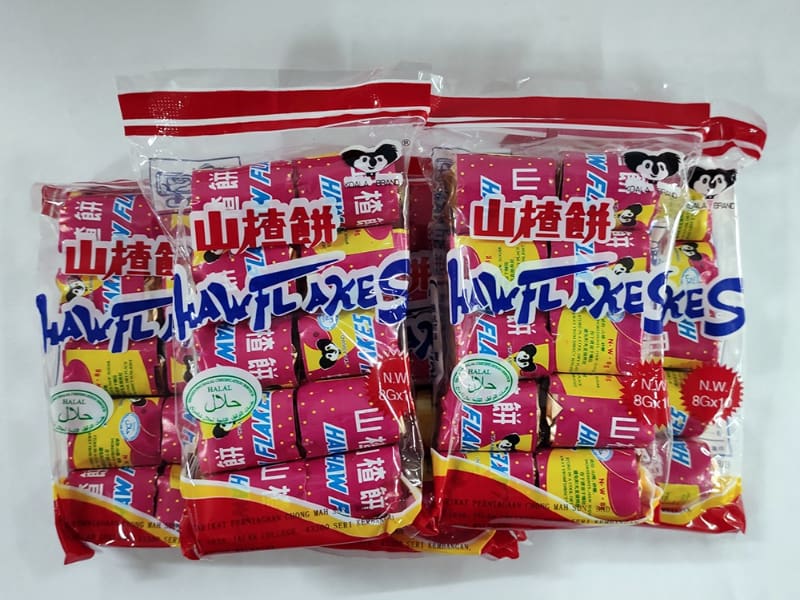 The sweet and sour taste of these purple-ish thin candies makes it tough to stop at one slice. One pack is more like it. Growing up, we probably didn't care what the heck "haw" was—it's actually the fruit of a hawthorn tree! 
Malaysian Childhood Snacks

: Titbits & Confectionary
Ear Biscuits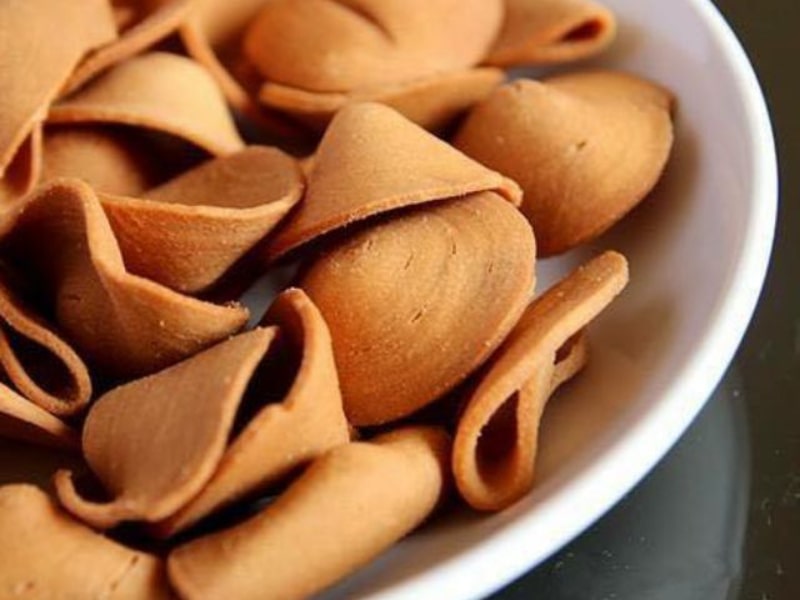 Resembling human ears (or pig ears as some say), these brown biscuits are so crunchy and crispy, they give us jawn pains. Still, we devour them like there's no tomorrow in front of the television with cartoons playing.
Ice Gems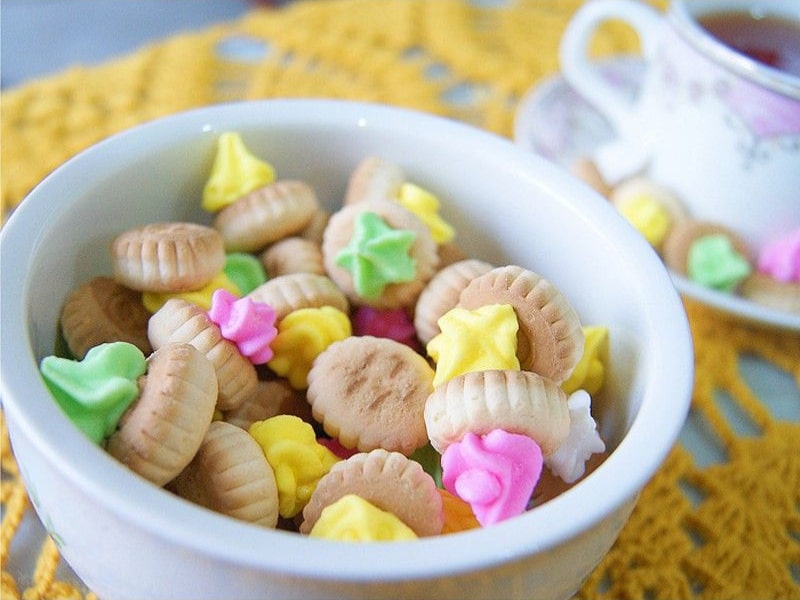 No list of Malaysian childhood snacks is complete without the vibrant and multi-coloured ice gems. A fluffy biscuit base is topped with sweet and decadent icing that crumbles dramatically with every bite. That said, do you bite the biscuit or icing first? Or are you one of the cheeky ones who only take the icing and discard the biscuit? 
Apollo Layer Cakes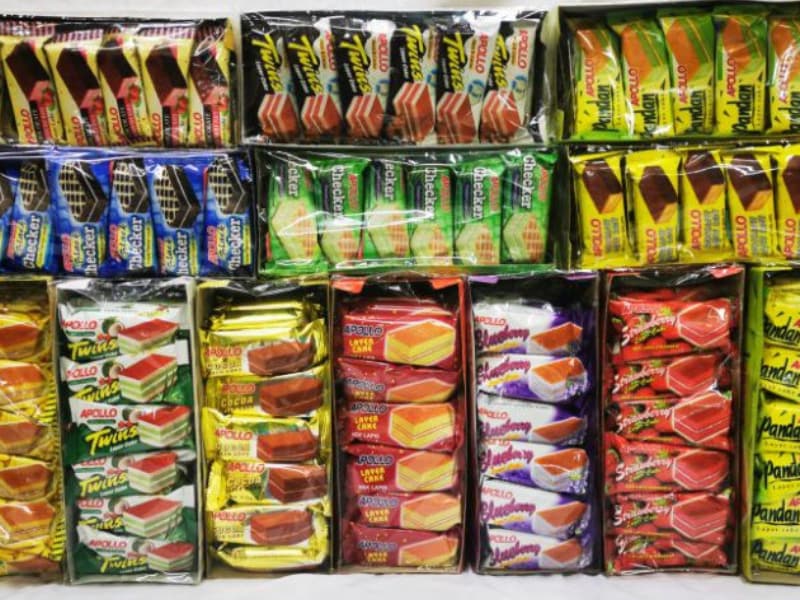 With a myriad of flavours to choose from (pandan is the best, hands down), Apollo Layer Cakes are light and fluffy, making them a common recess time snack for school kids. Adults fancy them as well, dipping the cakes in coffee or tea for added flavour. 
Apollo Chocolate Wafers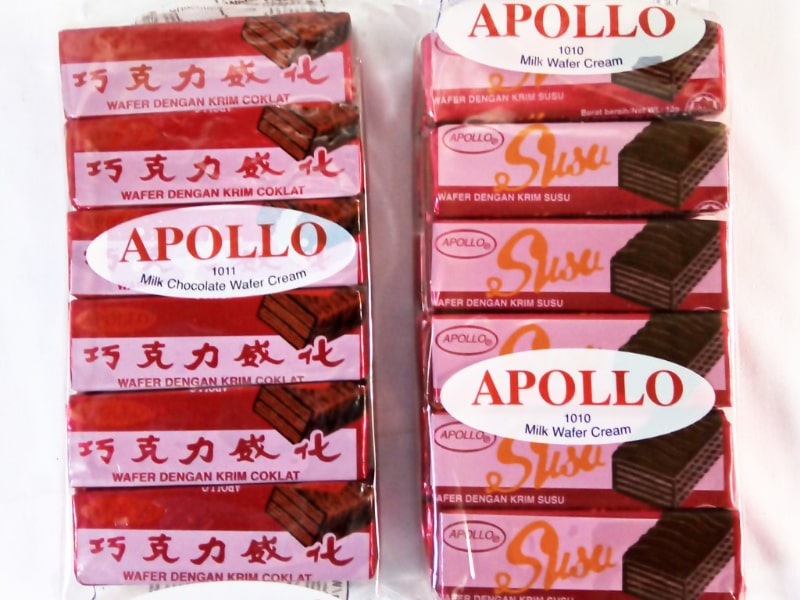 We can't round up this list without mentioning another popular Apollo snack: the chocolate wafer! The coating around this sweet confectionery melts quickly in the Malaysian heat, resulting in smudges of chocolatey goodness on the wrapper; which we totally won't mind licking off.
Popo Fish Muruku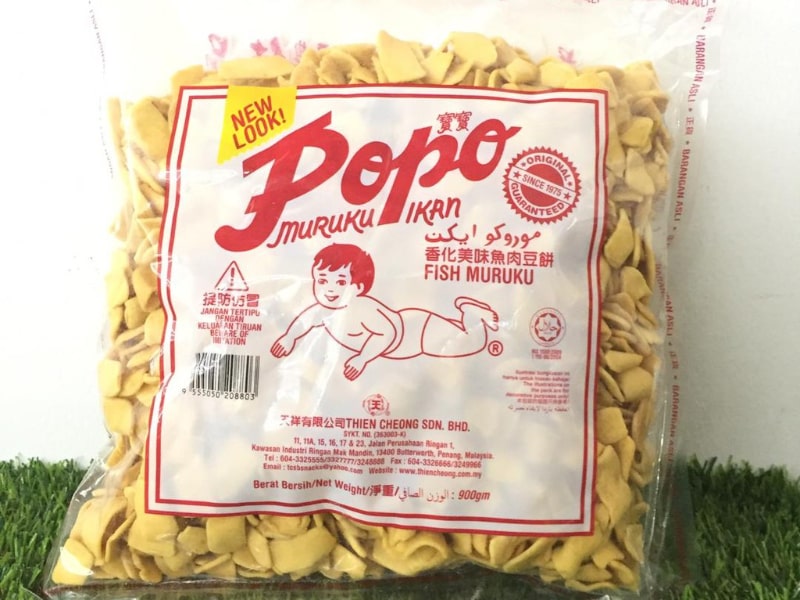 Also identified by the cute baby mascot, the Popo Fish Muruku remains a tasty titbit enjoyed by Malaysians of all ages. Seasoned with a blend of spices, this addictive snack is always available during movie nights and family gatherings. 
Want Want Rice Crackers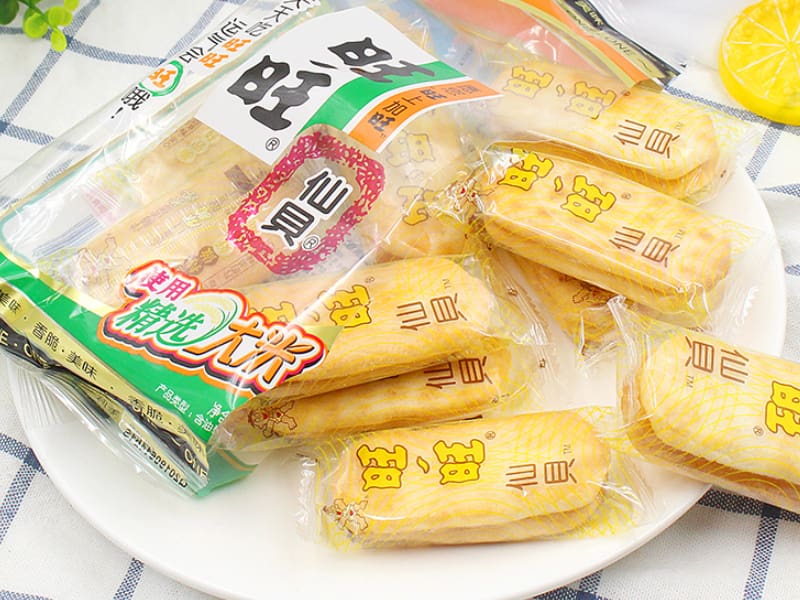 We were hooked on Want Want or Wang-Wang because of the salty seasoning that coats the rice crackers. Plus, every bite yields a loud snapping sound, so there was no way you could eat this in class without the teachers knowing. 
Super Ring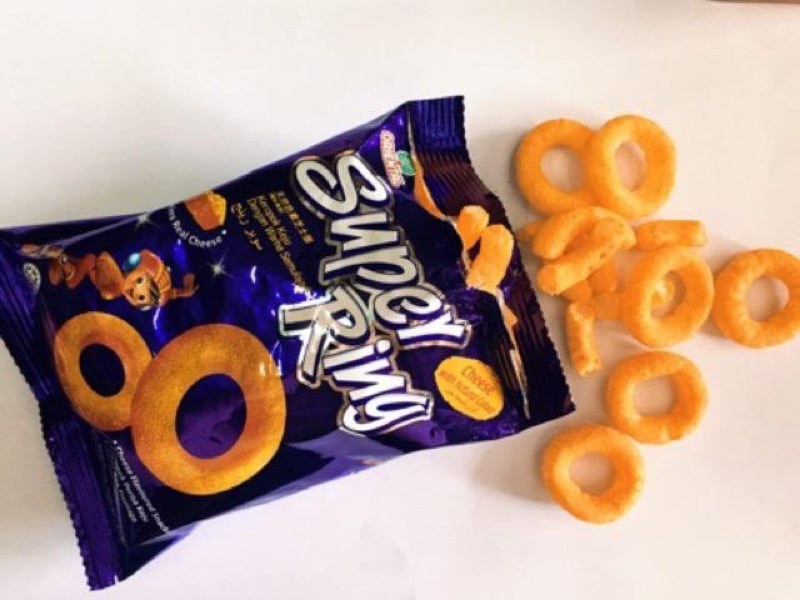 Never mind the orange-stained teeth and tongue because the cheesy taste makes it all worth it! You still can find Super Ring packets pretty much anywhere, attesting to the popularity of this Malaysian childhood snack over the years. 
Dahfa Dried Fish Strips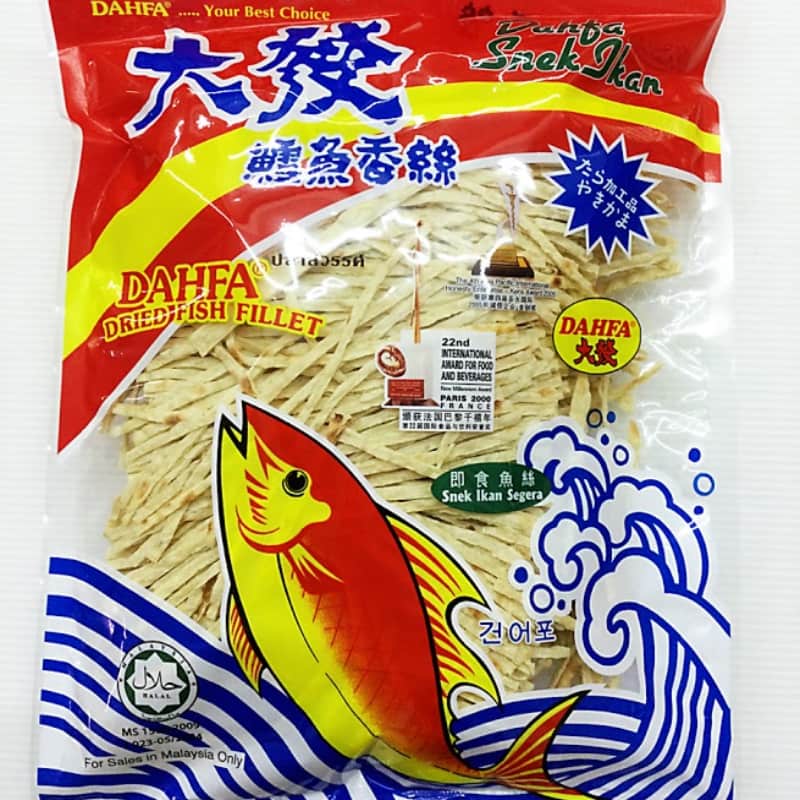 Said to be made from real fish, these stringy fillets have a distinctive smell that permeates every room. But no matter how it stank up the place, we still find ourselves stuffing our faces with it.
Seasoned Seaweed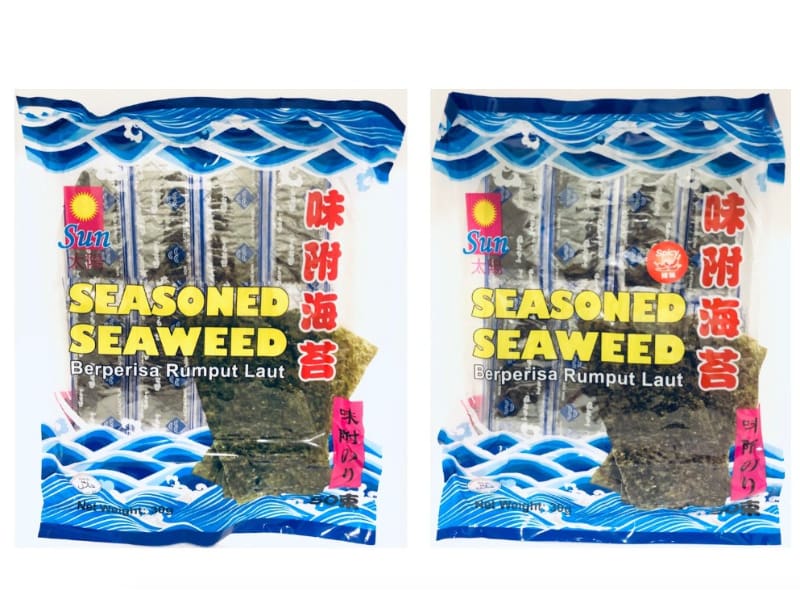 This was the go-to snack whenever our parents complained we weren't eating enough vegetables. While we are unsure of how "healthy" seasoned seaweed is, it still satisfies our munchies—and that's all that matters. 
Roti Kok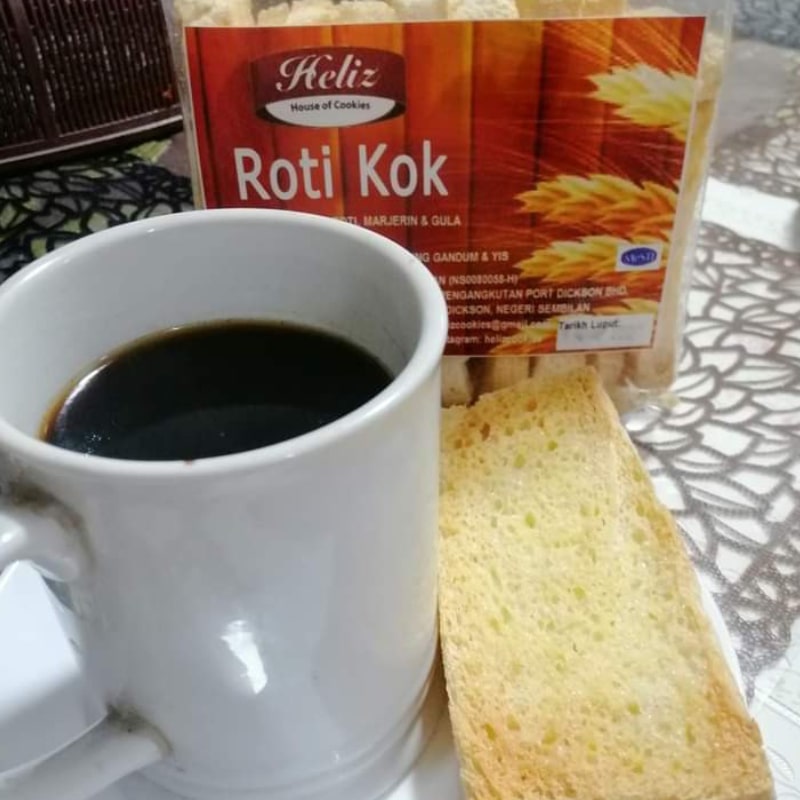 Best enjoyed with a piping cup of hot Milo, roti kok is slathered with margarine, coated with a generous amount of sugar, and baked in the oven for a crispy and crumbly texture. 
Mamee Monster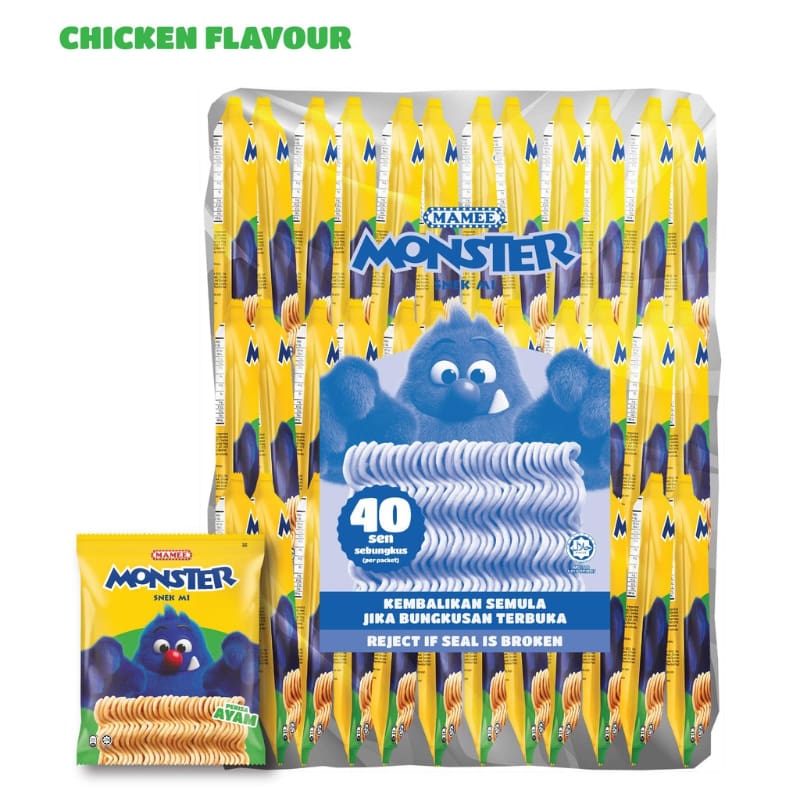 A Malaysian childhood snack that's still very popular today, no hot boiling water is required to enjoy this instant noodle snack. Just pop it out and consume right out of the bag! Question: do you eat the whole square or crush it into tiny pieces? 
Bika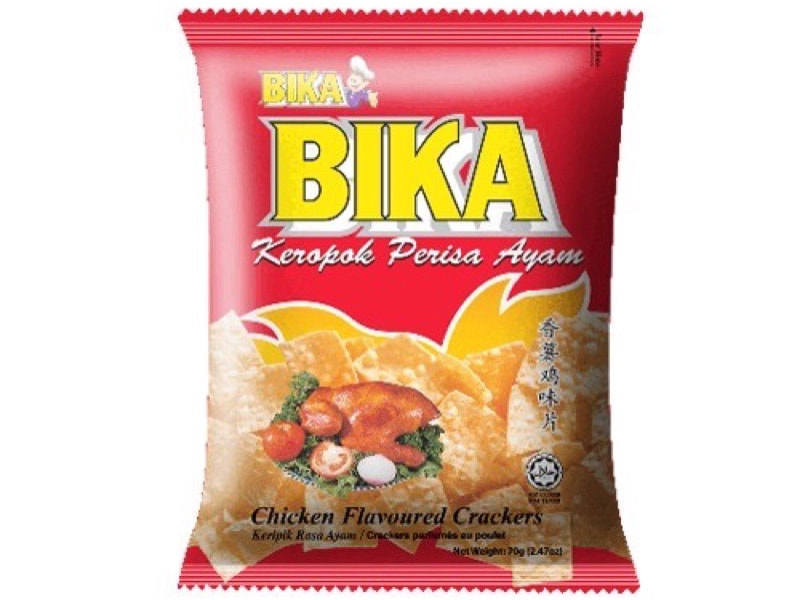 Savoury keropok vacuum-packed into small packets for on-the-go snacking! The BBQ chicken flavour is a crowd favourite, though some would say the prawn variant is just as good. 
UFO Biscuit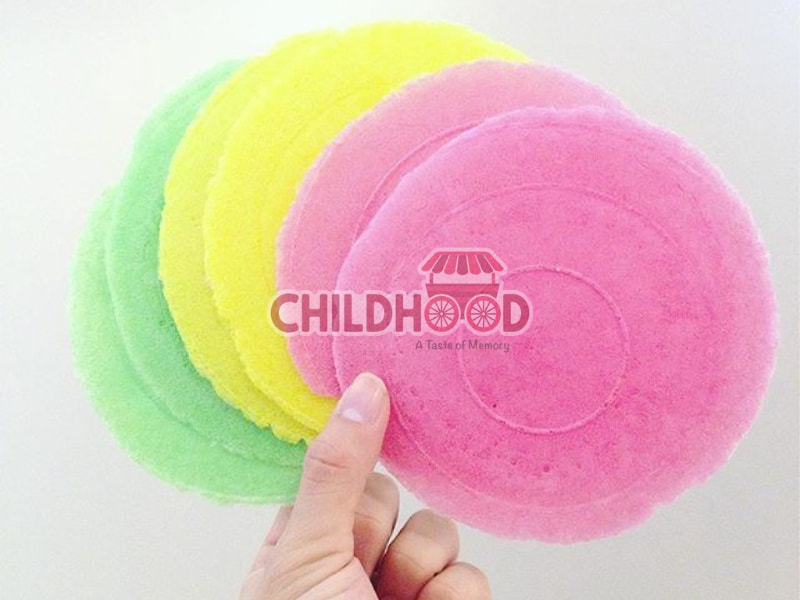 To be honest, these disc-shaped biscuits are pretty tasteless, but the colours and airy texture make it a joy to eat nonetheless! Naughty boys might've tried tossing it as a frisbee.
Potato Wheel Crackers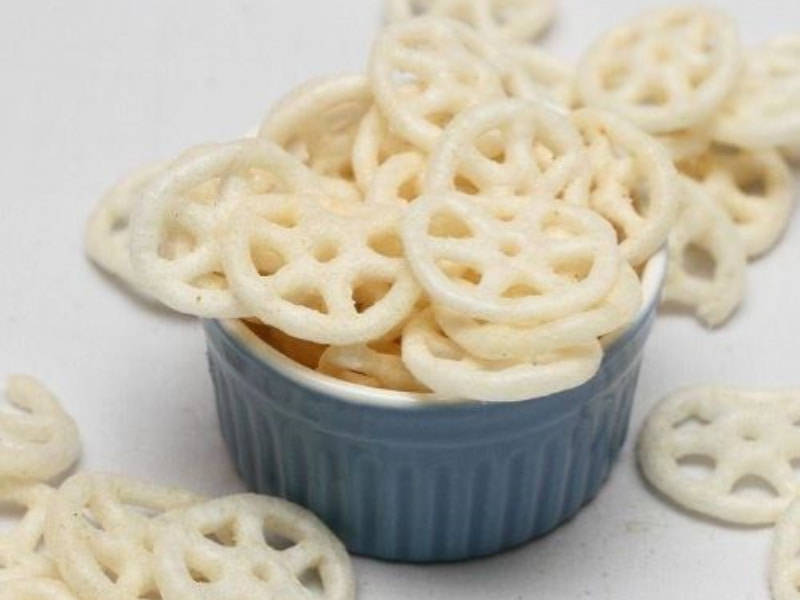 Instantly recognisable by the steering wheel shape, these crackers are light with a slight saltiness that makes them all the more appealing to munch on. They also tend to stick to your tongue, which is all part of the fun!
We Will Always Have A Soft Spot For These

Malaysian Childhood Snacks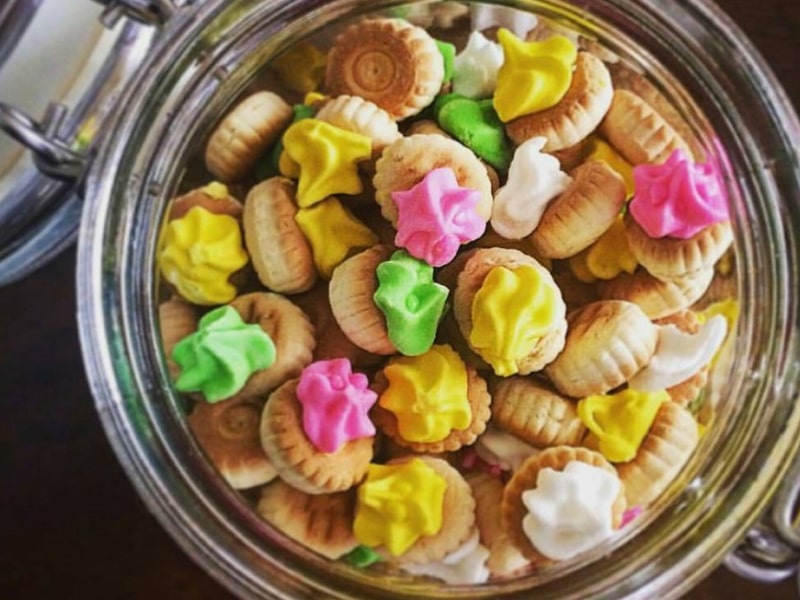 No matter how our taste buds have evolved to appreciate the finer things in life, the snacks and titbits on this list will always bring us back to the good ol' days. So, if you need a sentimental pick-me-up this week, why not grab some of your favourites on Shopee?
For more Malaysian-related content, check out our list of must-watch Malaysian movies and local breakfast fare that are healthier than you think.

Read more Merdeka-related stories here.