Being cooped up at home for far too long has not been easy for everyone, including the children. It is unfortunate that the little ones had to go through the unnatural mental and physical toll at an age where they really should be out there doing what kids do best. Alas, with the country gradually opening up, things are certainly looking bright and sunny again. There are no shortages of fun places to bring your tiny tots to. If a kids indoor playground sprung up in your mind, you have come to the right place to get some great recommendations!
8

Kids Indoor Playground

In Klang Valley To Bring Your Little Ones To
SuperPark Malaysia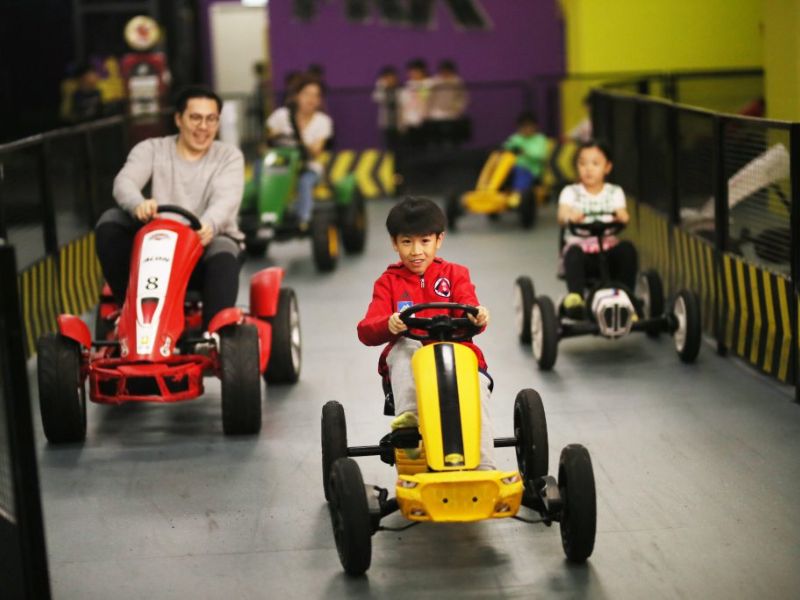 Having opened its doors in December 2018, SuperPark Malaysia is filled with an endless stream of activity spaces suited for adults and kids alike. They include a kid's freestyle area, a kid's gym, and a kid's adventure city. We guarantee that parents will have an equally great time as much as their kids in this indoor playground in Kuala Lumpur!
Address: Unit 4-1, Level 4, Avenue K Shopping Mall, 156, Jalan Ampang, 50450 Kuala Lumpur
Opening Hours: 11am to 8.30pm (Tuesday to Thursday); 10am to 7.30pm (Friday to Sunday)
Contact: info@superpark.com.my, 012-3011040
Prices start at: RM15
Website l Facebook | Instagram
Jungle Gym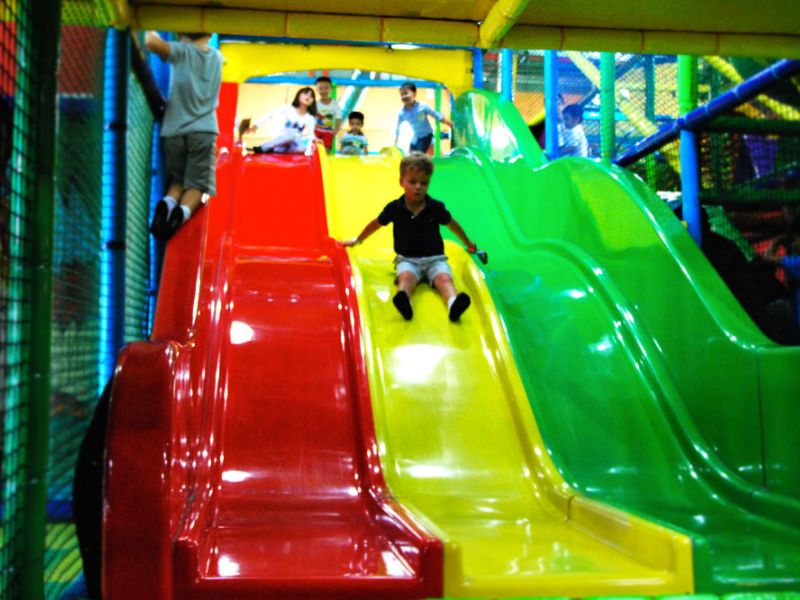 Jungle Gym features play facilities that are suitable for toddlers aged below four as well as children between 4-12 years old. They can happily indulge in slides, suspension bridges, and loads more in a kids indoor amusement playground in Kuala Lumpur modelled after the natural jungle.  Parents,  you can do some shopping or enjoy a sip of coffee or tea in one of the mall's cafes while you wait.
Address:
4th Floor, Bangsar Shopping Centre, No.285, Jalan Maarof, Bukit Bandaraya, 59000 Kuala Lumpur
2nd Floor, Atria Shopping Gallery, Jalan SS22/23, Damansara Jaya, 47400 Petaling Jaya
Opening Hours: 10am to 7pm daily
Contact:
Jungle Gym Bangsar – jgb@junglegym.my, 012-3911529 / 03-22822643
Jungle Gym Atria Shopping Gallery – jga@junglegym.my, 017-3368433 / 03-77317193
Prices start at: RM25 
Website l Facebook | Instagram
Jump Street Asia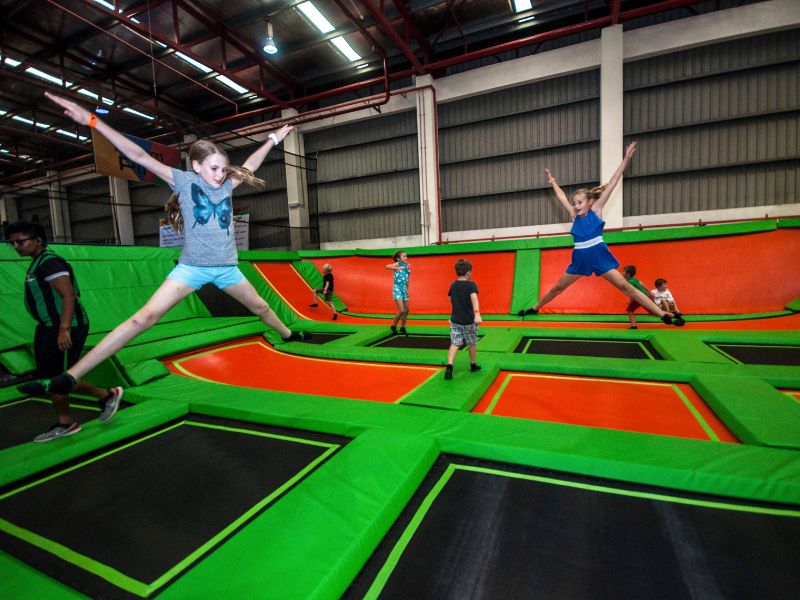 Few things beat the simple joy and rush of jumping on a trampoline. If your kids get a kick of hopping around and soaring high up in the air, you have to bring them to Malaysia's first indoor trampoline park! With all sorts of gravity-defying fun curated for all ages, we guarantee that everyone in the family will have a bouncing good time!
Address: No 8A Jalan 13/6 Seksyen 13, 46200 Petaling Jaya
Opening Hours: 10am to 6.30pm (Thursday to Sunday)
Contact: info@jumpstreetasia.com, 03-79691051 / 012-2041448
Prices start at: RM45
Website l Facebook | Instagram
Espace EkoCheras Mall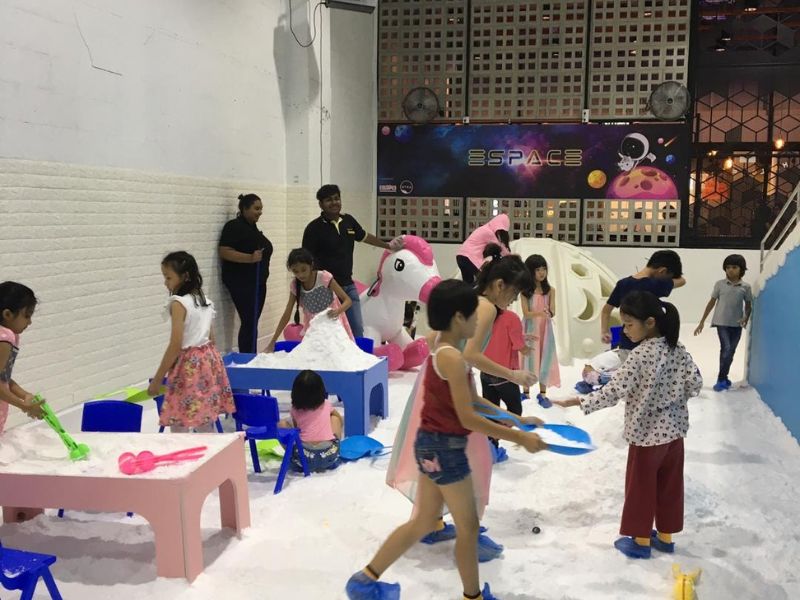 If Jump Street Asia is a distance away from your place, consider bringing the little ones to Espace in Cheras instead. The kids indoor playground located in Kuala Lumpur not only provides ample spaces to bounce around, but it also has a (artificial) snow-filled area for a whole new level of fun! No kid will say no to snow.
Address: 2nd Floor, EkoCheras Mall, No 693, Batu, 5, Jln Cheras, 56000 Kuala Lumpur
Opening Hours: 11am to 8pm daily
Contact: admin@espacemy.com, 018-3788533
Prices start at: RM20
Kids Nation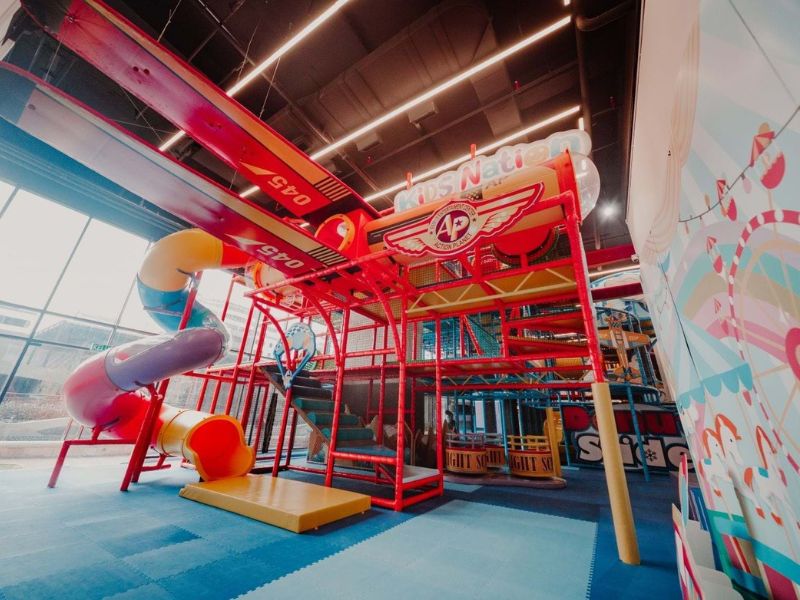 If you are near Mont Kiara, why not bring the children to Kids Nation for some fun and educational time? Touted as one of the largest play areas in Klang Valley, Kids Nation is not just all fun and games, but it's also about fostering learning among the young ones. In between play facilities like spiral slides and crawling tunnels, you will also find a little library in this kids indoor playground for them to pick up a book or two!
Address: 163 Retail Park, 3F-06, 07 & 08, No. 8, Jalan Kiara 1, Mont Kiara, 50480 Kuala Lumpur
Opening Hours: 10am to 8pm daily
Contact: info@kidsnation.my, 03-64194976 / 012-7881843
Prices start at: RM25
Website l Facebook | Instagram
Starship Galactica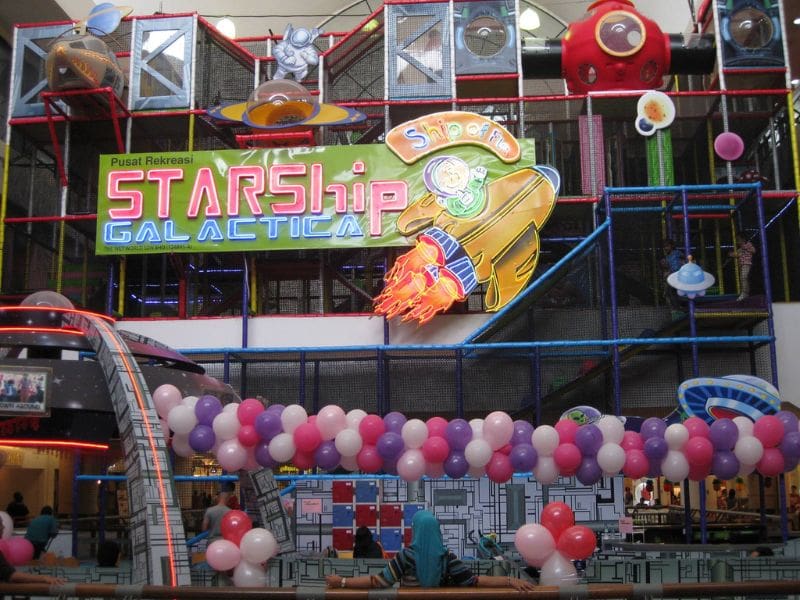 Frequent patrons of the 1 Utama Shopping Centre would surely not lose sight of this eye-catching structure right smacked in the middle of the mall. Starship Galactica is a three-storey high indoor playground for kids with an outer space theme. Active little kids will surely love throwing themselves into the ball pools and getting their hands on the air-guns!
Address: Lot SK6A, 2nd Floor, 1 Utama Shopping Centre, No 1, Lebuh Bandar Utama, Bandar Utama, 47800 Petaling Jaya
Opening Hours: 10am to 10pm daily
Contact: nicolekang@owg.com.my, 03-77287316
Prices start at: RM32
The Parenthood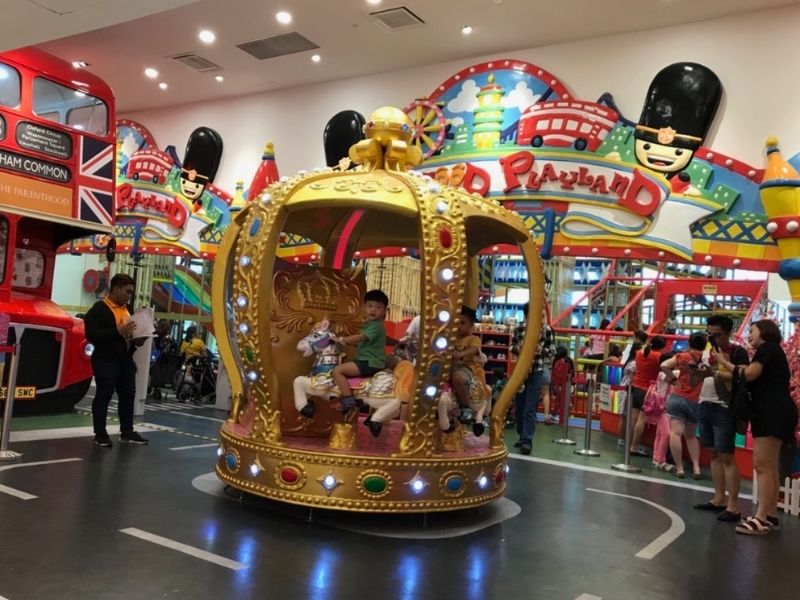 Bring your kids to Malaysia's first London Street Family Park for a guaranteed good time! The Parenthood is available in three locations in Klang Valley (and one in Johor), offering not only indoor playlands but also an enrichment hub, a family cafe, and preschool classes (only at the Sunway Pyramid flagship outlet). With so much to do, we reckon the whole family can spend hours here and bring home some precious memories!
Address: 
First Floor, Unit SPW F003, Sunway Pyramid West, Sunway Pyramid Shopping Mall, No. 3 Jalan pjs11/15, Bandar Sunway, 47500 Petaling Jaya,
Level 3, L3-40 & L3-41, Sunway Putra Mall, 50350 Kuala Lumpur
L3-013, MyTOWN Shopping Centre, No.6, Jalan Cochrane, Cheras, Seksyen 90, 55100 Kuala Lumpur
Opening Hours: 10am to 10pm daily
Contact: 
Sunway Pyramid West – playland@theparenthood.com.my, 016-2104398
Sunway Putra Mall – playlandputra@theparenthood.com.my, 016-3385855
MyTOWN Shopping Centre – playlandmytown@theparenthood.com.my, 016-3385959
Prices start at: RM14.50
Berjaya Times Square Theme Park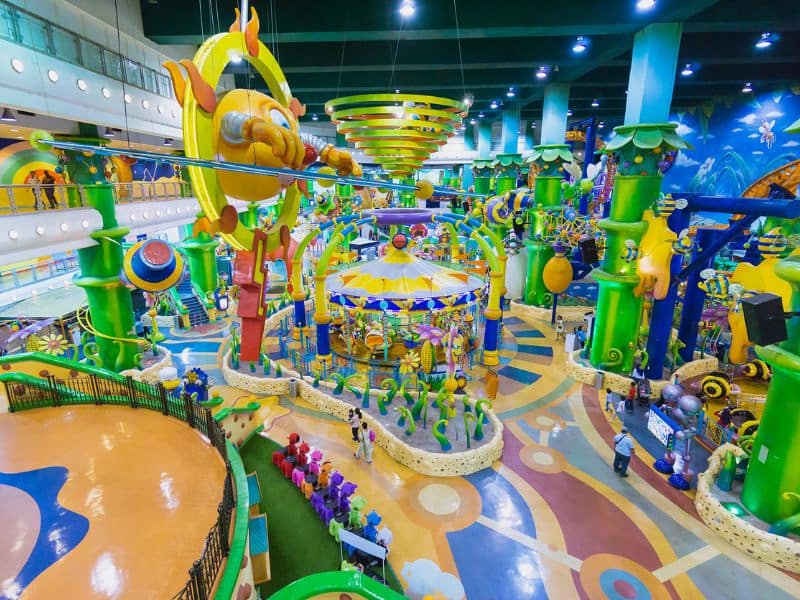 Everyone knows about the indoor roller coaster in Berjaya Times Square, but did you know that there is also a kids indoor playground tucked inside the largest indoor theme park in the country? The Kidz Playground is just one of the many fun attractions available for visitors of all ages. So, if your kids have had their fill in the children's section, they can move to the many other areas that will keep them occupied for the whole day!
Address: No. 09-103, 9th Floor, Berjaya Times Square, No.1, Jalan Imbi, 55100 Kuala Lumpur
Opening Hours: 12pm to 8pm (Monday to Friday); 11am to 8pm (Weekend & Public Holiday)
Contact: tpcoordinator@timessquarekl.com, 03-21173118
Prices start at: RM45 (Free for infants below 3 years old)
Ensure Safety Measures Are Strictly Adhered To When Bringing Your

Kids To Indoor Playgrounds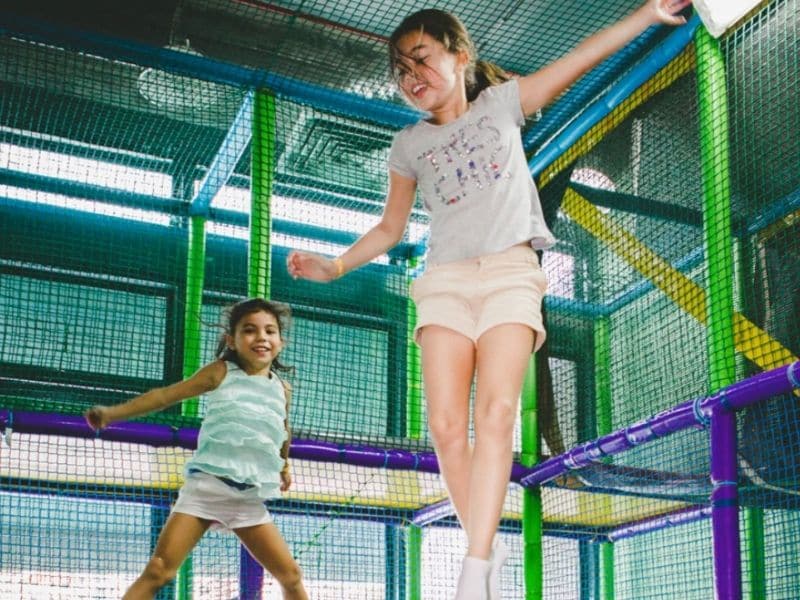 As parents, there is nothing more important in this world than your kids' safety. So, amidst all the fun, laughter, and excitement, do not neglect the standard operating procedures of the new normal. Make sure that they are properly masked at all times and clean their hands thoroughly after each play session in these kids indoor playground. Hence, not only do they deserve to have all the fun, but they also deserve your utmost protection!
We have also put together a list of the best childcare centres in Klang Valley as well as fun indoor activities to keep your children occupied for the times they are at home for more insights.