It's well-known that Malaysia is a food haven. There are plenty of choices to tickle the fancy of any foodie, from Penang's asam laksa to chicken rice balls in Melaka, just to name a few. But there's one cuisine that seems to go under the radar often is Sarawak food. 
The East Malaysian state, also known as the "Land of the Hornbills", is home to various delicacies, each offering a distinct taste and flavour. For example, the springy Sarawak kolo mee. Without going any further, here are the dishes you must try in Sarawak.
Check Out These Delicacies If You're Exploring

Sarawak Food
Sarawak Laksa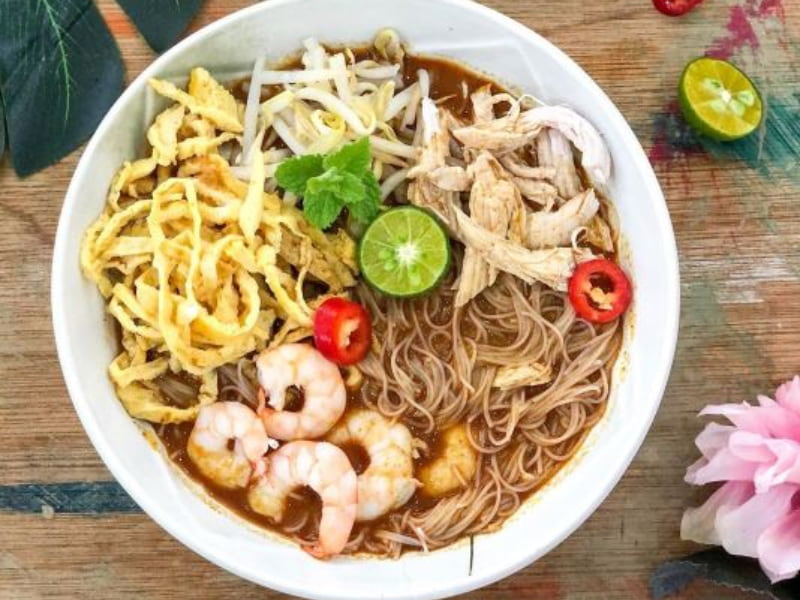 A favourite of the late travel host cum chef Anthony Bourdain, Sarawak laksa features a thick and almost curry-like broth with a slight kick of spiciness. 
Made with sambal belacan, sour tamarind, lemongrass, shredded chicken, egg slices, and other herbs and spices, this classic Sarawak food is then thickened with coconut milk for a delicious savoury aftertaste. Vermicelli noodles make for a slurpy experience, so make sure you have napkins at hand!
Kolo Mee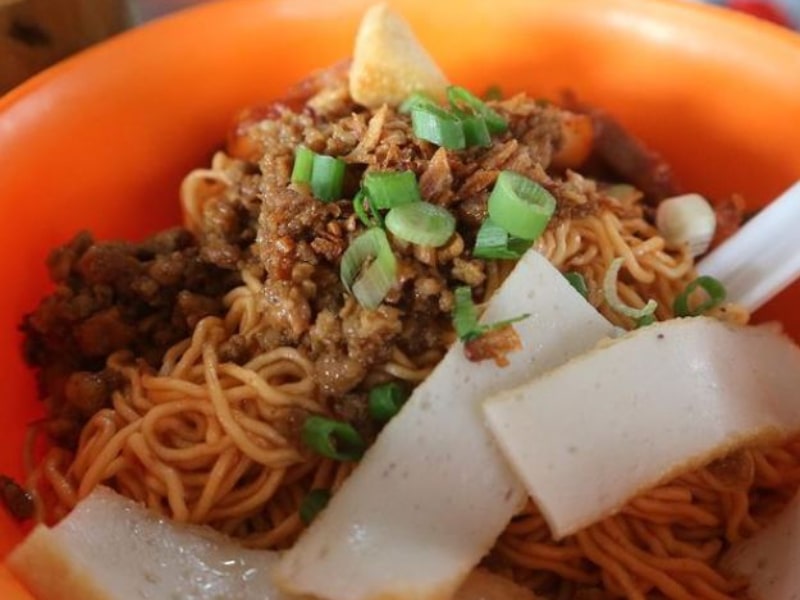 The Sarawak kolo mee is a versatile delicacy that's available for breakfast, lunch, and dinner. The fare is simple. Tossing springy, homemade egg noodles with aromatic soy sauce before topping with minced pork and char siew slices. The noodles are garnished with fresh spring onions to serve.
That said, there are different interpretations of Sarawak kolo mee. Instead of soy sauce, some stalls let you season the dish with red chilli oil or black vinegar. No matter what you choose, you'll be wanting seconds (or thirds) in no time. 
Kampua Mee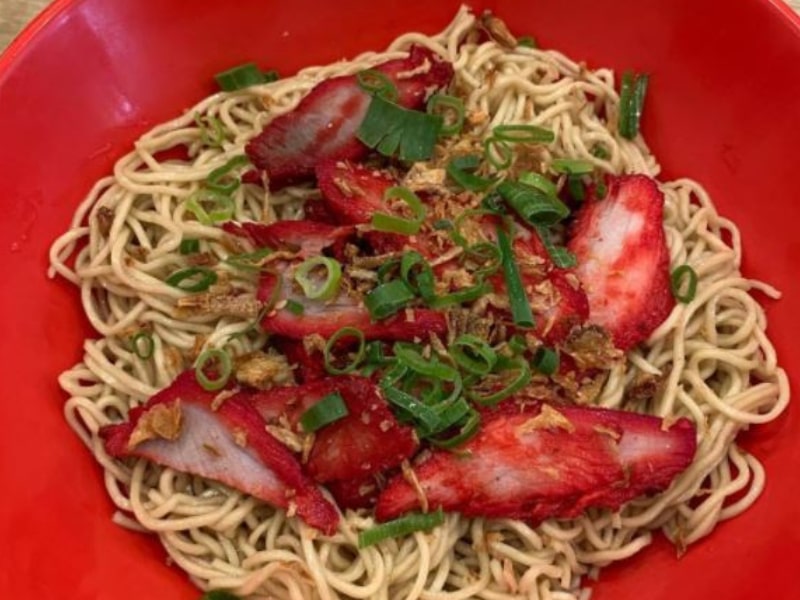 Wait, what's the difference between Sarawak kolo mee and kampua mee? After all, they look identical at first glance. While the two noodle dishes certainly share similarities, the preparation is what separates them from each other.
Rather than using soy sauce, the preparation uses shallot oil, which gives it a saltier taste. The dish is also drier as opposed to kolo mee, serving with slices of char siew and a bowl of soup. 
Kueh Chap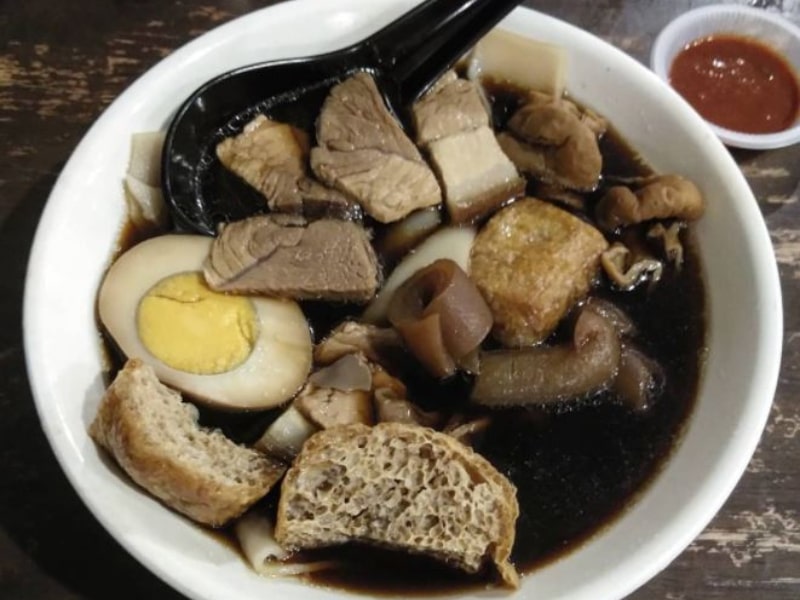 Kueh Chap is a hearty dish consisting of flat wide noodles cooked in a herbal broth with pork slices, innards, fried tofu, and hard-boiled egg halves. The herbaceous aroma and mixture might be off-putting to some, but a sip of its flavorful broth on a rainy day is enough for anyone to fall in love with this dish.
If you live in West Malaysia and are looking to try this rustic dish, look to any restaurant that sells Sarawak food for it!
Midin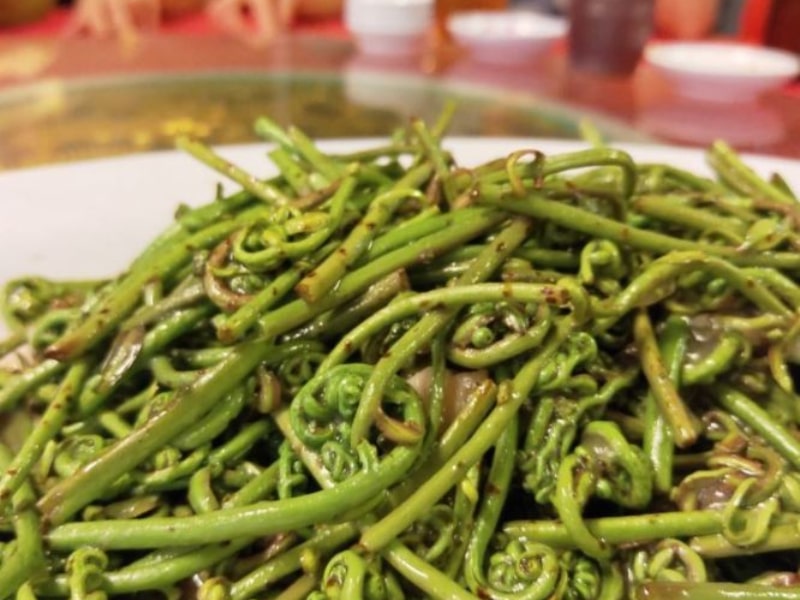 Midin is a local fern that only grows in the forests and jungles of Sarawak. As such, it's picked from the wild and cooked as a vegetable. Midin is also very perishable, making it difficult for export to other states. 
It's typically cooked stir-fried with sambal belacan or eaten as part of a salad. Anchovies and salted fish may also be added into the mix, which is a staple at restaurants and mixed rice stalls. 
Tomato Mee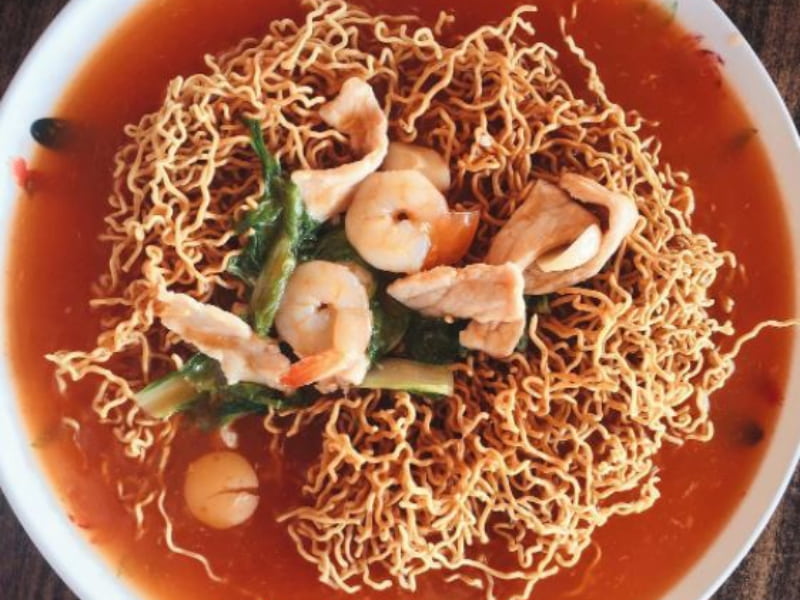 Sarawak food takes shape in many noodle dishes, and tomato mee is unique in its own right. Also called Kuching Mee, thick and tangy tomato sauce forms the base, which is topped with a mixture of vegetables, chicken, and seafood. Finally, a bed of crispy noodles completes this wholesome dish. Alternatively, you can also opt for kuey teow for a slurpy dining experience. 
Kompia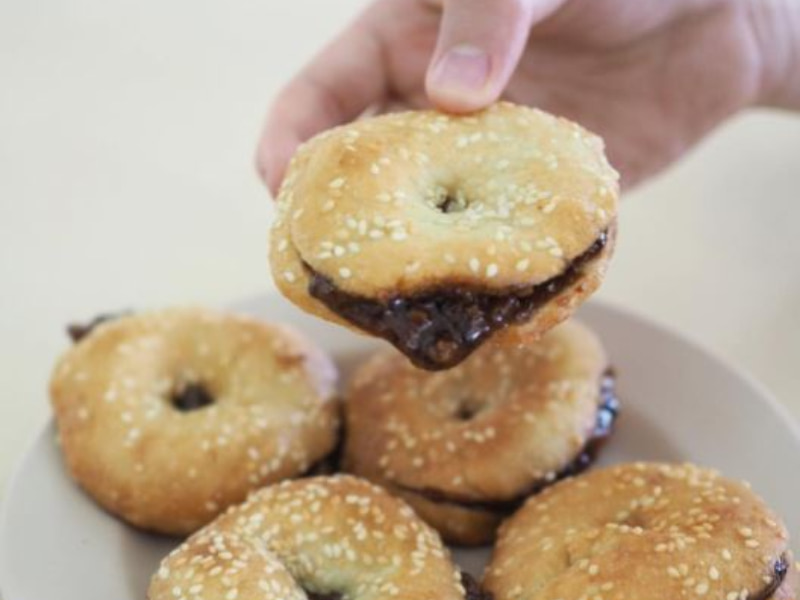 A delicious to-go snack, the kompia is particularly famous in Sibu, which is home to one of the largest Foochow communities in Malaysia. Akin to a burger or bagel, this pocket-sized Sarawak food is a toasted bun stuffed with minced pork and gravy sauce. In terms of stuffing options, you can even choose to have ham, cheese, or garlic. 
Nevertheless, don't be surprised to find yourself having more than a couple of this delectable and addictive pastry!
Related: Here's Where You Can Find The Juiciest And Most Filling Burgers In KL
Layer Cake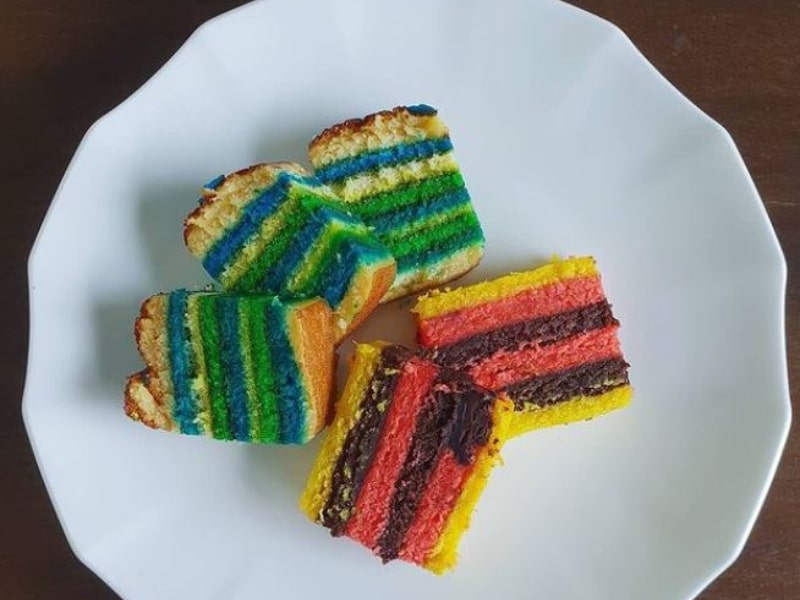 Layer cakes or kuih lapis may be widely available throughout Malaysia, but Sarawak's version truly deserves its own category. The dessert comes in eye-catching colours and intricate patterns that make it a good housewarming gift or when you're having a sweet tooth. 
From pandan and peanut butter to chocolate, Sarawak layer cakes come in a multitude of flavours. They have a long shelf life as well, easily lasting for up to three months refrigerated. 
Kacangma Chicken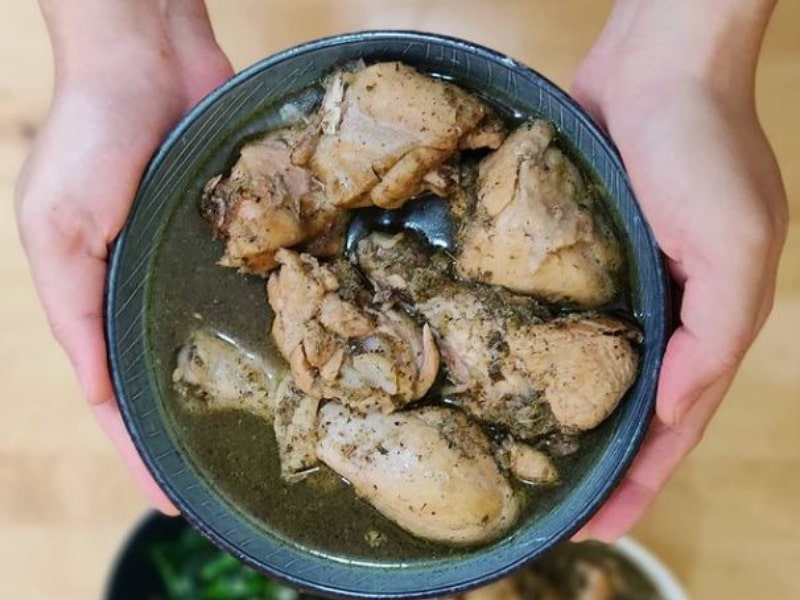 Kacangma, also known as motherwort, is a herb that is believed to be able to ease the effects of menstruation in women. Traditionally, kacangma is stewed with cooking wine and plenty of ginger. The result is a nourishing dish that pairs well with a bowl of warm rice. 
Manok Pansoh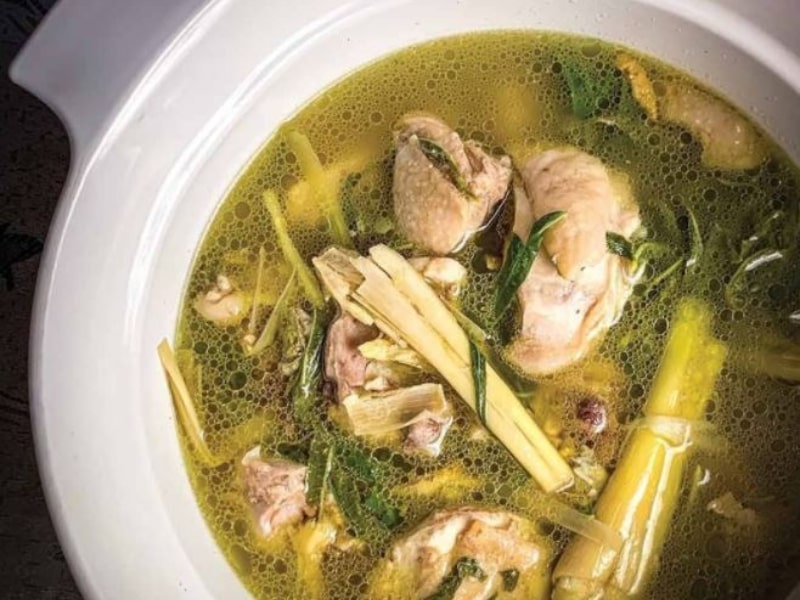 No Sarawak food trail is complete without trying manok pansoh, a traditional dish often prepared by indigenous Iban and Dayak tribes. Chefs marinate chopped chicken with lemongrass, ginger, and tapioca leaves, then cooking it in bamboo over an open fire. 
This unique cooking method seals the ingredients under high pressure, which results in juicy and succulent chicken with a woody aftertaste. 
Experience

Sarawak Food

By Trying These Unique And Tasty Dishes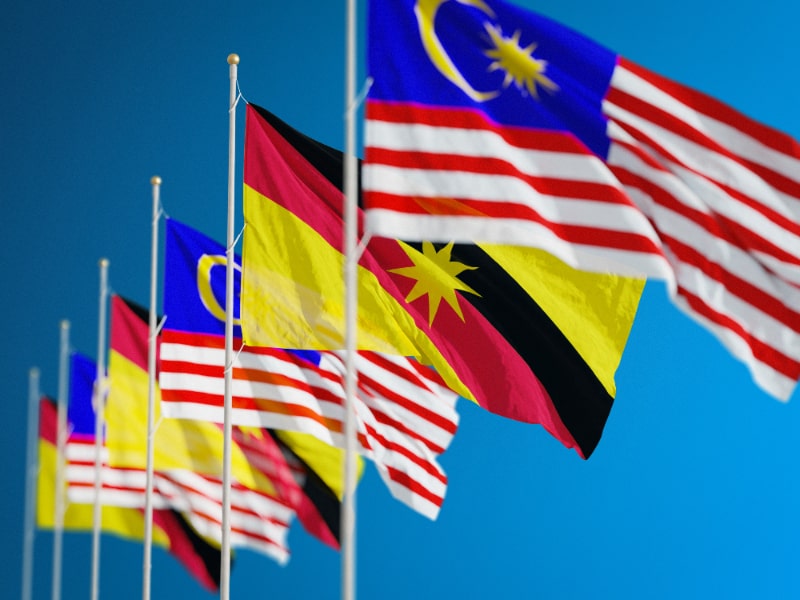 Sarawak's dynamic food scene is special in the sense that it fuses traditional delicacies with modern classics. From the noodle dishes like laksa and kolo mee to manok pansuh and midin, the state's culinary offerings are unrivalled. So, bookmark this list of must-eats during your visit there!
Planning a stop at Penang as well? Don't miss out on these restaurants for a scrumptious meal of nasi kandar. Bring an empty stomach!