When talking about Penang, the conversation often centres around its renowned F&B scene. The island-state's culinary offerings like asam laksa and char kuey teow are world-famous, garnering attention from the local and international press for years. 
Aside from delicious hawker fare, Penang is also known for its nasi kandar spread. On long holidays and weekends, the more famous outlets are filled with snaking lines consisting of locals and tourists. Feeling hungry? Here's our recommendation for the best nasi kandar in Penang.
Important note: We try to be as accurate as possible with details, but these are unusual times, so please check before heading out to avoid any disappointment.
Where To Get The

Best

Nasi Kandar

In Penang
Deen Maju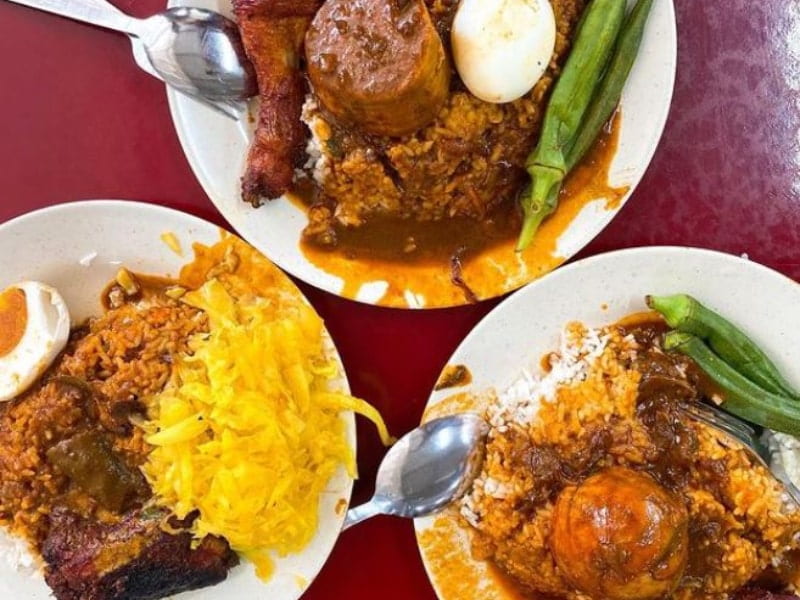 Located along Jalan Gurdwara is Deen Maju, a humble and unassuming spot for some of the best nasi kandar in Penang. Hungry patrons are willing to queue under the scorching Penang sun for its juicy fried chicken, squid roe, and a mix of leafy vegetables. There are ample curry options to choose from, but if you can't settle on one, just ask for campur for a taste of everything!
If you prefer a tangy base to compliment the dishes, opt for tomato rice. It's fragrant, soft, and comes with a slight hint of sweetness that isn't overpowering. When you're done stuffing yourself, wash everything down with a cup of ice water.
Address: 170, Jalan Gurdwara, 10300 George Town
Opening Hours: 11am to 7.30pm daily
Contact: 012-425 2421
Hameediyah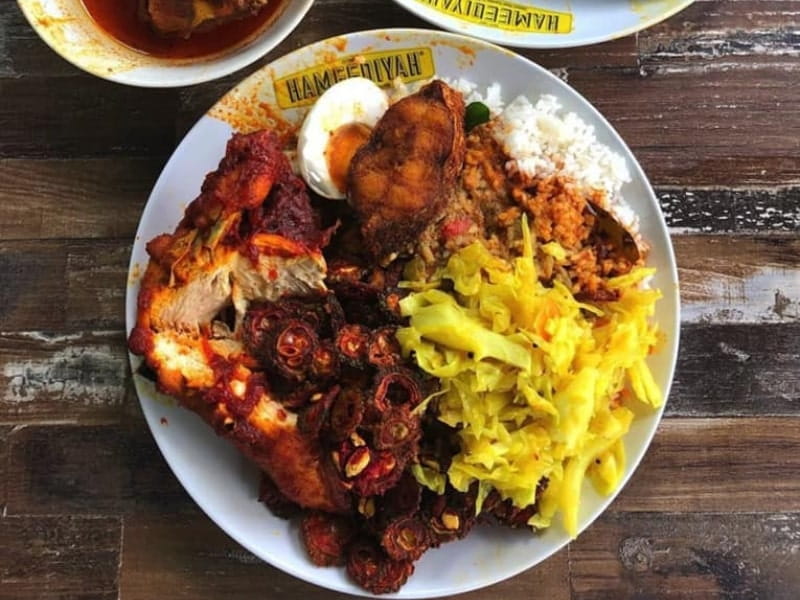 Holding a place in the Malaysian Book of Records as the country's oldest nasi kandar establishment, Hameediyah has been serving plates of deliciousness for two generations (112 years!). For those who've been frequenting Hameediyah for decades, they know the best nasi kandar in Penang is found here. 
Choose either white or biryani rice, select your dishes, and slosh your plate full with the curry of your choice—chicken, prawn, fish head, or mutton. The spicy aroma and exquisite taste of Hameediyah's curry lies in the recipe that uses a dozen of herbs and spices such as cinnamon, cardamom, and chilli powder.
Address: 164, Lebuh Campbell, George Town, Penang 10100 George Town
Opening Hours: 10am to 10pm daily (1pm to 3pm break on Friday)
Contact: 016-447 0164
Nasi Kandar Kampung Melayu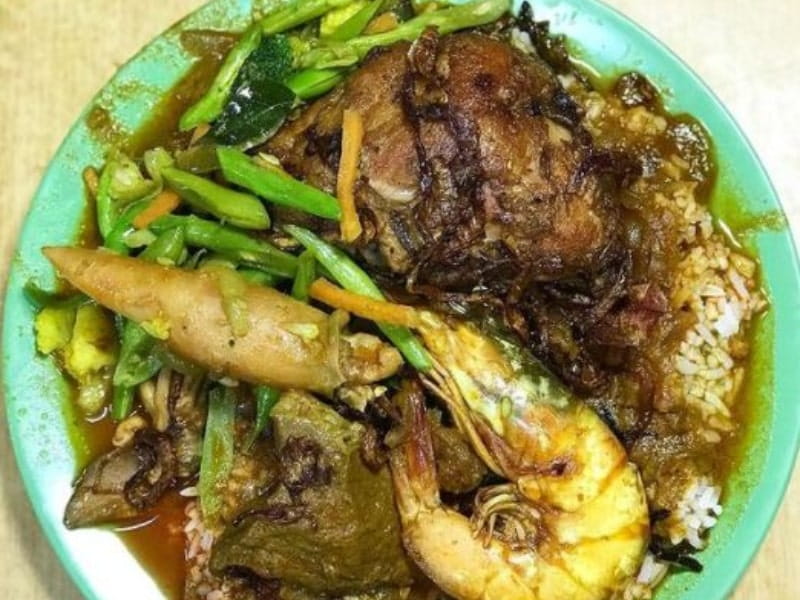 It's easy to miss this outlet located on the ground floor of a flat, but the unmistakable aromatic flavours will surely guide you when you're near. Established in 1974, regulars hold Kampung Melayu near and dear to their hearts, vouching that their nasi kandar is the best in Penang.
The portions here are generous as each plate is stuffed to the brim with beef curry, sauteed cabbage, and tasty curry mixtures. Come early to avoid missing out on your favourite dishes!
Address: A-29, Jalan Kampung Melayu, Kampung Melayu, 11500 Ayer Itam
Opening Hours: 6.30am to 1.30pm (Monday and Saturday); 6.30am to 1.30pm, 4pm to 10pm (Tuesday, Wednesday, Thursday, and Sunday); 6.30am to 12.45pm (Friday)
Contact: 019-575 5877
Line Clear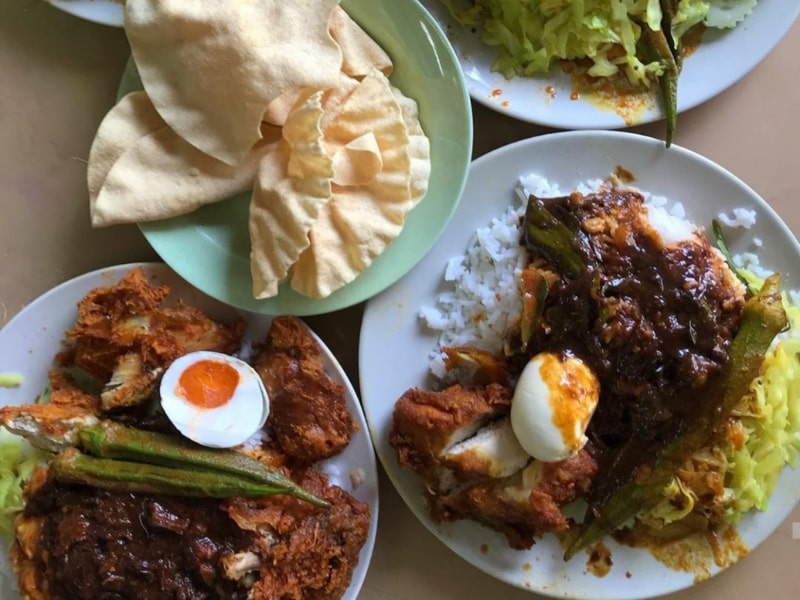 Well, the line here is most certainly not clear most of the time! Expect to wait patiently for your turn when dining at Line Clear, which is snugged at a gritty alleyway along Jalan Penang. Come here for the daily specials that range from mutton curry to boiled okra. Top it off with a salted egg and a splash of your favourite curry, and you have a meal that fills you up!
Line Clear is a 24-hour joint, making it a good supper spot for night owls, clubbers, and insomniacs alike. 
Address: 161 & 177, Penang Road, George Town, 10000 George Town
Opening Hours: 24 hours daily
Contact: 04-261 4440
Deen Jelutong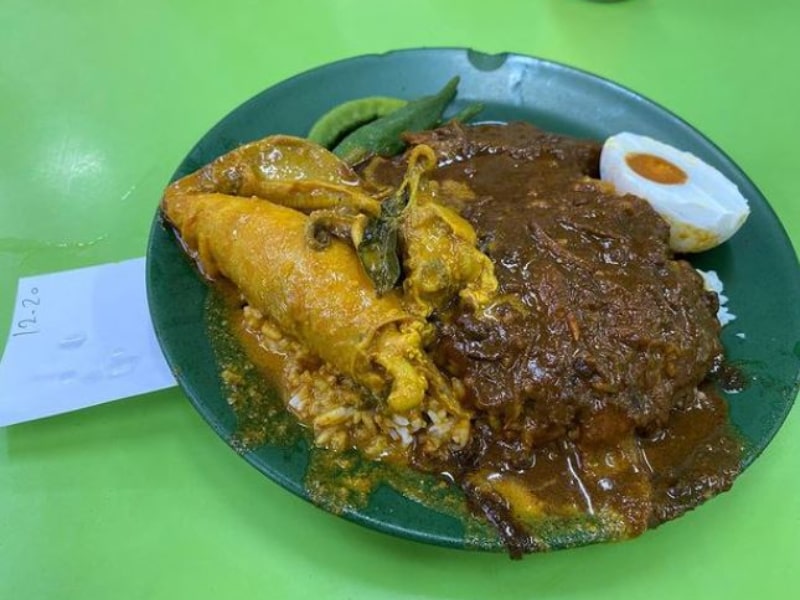 Not related to Deen Maju, but the nasi kandar here is equally scrumptious and worth lining up for. While the spread here is largely similar to other outlets, the curry selection here is in a league of its own. Depending on your appetite for the day, you can customise your curry flavours to be spicier or less salty.
But don't just enjoy the nasi kandar, the murtabak stuffed with minced chicken, eggs, and potatoes is also a crowd-pleaser. 
Address: 598-D & 598-E, Jalan Jelutong, Jelutong, 11600 George Town
Opening Hours: 6am to 10pm daily
Contact: Via Facebook
Nasi Kandar Beratur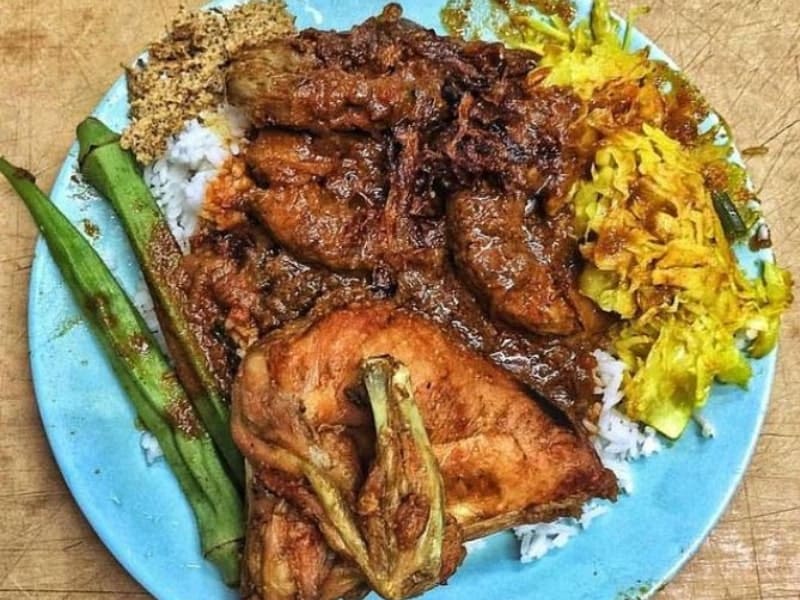 The name should be obvious enough, so don't be surprised to see a long queue of hungry diners even at 10pm. But locals believe it's well worth the wait as the restaurant serves some of the best nasi kandar in Penang.
Make sure you try the beef korma, which is a light curry dish of tender beef chunks. If you're a seafood lover, the sambal-drenched prawns are equally tasty as well. 
Address: 98, Jalan Masjid Kapitan Keling, George Town, 10200 George Town
Opening Hours: 3pm to 12am daily
Contact: 012-448 3001
Nasi Kandar Imigresen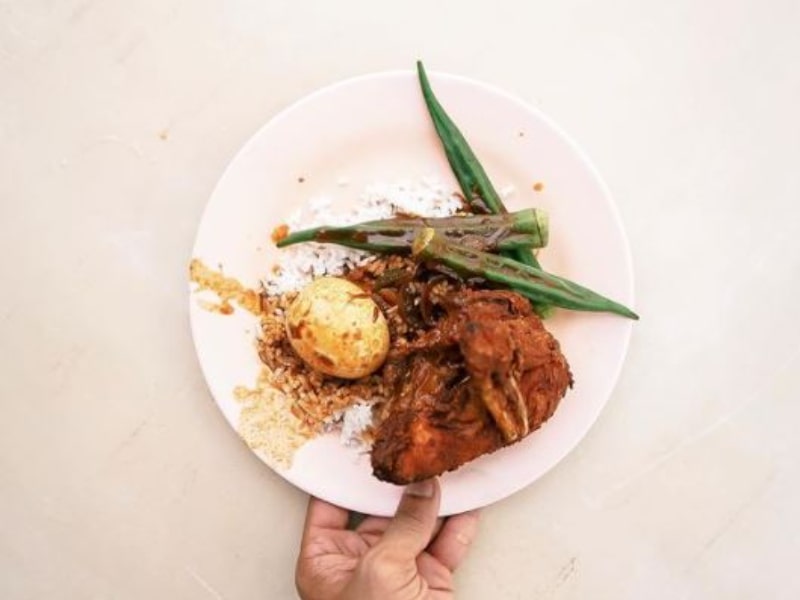 This modest roadside stall may be small in size, but certainly big on its delicious offerings. A family-run business, the stall got its name when it opened decades ago near the Penang Immigration Department.
While the spread here isn't as elaborate as compared to other restaurants, Imigresen does the classics such as fried fish, fried bitter gourd, and honey chicken down to a tee. The prices here are reasonable as well, making it a popular lunch spot for white-collar workers around the area. 
Address: 8, Lorong Pasar, George Town, 10200 George Town
Opening Hours: 10.30am to 9.30pm (closed on Friday)
Contact: 019-510 6786
Nasi Kandar Mohammad Raffe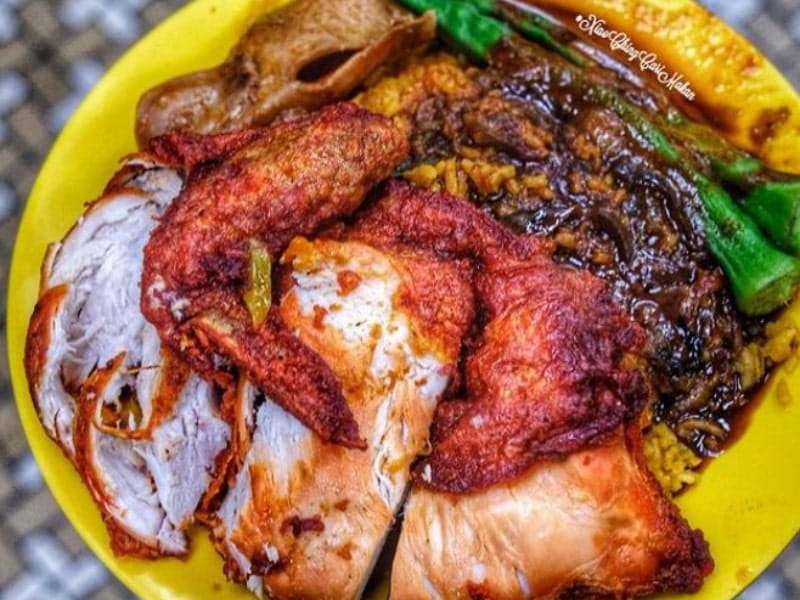 At Pulau Tikus is where many believe the best nasi kandar in Penang is served. Mohammad Raffe has been in operation since 1959; that's over six decades of serving tasty curry-doused grub!
For starters, the fried chicken is crunchy on the outside while the inside remains tender and moist. You also can't go wrong with the squid roe or honey chicken. Finally, ask for kuah banjir (mix of gravies) for a true-blue Penang meal. 
Address: 295-A, Jalan Burma, Pulau Tikus, 10350 George Town
Opening Hours: 7am to 12am daily
Contact: 04-228 8466
From Lunch To Supper, Satisfy Your Hunger With The

Best

Nasi Kandar

In Penang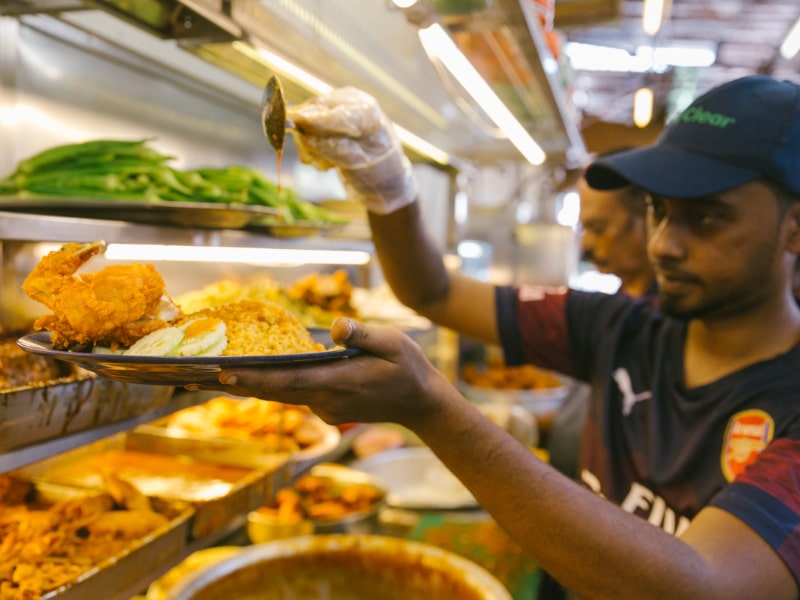 It's common knowledge that the best nasi kandar in Malaysia is found in Penang. Because of this, there is no shortage of restaurants specialising in the dish on the island. That said, the establishments on this list are known nationwide for their uniqueness. 
While taste buds certainly vary, you can't go wrong with any of them. Just bring a good appetite, some patience, and you're all set for a scrumptious chow-down!
Looking for dim sum recommendations? We got you covered too. Here are some of the best spots in the Klang Valley for steamy dumplings and baos.