Let's talk about crop tops. This summer trend is constantly fluctuating in and out of style every year and the opinions surrounding them differ from person to person. For some, crop tops are a way to feel a little bit sexier, but in a subtle and flirty manner. Meanwhile, others may not feel as comfortable with the tummy-showing design of crop tops and choose to steer clear from this trend entirely. And that's perfectly okay too! Not every trend is meant for everyone. However, if you do want to learn how to incorporate crop tops without baring any skin, then draw some fashion inspiration from these hijab-friendly crop top outfits.
Modest

Fashion

Crop Top Hijab

Outfits 
The Corset Crop Top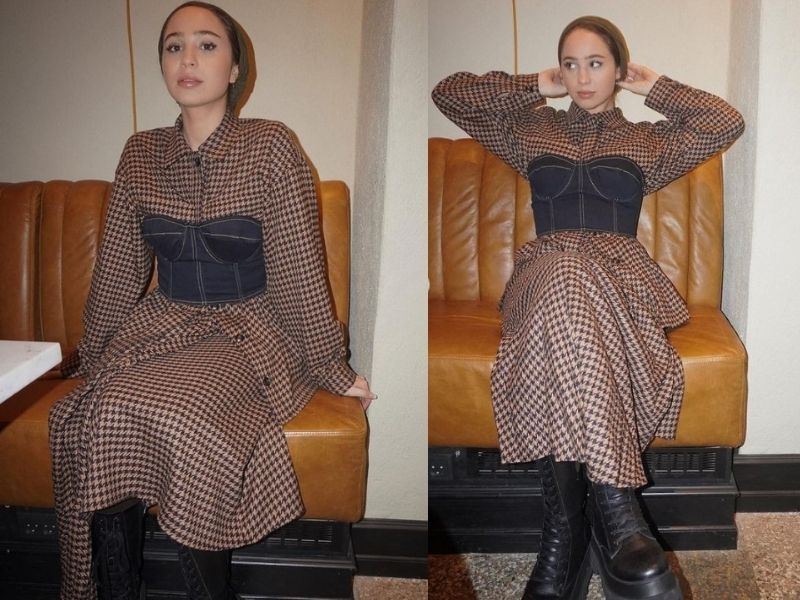 Midi dresses are the easiest pieces for hijab girls to style their crop tops with. The extra layer instantly adds a bit of edge and dimension to your outfit. Here, model and fashion blogger, Maria Alia, beautifully mixes punk and #cottagecore by pairing her houndstooth midi dress with black combat boots. We also love how she colour coordinates her hijab to match the hue of her dress. 
Shop this style:
Related: How To Style Corset Tops & Belts: 9 Outfit Ideas To Try
The Crop Top Shirt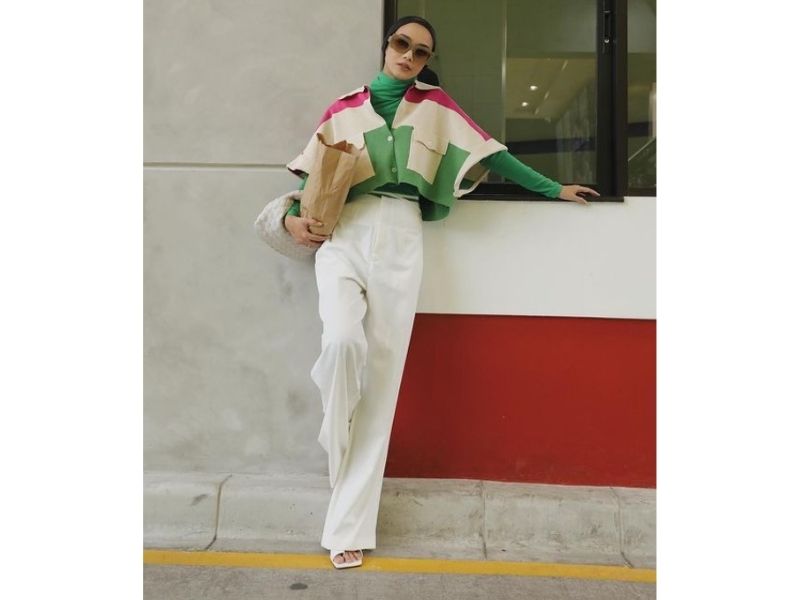 If you have a cropped, short-sleeved shirt, you can wear your top as a lightweight outerwear piece. Otherwise, you could also layer a turtleneck (or any long-sleeved top) underneath to allow the design of your shirt to shine. As for your bottoms, some high-waisted pants will help prevent the outfit from looking too disproportionate. 
Shop this style:
The Mini Crop Top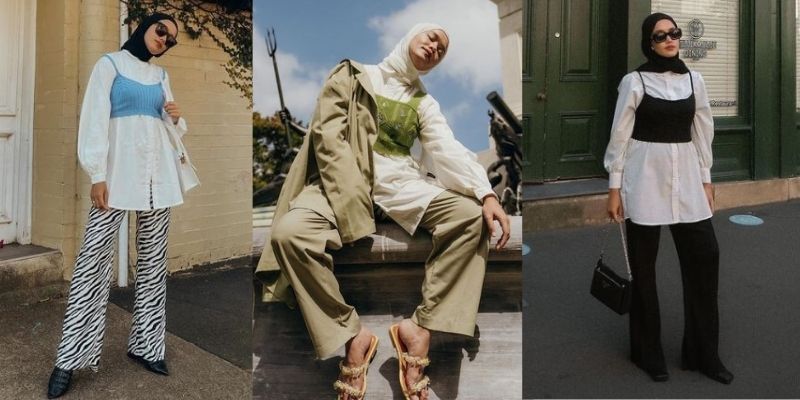 A white button-up shirt is perhaps one of the most popular ways to style your crop top as a hijab girl. Simply layer it over your button-up and your basic wardrobe staple instantly appears more trendy! You can pair this with a suit set for a smart-casual look or go bold with pastel colours and printed pants. The styling options are limitless!
Shop this style (outfit 1):
Shop this style (outfit 2):
Shop this style (outfit 3):
Related: How To Style Oversized Shirts (For Both Men and Women)
The Asymmetrical Crop Top 
Cut-outs are completely dominating social media right now. So why not feature them in an asymmetrical crop top? If you're working in a creative field, this is a great way to take your office attire to the next level. 
Shop this style (outfit 1):
Shop this style (outfit 2): 
Related: Muslimah Formal Attire: What To Wear To Look Professional And Pretty
The Bandeau Crop Top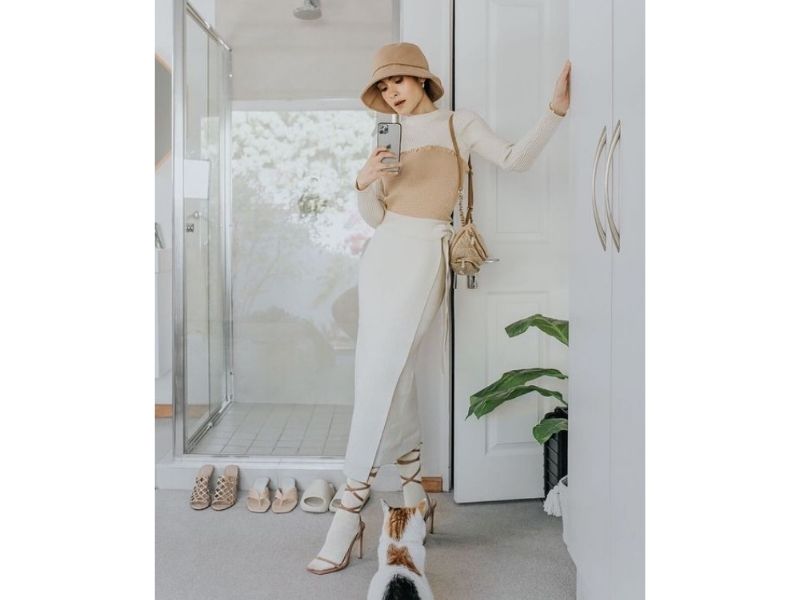 There's nothing more sophisticated than a neutral colour palette. Fashion content creator, Nabilah Kariem, looks especially stunning in this streamlined crop top hijab outfit consisting of just two hues: khaki and white. Minimalism is key in this style, so avoid accessorising too much. You can do what Nabilah has done and throw on a matching hat of your choice to tie in the whole outfit. Or opt to ditch the accessories entirely. 
Shop this style:
Related: 14 Cool Ways To Style A Bucket Hat Based On Your Personal Style
The Scarf Crop Top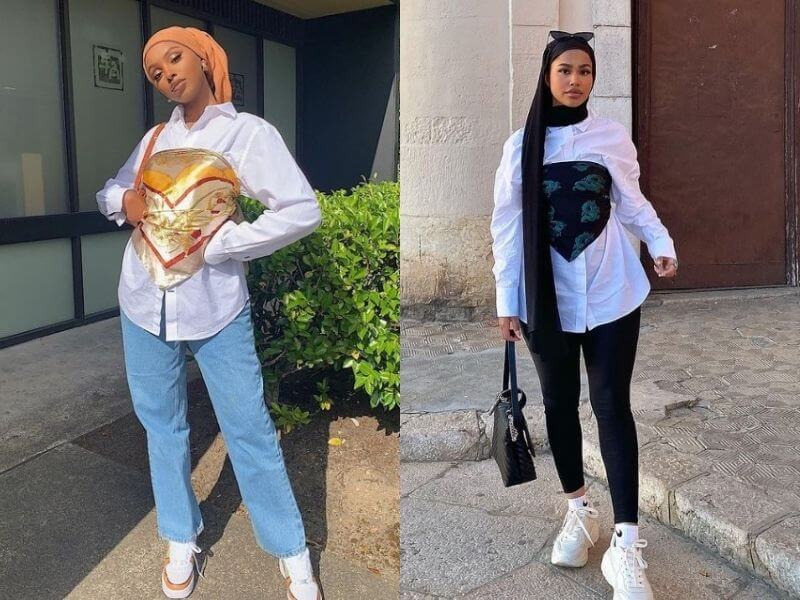 Like all things Y2K, the scarf crop top is officially back in style! While this silk fabric is often worn in most beach outfits, it can also be styled to fit your modest fashion requirements. Fashion influencer, Sabrina uses her scarf top to elevate her button-up shirt and straight-legged jeans combination. She takes care to match the colours of her top with orange-toned pieces for a cohesive look. Alternatively, you could also draw inspiration from digital creator, Yasmin Marzana, and transform your exercise leggings from sporty to streetwear chic. 
Shop this style (outfit 1):
Shop this style (outfit 2):
Look Trendy Yet Modest With These

Crop Top Hijab

Outfits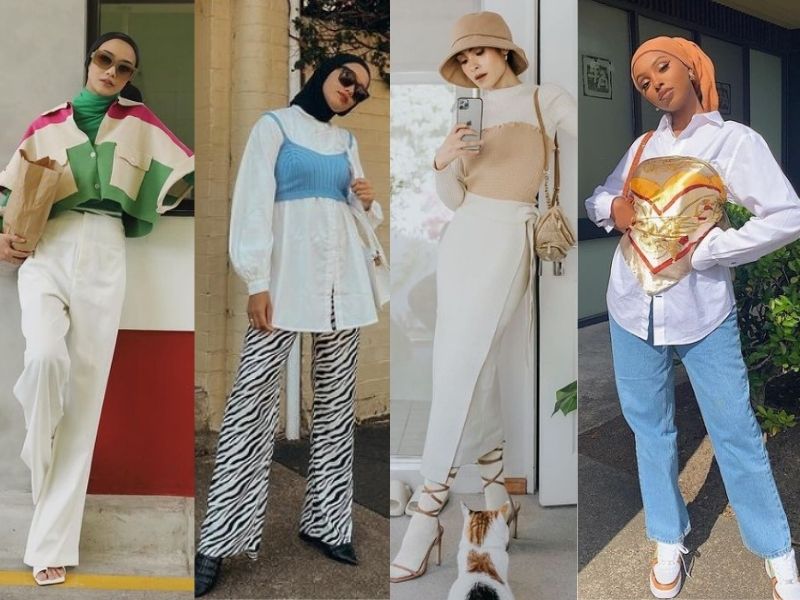 From corsets to scarves, we hoped these outfits helped you learn how to style your crop tops more modestly. Looking for more hijab fashion content beyond crop tops? These fashion influencers are proof that you can still look trendy while being modest. Don't forget to head over to Style By Shopee for more of the latest fashion trend updates!