Three years after staging a memorable two-day concert in Malaysia, the girls of Blackpink will return to our shores once more come 4 March. Congrats to the thousands of lucky Blinks who managed to grab the fast-selling tickets! Besides counting down the days and practising all the fan chants, you might be fussing over how to look your best on concert night. Fuss no more as we are here to dish out pointers on what to wear to look your finest. If you are game for dressing up like Jennie, Lisa, Rosé, or Jisoo, we have the right selections that you can put together effortlessly!
Where Is

Blackpink's Concert In Malaysia

2023?
Blackpink's Born Pink World Tour Kuala Lumpur will be held at National Stadium Bukit Jalil on 4 March.
How Much Is

Blackpink's Concert Ticket In Malaysia

?
Ticket prices range from RM388 to RM1,888 (Born Pink VIP soundcheck package). The latter includes access to the pre-show soundcheck party, early access to the show, and "one set of commemorative laminate and lanyard". 
6 Easy-To-Put-On Outfit Ideas To Wear To

Blackpink's Concert In Malaysia

 
Have fun dressing up in these outfits seen in some of their iconic music videos!      
1.   Jennie's Sporty Chic Vibe In

Pink Venom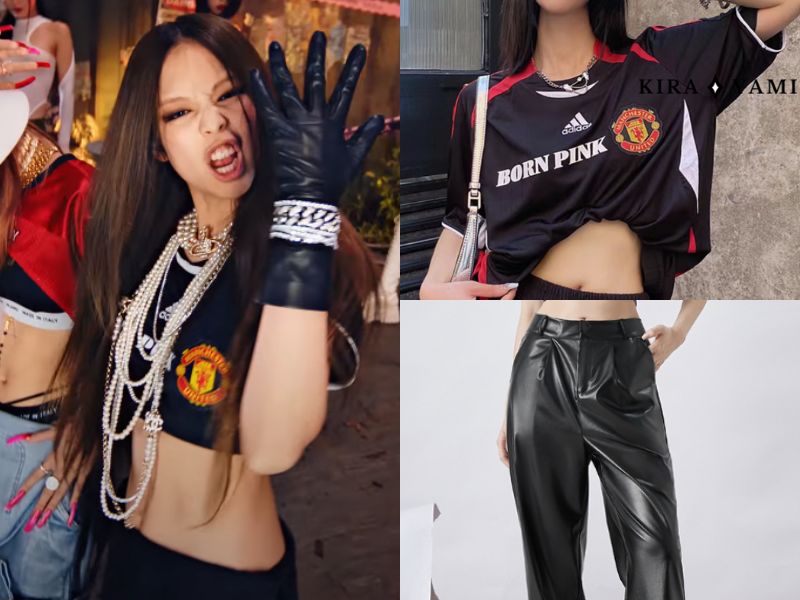 One of the most memorable outfits from their Pink Venom music video has got to be Jennie's football jersey garb. We don't know whether she's secretly a Manchester United supporter, but this look is a pretty simple and straightforward one for anyone to style. Grab any football jersey you can (and tie the lower half up to your midriff), pair it with black leather pants, and Jennie-fied it with black leather gloves plus lots and lots of pearl necklaces!
Shop this style:
2.   School Uniform Attire In

As If It's Your Last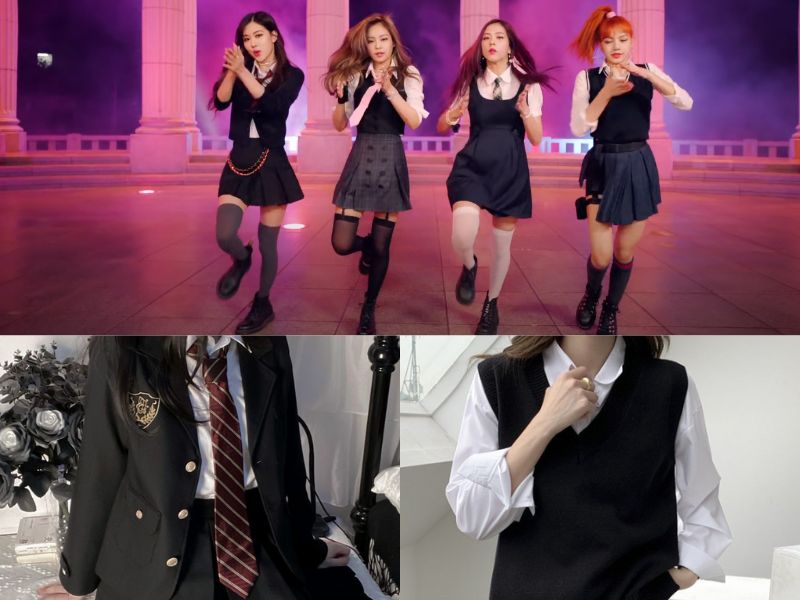 The girls donned various colourful outfits throughout the music video of their hit As If It's Your Last, with one in particular that is fun, easy to dress up in, and will make you look adorable yet chic. The starting pieces are a white shirt (either long-sleeved or short-sleeved) and a pair of knee socks. You can then go for a black pinafore, a vest + plaid mini skirt combo, or a cardigan + plaid mini skirt combo. Add a necktie to complete the look!
Shop this style:
3.   Jennie's Streetwear Grunge Look In

Boombayah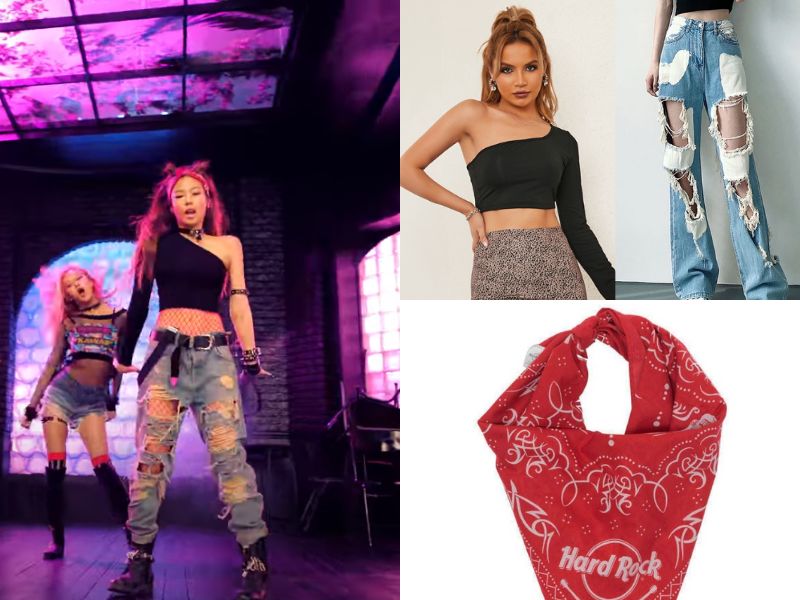 In their debut song and music video, the girls go heavy in streetwear in a group dance segment. Jennie's stylish outfit is a particular highlight, and you can copy this look with ease. The base outfit consists of a one-shoulder top, heavily-distressed jeans, and black boots. If you want to go extra with the accessories as Jennie did, you can add the finishing touches with a bandana tied around your forehead, a suspender strap that hangs off your waist, and a choker.
Shop this style:
4.   Lisa's Hip-hop Getup In

LALISA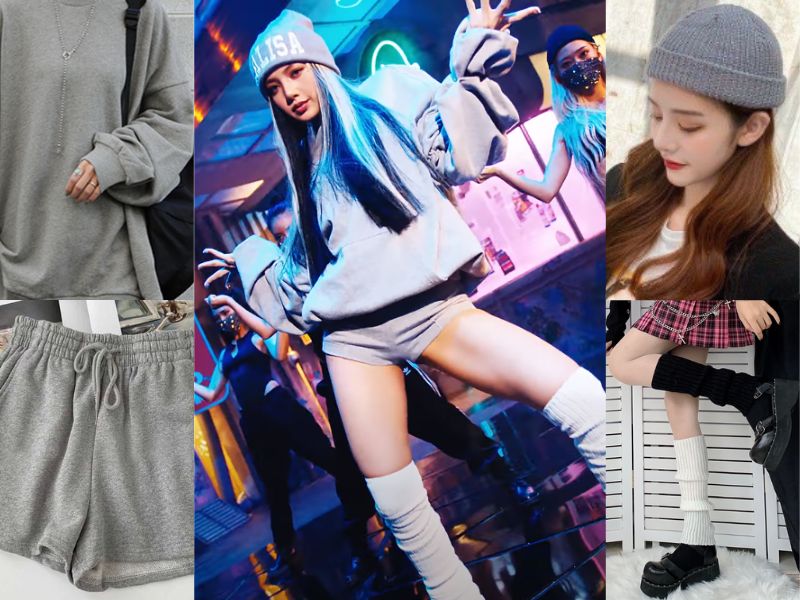 It is a norm to see Lisa dressed elaborately in music videos and performances, and it is no different in her debut single LALISA. Out of her many mind-blogging outfits, there is one that sees her dressed rather simply but no less stylish. All you need is a grey oversized sweatshirt, grey hot pants, grey beanie, a pair of white leg warmers and matching sneakers, and you're ready to blaze the night with your Lisa-inspired look!
Shop this style:
5.   Jisoo's Girl-Next-Door Outfit In

Whistle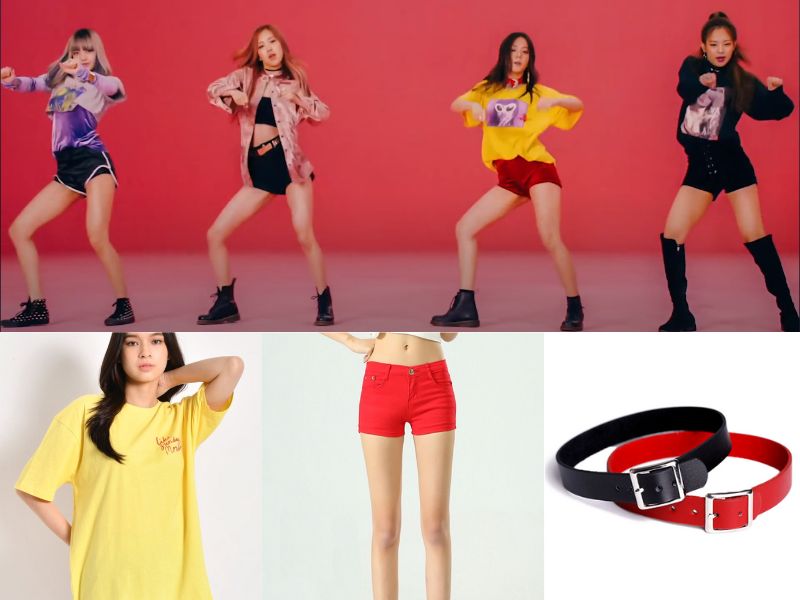 Sometimes, less is more. And in a concert environment in Malaysia that can get hot and humid, you may want to wear something light and airy. Few pairings are more suited for the occasion than an oversized tee and hot pants. You can put a stylish spin on this simple ensemble by doing it Jisoo-style, that is, adding a belt choker and boots to make you stand out from the pack!
Shop this style:
6.   Rosé's Skater Girl Ensemble In

Boombayah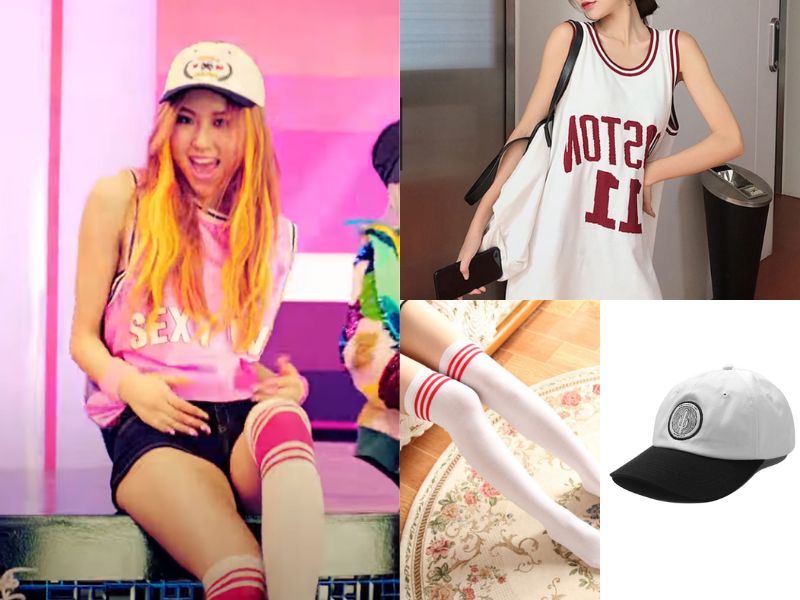 Here's another simple outfit idea to wear to Blackpink's concert in Malaysia that puts comfort on top without sacrificing style. Put together a combo of basketball jersey, hot pants, knee-high socks, a cap, and a pair of sweatbands, and you'll be channelling Rosé in her playful getup!
Shop this style:
Dress Your Best To

Blackpink's Concert In Malaysia 2023
Blackpink's Born Pink concert in Malaysia 2023 is set to be bigger and better than their previous show. With more hit singles and albums under their belt, plus the occasion of playing at a bigger venue, the concert has all the makings to be the best live show this year. For those attending, it will be a night to remember for many years. And what better way to savour the occasion than to show up at the concert channelling your idols! 
Blackpink's concert in Malaysia is one of many other exciting live shows that are happening on our shores in 2023. Be sure to check out our concert guide here to be in the know of what's coming up!
Related: From Onstage To Airport Fashion, Here Are 16 Of Blackpink's Best Outfits