So you've had the best hair of your life during your pregnancy, and now your crowning glory is shedding like there's no tomorrow? That sounds to us like a classic case of postpartum hair loss, caused by the fluctuating hormone levels in your body during and after your pregnancy. The good news is, postpartum hair loss is rarely permanent, and by the time your child celebrates their first birthday, your hair growth is most likely restored. But if you simply cannot wait it out, the best hair tonic in Malaysia can help reduce hair fall and stimulate your scalp for healthy hair growth.
What Is The

Best Hair Tonic For Hair Growth

In Malaysia?
If you're overwhelmed by the endless options, here's a rundown of the best hair tonics for hair growth that you can find in Malaysia.
1. Some By Mi Cica Peptide Anti Hair Loss Derma Scalp Tonic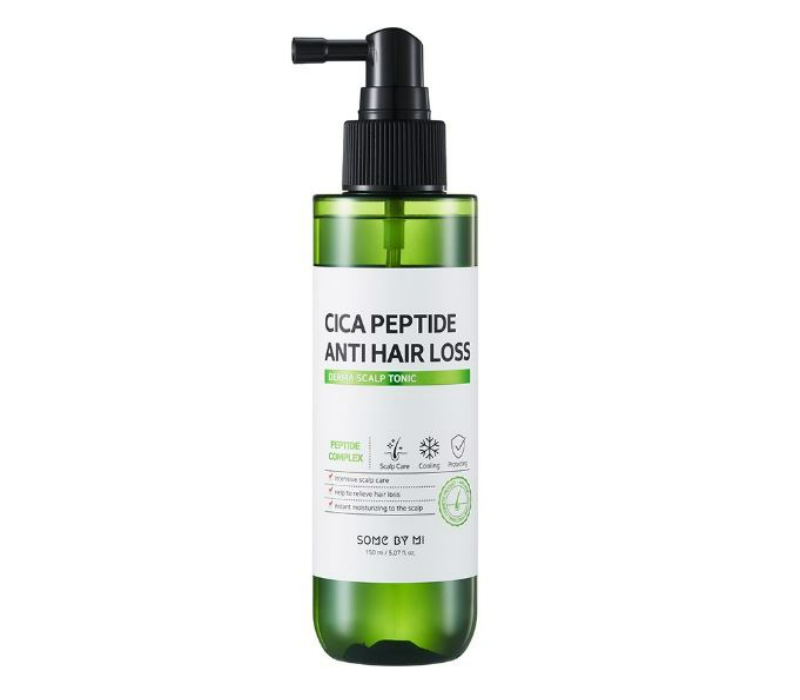 With 22,000 bottles sold to date,
Some By Mi's
best-selling hair tonic for hair growth
is truly
head and shoulders
above the rest. Made with peptides, cica, and biotin, this tonic improves hair elasticity and deeply hydrates the scalp to control excessive sebum production. (A greasy scalp can lead to clogged hair follicles and, eventually, hair fall.) What's more, the menthol-infused formula is cooling on the scalp and not at all heavy on your locks.
2. Naturals By Watsons Aloe Vera Hair & Scalp Tonic
For mamas on a budget,
Watsons
offers one of the best value-for-money hair tonics for
postpartum hair loss
. The refreshing formula features organic
aloe vera
extract that prevents dandruff build-up, and regulates moisture and sebum levels on dry and oily scalps. After all, a healthier scalp equals healthier hair!
3. GRAFEN Root Booster Tonic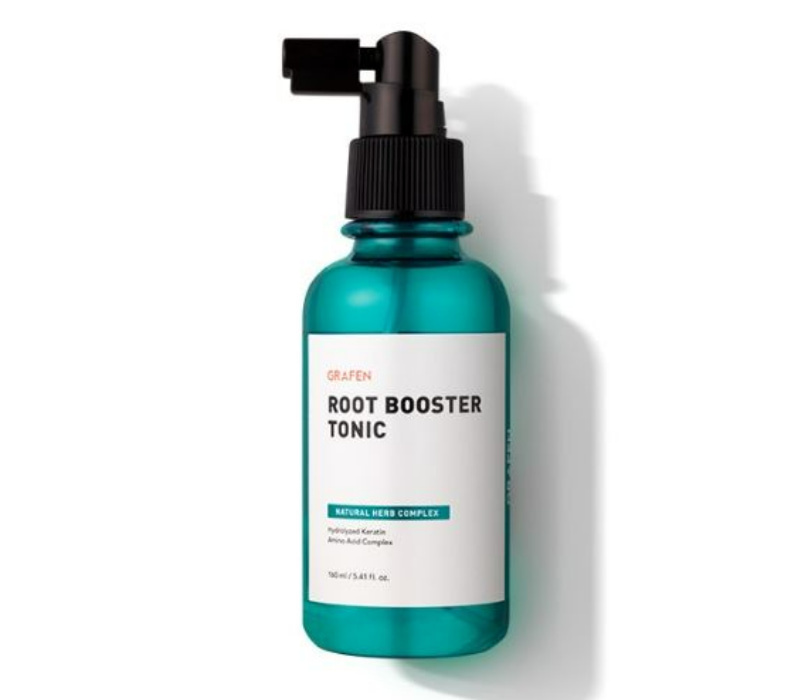 If you're a mum who spends a lot of time
outdoors
, the GRAFEN Root Booster Tonic is among the
best hair tonic for
promoting
hair growth
. As a heated scalp from direct exposure to sunlight can exacerbate
postpartum hair loss
, GRAFEN's cooling hair tonic can instantly lower scalp temperature. Plus, it contains plant-derived extracts, keratin, and 17 types of amino acids, which work in tandem to reduce scalp oil and improve root volume.
4. Safi Shayla Hair Fall Control Hair Tonic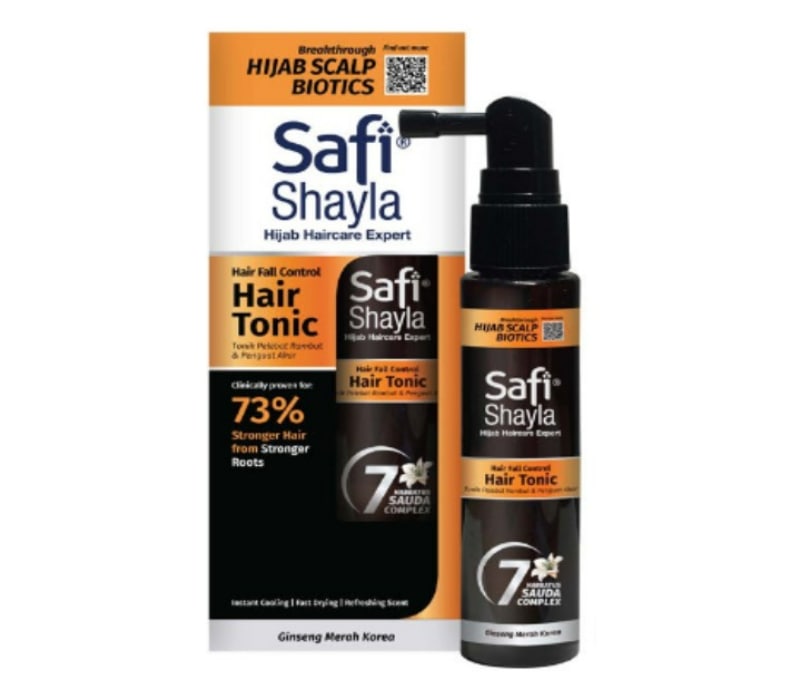 Hijabistas
,
best
look out for the
Safi
Shayla
hair tonic
if you're looking
for
a step up in your
hair growth
game! Boasting a hijab-centric formulation that includes the 7 Habbatus Sauda Complex and
Korean red ginseng
, this restorative remedy soothes the scalp, visibly reduces hair loss, and boosts hair volume—all without weighing the hair down.
Related: Hair Care Guide: Best Shampoos For Hijabis
5. Schwarzkopf Seborin Activ Hair Tonic
The
Seborin
Aktiv Hair Tonic is a time-tested treatment for thinning hair and weak strands. Massaging it daily onto the scalp can help regenerate the hair from the roots to the tip. And that's all thanks to the
ginger
root extract that revitalises the scalp, and Pro-Vitamin B5 that penetrates deep into the roots to repair damaged hair from within.
6. Cavilla Hair Tonic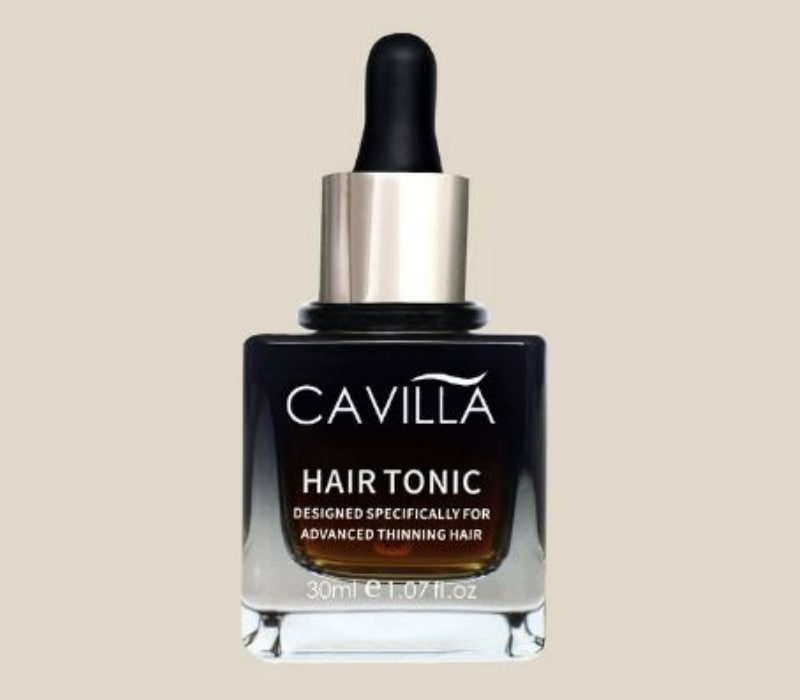 If Cavilla's best-selling
lash serum
is any indication of its formula's prowess, you can expect great things from this hair loss tonic. Harnessing the benefits of Chinese herbs,
this
decoction boasts a quicker absorption compared to oral
supplements
and other
topical
treatments. So you'll sooner be able to enjoy thicker, stronger, and healthier-looking tresses. And without worries too, as this hair tonic is GMP-certified and safe for all skin types.
Related: These Are The Best Eyelash Serums To Help Grow Out Your Short Asian Lashes
7. Good Virtues Co. Hair Fall Control Tonic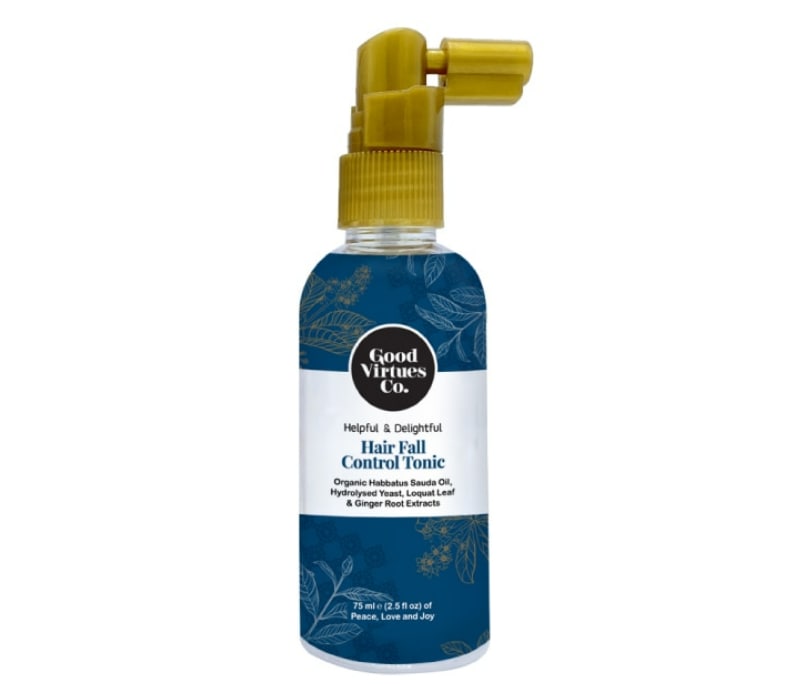 Restore your crowning glory minus the premium price tag with this
best-selling hair tonic for hair growth
by
Good Virtues Co
. At just under RM20, this high-performing hair tonic—infused with
loquat leaf
and
ginger root extracts, as well as
black seed oil
—helps strengthen hair follicles, regulate scalp health, and soften under-nourished hair.
8. KUNDAL Anti-Hair Loss & Scalp Care+ Scalp Tonic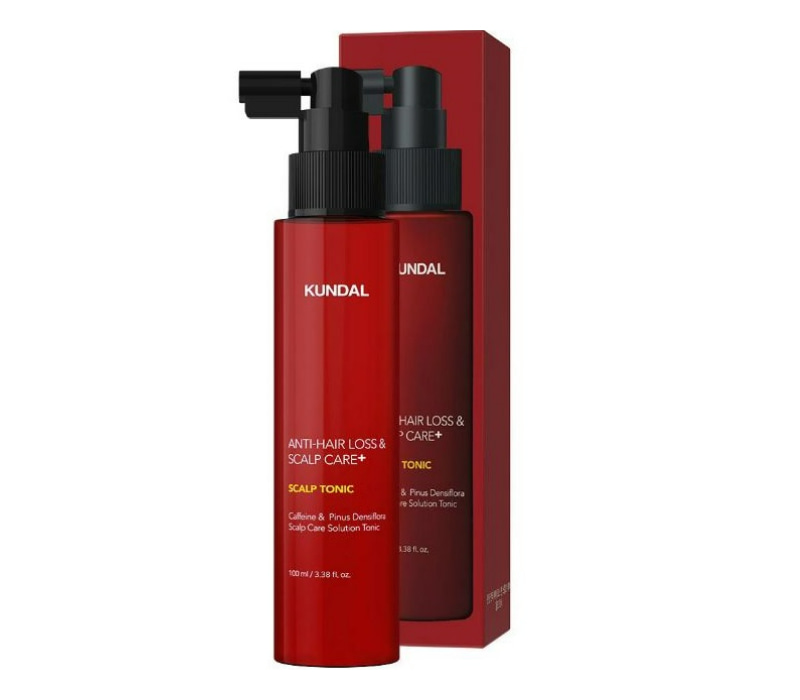 Did you know that
caffeine
is an excellent source of nutrition for a hydrated, pH-balanced, and healthy scalp? KUNDAL certainly knows that, and it's reflected in their caffeine-based scalp tonic. Each bottle contains 10,000ppm of caffeine to nurture the scalp back to health, as well as L-menthol,
salicylic acid
, and dexpanthenol to alleviate
postpartum hair loss
. Not to mention Korean red pine leaf extract, which helps relieve sensitive scalp from irritation and inflammation.
9. Nature's Organic Sense Anti Hair Loss Tonic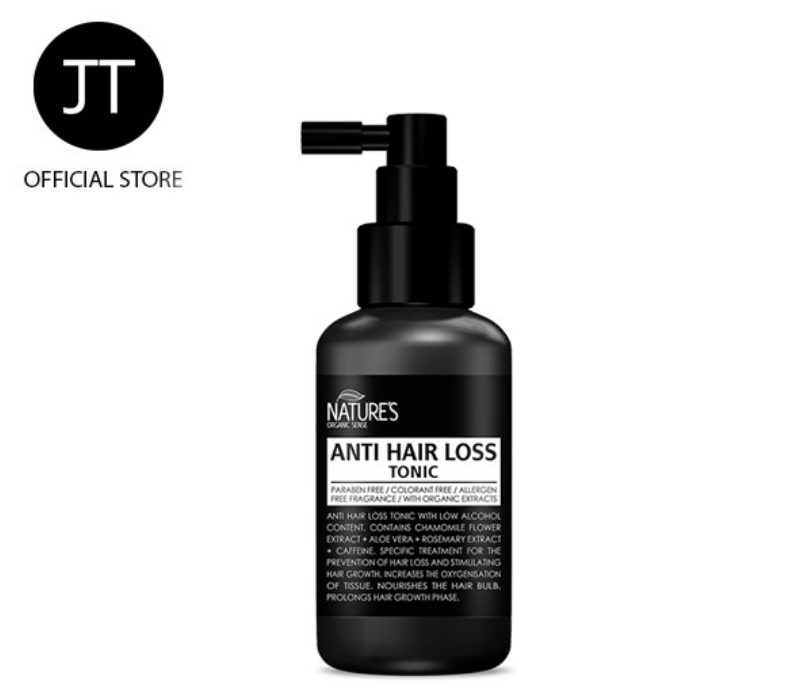 Breastfeeding mums who prefer an all-organic alternative free of parabens, colourants, and fragrances can look to Nature's Organic Sense. It carries one of the best organic hair tonic options for hair growth, including one specifically tailored for sensitive scalp. The regular version, pictured above, features chamomile flower extract, aloe vera, rosemary extract, and caffeine, which aid in prolonging the hair's natural growth phase.
10. Toyokami Vitalmint Essence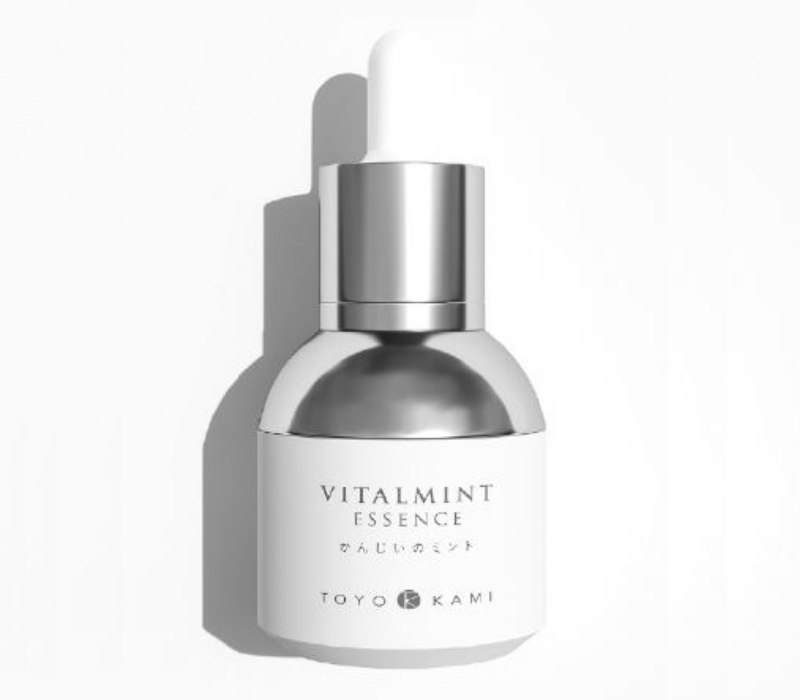 Hailing from
Japan
, the Toyokami Vitalmint Essence is a culmination of years of research on a key ingredient—
peppermint
. Its healing essence is said to repair and rebalance damaged scalp, and increase blood flow to stimulate hair growth. It doesn't just accelerate the generation of new hair, it also helps reduce the growth of white hair. Now isn't that a nice bonus?
11. DermaMed+ Laboratories RENOXIL Ultimate Hair Loss Treatment
The DermaMed+ RENOXIL is one of the best newcomers in the hair tonic department, owing to its clinical formulation that optimises the hair growth cycle. Its ultra-lightweight but emollient texture ensures efficient penetration into the hair follicles. But in particular, it's recommended for ladies with thinning hair, alopecia, and sensitive or dry scalps.
Can I Use Hair Tonic Every Day?
Yes, these best hair tonics for hair growth typically require daily use. However, it's always best to follow the instructions that come with your hair growth tonic of choice.
For best results, we recommend cleansing your hair with shampoo and towelling dry before applying the hair tonic on the entire head. Then, massage the scalp gently to boost absorption and comb through your locks to ensure all strands are coated. Leave it on until your next wash or application, whichever comes first.
Alleviate

Postpartum Hair Loss

With The

Best Hair Tonic For Hair Growth

In Malaysia
If curating this list has taught us anything, it's that a healthy scalp is the basis for healthy, shiny, and full hair. And these best hair tonics for hair growth in Malaysia will certainly come in handy if you'd like to mitigate postpartum hair loss as soon as possible. Do keep in mind to consult your doctor prior to using any of these hair tonics, especially if you are breastfeeding. And remember to be patient—it may take some time, or several bottles, before any results show.
For the best effect, try pairing your hair tonic with a shampoo targeted for hair loss. If there are still no visible improvements, some lifestyle changes or a visit to the doctor might help.