So your baby's first birthday is coming up and as a new parent, you might be wondering: what on earth is a 1st birthday smash cake?! For the uninitiated, a smash cake is a 1st birthday cake for your baby to relish on their own. And by relish, we mean smash, smoosh, demolish, with a little eating in between. It's a lot of fun for a curious tot, which can lead to some cute Instagram-worthy moments.
Now, a smash cake doesn't need to be overly big or fussy because it's just for the baby. So any cake between 4 to 6 inches in diameter is plenty. Most of the time, the adults have a separate, unscathed cake to themselves. As for the type of cake, that's entirely up to you. Just go with a children's birthday cake that you're comfortable allowing your one-year-old to eat. That means taking into consideration their dietary restrictions and food intolerances.
If you're prepared to embrace the mess, check out our buy and bake guide for the sweetest 1st birthday smash cake ideas.
1st Birthday

Smash

Cake

Buy Guide
BakedKL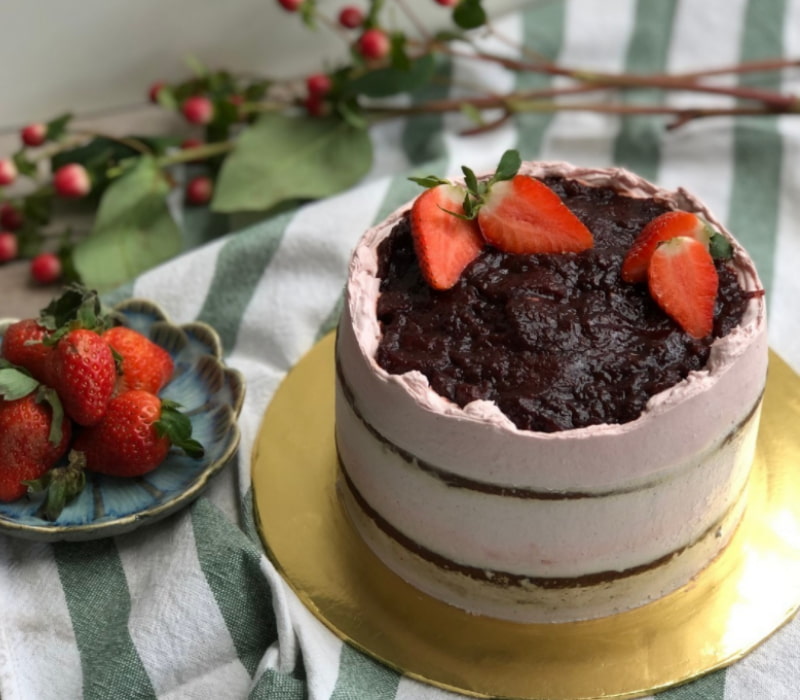 BakedKL's baby-friendly vegan cakes are inspired by the baker's own daughter who was born with food intolerances. As a result, they're free of nuts, dairy, eggs, and refined sugar, which make them pretty safe options for 1st birthday smash cakes. Featuring BakedKL's rustic style, these baby-friendly cakes come in four six-inch options – Banana Chocolate Chip, Princess Victoria, Carrot Date, and Berry Tang.
Contact: 012-270 4127
Delivery and pick-up available from Ampang
Website | Facebook | Instagram | Shopee
Kanteen's Kitchen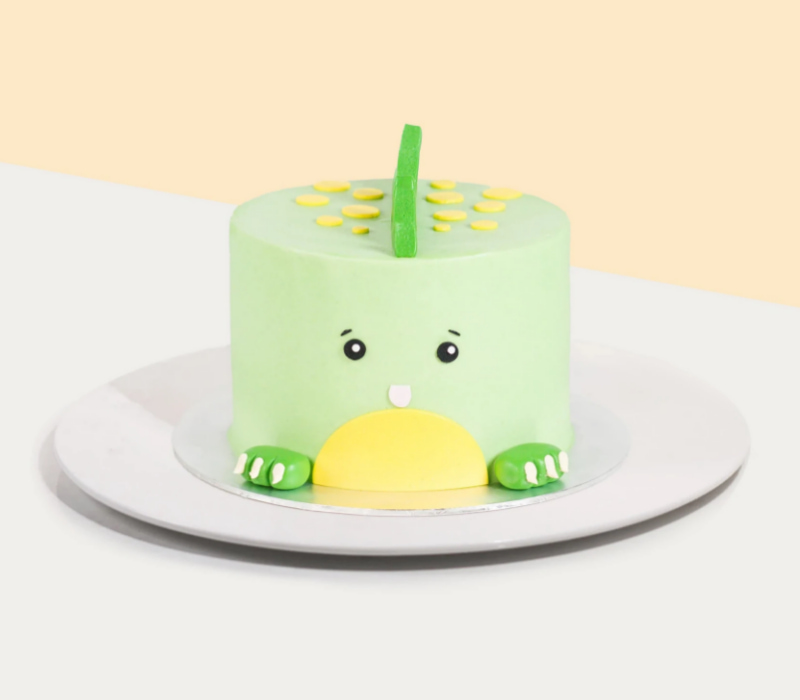 Offering both pre-designed and custom cakes, Kanteen's Kitchen's creations are sure to please any one-year-old. If your kid is into animals, they'll adore the achingly cute pre-designed animal cakes. They'll end up 'petting' koala, sheep, dino, or bear to bits, but isn't that half the fun of smash cakes? These 5.5-inch children's birthday cakes are made with only halal ingredients. If you'd like a bespoke cake, drop Kanteen's Kitchen a DM.
Contact: Via Facebook or Instagram
Delivery and pick-up available from Cheras
Facebook | Instagram | Cake Together
Titchy Tummy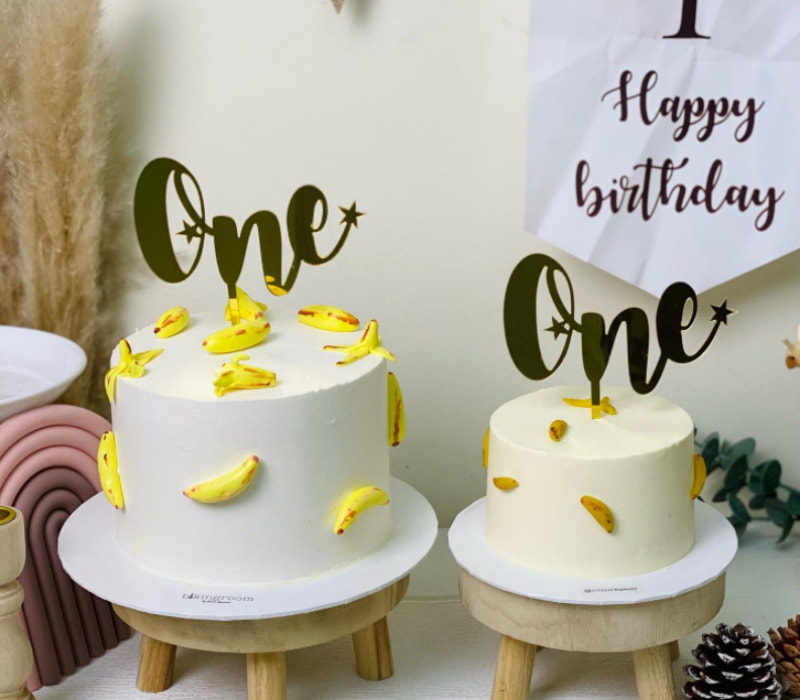 Need some smash cake ideas or have a party theme in mind? Look up Titchy Tummy for custom 1st birthday cakes. The Shah Alam-based baker prides itself in baking children's birthday cakes that are free of sugar, dairy, gluten, and eggs, so your tot is guaranteed a yummy cake and a good time. If you're looking to hit two birds with one stone, Titchy Tummy's sister bakery, Bakingroom by Ainie Syeema, is your go-to for regular cakes to serve your guests.
Contact: 013-492 2819
Delivery and pick-up available from Shah Alam
Pandanese Chiffon Cake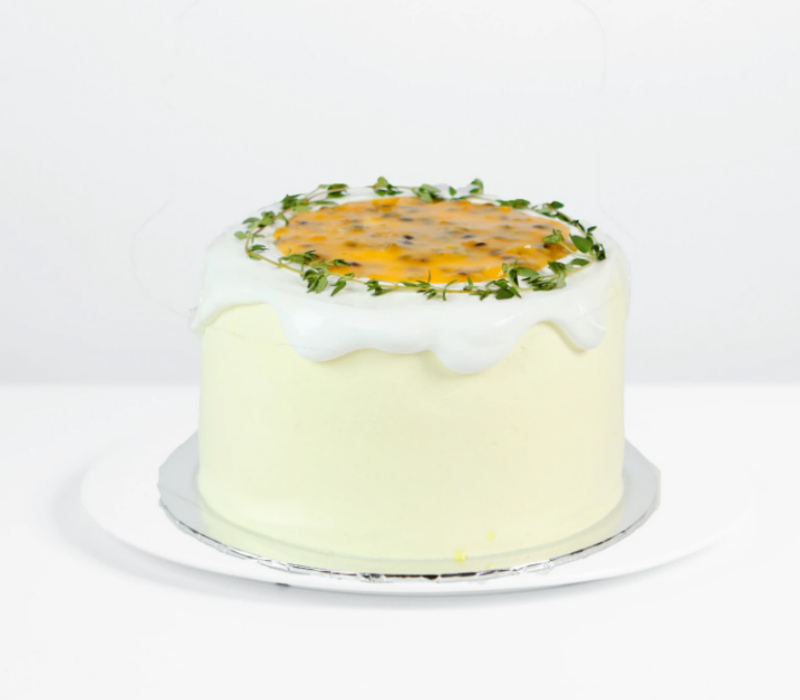 Pandanese Chiffon Cake specialises in chiffon cakes that are light, fluffy, and moist – perfect for one-year-olds to grab and eat. Their cakes are adorned with lightly sweetened whipped cream and fruit puree between the layers. Best of all, they're baked fresh daily without preservatives, artificial colouring or flavouring. With delectable flavours like Mango Mania, Baby Blueberry, and Orange Passionfruit, kids and adults won't be able to resist a bite.
Contact: 017-387 9303
Delivery, pick-up, and walk-in available from PJ
Facebook | Instagram | Cake Together
Little Qt Bites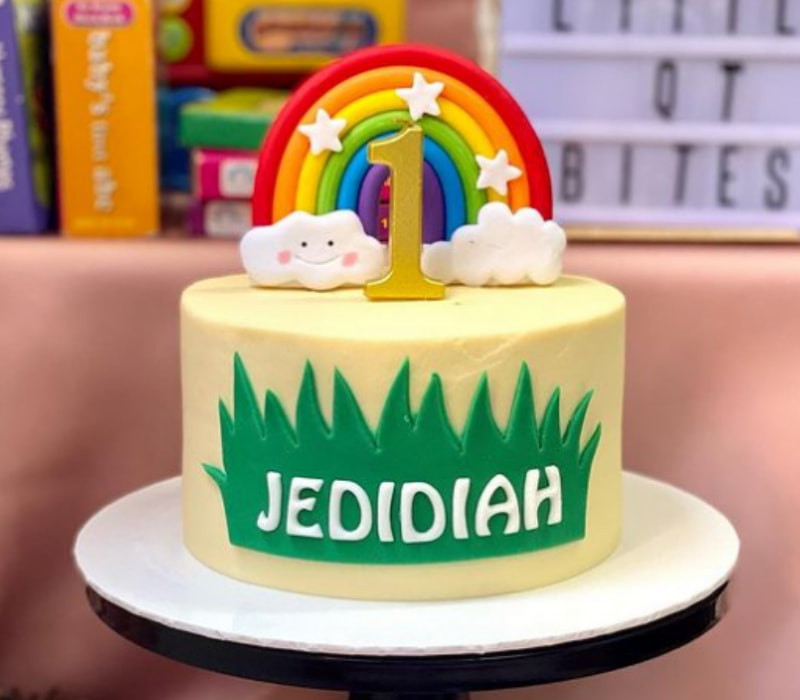 Another baby-friendly home bakery offering custom 1st birthday cakes sans sugar, salt, or eggs is Little Qt Bites. Their petite 5-inch cakes are available in Eggless Chocolate Cake, or sugar-free options like Japanese Cotton Cheesecake, Carrot Cake, and Burnt Cheesecake. If you prefer a cake with date puree, or without gluten, honey, or artificial colouring, Little Qt Bites is more than happy to accommodate special requests!
Contact: 011-6324 3644
Delivery and pick-up available from Gombak
Foret Blanc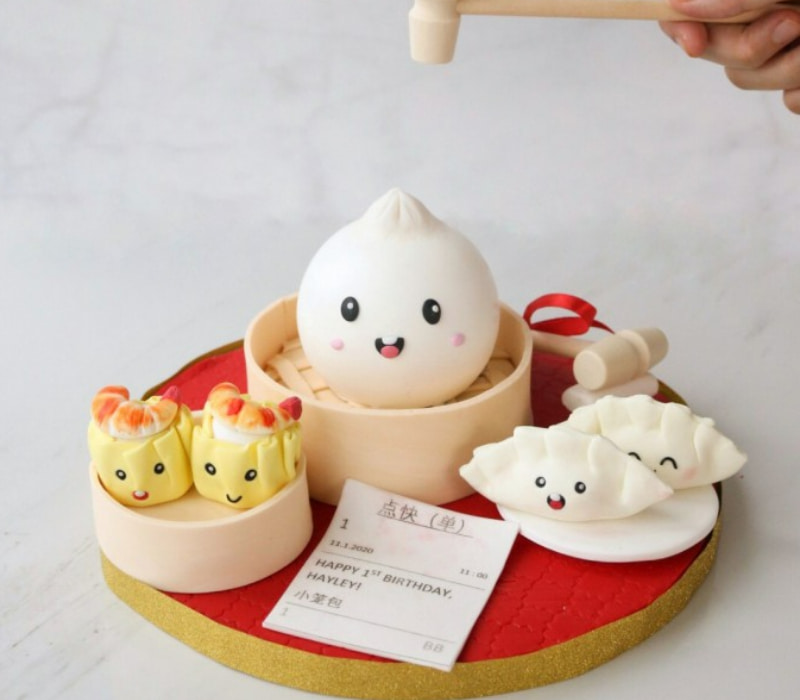 Foret Blanc's chocolate pinata is the definition of a smash cake. It comes with a mallet so you and your toddler can chip away at the chocolate shell to uncover bonbons or fruits hidden within. This Baby Dim Sum Bao Pinata is said to be perfect for baby celebrations. There's actual cake underneath the "bamboo steamer", so it technically qualifies as a children's birthday cake! You can customise your pinata or consider Foret Blanc's simpler 6-inch cakes.
Contact: 012-689 1470
Delivery and pick-up available from PJ
Website | Facebook | Instagram
Elevete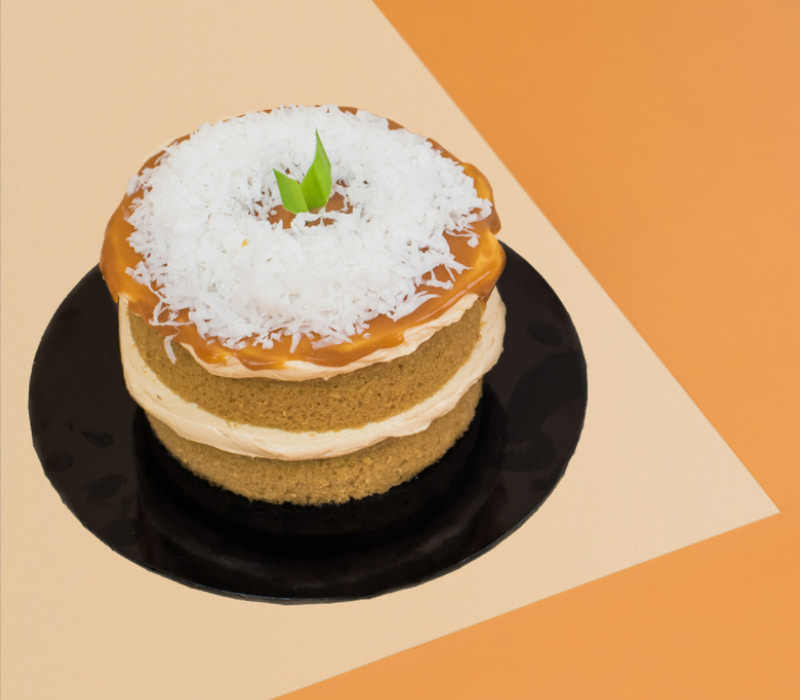 PJ-based Elevete Patisserie is loved by many for its well-balanced, moist cakes. Their mini cakes, which are essentially 5-inch versions of their best-sellers, are perfectly portioned for 1st birthday smash cakes. Among the six options, The Locale Cake will introduce your kiddo to quintessential local flavours like pandan, coconut, and gula melaka. Truly a Malaysian baby must-have!
Contact: 018-370 3770
Delivery and pick-up available from PJ
Website | Facebook | Instagram
1st Birthday

Smash

Cake

Bake Guide
Healthy Sugar-Free Smash Cake
Difficulty level: Easy
If you'd like to attempt a 1st birthday smash cake, this healthy blender recipe is great for beginners. It requires less than 10 ingredients, and substitutes processed sugar and flour with natural alternatives like bananas and almond flour. If you keep the deco simple, you'll have a mini children's birthday cake in no time.
Ingredients:
Vegan Baby-Friendly Smash Cake
Difficulty level: Intermediate
For babies with food allergies, a vegan 1st birthday cake may just tick all the boxes. This recipe is free of eggs, dairy, and refined sugar, but the resulting cake remains moist and fluffy. The cake also takes on a natural purple colour from the sweet potatoes. If you have 101 things to do on the day of the party, consider making the cake and cream in advance, then assemble the cake the day of.
Ingredients:
Vanilla-Chocolate Smash Cake
Difficulty level: Advanced
This 6-inch smash cake is a regular cake, so do note that it contains the usual trimmings like eggs, dairy, refined sugar, and wheat flour. It alternates between four tender vanilla and chocolate cake layers, but you can also bake them all in one flavour. It's a trickier cake to bake, but the simple and light whipped cream frosting makes up for it. Just remember to adjust the amount of sugar according to your preference!
Ingredients:
Cake Layers
Chocolate Whipped Cream
Embrace Playing And Eating With These

1st Birthday

Smash

Cake

Ideas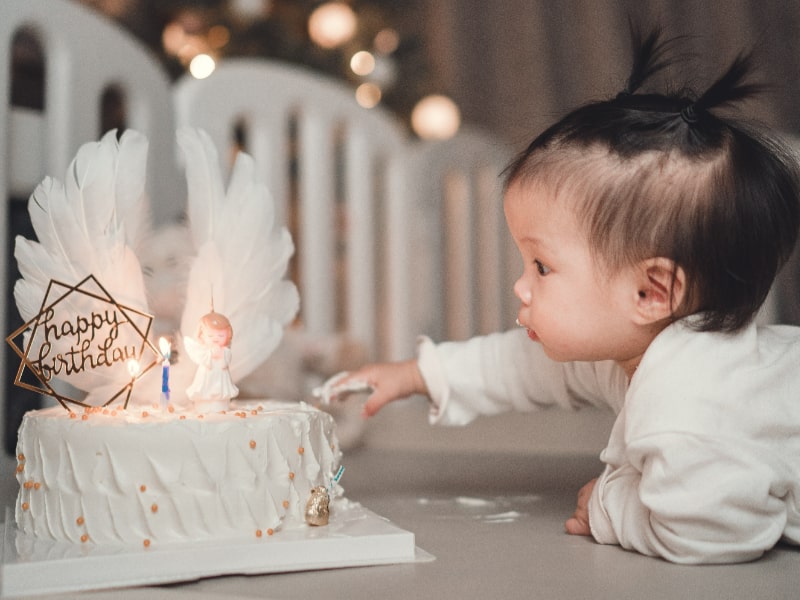 The last thing you want is to stress yourself out over your baby's 1st birthday smash cake. It's totally fine to leave it to the professionals if you don't have the time or inclination to bake. But if you love baking, making a children's birthday cake from scratch will be well worth the effort. Whatever you choose, do what's most convenient for you. You and your baby survived the first year, so just celebrate and enjoy the moment!
While you're at it, surprise your little one with some developmental toys or an inflatable pool for some extra, supervised fun.