The weather is scorching, the kids are bored, and unfortunately, the public condo pool is still closed. Sounds familiar? Then consider setting up an inflatable pool in your outdoor space to cool off! What's more, blow-up pools are pretty easy to install and come in varying sizes for children and even adults. Ready for your best backyard kids' pool party yet? We've rounded up the best inflatable swimming pools for you to shop, along with a few tips to know beforehand. 
Tips On Setting Up An

Inflatable Swimming Pool

 
Place it on a flat surface.

Make sure the

inflatable pool

is supported properly on flat, even ground. 

Consider the size.

Is the pool mainly for the kids, or are the adults (be honest) going to join in too? Pick the right size and ensure there's adult supervision 24/7 even if it's just the kids splashing around.

Invest in an electric air pump.

Some pool sets may come with it, but most won't. So, consider buying a multifunctional one that'll be useful for inflating other things like the

kids' floats

! 

Drain out water when done.

Never leave the pool out overnight as the stagnant water will attract mosquitoes. Instead, drain out all water and let it dry before deflating and storing it away. Most inflatable pools come with a drain plug to ease clean-ups.
The Best

Inflatable Swimming Pools

For

Kids

(And The Whole Family) 
XL Size Inflatable Two Ring Pool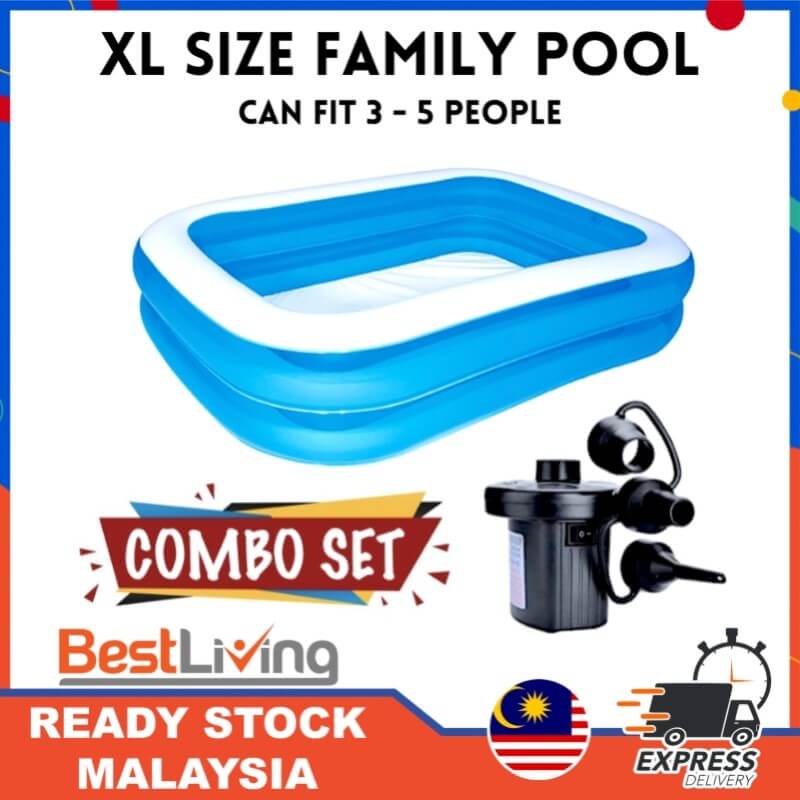 For a fun and relaxing time with the entire family, go for this extra-large inflatable pool that accommodates up to five people. With wide durable vinyl walls, sturdy double-ring beam structures, and a heavy-duty repair patch for unforeseen mishaps, it's one of the best inflatable swimming pools for bigger families. Bonus: It even comes with a free air pump! 
Size: 186cm x 143cm x 48cm
Reasons to buy this: 
Large and sturdy, fits 3 to 5 people 

Comes with heavy-duty repair patch for mishaps 
Inflatable Family Lounge Pool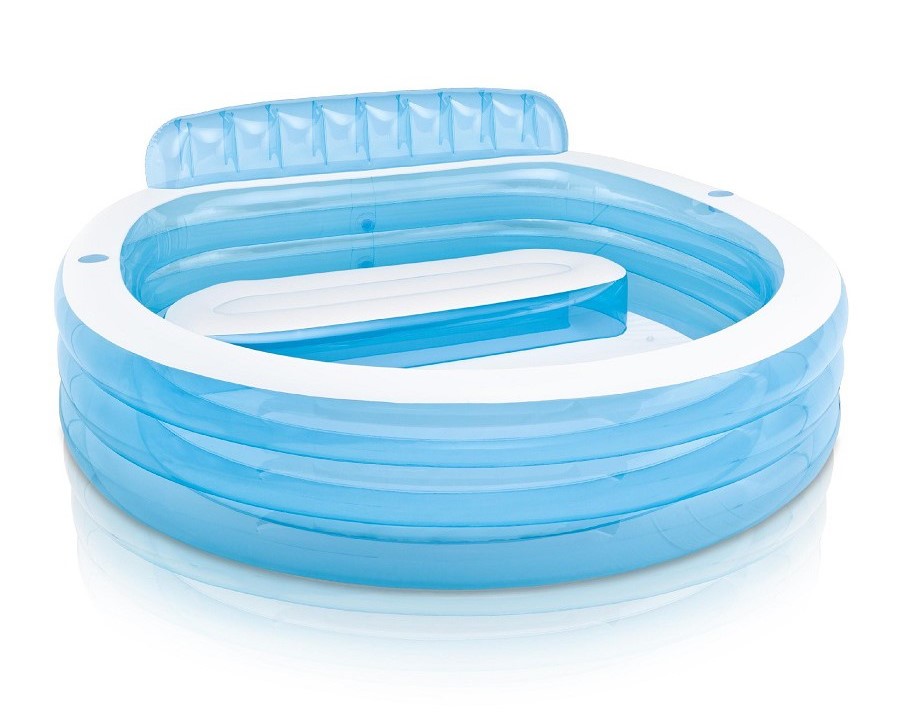 Now here's a pool that both parents and kids will approve of! For starters, this awesome family lounge pool comes with a built-in bench and backrest so parents can chill out while their little ones play in the water. There are also two cup holders on opposite ends so you can keep your beverage nearby to stay hydrated. 
Size: 229cm x 218cm x 79cm
Reasons to buy this: 
Comes with built-in bench and cup holders 

Big enough for adults too
Shootin' Hoops Inflatable Family Pool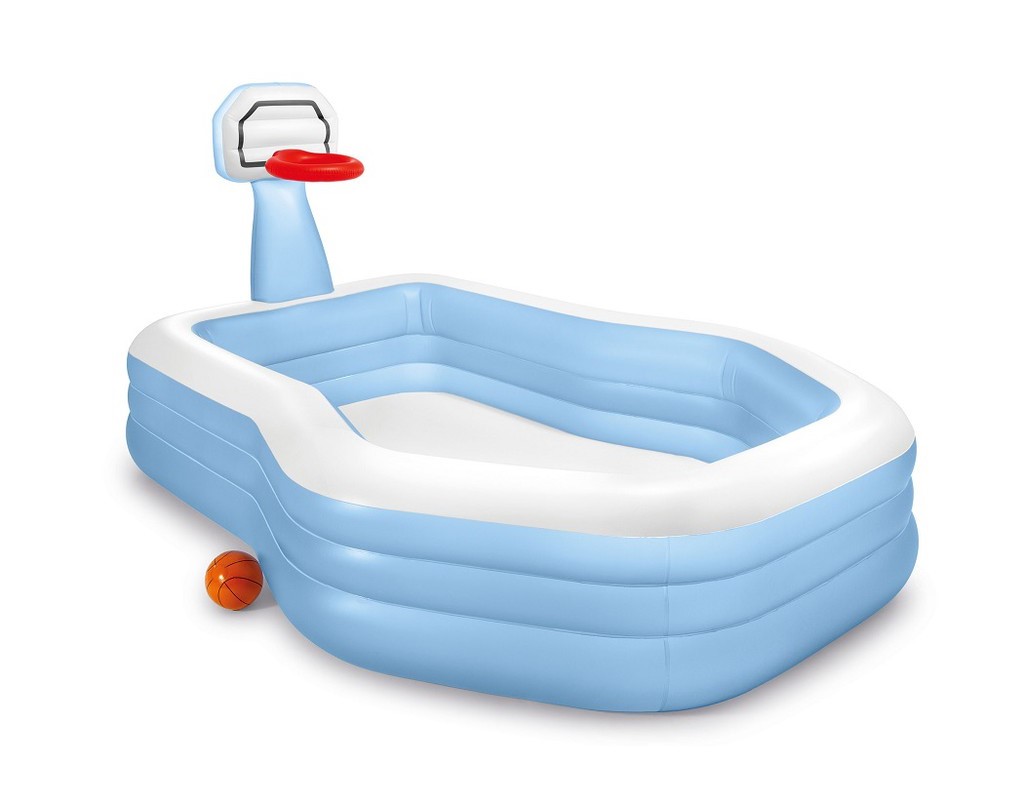 If your kids love playing basketball, this Shootin' Hoops inflatable family pool is a must-have. Featuring a basketball hoop and ball, your family can have a friendly basketball game together while cooling off on a sunny afternoon. Psst, there's even one with double hoops.
Size: 256cm x 188cm x 129cm 
Reasons to buy this: 
Comes with basketball hoop and ball for extra fun

Easy to drain with the drain plug
Rainbow Arch Spray Pool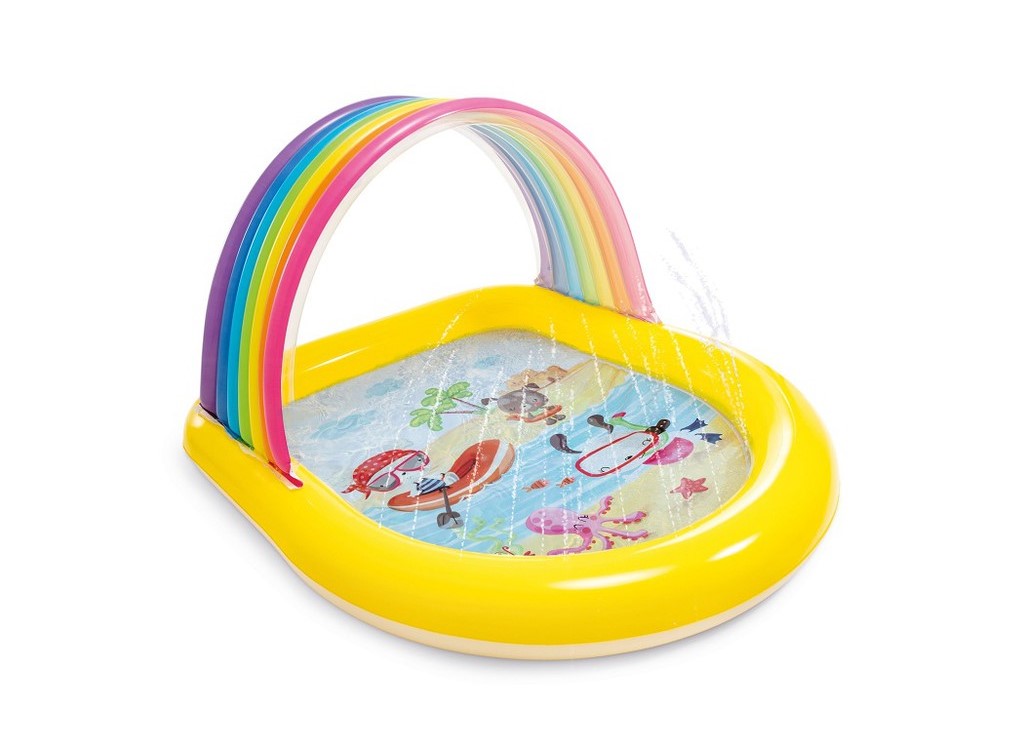 Searching for a shallow pool for your toddler? This Rainbow Arch Spray Pool may just be the perfect find. Suitable for two-year-olds and above, the rainbow arch acts as a semi canopy that sprays water to keep your little ones cool on a hot day. Remember to apply sunscreen nonetheless! 
Size: 147cm x 129cm x 86cm
Reasons to buy this: 
Cute rainbow design with spray 

Provides slight shade 
Lazy Snail Shade Baby Pool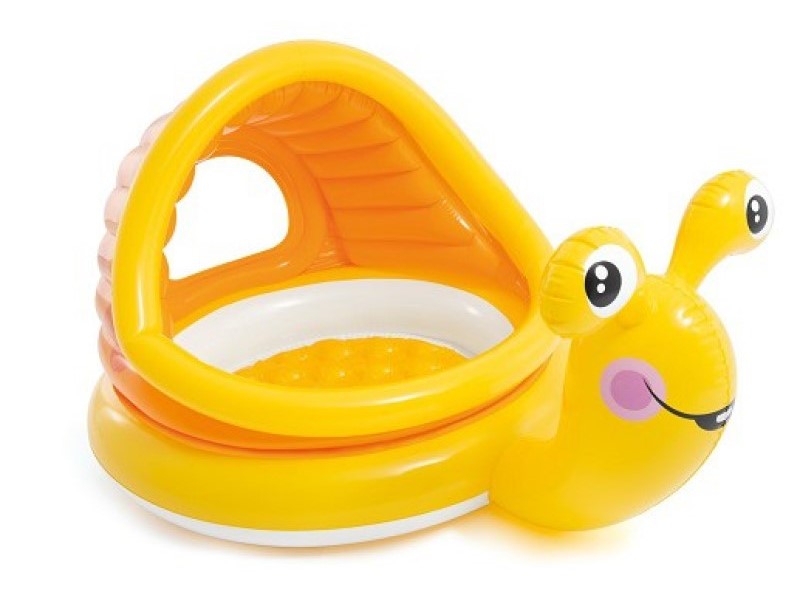 If your toddler isn't a fan of inflatable pools with sprays, here's an alternative. The Lazy Snail Shade Baby Pool is a great kids' pool that's designed with a sunshade to provide partial protection against UV rays. Meanwhile, the soft inflatable floor offers extra comfort for your little one. Other adorable alternatives include this mushroom or unicorn baby pool.
Size: 145cm x 102cm x 74cm
Reasons to buy this: 
Adorable design for toddlers 

Comes with built-in sunshade for partial sun protection 
Sunset Glow Pool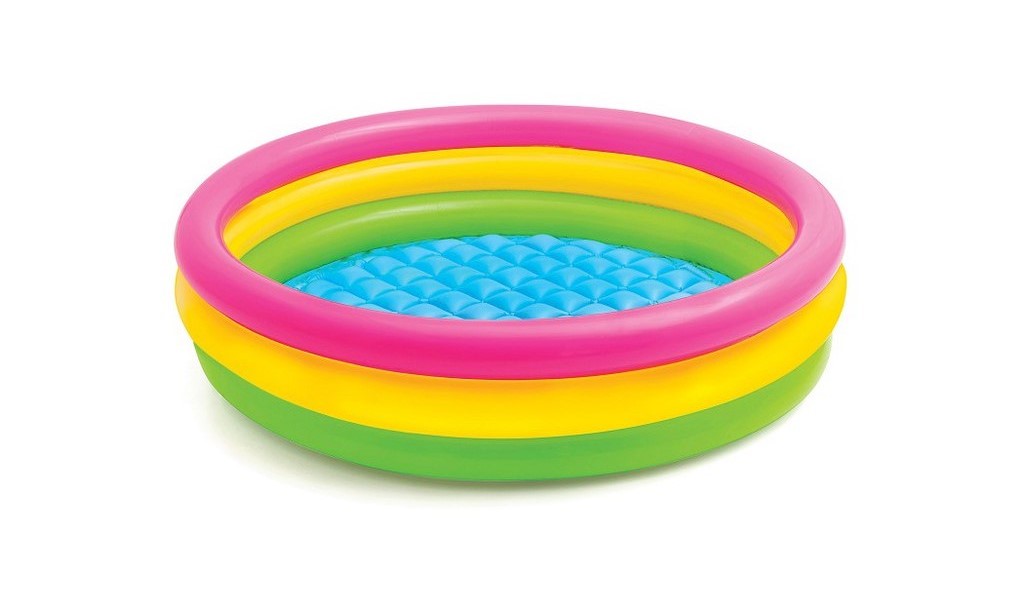 For a splash-filled evening that brightens up the mood at the same time, this Sunset Glow Pool gets the job done. It's a fuss-free inflatable swimming pool for kids that comes with a well-cushioned floor to soften clumsy children's slips and falls. 
Size: 147cm x 33cm
Reasons to buy this: 
Colourful design with soft inflated floor

Comes with repair patch
Pinwheel Pool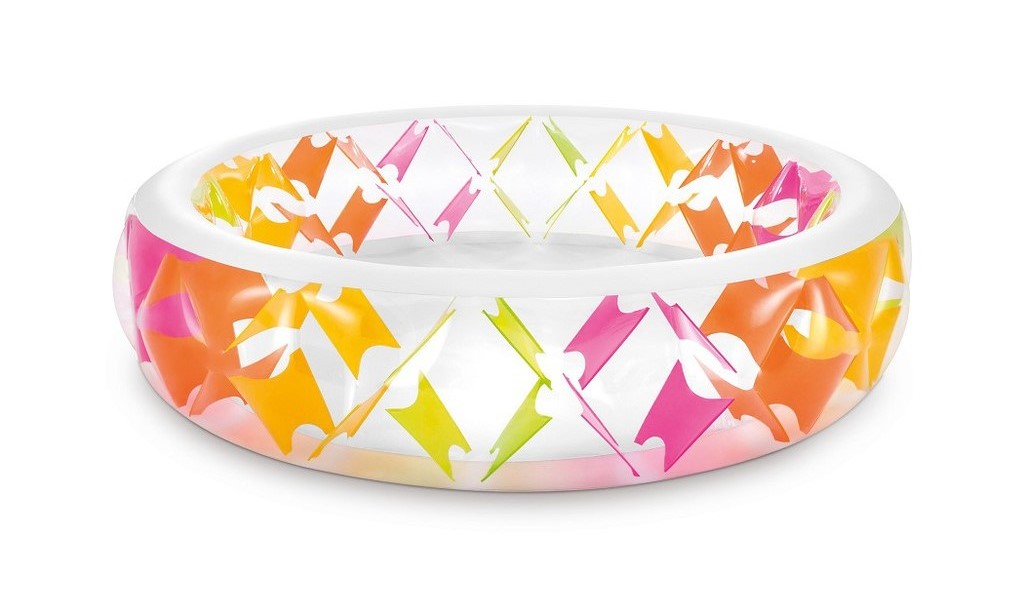 Parents who care about #aesthetic, here's a kids' pool that's worth posting up on the 'gram. What makes this Pinwheel Pool special is that it's constructed with uniquely embossed PVC that radiates a crystal-like sparkle. Meanwhile, the wide side walls provide extra cushioning as your children enjoy the water.  
Size: 229cm x 229cm x 56cm 
Reasons to buy this: 
Pretty pinwheel design with wide side walls 

Includes drain plug and repair patch
Snapset Pool
Want something less bulky? Try this Snapset Pool for kids. It's got thin side walls that won't take up a lot of space, making it perfect for those with a smaller outdoor area. Plus, it's easy to set up; just fill it up with water to hold the sides up! And with an affordable price tag, it's one of the most affordable inflatable swimming pools on this list.
Size: 152cm x 25cm
Reasons to buy this: 
Affordable and easy to set up

Space-saving thin side walls 
Summer Colours Star-Shaped Inflatable Pool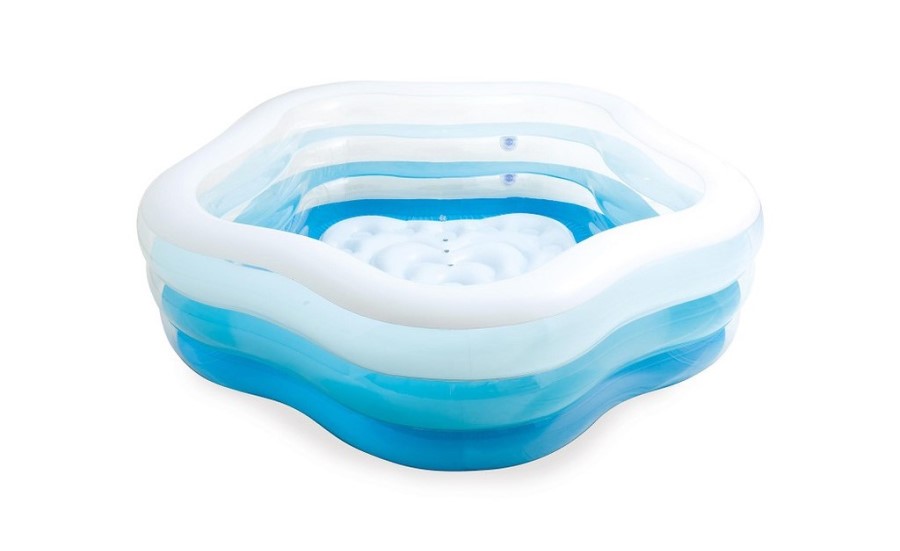 Rectangular and circular inflatable pools are great, but this star-shaped pool is even better. For starters, there's plenty of room for the kids to play around, the floor has extra cushioning, and the five corners offer a cosy nook for your little one to chill. The vibrant multi-coloured beams and see-through side walls are a nice touch too! 
Size: 185cm x 180cm x 53cm
Reasons to buy this: 
Fun and roomy star-shaped pool 

Comes with repair patch 
Themed Children's Inflatable Pool With Slide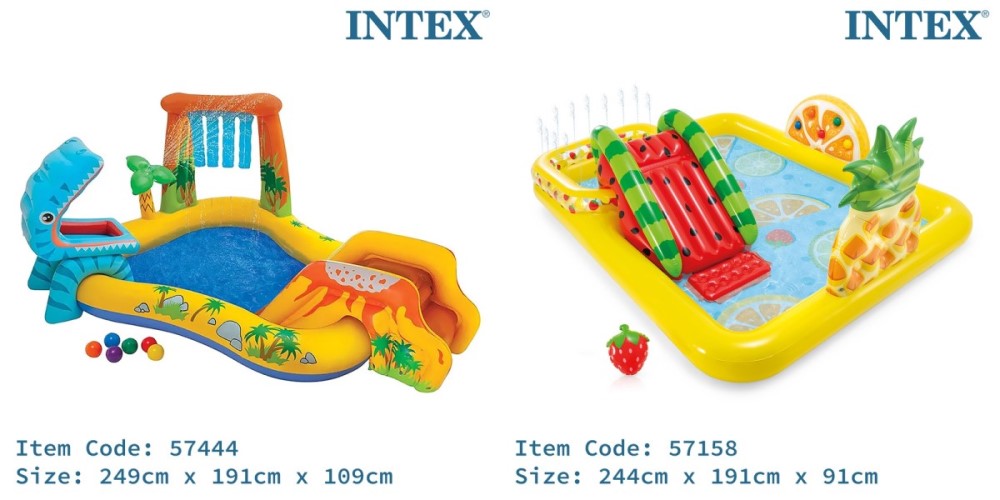 What's better than having an inflatable swimming pool at home? Having one that comes with a slide! Available in five different children's themes such as Volcano Park, Fruity Land, and Football Field, these large inflatable pools with a slide are heaps for fun for children as it's akin to having a mini water park in your outdoor space. 
Size: Varies according to type 
Reasons to buy this: 
Comes with slide, easy to set up 

Durable and made of high-quality PVC
Turn Your Outdoor Space Into An Oasis With These Best 

Inflatable Swimming Pools

For Kids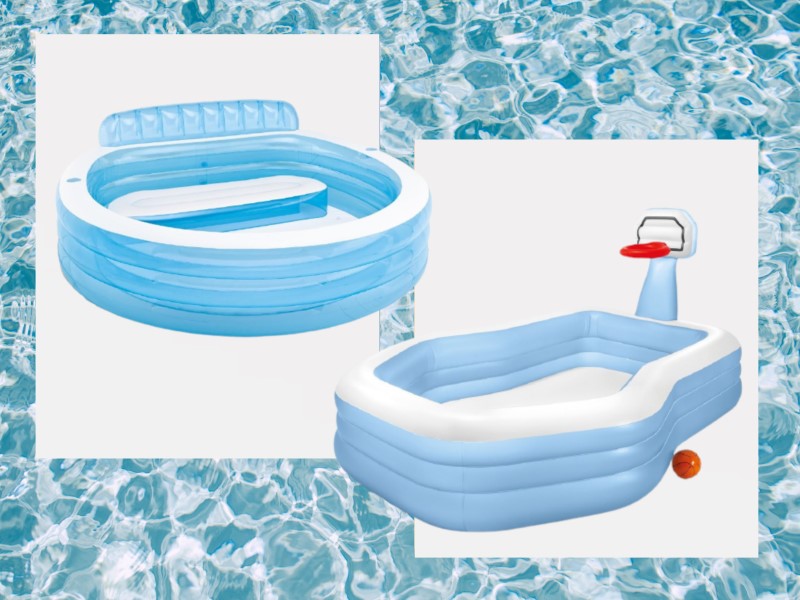 Your condo pool may be temporarily closed, but that doesn't mean you can't bring the pool to your abode! As long as you have some outdoor space (or be a rebel and set it up indoors), your kids can have a splashing good time with one of these best inflatable swimming pools. Don't forget to get them a pair of goggles as well as some cute swimsuits and trunks to wear while swimming!  
For more lockdown-friendly things to do at home, here are some indoor activities that will keep the kids entertained. If they're into arts or science, try these fun DIY projects or cool science experiments.