Experiencing hair loss is not the end of the world. In fact, it's a common occurrence for many men and women. Though understandably, it's still never a fun feeling to notice bald spots, a receding hairline, or clumps of hair littered all over. Besides medical treatments and hair growth products, adopting good lifestyle habits is just as needed in preserving your healthy locks. Here's how to prevent hair loss by changing up nine things in your daily routine. 
Learn

How To Prevent Hair Loss

With These 9 Lifestyle Tips
Get A Scalp Massage To Stimulate Hair Growth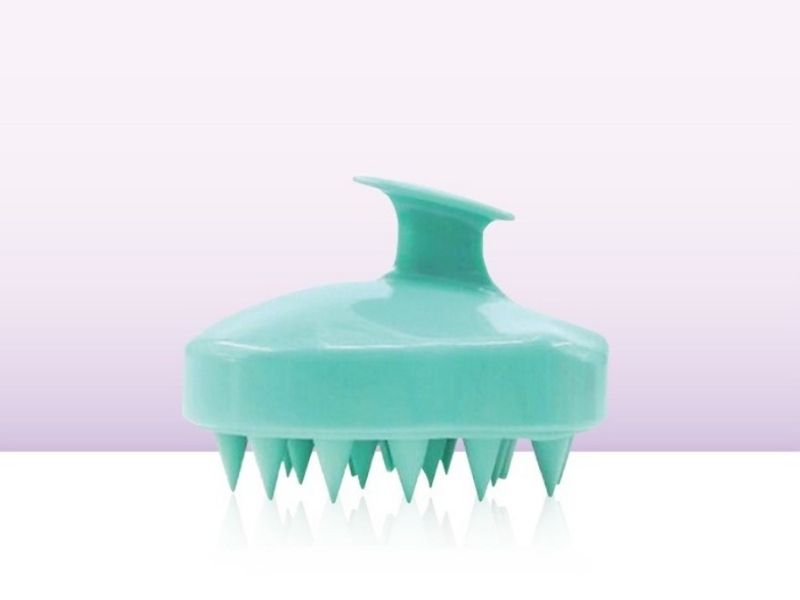 Besides being incredibly therapeutic, massaging your scalp is a good way to prevent hair loss. How it works is that it helps stimulate blood circulation to your hair follicles. After all, your scalp relies on this blood flow for oxygen and nourishment. By giving yourself a scalp massage, you're relieving your hair from tension and allowing it to get the nutrients it needs. You're also getting rid of excess sebum and dead skin cells—both of which are hindrances to hair growth. 
FYI, whenever you feel tense or stressed, it causes a tightness in your scalp, which hinders blood circulation. Hence, take the time to massage your scalp at least five minutes daily with a massaging shampoo brush to ease some of the pressure. 
Put Chemical Treatments And Hair Colouring On Hold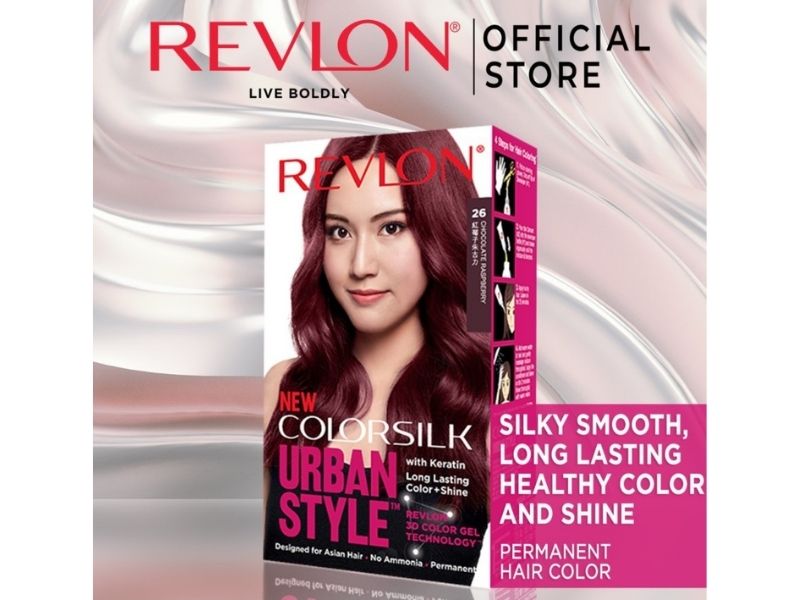 It's tempting to want to dye your hair with all the colours of the rainbow at least once. However, if your hair is in a fragile state, you might want to reconsider especially if the colour requires bleaching. That's not all; you should also avoid other harsh chemical treatments like straightening/rebonding or perming as they can wreak damage and weaken the hair shaft. If you still want to colour your hair at home anyway, opt for a box-dye that's ammonia-free for the least damage. Already have chemically-treated hair? Try a deep-conditioning treatment once a week. 
Avoid Hot Showers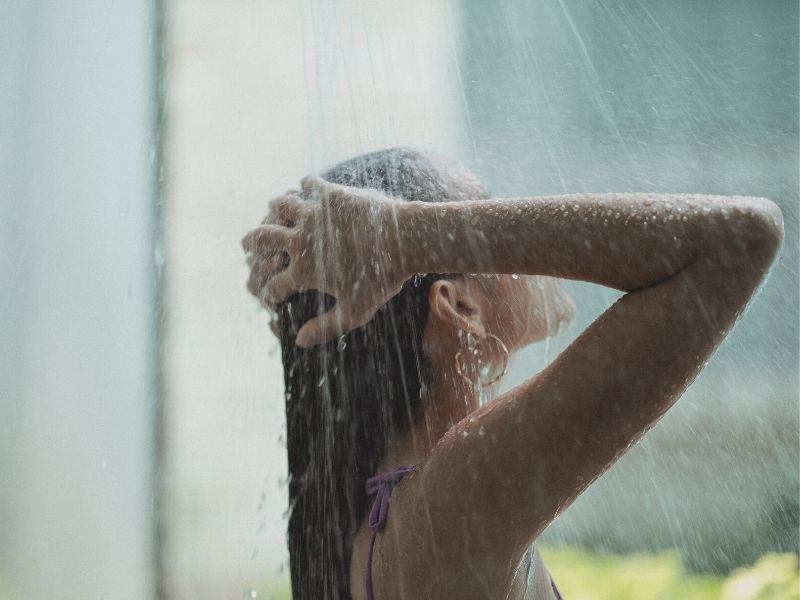 While there's nothing more soothing than a hot shower, here's the bad news: it can also strip your hair of its natural oils. Apart from causing frizziness and dryness, your hair can become brittle and more susceptible to breakage, leading to hair loss issues. How you can prevent your precious locks from shedding is by washing your hair with lukewarm and cold water instead. Use warm water when shampooing your hair as this opens up and cleans the scalp's pores. Then, switch to cold water to rinse off after conditioning your hair to close back the pores and seal in moisture. 
Stay Away From Heat Styling Tools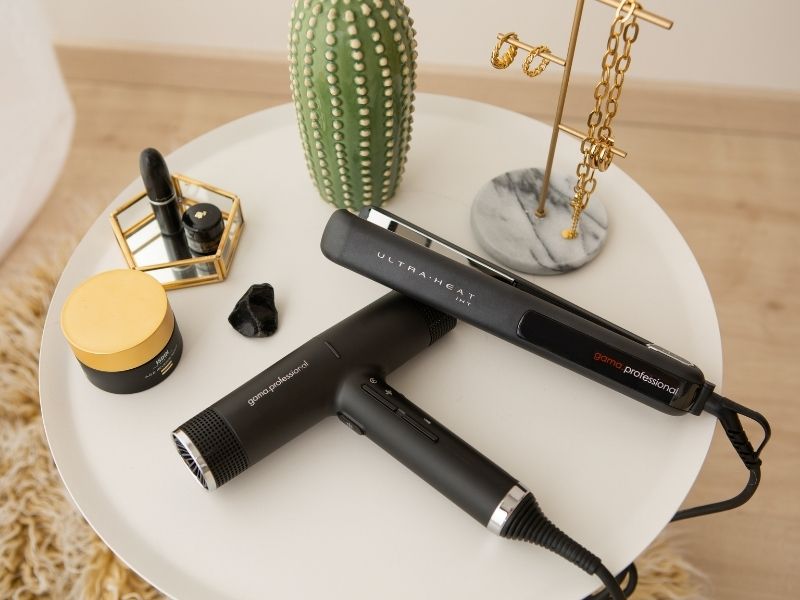 If you use a curling or flat iron frequently, maybe it's time to let your hair rest for a bit as this is one way on how to prevent hair loss. These hair styling tools use very high heat to achieve those effortless curls or sleek straight hair you desire. Unfortunately, while your crowning glory looks pretty on the outside, the same can't be said for the hair bonds inside. Heat causes the bonds to break, resulting in frailer hair strands that are more prone to falling out.
Tip: Avoid using the highest heat setting—if your hair starts frying that's a sign that the tool is way too hot. This applies to blow dryers too but, ideally, try to let your hair air dry naturally every now and then. Otherwise, remember to always apply heat-protecting spray whenever you style your hair to lessen the damage. 
Avoid Overly Tight Hairstyles That Strain The Hairline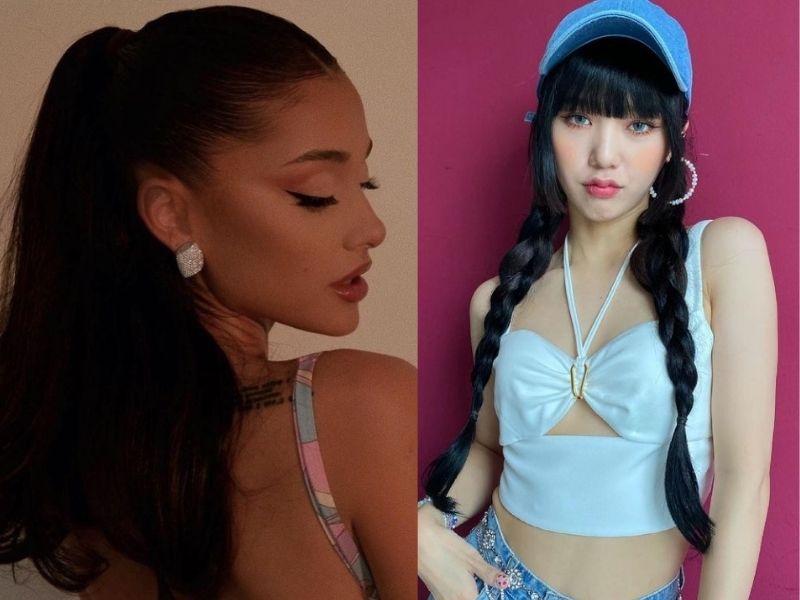 When it comes to ways on how to prevent hair loss, choosing the right hairstyle goes a long way. As flexible as our hair may be, it still has its limits. Sure, Ariana Grande's signature hairdo may be cute, but braiding, tying it up in a ponytail, and other tight hairstyles can tug harshly at the hairline. This takes a toll on your scalp, causing your hair bonds to loosen over time. 
Use The Right Hair Care Products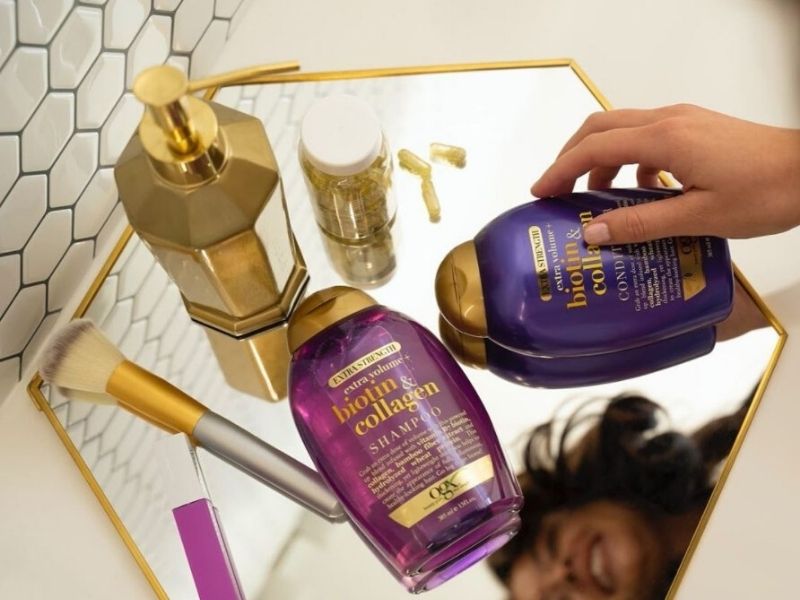 Make sure to use proper shampoos and hair care products that specifically address hair loss issues and help with hair growth. Look for shampoos that are free of DHT (dihydrotestosterone), sulphate, and silicone, as these are all major causes of hair fall. As for hair care products like supplements or topical treatments, having biotin in the ingredients list is good, as it boosts keratin production and hair growth. 
Eat A Protein-Rich Diet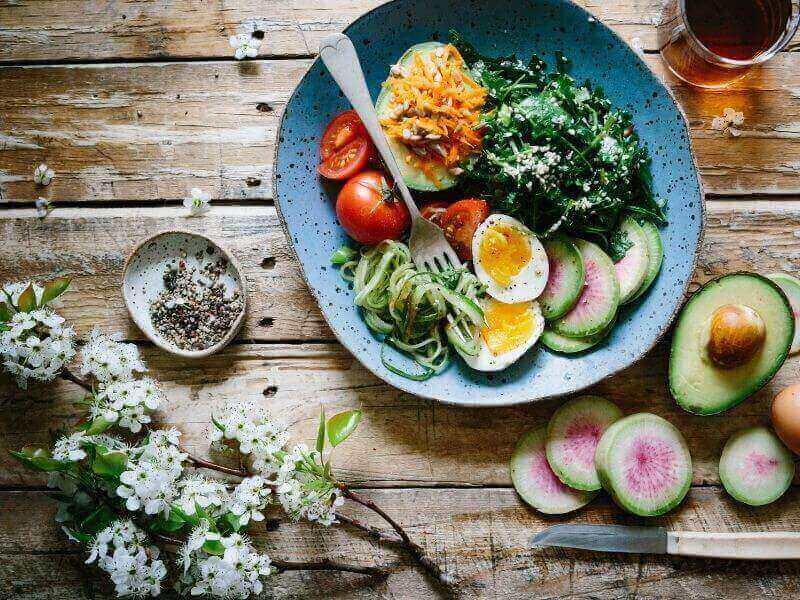 Having a healthy diet is the key to not only having better skin but also shinier, more luscious hair. In fact, studies have shown that consuming foods high in vitamin C, and protein is effective in promoting hair growth. As keratin is a form of protein, eating protein-rich foods—like salmon, eggs, and nuts—aids in strengthening your hair. 
Meanwhile, vitamin C is a powerful antioxidant useful in combating oxidative stress caused by free radicals that block hair growth. Additionally, it also stimulates collagen production—a crucial element for the overall hair structure. Besides vitamin C and protein, piling your plate up with nutrient-dense veggies is encouraged. After all, studies show that a diet packed with fresh herbs and raw vegetables could slow down or lower the risk of androgenic alopecia (pattern baldness). 
Change Your Hair Brush Or Comb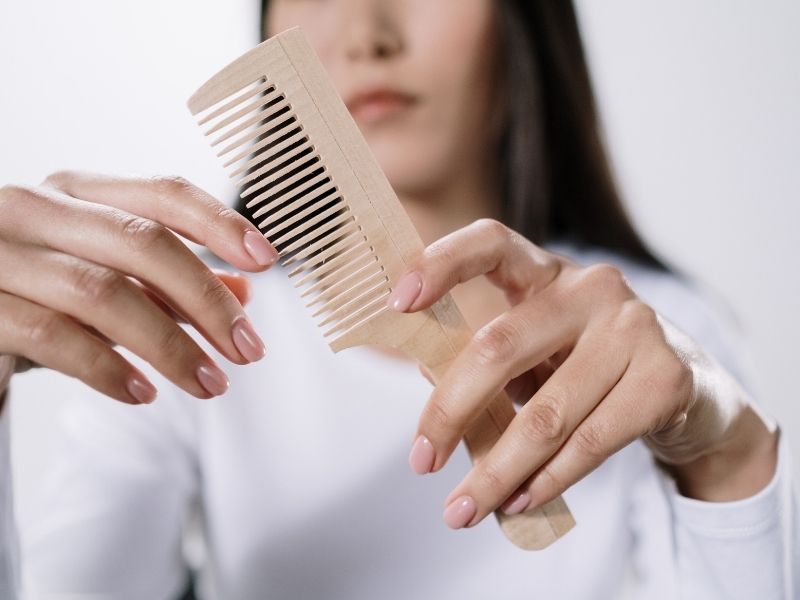 Try to use a hairbrush made from natural fibres (like boar bristles) to encourage balanced sebum levels. Natural bristles evenly distribute the hair's essential oils and keratin proteins when you brush it through from root to tip. This results in silkier, glossier hair with minimal frizz and a squeaky-clean scalp. To detangle your hair, choose a wide-toothed wooden comb over a plastic one. How does this help to prevent hair loss? Wooden combs glide through the hair more easily, unlike plastic combs, which tend to generate static electricity and cause breakage. 
Destress With Yoga And Breathing Exercises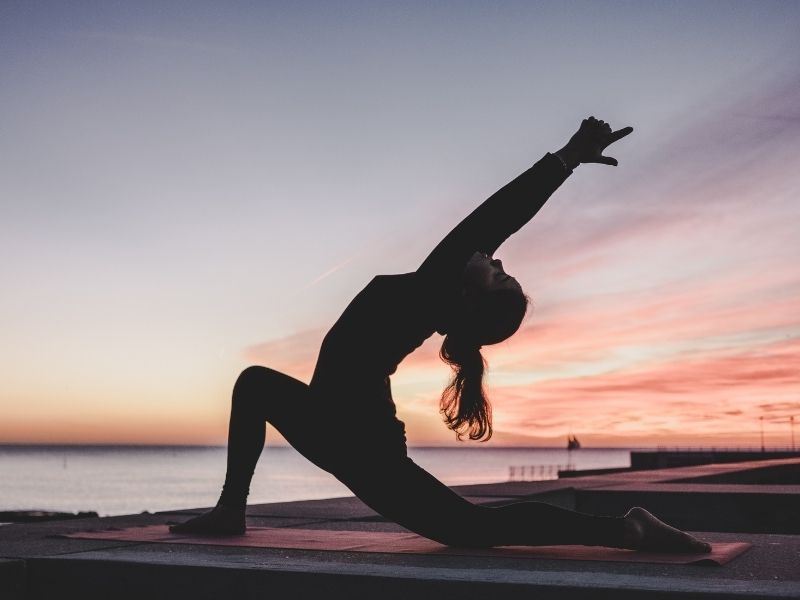 Exercising regularly is essential for healthy living, but did you know that yoga is especially effective against stress-induced hair fall? Sasakasana (rabbit pose) and Sirsasana (headstand) are great yoga poses as they help restore blood circulation to the scalp and soothe feelings of stress. When you're stressed, the toxin levels in your body increases and weakens your hair roots in the process. That's why it's important to destress whenever you can. Let yourself breathe a little. Destressing with yoga and breathing exercises or whatever hobby you enjoy can make all the difference for your hair condition. 
Related: Tired? Anxious? Try These Simple Mindfulness Meditation Exercises To Calm Your Weary Soul
Know

How To Prevent Hair Loss

With Good Lifestyle Habits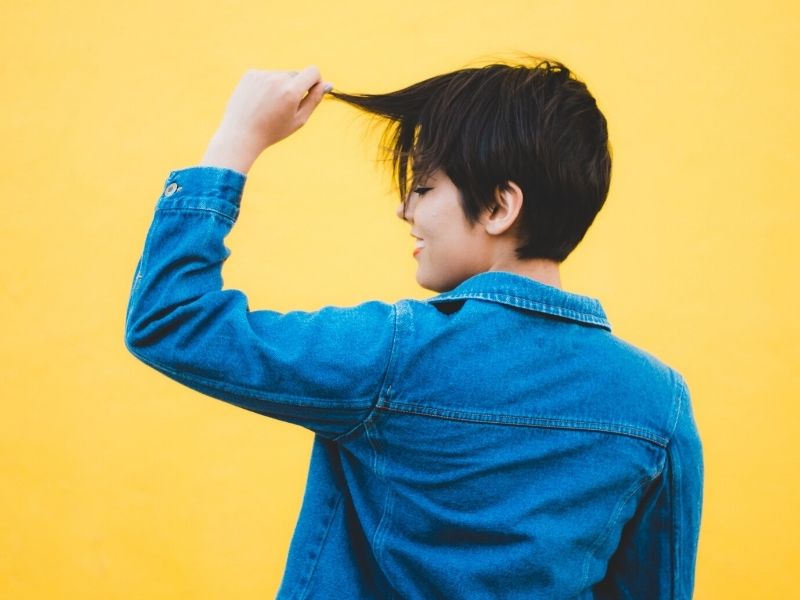 Now that you know how to prevent hair loss with some simple lifestyle changes, we hope you'll incorporate them into your daily life and make it a habit. Besides these tips, you could also try one of these natural home remedies to tackle your hair fall woes. Or if you're concerned about what shampoos to use as a hijabi, then take your pick from our list of best shampoos for headscarf-wearing ladies.