The Christmas season is nigh, and if you're planning to stay home for the holidays, one of the best things you can do with your family is to catch a holiday flick together. We're sure there's plenty for you to stream this December, but we'd much rather save you the trouble of having choice overload. So we've taken the liberty to shortlist 10 of the best Christmas movies on Netflix Malaysia that will get you in the spirit! They include a mix of older and newer films, all of which are highly recommended by critics and audiences alike.
Best

Family-Friendly

Christmas Movies On Netflix

Malaysia
Get your popcorn and hot chocolate ready—and maybe some tissues too.
1. Klaus (2019)
Klaus isn't your typical Santa Claus origin story, though it does offer an alternate version that's equal parts heartwarming and humorous. It follows the journey of Jasper Johansen, a lazy, self-centred postman, who forms an unlikely friendship with a reclusive toymaker, Klaus. We won't spoil the rest of the story for you, but let's just say it's one of the best Christmas movies on Netflix to bring joy and warmth to your family around the holiday season, or anytime else.
Voice Cast: Jason Schwartzman, J. K. Simmons, Rashida Jones, Joan Cusack
Genre: Comedy, Adventure, Animation
2. The Princess Switch (2018)
Vanessa Hudgens stars as two identical characters, Stacy and Lady Margaret, in this opulent holiday flick. As the twin trope goes, the ladies switch lives for a couple of days until things get a little tricky in the romance department. Best hunker down with pillows and blankets for this one—with two sequels already out on Netflix, it'll be one heck of a marathon!
Cast: Vanessa Hudgens, Sam Palladio
Genre: Romance, comedy
3. The Christmas Chronicles (2018)
The Christmas Chronicles is among the best Christmas movies produced by Netflix, in which Kurt Russell portrays a suave, wisecracking Santa Claus who helps a pair of siblings rediscover the magic of Christmas after the demise of their father. Russell's performance alone is well worth a watch, but the sequel stars his real-life partner, Goldie Hawn, as Mrs Claus.
Cast: Kurt Rusell, Darby Camp, Judah Lewis, Kimberly Williams-Paisley
Genre: Comedy, fantasy, adventure
4. Arthur Christmas (2011)
This hugely underrated film centres on Arthur Claus, Santa's gawkish but well-meaning son, who discovers his father's ship had failed to deliver a present to a little girl. He and his free-spirited grandfather then decide to embark on a mission to deliver the gift personally. Funny, heartfelt, and earnestly good, this Christmas movie is great for kids with just enough sly jokes to keep the adults chuckling along.
Voice Cast: James McAvoy, Bill Nighy, Hugh Laurie, Jim Broadbent, Imelda Staunton
Genre: Comedy, fantasy, drama, animation
5. Jingle Jangle: A Christmas Journey (2020)
When toymaker Jeronicus Jangle loses his most prized possession to a trusted apprentice, his estranged but inventive granddaughter shows him that hope is never lost. As one of the best family Christmas movies on Netflix Malaysia, this exuberant musical will teach little ones about the strength of family bonds and the power of faith.
Cast: Forest Whitaker, Keegan-Michael Key, Hugh Bonneville, Anika Noni Rose
Genre: Fantasy, musical
6. A Boy Called Christmas (2021)
Based on the novel by Matt Haig, A Boy Called Christmas is an uplifting yuletide film for the ages. It features the story of a young boy called Nikolas, who sets out on an epic quest to the fabled village of Elfhelm in search for his father. Some of Britain's best—Sally Hawkins and Maggie Smith—lend their star power to this winsome holiday movie.
Cast: Henry Lawfull, Stephen Merchant, Kristen Wiig, Sally Hawkins, Maggie Smith
Genre: Adventure, drama, fantasy
7.

Elf (2003)
Often lauded as one of the best Christmas movies of all time, Elf—now on Netflix—is essential viewing for kids of all ages. It stars Will Ferrell as Buddy, a human raised by Santa's elves, who discovers that he isn't actually an elf. So he travels to New York to meet his biological father, to chaotic and hilarious effect. Ferrell's performance is exceptionally funny, with plenty of physical comedy thrown in for good measure.
Cast: Will Ferrell, James Caan, Mary Steenburgen, Zooey Deschanel
Genre: Comedy, fantasy
8. Shaun the Sheep: The Flight Before Christmas (2021)
From the creators of Arthur Christmas comes this 30-minute Christmas special starring the world's favourite sheep. In this winter tale, Shaun's yuletide excitement turns to panic when Timmy disappears during a search for stockings. As Shaun and the flock go on a wild goose chase to find Timmy, they learn the true meaning of Christmas. Wonderfully silly and deftly animated, there's just enough going on in this movie to keep even the littlest kids interested.
Voice Cast: Kate Harbour, John Sparkes, Justin Fletcher
Genre: Adventure, animation
9. How The Grinch Stole Christmas (2000)
Jim Carrey stars and shines as the titular Grinch dead set on ruining Christmas in this live-action adaptation of the beloved children's book by Dr Seuss. Twenty-two years later, it remains one of the best Christmas movies to watch with kids and one that you can fortunately find on Netflix Malaysia.
Cast: Jim Carrey, Taylor Momsen, Jeffrey Tambor, Christine Baranski, Molly Shannon
Genre: Fantasy, comedy
10. Scrooge: A Christmas Carol (2022)
Charles Dickens' definitive Christmas tale is turned into a supernatural, time-travelling, musical adaptation in Scrooge: A Christmas Carol. Staying true to its original plot, the film recounts the story of Ebenezer Scrooge, an elderly miser who's forced to change the folly of his ways following visits from wise spirits. It's a tale as old as time, with an enduring reminder to viewers to be kind and compassionate to others.
Voice Cast: Jessie Buckley, Olivia Colman, James Cosmo
Genre: Animation, adventure, comedy
Celebrate The Most Wonderful Time Of The Year With The

Best Christmas Movies On Netflix

Malaysia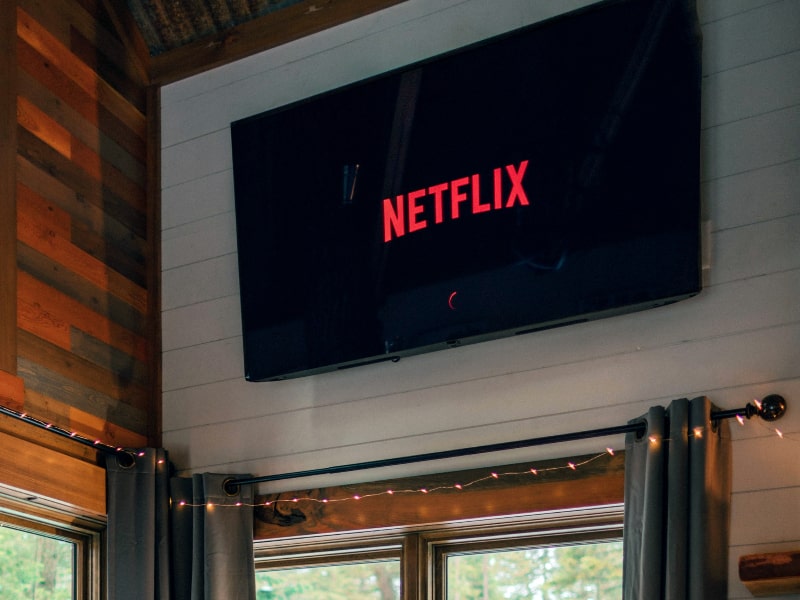 So get cosy on the couch, hold your loved ones near and dear, and enjoy these best Christmas movies on Netflix Malaysia. We guarantee that you'll be in for some heartwarming holiday cheer!
If you're looking to spruce up the home for Christmas, we've rounded up some easy decoration ideas for the home and your Christmas tree. And when all is said and done, have a jolly good Christmas!