What happens when the living becomes bored? They disturb the dead—sometimes, die trying. Every country has its share of haunted places, and Malaysia isn't short of them. Living off the back of ominous stories, these desecrated buildings will make any thrill seeker's blood boil like a witch's stew. We've, for obvious reasons, not been able to verify any peculiar experiences, but there are plenty of testimonials floating around the Internet. If you plan to thread the line between the supernatural and natural, know that some of these spots are on private property and we don't recommend visiting—lest you suffer the wrath of something more terrifying: the long arm of the law. So please, don't enter if you shouldn't. 
Haunted Places In Malaysia

For All Your Paranormal Escapades
Peek-a-boo.
1. Karak Highway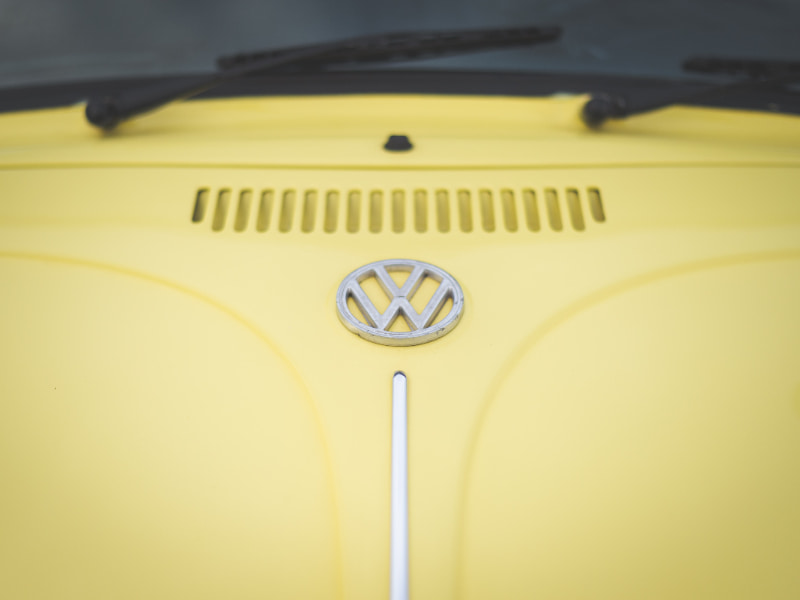 What happened: Could this be the most haunted place in Malaysia? The notoriously windy and dark interstate highway connecting Selangor and Perak was prone to (often lethal) car crashes, with the most deadly one in 1990: a multi-vehicle pile-up that took the lives of 17 people. There have been many tales of horror on Karak, but two continue to set tongues wagging. The first revolves around the sightings of a young boy searching for his mother who had been killed in a car accident. If you're curious enough to stop for the boy, he will ask "Have you seen my mother?" repeatedly.
The second tale warns you about a yellow Volkswagen Beetle. Try overtaking the vehicle, and it instantly appears in front of you. Overtake it again, and the same occurrence happens again. And again. And again. The cycle never ends. 
Where: The Kuala Lumpur-Karak Highway from Gombak to Genting Highlands. 
2. Mona Fandey's House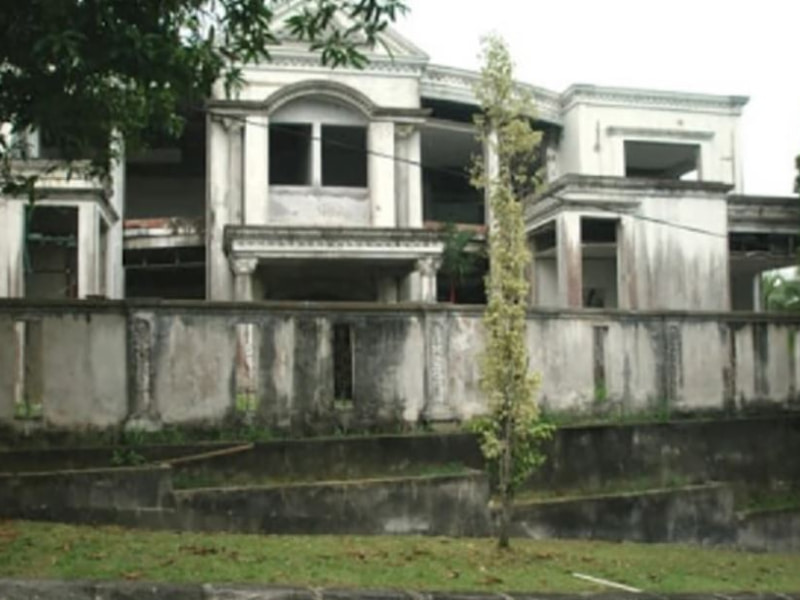 What happened: It's only right for a list of the most haunted places in Malaysia to include Mona Fandey's house. The singer-turned-bomoh killed politician Mazlan Idris in 1993 in a supposed ritual that would grant Mazlan riches and power. What she gave him instead was a grotesque 18-part dismemberment send-off. 
Where: Seksyen 12, Shah Alam. 
3. Mimaland
What happened: Before the likes of Sunway Lagoon, there was Mimaland. Ahead of its time, it had thrilling water slides and fun attractions for all ages. But after the drowning of a Singaporean tourist and a landslide, the park shuttered in 1994. Now all that remains is a depressing wasteland of overgrown foliage and crumbling real estate. 
Where: Jalan Gombak, Selangor. 
4. Highland Towers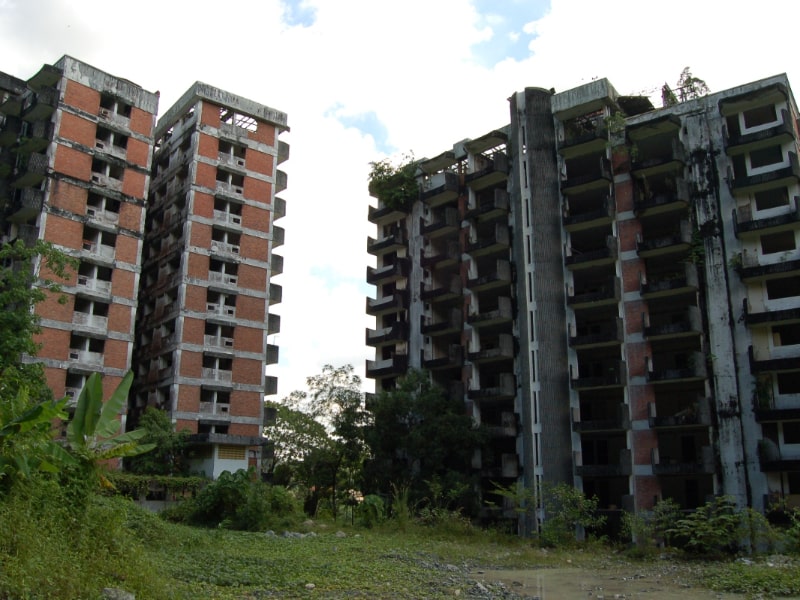 What happened: In 1993, Block 1 of Highland Towers collapsed after its foundations gave way from prolonged rainfall. The tragic incident killed 48 residents. The remaining blocks were evacuated and have been left to rot since, eventually becoming a hotbed for illegal activities and vandalism. Regarded as one of the most haunted places in Malaysia, ghost hunters who've scouted the area said they've encountered vanishing figures of an old lady and a baby. 
Where: Bukit Antarabangsa, Selangor. 
5. Villa Nabila
What happened: This villa perched on a hilltop overlooking Johor Bahru's Danga Bay has spawned many bone-chilling accounts, including a tale in which the owner was murdered after he failed to divide the ownership of the property among his siblings. The other speaks about the father of a girl named Nabila, who went insane from financial ruin and killed his entire family. According to urban legend, those who wish to enter the bungalow must do so in even numbers or they will leave in odd numbers. Do the math.
Where: Danga Bay, Johor Bahru.
6. Kellie's Castle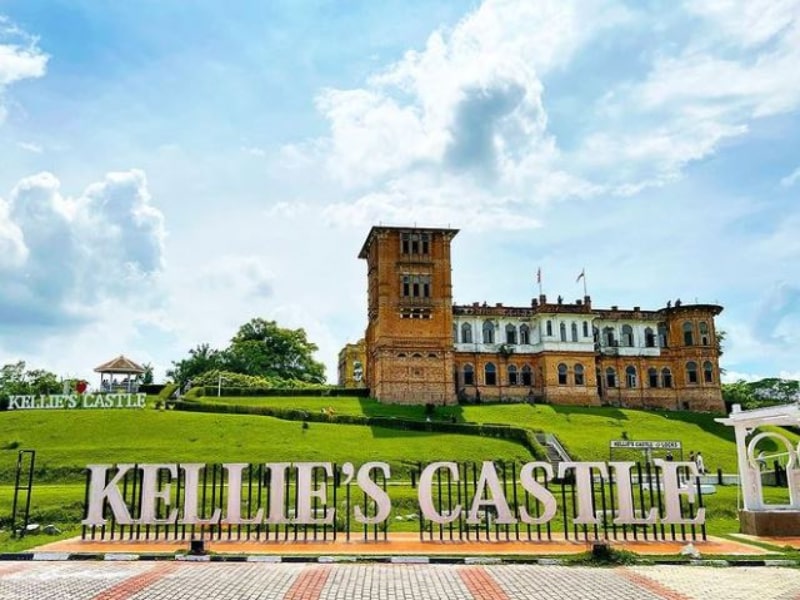 What happened: The gothic structure of Kellie's Castle in Ipoh looks like something out of Dracula. Adding to the allure is the castle's history, one immersed in romance, mystery, and tragedy. William Kellie-Smith set out to build the castle as a symbol of love and commitment to his wife and family. But a series of unfortunate events took place during the period; he lost his wealth and eventually his life at the age of 56. Too heartbroken to claim the unfinished property, his wife and children returned to Scotland. 
The derelict stronghold is now a subject of disturbing anecdotes. Rumour has it that the Japanese executed prisoners at the property grounds during the occupation. Others claimed to have seen the spirit of Smith lurking around the area, presumably mourning the life that he could've had. 
Though Kellie's Castle commonly appears on the list of haunted places in Malaysia, it's now a popular tourist spot, attracting both the young and old. 
Where: Batu Gajah, Perak. 
7. SG House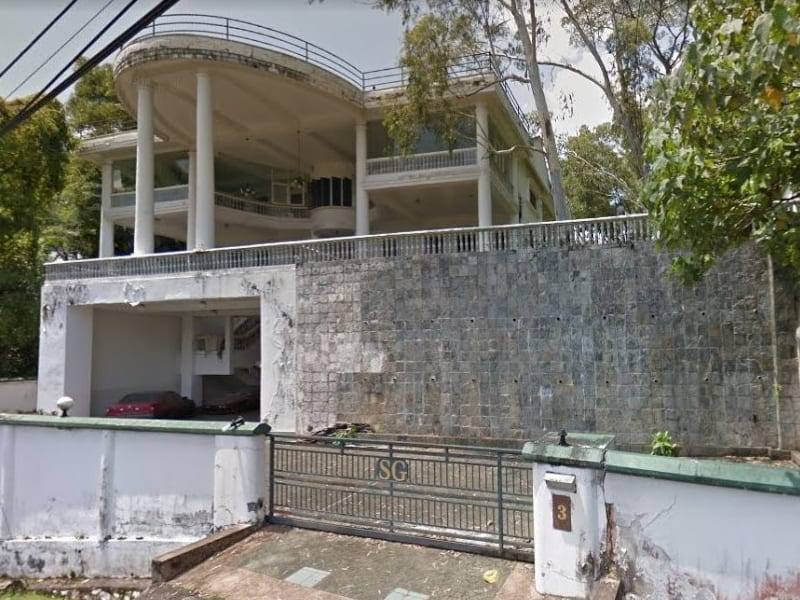 What happened: Situated near the hills of Bukit Gasing, a busy hiking destination among locals, stands an abandoned mansion with prominent "SG" initials on the front gate. Beyond the entrance are two sports cars—an Alfa Romeo and a Porsche—parked haphazardly and said to belong to the owners who were entangled in a night of murderous rampage. 
Details are blurry, as with haunted places in Malaysia, but it goes as such: A businessman named Sanjay Gill was unfaithful to his wife. Upon discovering the affair, the wife killed and decapitated the mistress. Gill suffered a fatal heart attack and his wife hung herself on the balcony after committing the deed. Talk about airing dirty laundry in public. 
But despite its ghastly past, the Bukit Gasing haunted is going up for auction this December for RM4.4 million.
Where: Bukit Gasing, Petaling Jaya, Selangor. 
8. Jalan Turi Bungalow 
What happened: Most haunted houses in Malaysia have tainted histories, and this bungalow in affluent Bangsar is no exception. American couple Rakesh and Suneeta Talwar returned home after a night out. Rakesh left for the airport right away for his business trip while Suneeta, her helper, and the kids stayed home with their security guard Ariffin Agas. Ariffin started attacking Suneeta and although she managed to escape, the maid and children weren't so lucky. When the police arrived at the scene, Ariffin led them to a septic tank behind the house, containing the chopped-up corpses of the maid and children. 
The house has since been demolished, leaving only a barren land where sounds of the children have allegedly been heard by passers-by. 
Where: Jalan Turi, Bangsar.
9. 99 Door Mansion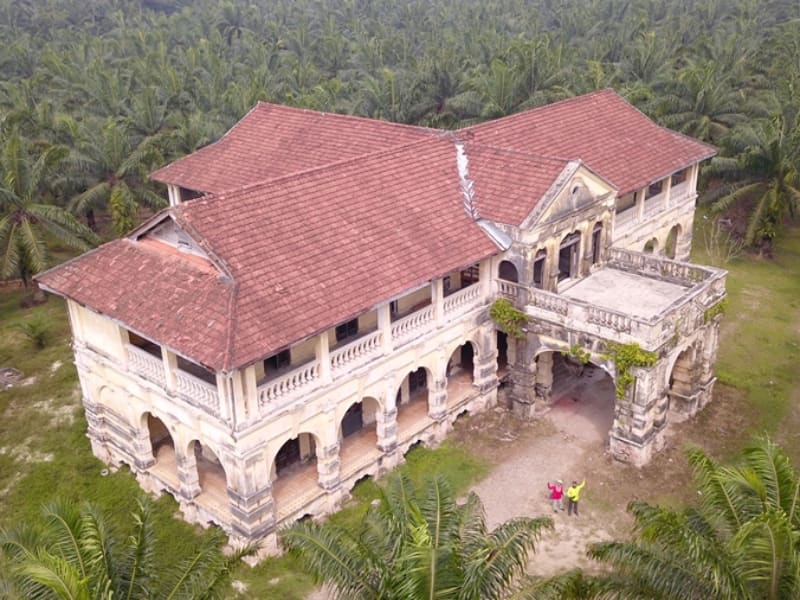 What happened: Murder and the occult. Two themes that bind the macabre history of this mansion together. Grim first descended on the property when John St Maur Ramsden, the grandson of the family living there, was assassinated in cold blood by jealous relatives. Then, his family was entirely wiped out during the Japanese invasion. 
The house of horror was vacated, but not for long. A witch doctor with a penchant for casually summoning demons through a special "gateway" moved in. Decades after his death, it's said that they continue to roam free. If this isn't the most haunted house in Malaysia, we don't know what is.
Where: Nibong Tebal, Penang.
Dare To Explore These

Most

Haunted Places In Malaysia

?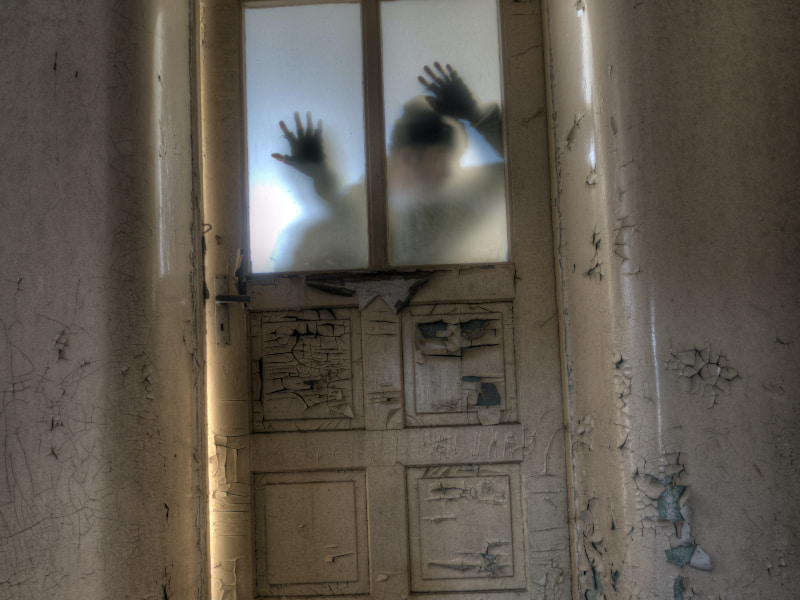 As you can tell, there are no shortages of hair-raising Malaysian ghost stories. From the spirits cruising along Karak Highway to the menacing fiends of 99 Door Mansion, these haunted places in Malaysia are where nightmares come alive. In the very likely event that you need to run for your life, may we recommend these running shoes (men and women) for your escape? 
Prefer to get your thrills from harmless TV screens instead? Queue in these Malay horror flicks or terrifying films from around the region for your next viewing party. And if you got prying little eyes around the house, keep their gaze glued on these spooky but subdued Halloween activities.