Fresh out of movement restriction orders, Malaysians have been going out and about. To absolutely no one's surprise, malls and cafes are stuffed. It's as if we're all trying to make up for all the lost time we spent indoors. If your ideal outing is away from the concrete jungle and closer to a real jungle, hiking is worth the effort. The good news is that there are no shortages of great spots for hiking in Selangor and KL. We've taken the liberty to rank them by difficulty so you'll find something that suits you—no matter how experienced a hiker you are. 
Scenic Trails For

Hiking In

Selangor
Bukit Gasing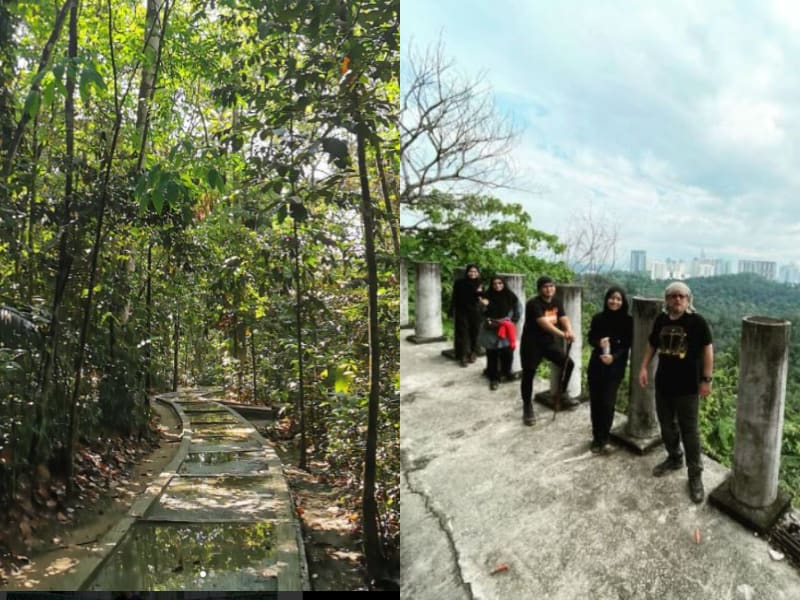 A popular spot among Petaling Jaya folks, Bukit Gasing is touted as one of the few remaining green lungs in the ever-developing urban landscape. Located next to spacious bungalows along winding roads, this urban nature getaway offers multiple trails for hikers to reach the peak. The easiest route shouldn't take more than three hours to wrap up, offering a breathtaking view of the PJ skyline at the top. 
Difficulty: Easy 
Entrance fee: Free
Location: Hutan Pendidikan Bukit Gasing, Bukit Gasing, 46000 Petaling Jaya, Selangor
Good to know: Limited parking spots. 
Bukit Serdang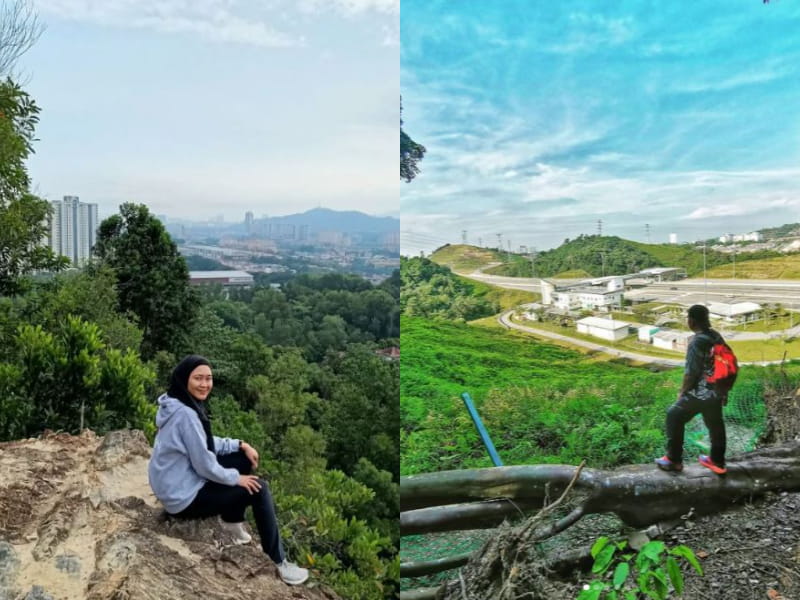 Planning to go hiking in Selangor but wary of huge crowds? Then Bukit Serdang is the ideal spot for a quiet climb. It's not as well-known as the other trails on this list; even some residents living within the vicinity don't know its existence. It takes 15 to 30 minutes to reach the peak, making it a suitable starting point for beginners. 
Difficulty: Easy 
Entrance fee: Free
Location: Rizab Melayu Sungai Kuyoh, 43300 Seri Kembangan
Good to know: There are many splitting pathways en route; avoid getting lost with this handy map.
Bukit Sapu Tangan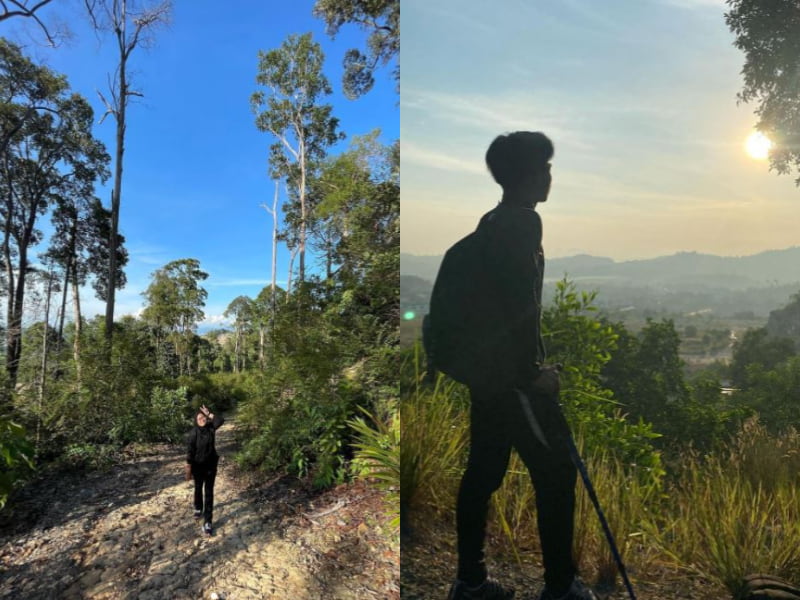 Hidden within the Shah Alam Botanical Garden is Bukit Sapu Tangan. Don't let the peculiar name deceive you (Handkerchief Hill in English). Although this hiking trail in Selangor measures 200 metres above sea level, its steep terrain requires a bit of legwork to conquer. There are bicycles for rent at the garden grounds, but unless those are mountain bikes, we don't see how it's possible to cycle to the top.
Difficulty: Easy to moderate
Entrance fee: RM3 for adults; RM1 for children
Location: Taman Botani Negara Shah Alam, 40000 Shah Alam
Good to know: If you aren't keen to hike, the Shah Alam Botanical Garden also offers other activities such as bird-watching and kayaking.
Bukit Kutu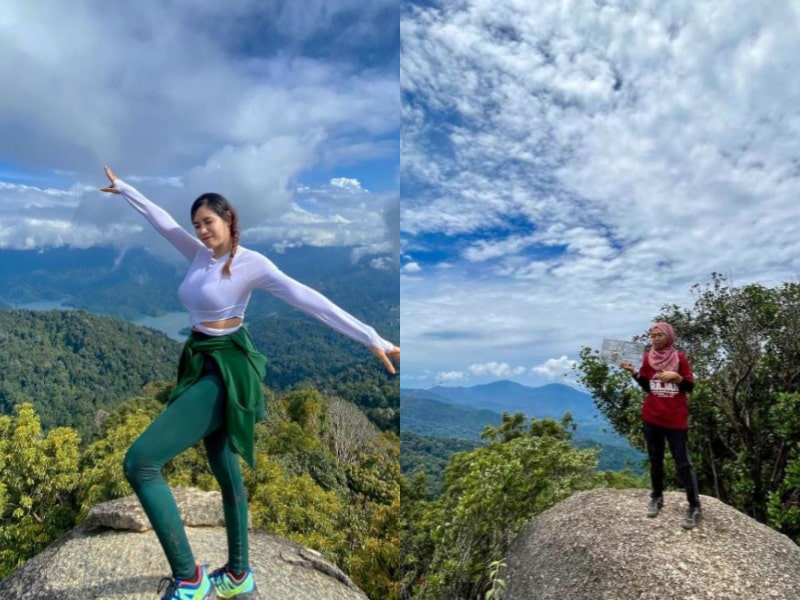 An abandoned colonial hill station, Bukit Kutu (aka Treacher's Hill) offers a picturesque vantage point of the Kuala Kubu Bharu dam at the summit. You should expect to overcome a few obstacles like crossing shallow streams and climbing ladders, but trust us that the view will be worth all the effort. In total, it shouldn't take you more than four hours to reach the summit. 
Difficulty: Moderate
Entrance fee: RM1 per person
Location: Sungai Pertak, Kuala Kubu Bharu, 44000 Hulu Selangor
Good to know: You'll see many large boulders during the hike. Be extremely careful when stepping onto them because the surfaces get very slippery after rain. 
Broga Hill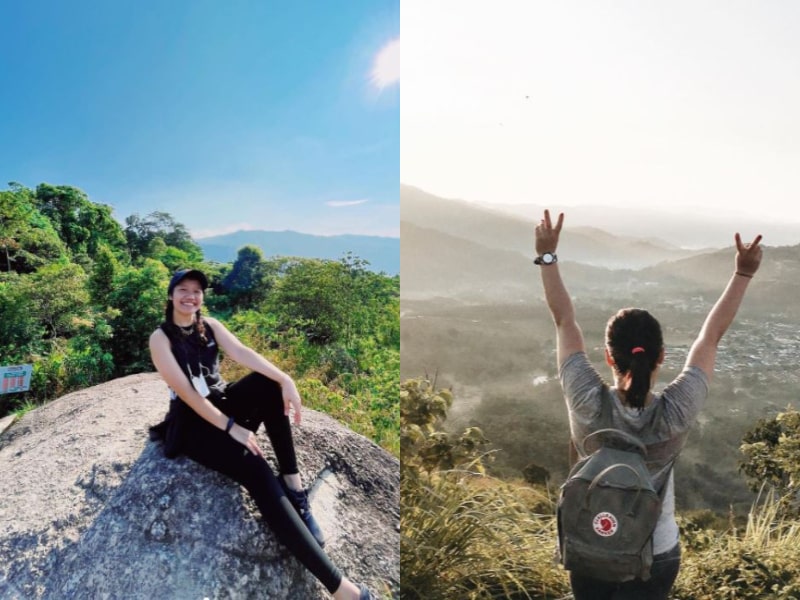 When it comes to places to hike in Selangor, Broga Hill comes highly recommended. Imagine this: a panoramic view of grassy hilltops beneath the clouds. Plus, it's a relatively easy hike, save for some uneven terrain near the summit. Come early, though. The spot is buzzing on the weekends and public holidays.
Difficulty: Easy    
Entrance fee: RM1 
Location: Jalan Broga, 43500 Semenyih
Good to know: Watch your step going down, the terrain can be slippery.
Gunung Nuang 
When it comes to hiking in Selangor, Gunung Nuang tops the bucket list. Straddling between Selangor and Pahang territories, Gunung Nuang has a staggering height of 1,493 metres. As such, optimum fitness and stamina levels are prerequisites to conquering this giant. The mountain provides two access points to start from: Janda Baik or Pangsoon. The former is supposedly "easier", taking approximately six hours to complete. On the flip side, the Hulu Langat trail can take up to 12 hours to wrap up.
Difficulty: Challenging
Entrance fee: RM1 per person
Location:  Hutan Lipur Gunung Nuang, Kampung Pungsun, 43100 Hulu Langat
Good to know: Go at your own pace; it's a hike, not a race. If you want to turn back at any point, there's absolutely no shame in doing so. Better to come back when you're more prepared than overstraining yourself. Or worse, putting yourself in life-threatening situations. 
Scenic Trails For

Hiking In KL

 
Bukit Kiara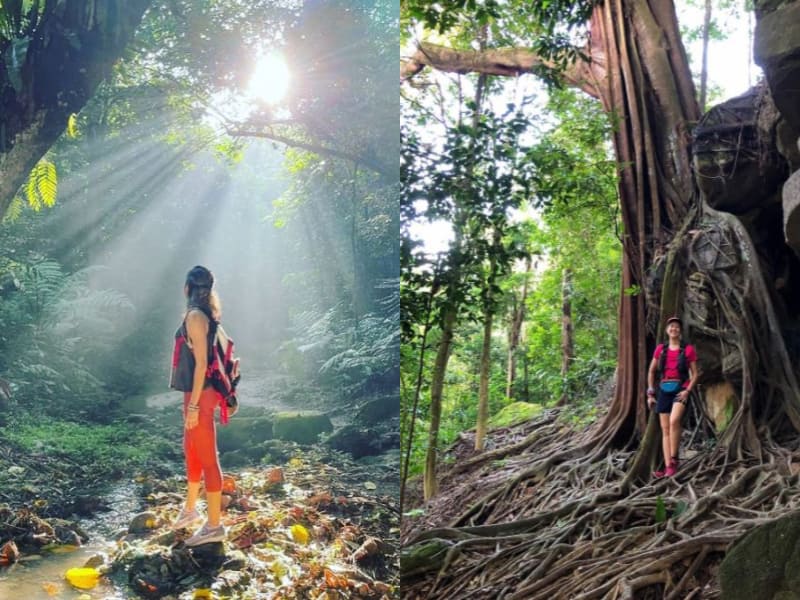 Nestled between Taman Tun Dr Ismail (TTDI) and TPC Kuala Lumpur, Kiara Park is one of the most popular places for hiking in KL. As such, it usually draws a steady crowd consisting of hikers and bikers, so be mindful when you're there. A complete hike takes three hours to complete at a steady pace. The hiking trail is connected to the public park so other outdoor activities you can do here include jogging and picnics.
Difficulty: Easy
Entrance fee: Free
Location: Changkat Abang Haji Openg, Bukit Kiara, 60000 Kuala Lumpur
Good to know: Don't feed the monkeys, no matter how friendly they may appear to be.
Taman Tugu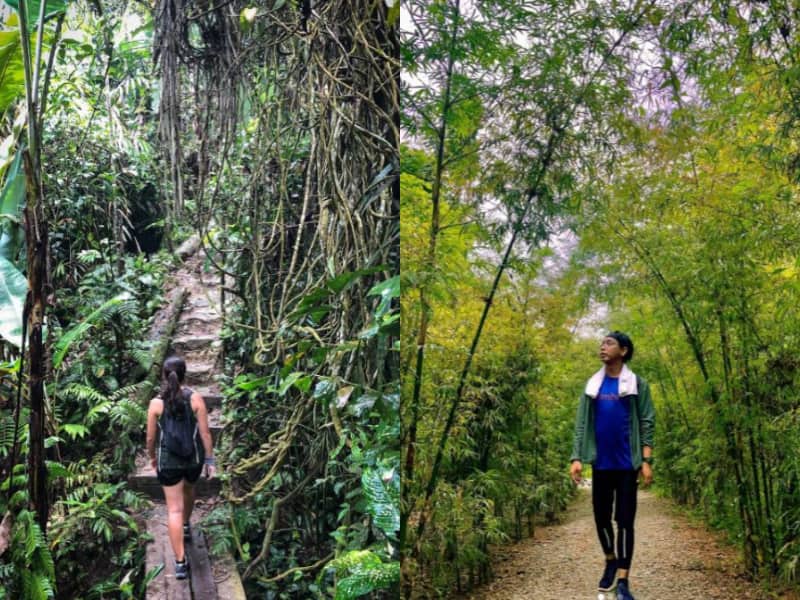 A stone's throw away from the Perdana Botanical Garden is Taman Tugu, an urban forest park with well-mapped out trails for an easygoing hike. The location is home to over 230 species of indigenous trees, some of which are endangered. Come here if you crave the outdoors but aren't keen on putting your legs to work. 
Difficulty: Easy
Entrance fee: Free
Location: Taman Tugu, Pesiaran Sultan Salahuddin, 50480 Kuala Lumpur,
Good to know: The park closes at 6.45pm and the last entry is at 5.45pm. 
Saga Hill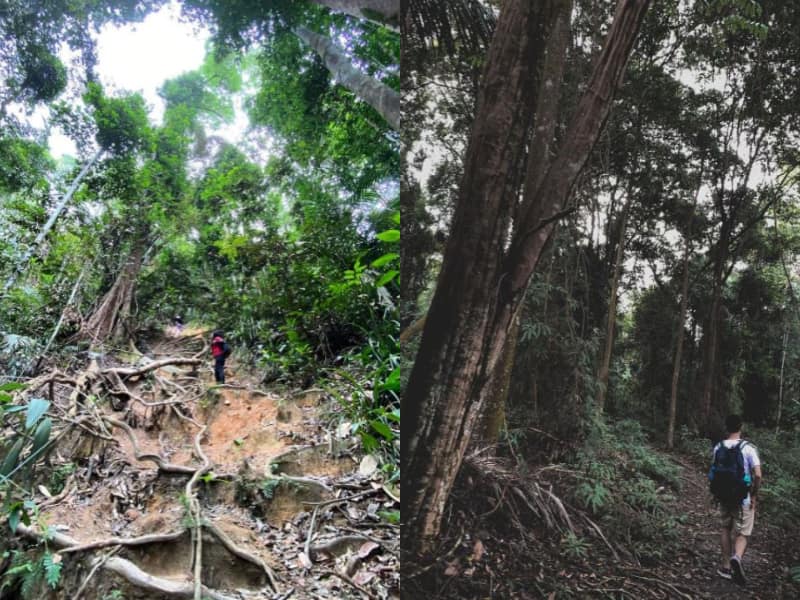 Also known as Apek Hill, it's said that hikers come here to train for Mount Kinabalu or Gunung Tahan because of its steep terrain. There are three entry points and checks on the Internet say one of which (Trail B) is currently closed for construction. Generally, it takes about two hours to reach the peak where you'll be greeted by a waterfall for a well-deserved dip. 
Difficulty: Moderate
Entrance fee: Free
Location: Apek Hill Trail, Taman Cheras Awana, 43200 Cheras 9 Miles
Good to know: Wear grippy hiking shoes because the terrain can get muddy and slippery.
Besi Hill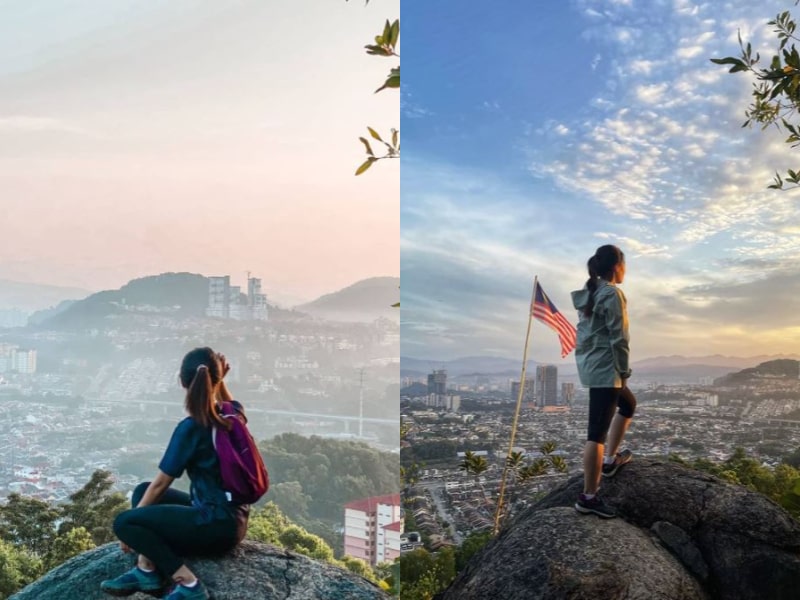 You won't need nerves of steel to conquer Cheras' Besi Hill. While there are sections where you'll require ropes to reach, it won't be too much of an obstacle. You'll spend just over an hour ascending the peak where the magnificent KL skyline awaits.
Difficulty: Moderate
Entrance fee: Free
Location: Persiaran Alam Damai, Alam Damai, 56000 Kuala Lumpur
Good to know: Be careful when making your way down, the tracks are uneven and patchy.
Craving Nature? Then Go

Hiking

In Selangor

And

KL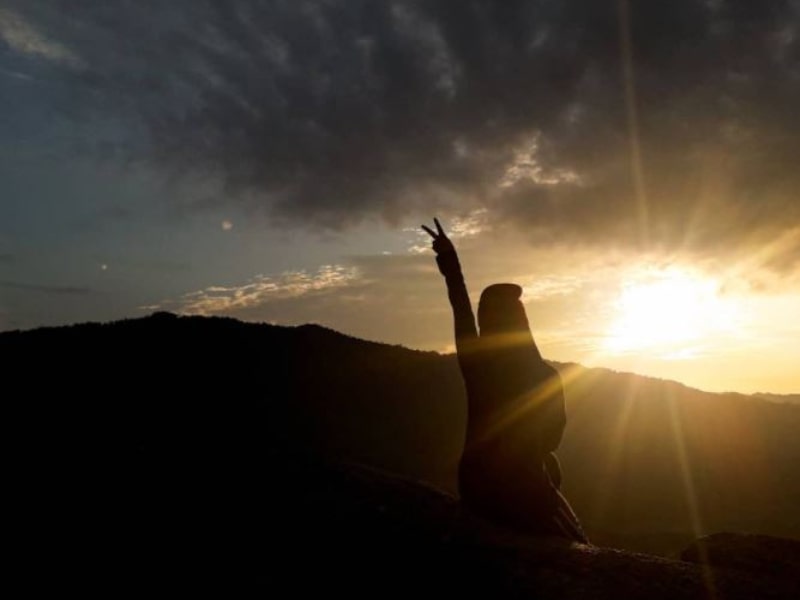 In today's world of constant stimulation and heightened senses, it feels almost impossible to quiet the mind. By retreating into nature, we allow ourselves the opportunity to effectively unwind in an unadulterated setting and hiking is a good way to reap the benefits that nature has to offer. So, if you're planning to go hiking in Selangor and KL, bookmark this list or forward it to someone you know!
Scouting for campsites to spend the night? Check out these spots in Selangor near waterfalls for an unforgettable nature getaway.