The Christmas season is quickly approaching (only a few weeks left to go!), which means it's time to bust open the boxes of Christmas decorations and get decorating. Now, whether this is your first time decorating your home or a routine that you stick to each year-end, we know that coming up with the perfect layout can be difficult. Not to mention, you've also got your current home decor to rearrange or replace too. To make your life easier, we've compiled a list of tips and ideas on how to decorate your home for Christmas.
Practical Ideas On How To Decorate Your Home Living Room For Christmas 
Have A Centrepiece On The Coffee Table
This is one of the best ideas if you're wondering on how to decorate your small home for Christmas, or if you prefer a minimalist approach to your festive decorations. Just having a simple, decorative display on the coffee table alone can already make a big impact in setting the mood. 
You can set a scented candle at the centre of your coffee table and place an ornamental wreath around on it for that jolly touch. If you want to play with various heights, add three different-sized candles, together with their candle stands. This will add some point of interest and dimension to your Christmas centrepiece. 
Spruce Up The Shelving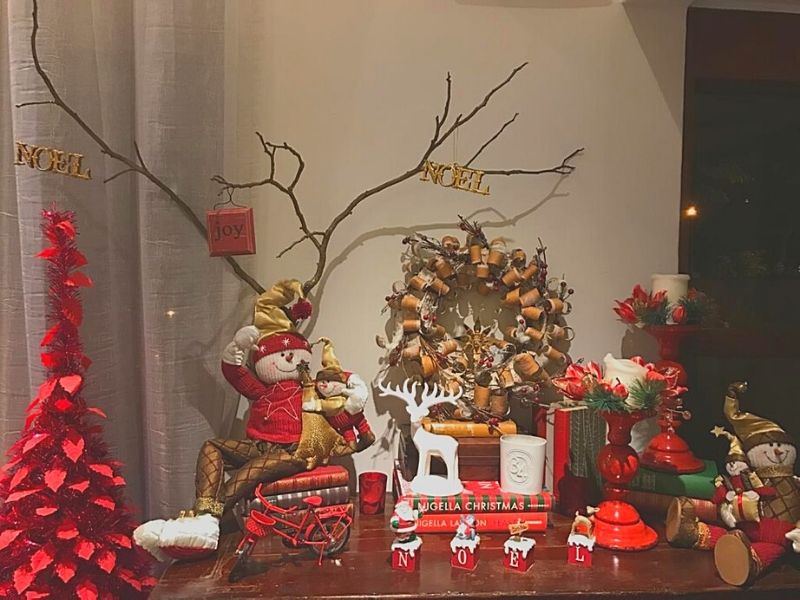 This is another good idea on how to decorate your home for Christmas if you live in a smaller living area. Packing in the holiday cheer through your bookshelves or cabinets is a great way to save space but maintain the season's festivity. Now, one tip to consider is having a consistent colour palette throughout your bookshelf.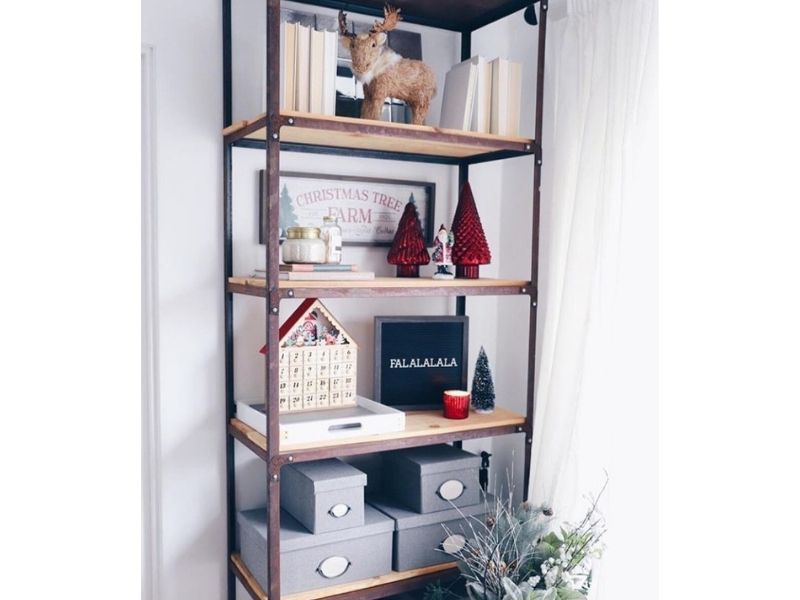 So, if you decided on a classic red, green, and gold colour theme, then stick to those three main coordinating colours on each shelf. However, to prevent it from looking too punchy (unless that's the look you're going for), balance out the vivid Christmas colours with more neutral tones, such as whites or creams.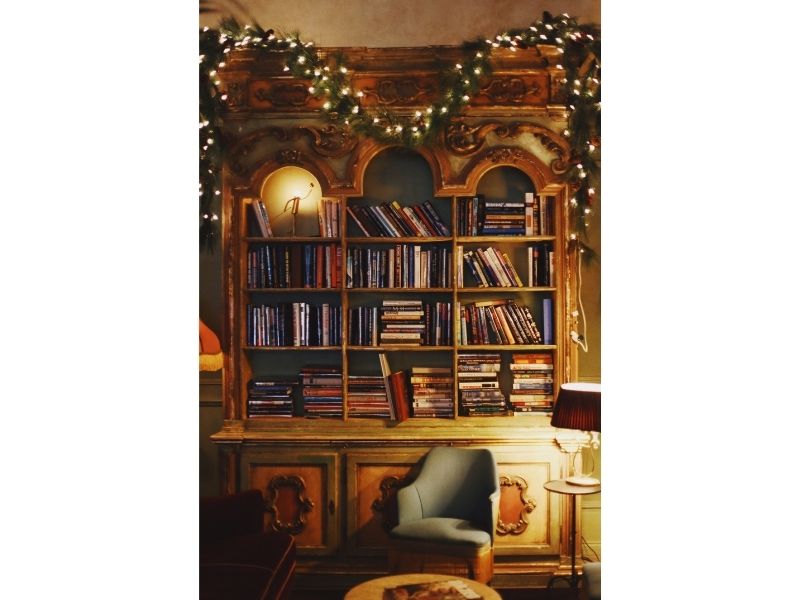 Another thing to keep in mind is balancing out your large sculptures or vases with your books and small Christmas accessories in thirds (one-third of books, one-third of sculptures, and one-third of accessories in one shelf). Admittedly, this step is not too necessary if you're already an expert at decorating, but if you're a beginner, following the rule of thirds will help you arrange your decor more evenly. Start with the larger items for the foundation and then add in your smaller accessories to build up from there. 
You can fill up your vases and jars with Christmas greenery, fake ivy red berries, tree branches with hanging ornaments, or whatever you feel fits best with your theme. Set them on top of a stack of books, along with a reindeer statue or snowman toy for a cute, playful look. Hang some garlands around the top, weave in with fairy lights, and let them fall down the sides of your bookshelf. Otherwise, you can also provide warm lighting with candles or a lamp. 
Wall-Mounted Christmas Tree
Christmas trees can be rather hefty, so if you don't have the room for a tall, traditional tree, then this DIY will serve as a suitable, more modern substitute. Plus, it's certainly less painful on the wallet, even more so when you're looking for budget-friendly ideas on how to decorate your home for Christmas. With this DIY, all you need are thumbtacks, tinsels or garlands, and fairy lights. 
Form the shape of a triangle by pinning your thumbtacks to the wall first. Then wind your garland around the thumbtacks in a zig-zag motion to form your tree shape. You can keep your wall-mounted Christmas tree plain and simple with just the stringed garland or tinsel and fairy lights, or you can simply decorate like how you normally would with a regular Christmas tree.
Change Out Your Pillow Cases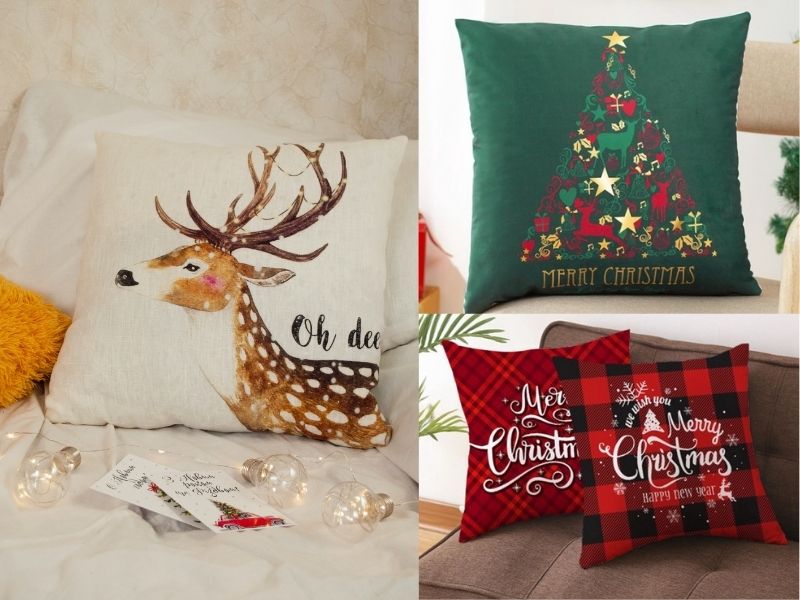 Out of all the creative ideas on how to decorate your home for Christmas, this is by far the easiest to tackle first. Your sofa pillows may not seem to be very exciting decorative pieces, but they can be more impactful than you believe, especially when decorating the living room. As mentioned earlier with the bookshelves, keeping a consistent colour scheme is crucial, and this extends to other furniture as well. 
Repeated colours will tie in together the entire home, and make it look seamlessly cohesive. Choose pillow designs of traditional Christmas characters (reindeers, snowmen, Christmas tree, snowflakes), or in the classic Christmas colours, and you've got yourself a cosy, welcoming living room to kick back and relax in. 
Ideas On How To Decorate Your Home Staircase For Christmas
Arrange Potted Seasonal Plants On A Few Steps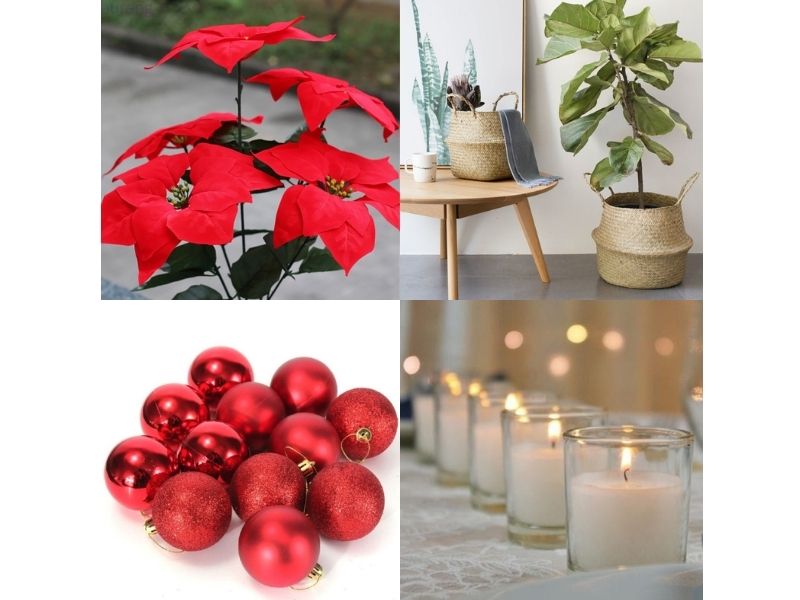 Let each step be filled with the joy of Christmas through potted seasonal plants. Poinsettias are popular plants commonly associated with the year-end holiday. Place them in clean woven baskets, and sort them however you like on the stairs. Pair them together with some matching red ornaments, along with neutral glass candles for a colourful but elegant look. 
Decorate The Staircase With An Embellished Garland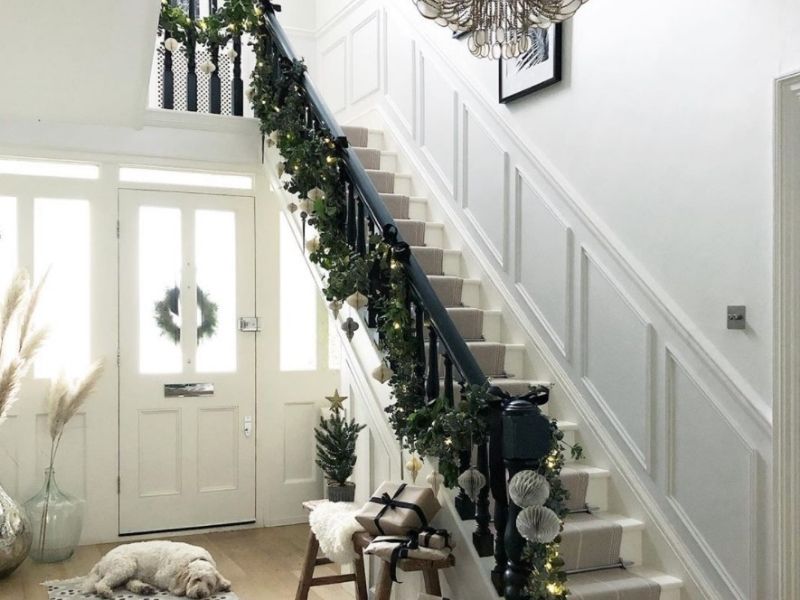 You can never go wrong with an embellished garland when it comes to accessorising your staircase, as it instantly adds a touch of Christmas to your home. There are many different styling ideas on how to decorate your home's staircase for Christmas. You can drape and wind the garland, curving them inwards and outwards around the railing to form an S-like pattern.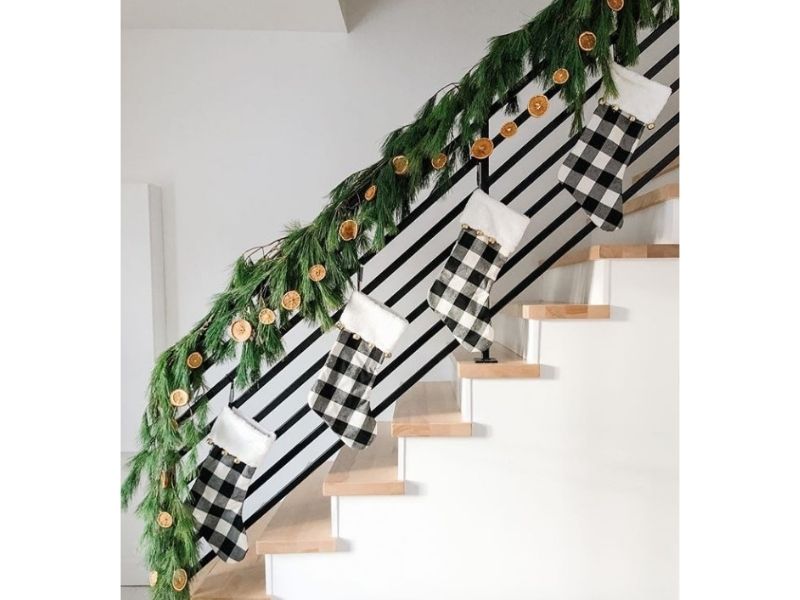 Another option is to keep it straight and lay it directly on top of the railing, following its natural shape. Once you've decided on your design, you can then decorate your garlands with whatever ornaments you want, be it stockings, ribbons, pine cones, baubles, or flowers. Just remember to stick to the same colour palette as your overall home decor.
Ideas On How To Decorate Your Home's Front Porch For Christmas
Use A Wreath As Your Doorway's Welcome Sign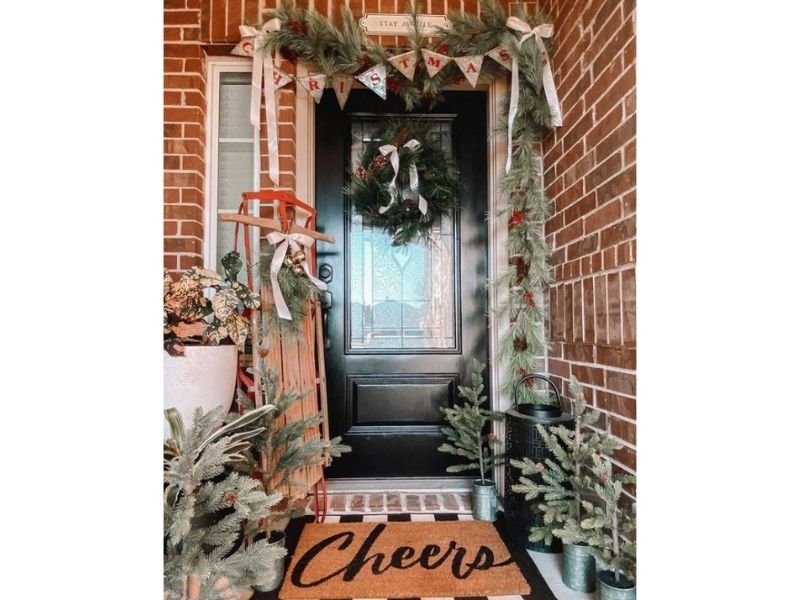 Your entrance is the first thing anybody will see, so you want to make sure to give a good impression, and what better way to do that than with an attractive wreath to welcome them in. It's simple, quick, and an easy way to add festive cheer to your home's entrance.
Frame Your Doorway With Matching Shrubs And Lanterns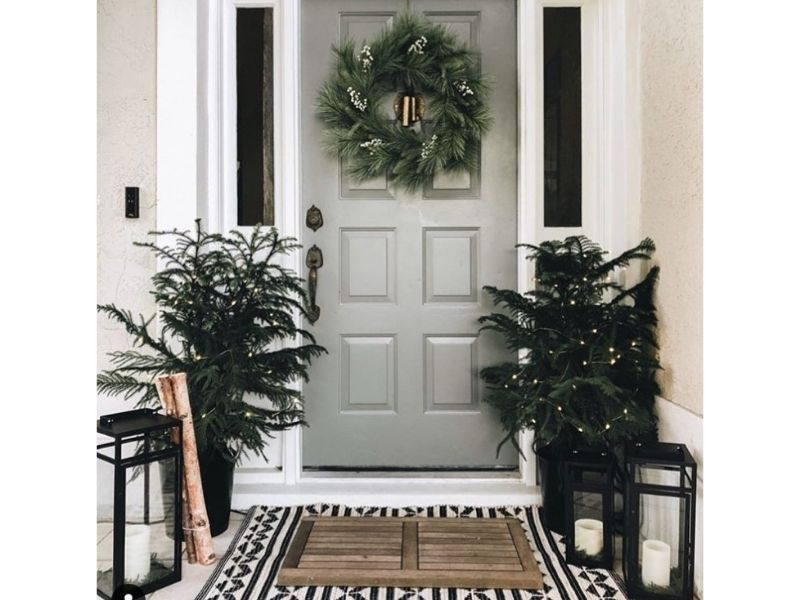 Now that you've got your wreath on the door, it's time to fill up the rest of the entrance. To keep the doorway from looking too empty, frame it with two matching plants and lanterns. This will bring about a nice, flattering level of symmetry that will balance out your decor, and immediately make your home look more sophisticated and polished. If your front porch has chairs, decorate with matching pillowcases. 
Decorate Your Home This Christmas To Celebrate The Festive Holiday Season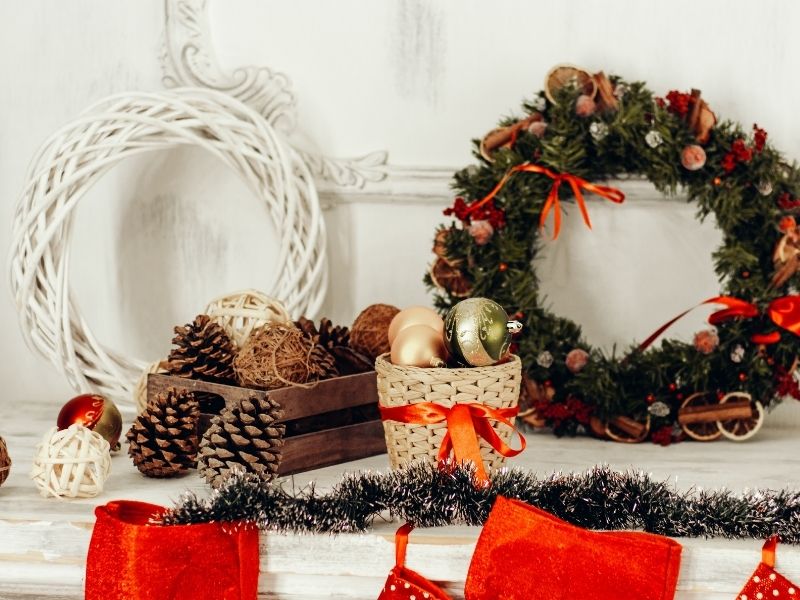 We hope this list has given you some fresh ideas on how to decorate your home for Christmas, and that the year-end will treat you and your family well. Still got a bare Christmas tree on your hands? These 12 decor ideas will add an extra dose of festivity and joy to your living room space.