Middle-length hairstyles are the ultimate life-saver when you're feeling indecisive about your next look. You get to satisfy the side that's still reluctant to let go of your long locks while also fulfilling the urge to switch up your style. Looking for some inspo to come prepared on your next salon trip? Here are eight trendy Korean shoulder-length hair looks to try this year! 
Trendy Korean Shoulder-Length Hair

Inspired By Your Fave Celebs 
Middle-Length

Wolf Cut

Hairstyle
Having reigned as one of TikTok's biggest hair trends in 2021, the wolf cut is still the most requested haircut to this date. And even mega Korean celebrities, like soloist IU, and supermodel Squid Game star, Jung Hoeyeon, are joining the hype. The hairstyle's choppy layers instantly add an effortlessly cool vibe and can look just as chic when styled straight or wavy. 
Related: TikTok's Biggest Hair Trends: 9 Ways To Style The Wolf Cut & The Shag
Middle-Length

Hershey Cut

Hairstyle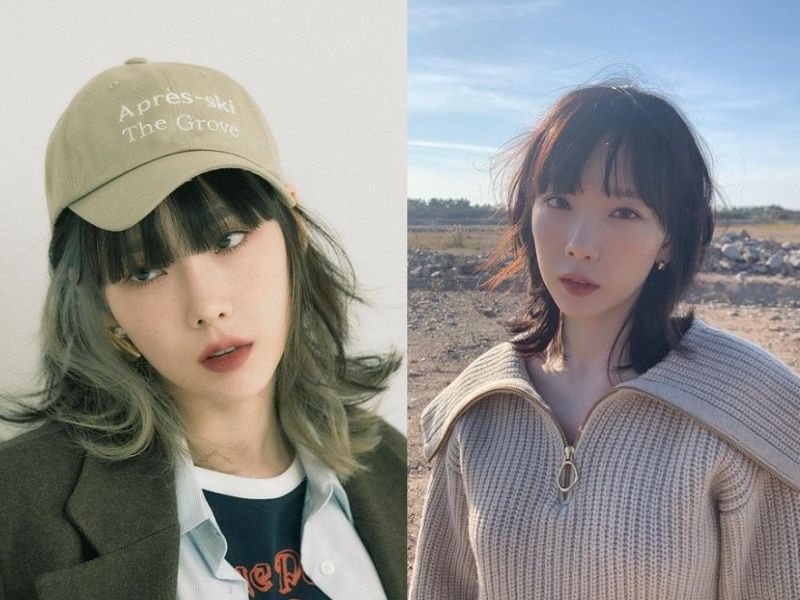 If you're still on the fence about getting a layered hairstyle, this trendy Korean shoulder-length hair is for you! The Hershey cut is somewhat of a hybrid combining the wolf cut and a standard layered hairstyle. Essentially, it's a lot less tousled than the wolf cut and places more focus on the bottom portion of the hair. 
With this look, you would typically have to get a C-Curled perm to complement your textured haircut. It leaves the top section straight and curls the ends of your locks inwards, perfectly creating that windswept effect. Alternatively, if you don't want to commit to getting a perm, you can easily achieve a similar style with a flat iron. 
Middle-Length

Octopus Shag

Hairstyle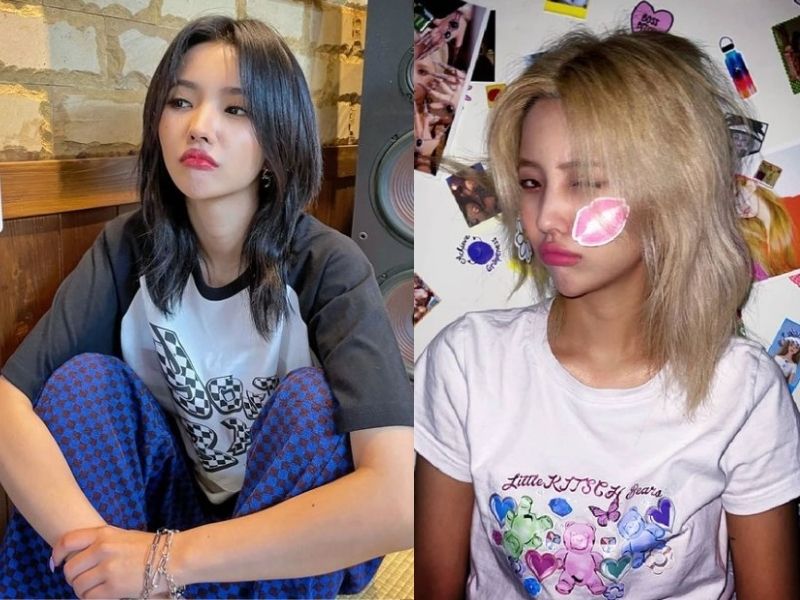 With the rise of the rock pop-punk genre in K-pop, we're starting to see a lot of edgier hairstyles take centre stage. One shoulder-length hair look that's particularly trendy among Korean idols is the octopus cut. As its name suggests, the hairstyle consists of varying lengths that are snipped away to mimic the shape of octopus tentacles. It's basically the extension of the shag haircut and the mullet but is a lot less textured. 
The key to this look is its voluminous top and flicked-out ends, which you can typically achieve with a round hair brush. However, if you want an extra boost of volume, you can also apply some volumising hair spray at the roots of your hair. 
Middle-Length

Butterfly

Hairstyle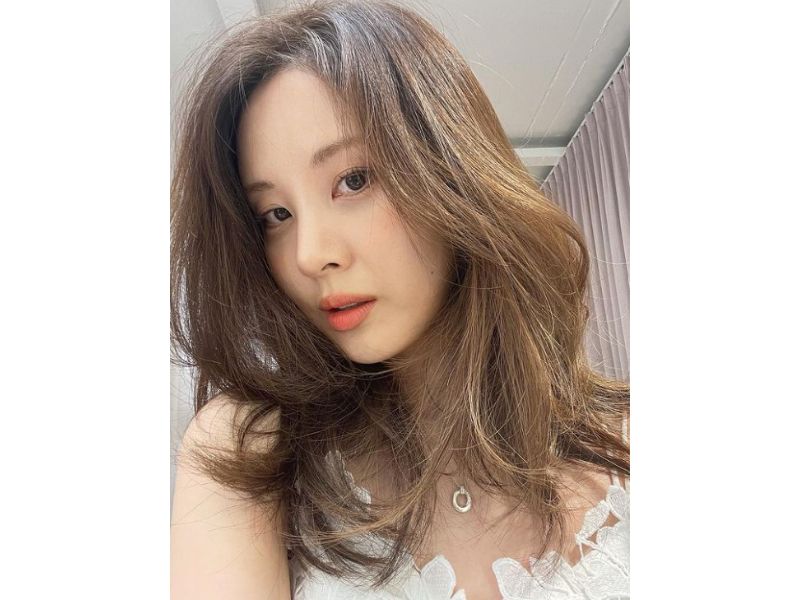 So apparently most hairstyles are named after animals now for some reason. Joining the octopus shag and wolf cut is the butterfly hairstyle. And, of course, it is yet another layered haircut. This style is especially trendy in most Korean shoulder-length hair looks for its graceful and sophisticated allure. 
Furthermore, the S-Shaped curls paired with the tiered layers are great for adding movement to your tresses and look equally flattering on every face shape. Curtain bangs are a must when creating this hairstyle, which you can achieve by curling your round hair brush upwards as you blow-dry your hair. Otherwise, you could also use a hair roller for a heat-free alternative. 
Middle-Length

'90s Rachel

Hairstyle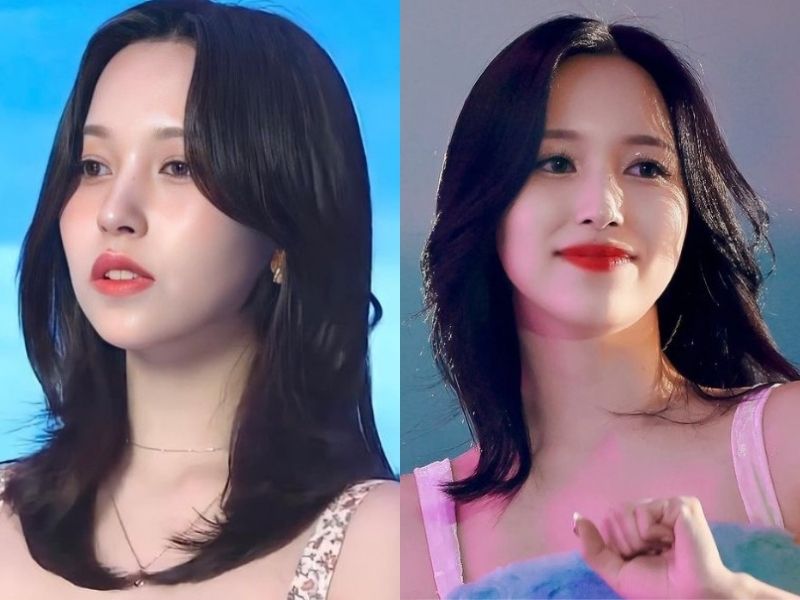 F.R.I.E.N.D.S fans will be very familiar with the iconic Rachel Green haircut from the '90s. Compared to the other layered looks from this list, this middle-length hairstyle features softer and longer layers that gently frame the face. It also favours delicate, voluminous waves that lend a more elegant flair to your look. To recreate this style, simply curl the ends of your hair inwards and then curl outwards once you reach some of the upper layers. 
Middle-Length Blunt Lob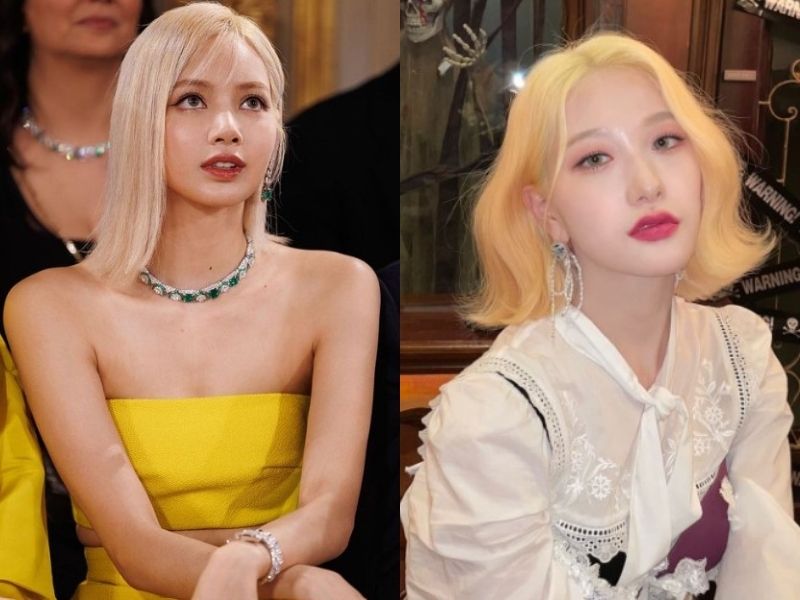 The blunt lob is one of the most trendy Korean shoulder-length hairstyles that practically every K-pop girl group has rocked at least once. The appeal of this hairstyle isn't just on how low maintenance it is but its versatility to be styled in various ways. You can opt for a super sleek look like Blackpink Lisa to highlight the straight cut. Otherwise, you could soften the edges with some loose mermaid waves as seen on fromis_9's Seoyeon for a more feminine style. 
Related: From Blunt To Pixie, Here Are 7 Best Short Bobs You Won't Regret Cutting
Middle-Length

Lob

Hairstyle

With A C-Curl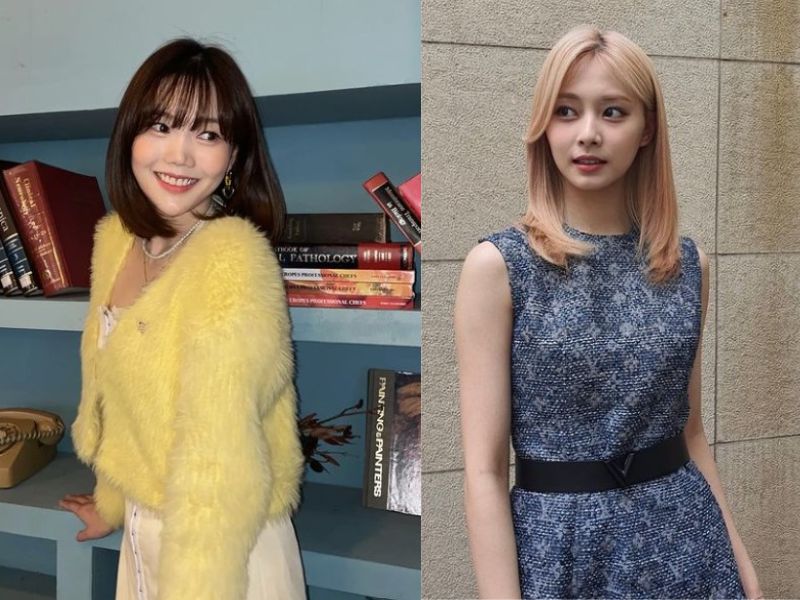 Not a big fan of the blunt lob? There's always the traditional lob hairstyle to fall back to. It's a classic style that's characterised by its rounded ends which curl gently around the shoulders. Similar to the blunt cut, the lob isn't too heavily layered, but it does taper down slightly towards the end instead of being cut straight across. 
Styling-wise, the C-curl is widely popular for its soft and neat look when it comes to the lob. Pair this with see-through bangs, and you get a youthful yet demure look as seen on Oh My Girl's Hyojung. Meanwhile, Twice's Tzuyu takes on a more mature style with a long side-parting, which beautifully elongates her round face shape. 
Middle-Length Hime Cut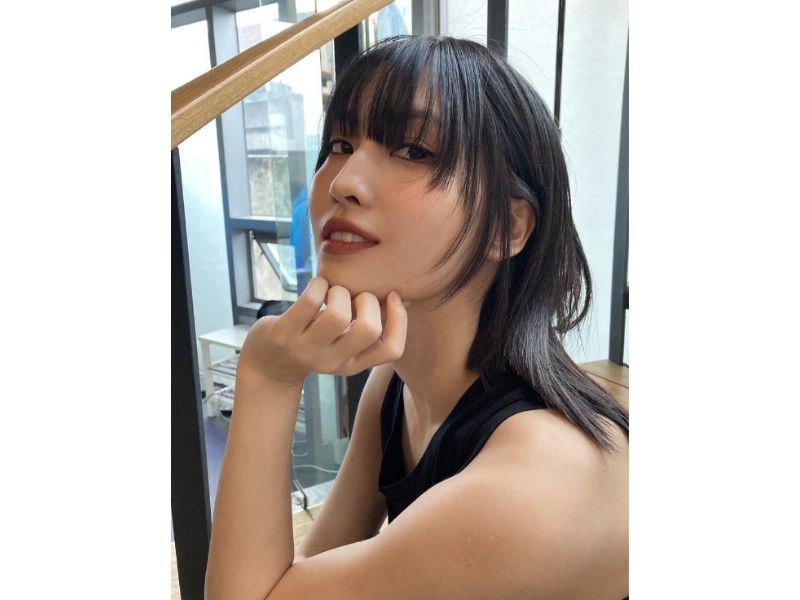 If you're looking for something bold in your trendy Korean shoulder-length hair, then the hime cut is for you! Also known as the female version of the two-block cut, this disconnected hairstyle is well known for its distinctive blunt bang. The regular fringe usually stops right at the cheekbones, but you can alter the style to a longer length to better frame the sides of your face. 
Since the bangs are the main star of the look, you'll want to focus on keeping the style in place. A tight-holding hair mousse or hair spray is crucial so that your fringe stays neat and sleek throughout the day. 
Related: How To Wear The Two Block Cut Like Your Favourite K-Pop Star
Get A Fresh Cut With These

Trendy Korean Shoulder-Length Hair

Looks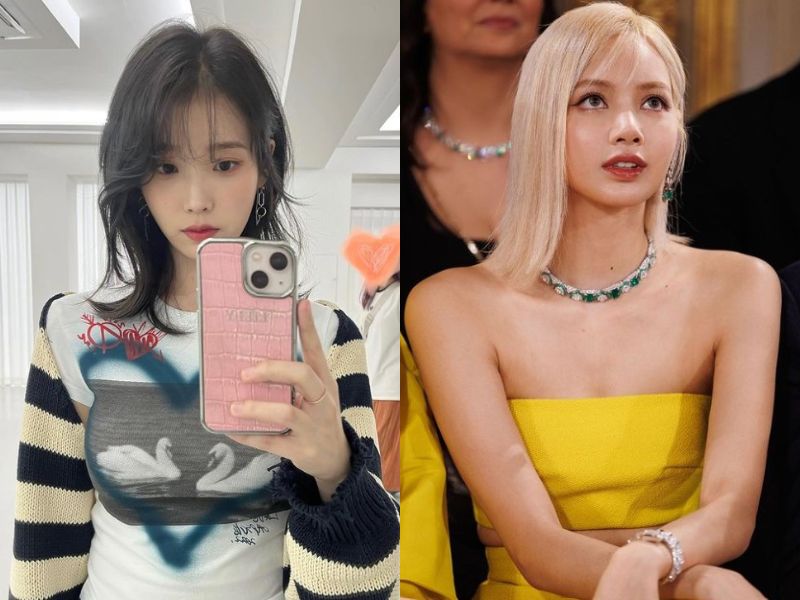 From layered looks to the unique hime cut, we hope this list of trendy Korean shoulder-length hair helps narrow down your choices for your brand new trim. Ready to get an even bigger chop? Then take your pick from one of these short bob haircuts to break away from your long hair comfort zone. Or if you're feeling particularly brave, you could also take the plunge with these eye-catching pixie cuts.