K-drama and K-pop stars are a gold mine of style inspirations. From their dewy skincare and natural makeup to their polished and cool outfits, we're never short of options. On top of all that, the other thing we're constantly looking out for is their ultra-stylish hair. And recently, it's all about Korean bangs; more specifically, see-through bangs! 
What Are

See-Through Bangs?
As its name suggests, Korean see-through bangs are far from your typical blunt and dense fringe types. They're thinner, wispier, and allow your forehead to peek through instead of being completely concealed. These bangs are also slightly layered, with longer sides framing the face and giving your hairstyle a softer touch. Meanwhile, the middle section of the fringe is just a little bit shorter for a subtle contour to make your face look more slender. 
All in all, these Korean bangs are an excellent style to have if you don't want to commit to a full fringe. Plus, they can be easily swept into a side part on days when you want to go fringeless. However, no matter how effortless they seem to appear, see-through bangs do require a bit of styling. Continue reading to learn the best tips and tricks on how you can get that light, windswept look with your bangs. 
How To Style

Korean

S

ee-Through Bangs
With A Flat Iron
One of the easiest ways to achieve these airy bangs is with a flat iron. It's great for when you're pressed for time or just want to give your fringe a quick pick-me-up. First, divide your fringe into three sections. Then clamp the middle section with your flat iron and curl inwards. For the outer sections of your hair, make sure to curl them outwards to frame the sides of your face.
With A Round Brush & Hair Dryer
Not too well versed in the language of heat styling tools? Then maybe you'll be more comfortable using your trusty ol' round brush and hairdryer to style your bangs. Similarly, like with the flat iron, get right into the roots and curl the middle section inwards as you blow-dry your hair. Then, curl the sides of your fringe outwards; you know the drill. You can choose to stop here if you're satisfied with the results. Otherwise, you can go in with hair rollers to add more volume and bounce to your fringe.
With Hair Roller(s)
If you prefer going the heatless route, don't worry, we've got that covered too with the hair roller method. Option 1: Use one big hair roller to curl your entire fringe inwards and wait for about five to seven minutes before removing it. Option 2: Use three smaller hair rollers—one for the middle section and two for the outer sides—to achieve the look. Leave it overnight as you sleep and enjoy the results in the morning!
K-Drama & K-Pop

Stars Rocking

See-Through Bangs

 
Oh My Girl's Ji-ho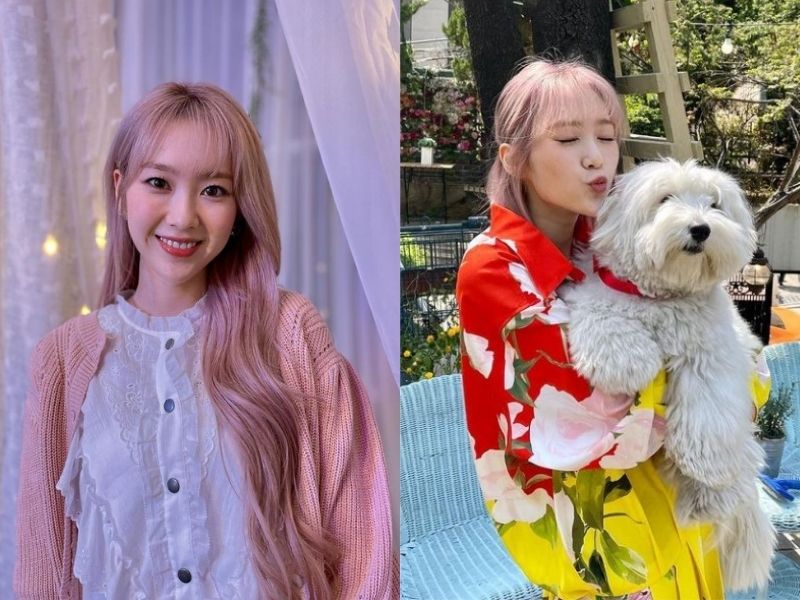 Oh My Girl's Ji-ho looks endearingly sweet and feminine with her see-through bangs during the group's Dun Dun Dance comeback. Here, she's paired her fringe with pastel pink hair, making her fairy-like visuals stand out even more. Whether styled with long, wavy hair extensions or tying her short locks in a casual ponytail, there's no denying how cute these bangs are. 
Blackpink's Lisa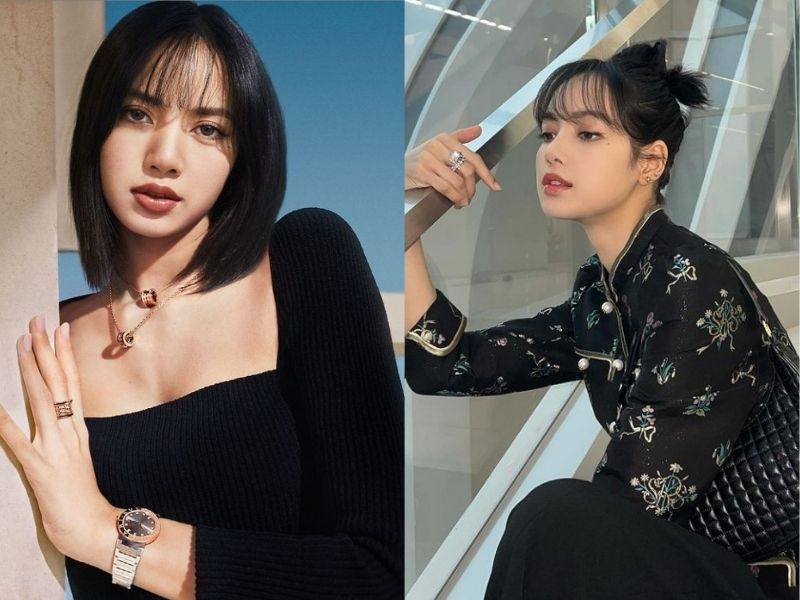 You'll usually find Blackpink's Lisa flaunting her signature full fringe, but sometimes the Thai rapper likes rocking a softer look with Korean see-through bangs. They take away the edge of her short, blunt haircut and give it a more elegant style. That said, she still maintains her cool-girl vibe by keeping her hair straight or securing it up in a messy bun with a claw clip. 
IU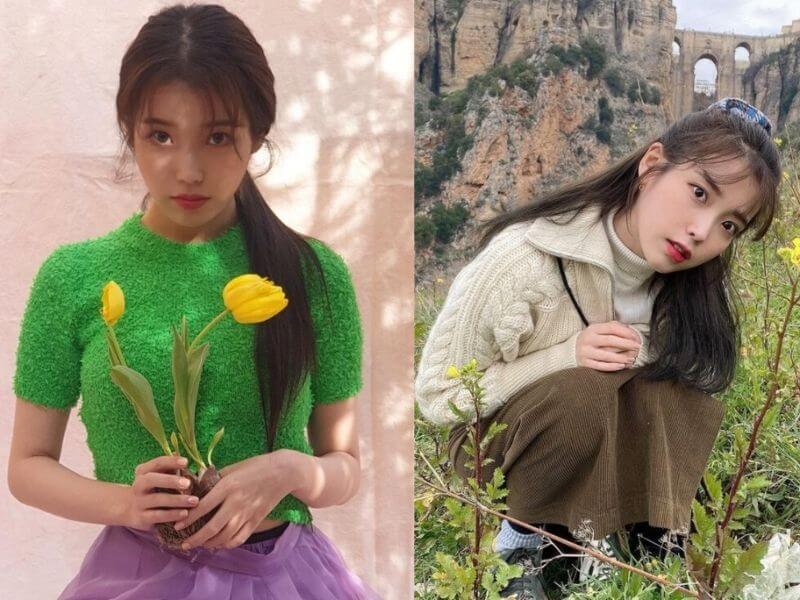 We can't talk about see-through bangs without mentioning IU. The Korean singer has rocked this fringe style on multiple occasions, looking fresh and youthful every single time. She looks chic and poised with a low ponytail paired with her bangs. Meanwhile, her half updo with a blue plaid scrunchie highlights her cuter side. 
Bae Suzy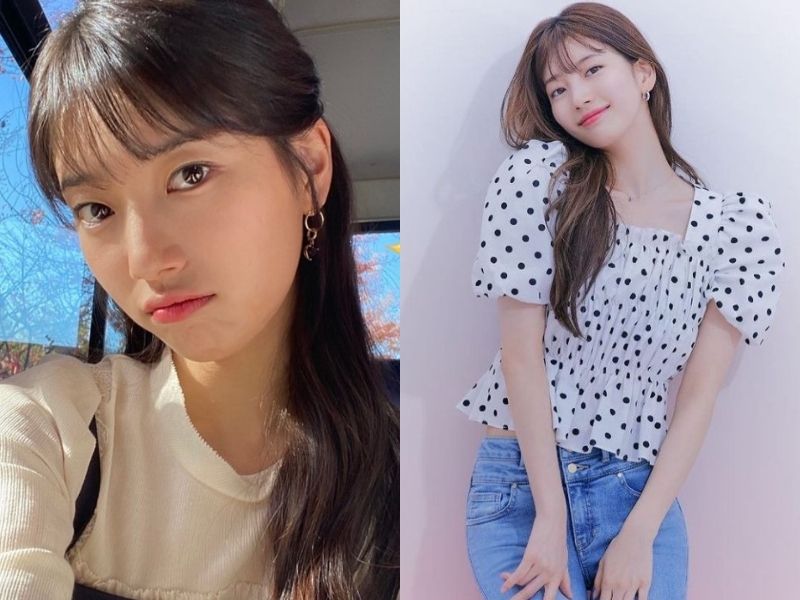 K-pop idol Bae Suzy has long moved past her 'Nation's First Love' title as she grows into her image as a well-renowned actress. She's shown many different styles, but Suzy with see-through bangs will forever be a classic look for the singer turned K-drama star. 
Kim Yoo-jung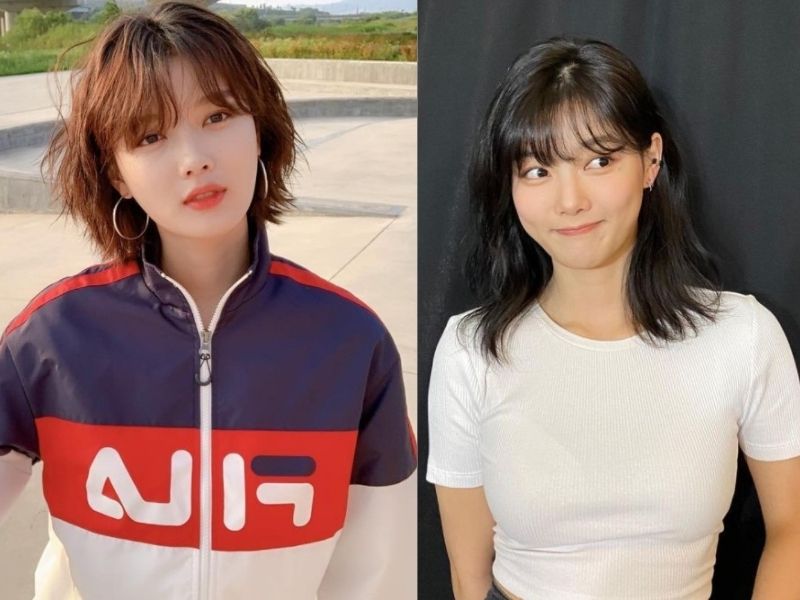 Draw inspiration from Kim Yoo-jung to get an effortless look for your Korean bangs. Her short, shaggy hairstyle with tousled waves gives her baby face an edgier vibe. But if you prefer a longer, low-maintenance style, Yoo-jung's shoulder-length haircut with light layers might be a better alternative. 
Look Effortlessly Chic Like K-Drama Actresses & K-Pop Idols With

Korean

See-Through Bangs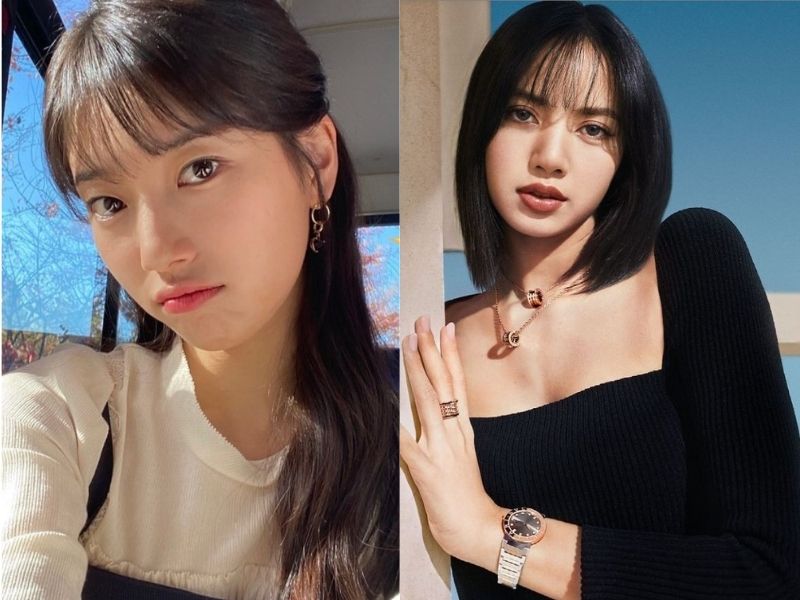 We admit bangs can be a hit or miss; they either look fantastic or they don't. So before you start committing to the popular Korean see-through bangs, check out our other fringe guide article to find out what's the best type of bangs for your face shape. Need a brand new hairstyle for a change? Take your pick from one of these Korean hairstyles for women to complete your K-beauty glow up.