In hydration-obsessed Malaysia—no thanks to our perennially tropical climate—the reusable water bottle is an indispensable sidekick. A good one makes daily water consumption easy, but an ideal one is also portable, durable, and uncomplicated to clean. Whether you're an avid hiker, a fitness enthusiast, or simply seeking a reliable companion for everyday hydration, we'd vouch for these 10 best water bottle brands in Malaysia to check all of those boxes.
What Is The

Best Water Bottle

Brand

In

Malaysia

?
Here's not one, but 10 brands to choose from!
1. Hydro Flask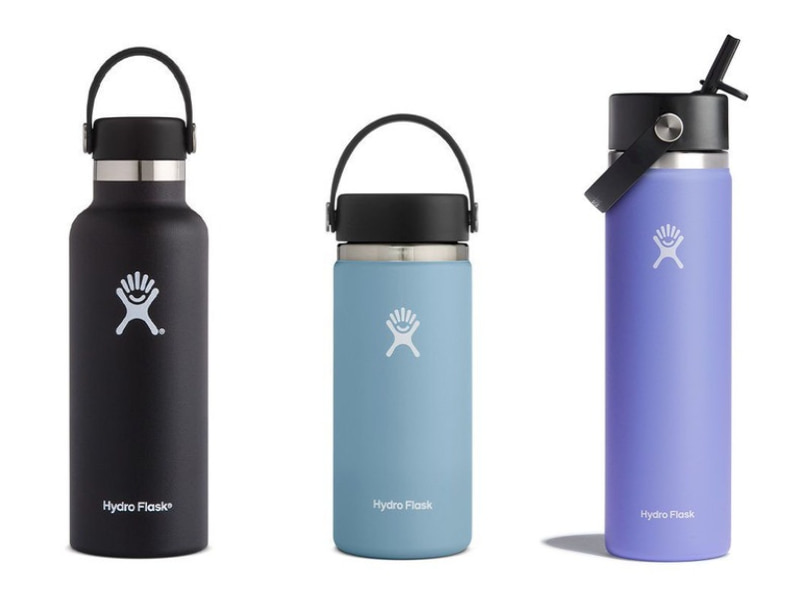 The award-winning Hydro Flask is one of the best water bottle brands you can buy in Malaysia. Its insulated water bottles are known the world over for good reasons. Chief among them is the fact that they're made with highly durable and non-reactive 18/8 stainless steel, with TempShield double-wall vacuum insulation to lock in the temperature of your beverages. So cold water stays cold for up to 24 hours, while hot drinks stay hot for up to 12 hours.
The Standard Mouth 21oz bottle works for everyday use, but if you like your drinks nice and frosty, the Wide Mouth 2.0 20oz bottle is great for pouring in ice cubes.
2. BROS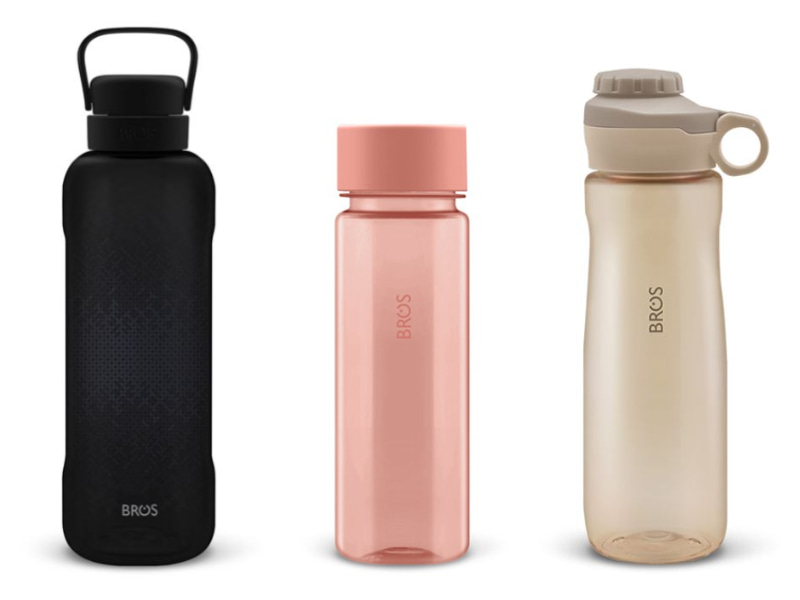 Widely available in department stores, BROS has long been a beloved water bottle brand in Malaysia. Its non-toxic, BPA-free plastic bottles are leak-proof, portable, and come in a plethora of plain and fun designs. The CAPA bottle, for instance, comes with a sturdy handle that makes it easier to carry, whereas the FLIP bottle has a colourful illustration and press-button sipping spout that's perfect for kids. If you're looking for a gift, most BROS water bottles come with the option of name personalisation—just fork out an extra RM9 for it!
3. MONTIGO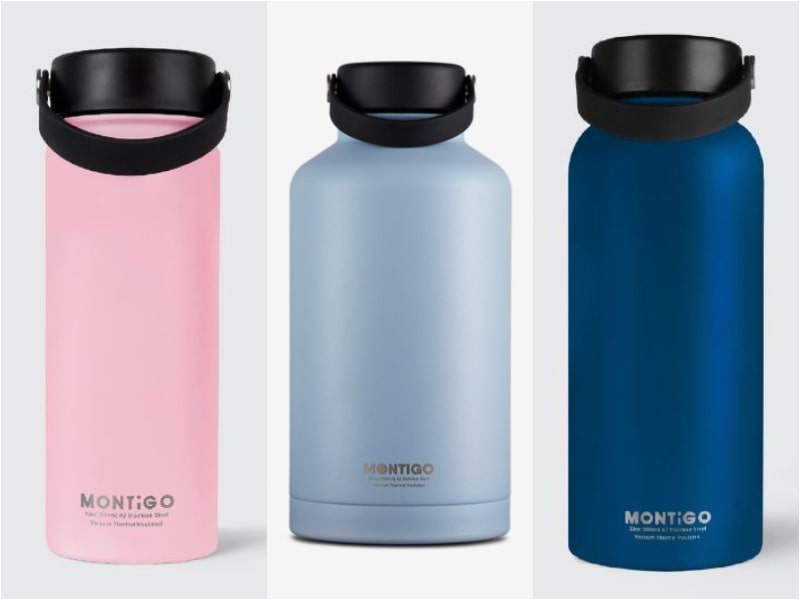 Homegrown brand MONTIGO is among the best stainless steel water bottle brands in Malaysia. Made to retain temperature, MONTIGO's flasks are designed with double-wall insulated vacuum to keep drinks warm for up to 12 hours and cold for up to 18 hours. The BPA- and BPS-free lids are leak-proof too, so long as you screw them on tightly after every use. And with only a couple of components, they're fairly straightforward to clean.
All MONTIGO products come with a two-year warranty and an interchangeable spout lid, including the best-selling MONTIGO ACE 32oz Bottle and the MONTIGO Metallic ACE 18oz Bottle.
4. Thermos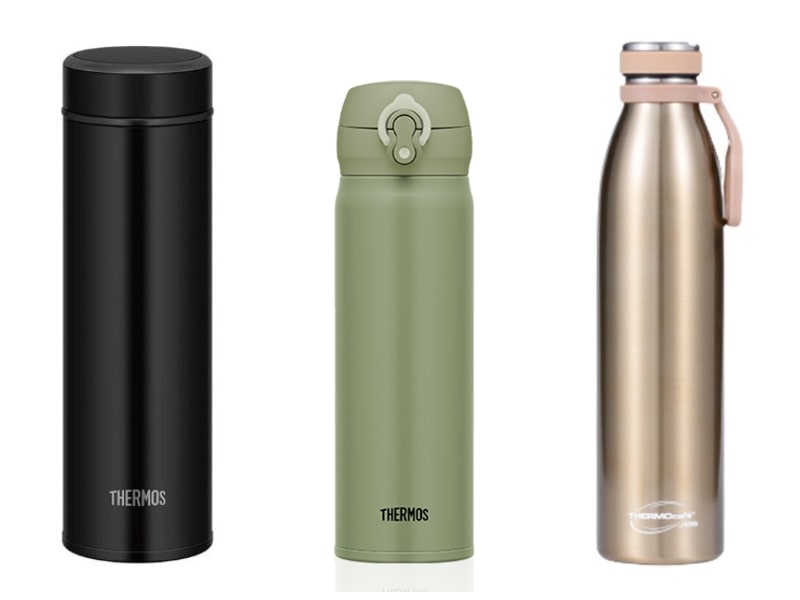 Thermos is a century-old household brand, so it goes without saying that this is one of the best water bottle brands you can find in Malaysia. As a pioneer of the double-wall stainless steel vacuum insulated technology, every Thermos bottle guarantees superior temperature retention performance with exceptional durability.
For everyday use, check out the Thermos Trendy & Lightweight Flask that opens easily with the push of a button. As for sports enthusiasts, the Thermos Hydration Sport Bottle can contain 1.5L of your favourite beverage and withstand outdoor rigours thanks to the rubber bottom and protective pouch.
5. EPLAS
EPLAS is a good local brand to look to if you're searching for a hiking water bottle. Its lightweight Tritan (BPA-free plastic) drinking bottles are able to hold beverages up to 100 degree Celcius and won't be as heavy to lug uphill as stainless steel flasks. Popular picks include the Modern Water Bottle, which comes with a handle and screw cap, as well as the ultra-slim Memo Water Bottle that slips easily into backpacks.
Related: Hitting The Trail For The First Time? Here's A Beginner's Guide To Hiking In Malaysia
6. Stanley
Stanley stands among the best water bottle makers in the world, with over 100 years of legacy in producing high-quality thermal drinkware. With sustainability at the core of what they do, Stanley's tough-as-nails tumblers, travel mugs, and bottles last for years, whether it's for your work days, road trips, or outdoor adventures.
Into iced coffee or highballs? The innovative design of the STANLEY Adventure Quencher Tumbler will keep your hands dry from condensation. Frequent traveller? You might just appreciate the STANLEY Go Vacuum Bottle Stainless Steel for its petite size and the carry loop that hangs easily on travel backpacks.
7. AquaFlask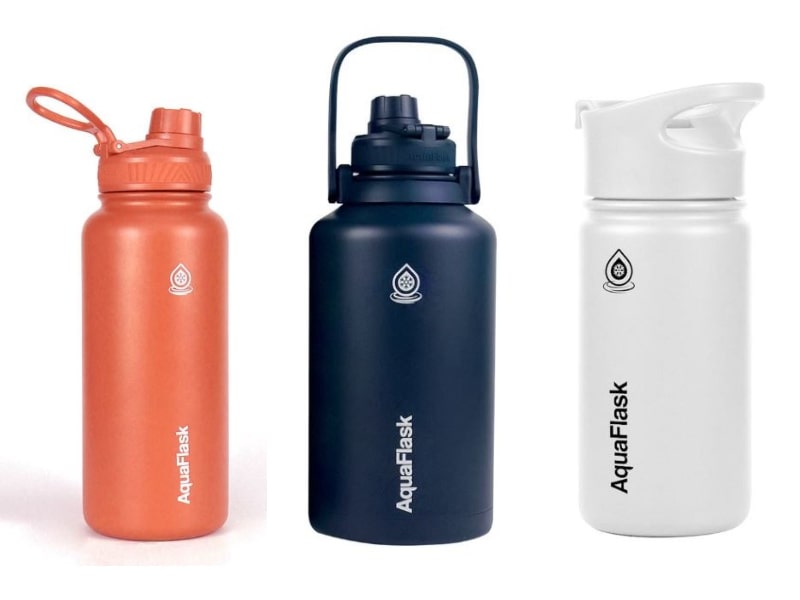 An emerging best-seller among water bottle brands in Malaysia is AquaFlask, and like most stainless steel flasks, it engineers its own version of the double-wall insulation called ThermoGuard Technology. As a result, drinks stay cold for 24 hours and hot for eight hours. Choose from 14oz to 64oz water bottles; every size comes in a range of striking monotone colours and a one-year warranty for peace of mind.
8. Diller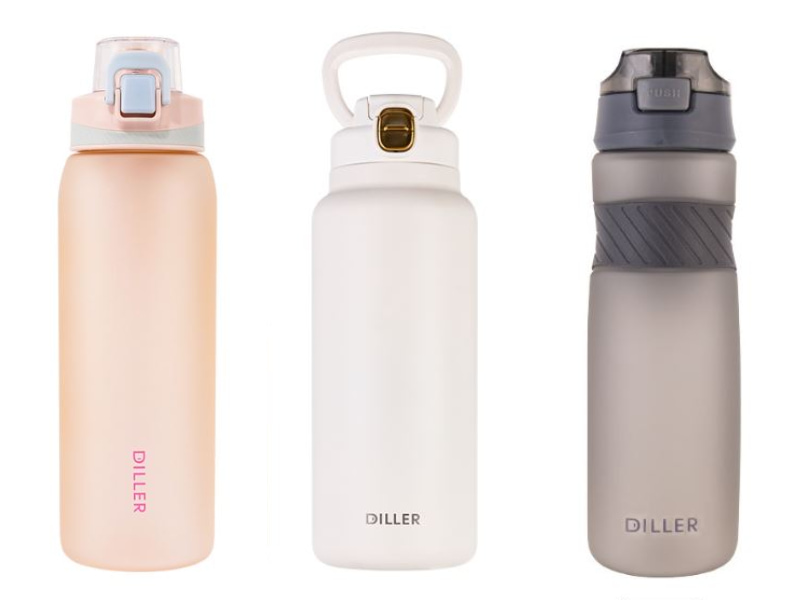 Looking for water bottles for the entire family? From children's sippy cups to adult's sports bottles, Diller's leak-proof drinkware comes in all shapes, sizes, and colours. They're also safe for the whole family to use and durable for years to come, as they're made of BPA-free Tritan.
One of Diller's best water bottles that you should consider carting out is the multi-sized Direct Drink Titan Water Bottle. It's equipped with a tea filter, button-release cap, drinking spout, and hidden handle, all of which are great features to have for kids and adults.
9. FJbottle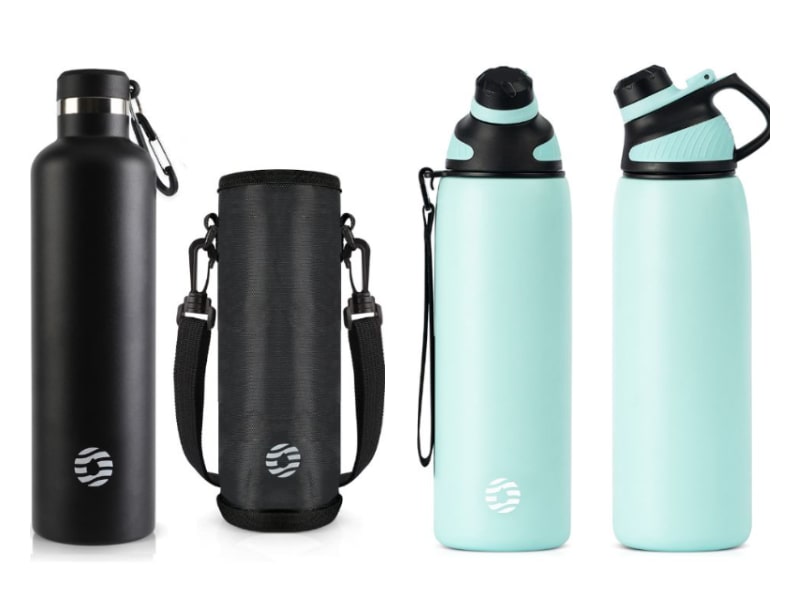 FJbottle is one of the best water bottle brands in Malaysia if you're looking for a robust drinking vessel to take along to the gym or on your outdoor adventures. What's unique is that FJbottle's best-selling stainless steel bottles come with a variety of lids, including narrow-mouthed or spouted lids, handled lids, and button-release lids. Save for the spouted lid bottle, the rest include a carry pouch so you can sling on the bottle and go.
Related: 9 Affordable Women's Activewear Brands In Malaysia For Chic & Comfy Gym Outfits
10. MUJI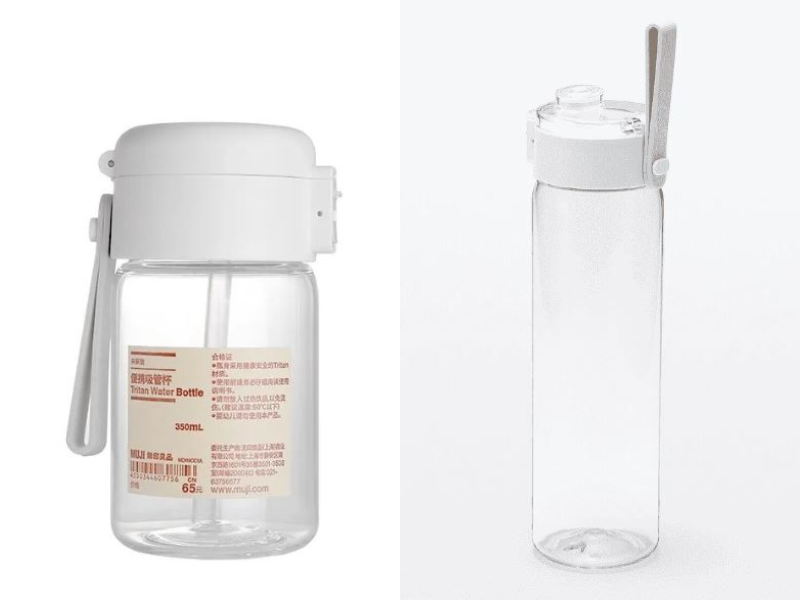 Amid the coloured water bottles, isn't it refreshing to see a minimalist one on this list? That's why we've included MUJI as one of the best water bottle brands in Malaysia. Its Clear Travel Bottle, which comes in three sizes, has a functional strap and a push-button lid that's easy to handle with one hand. There's also the mini straw version that's ideal for toddlers. Do note, however, that both of these bottles are suitable for tepid or room temperature beverages only.
Hit Your Hydration Goals With The

Best Water Bottle

Brands

In

Malaysia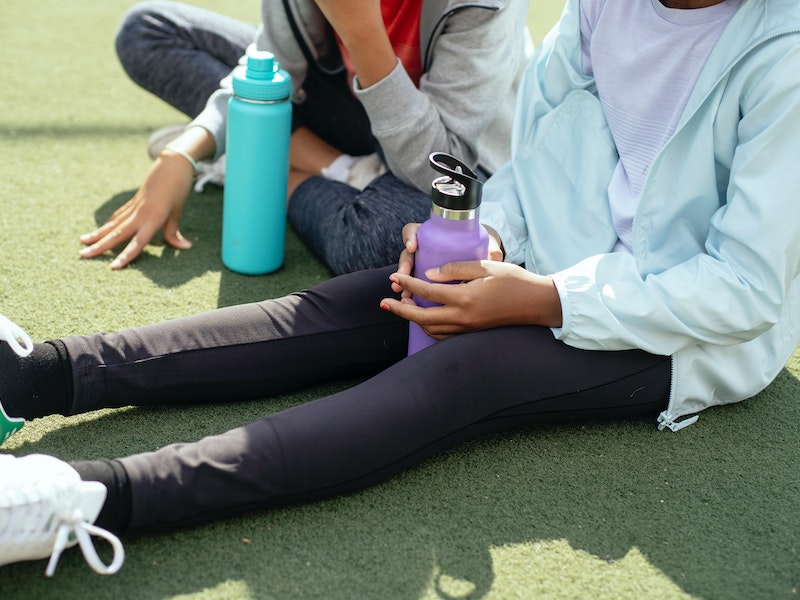 These best water bottle brands in Malaysia are built to last, but a deep clean can help maintain the bottle's hygiene, as well as prevent unpleasant odours and the growth of bacteria. To do so, mix one part white distilled vinegar (or 1 tablespoon of baking soda) with four parts water in your bottle. Shake the bottle vigorously to ensure the solution reaches all areas, then let sit for 10 minutes. Use a bottle brush to scrub the interior of the bottle, then rinse a couple of times to ensure the vinegar scent is fully flushed out. Soak the cap, straw, and other parts of the bottle with the same solution and clean them the same way.
Now that you've got the bottle, you'll need the beverage. How about the best water dispensers in Malaysia for clean, purified water? Otherwise, a good home coffee machine for under RM1,000 can make you a good brew before you head out in the morning.
Cover photo courtesy of Ketut Subiyanto via Pexels.