Whether you're a casual baker or someone on the cusp of starting your own micro-bakery, the oven is an important part of your baking equipment arsenal. After all, it's what you use to bring everything together. But like most common kitchen appliances, the market is saturated with one too many options. We've picked the best ovens for baking in Malaysia, separating them into categories so you'll find one that suits your baking needs and aspirations. 
Best Oven For Baking In Malaysia

: For The Casual Baker
If you're just baking to destress or share small batches with loved ones, these wallet-friendly options should have all you need to do the job and then some.
1. Khind Electric Oven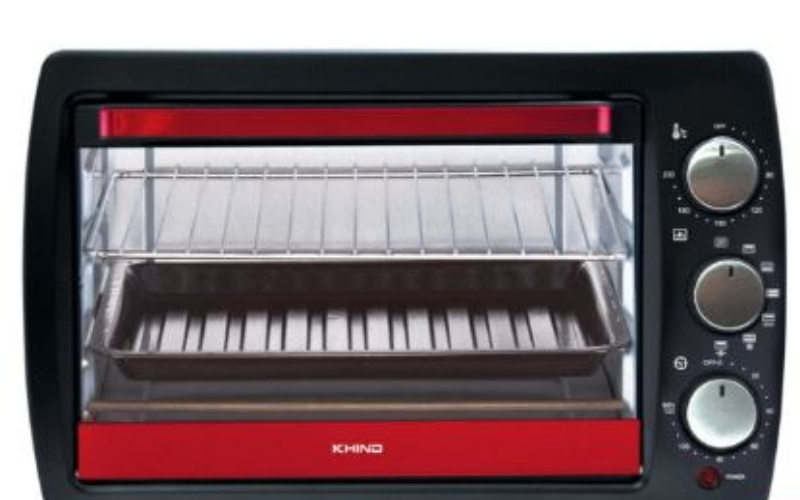 For one of the best baking ovens in Malaysia that money can buy, look to Khind. Known for its range of affordable household appliances that also include air fryers and pressure cookers, the Malaysian brand's electric oven is equipped with practical features such as a bell timer and a four-heat regulator. The roomy 26-litre capacity is enough for stacking cookie trays and heating up pies, so you don't have to worry about squeezing.
Power: 1500W
Capacity: 26 litres
Weight: 8.3kg
Dimension: 447 x 340 x 315mm
Accessories: Baking tray, baking rack, tray handle
2. Xiaomi Mijia Smart Oven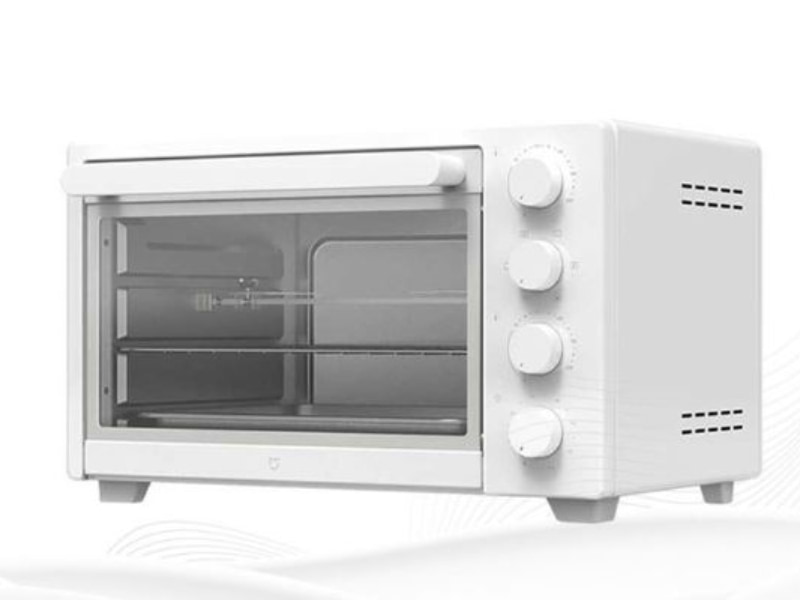 Xiaomi makes some of the innovative—and most affordable—smart devices for daily use. And like its steam iron and water dispenser, the Mijia Smart Oven's features are programmed for efficiency. The smart heating system provides consistent power, so your creations are baked to perfection every time. And the Independent Temperature Control provides customisable circular air flow controls for different recipes like egg tarts and doughnuts. Don't worry about this oven looking clunky in your kitchen; the pristine white colourway is sleek and understated in a minimalist manner. 
Power: 1600W
Capacity: 32 litres
Weight: 6.7kg
Dimension: 507 x 382 x 308mm
Accessories: Wire rack, baking tray
Related: 8 Xiaomi Smart Home Devices That Are Super Useful To Have In Your House
3. MORGAN Electric Oven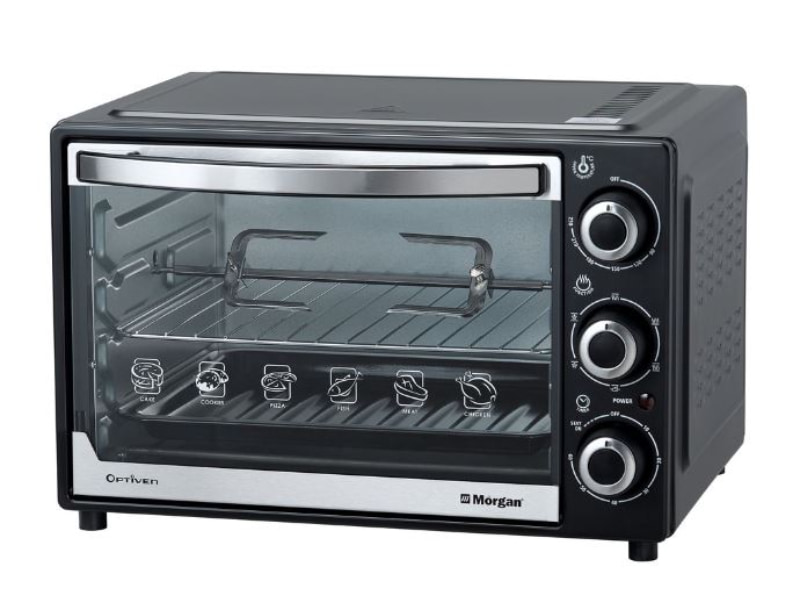 Suitable for those with a budget, this introductory model packs a slew of functions in a price tag that's just shy of RM200, making it one of the best ovens for baking in Malaysia. The oven's spacious cavity can easily fit a whole cake, a few small pies or plenty of tarts. It also has six cooking functions to cater to different and specific heating requirements. Adding to the convenience, the machine has an interior light that automatically turns on when the door is open.
Power: 1500W
Capacity: 30 litre
Weight: 8.45kg
Dimension: 452 x 375 x 299mm
Accessories: Rotisserie set, wire rack, enamel baking tray, crumb tray, tray handle
4. Russell Taylors Oven Toaster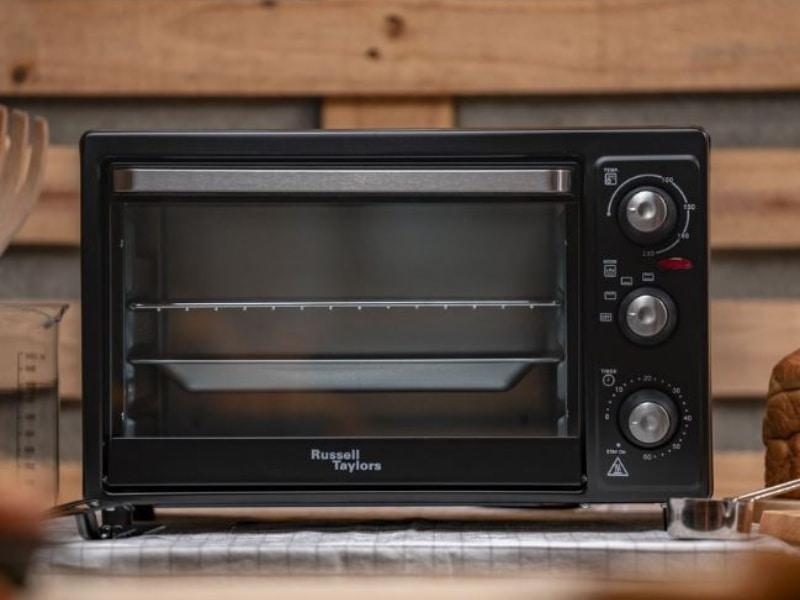 With three different sizes to pick from, Russell Taylors' oven can fit into just about any home from cosy apartments to landed properties. Though the oven is best used for toasting, it also does a relatively good job at baking pastries and cakes. The adjustable racks are a nice touch, allowing you to move closer or further away from the heat source as required. And they slide out with zero resistance so you don't have to worry about accidentally scalding yourself in the process of removing them. 
Power: 2000W
Capacity: 23 litres, 33 litres, 43 litres
Weight: 12kg, 15kg, 22kg
Dimension: 406 x 240 x 276mm
Accessories: Wire rack, baking tray, tray handle
5. Pensonic Vintage Oven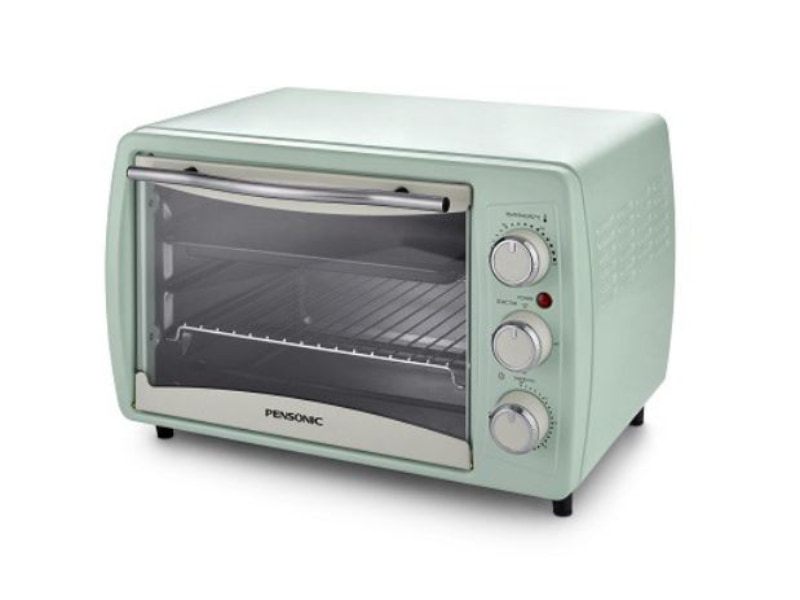 One of the best ovens in Malaysia that looks as well as it performs, this Pensonic model sports a vintage old-style pastel design that resembles the charming looks of the 80s. Beneath the aesthetically-pleasing looks, the cavity is wide enough to fit a standard quarter-sheet tray. And it has a 60-minute timer with a bell ring as well as three stainless steel dial-knobs for easy adjustments. 
Power: 1380W
Capacity: 20 litres
Weight: 4.8kg
Dimension: 441 x 332 x 284mm
Accessories: Bake tray, wire rack, tray
6. MMX Kelen Munoz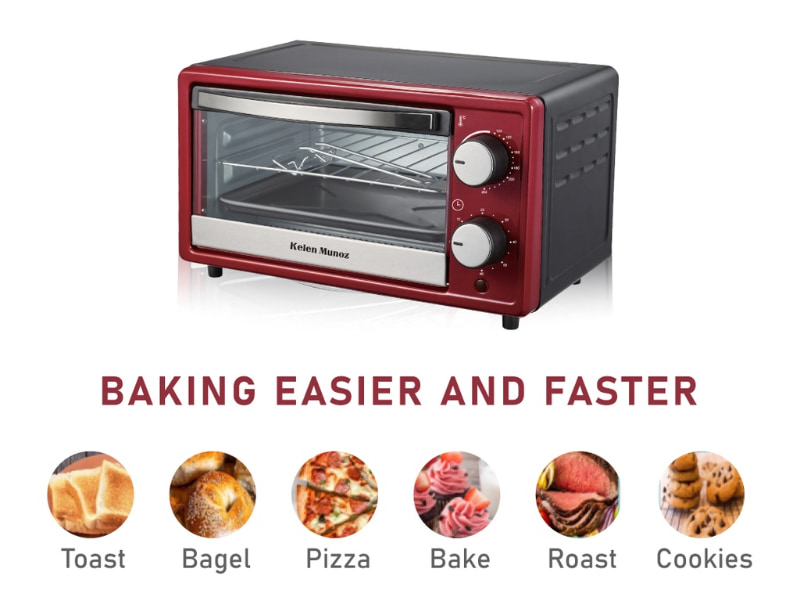 Boasting a fortified steel body with tempered heat-resistant glass panels, the MMX Kelen Munoz is a reliable daily oven for baking and heating up your favourite pastries. Underneath the maroon-black casing is 12 litres worth of oven space, making it suitable for fitting anything from pizzas to small cakes.
Power: 500W
Capacity: 12 litres
Weight: 7.6kg
Dimension: 440 x 320 x 270mm
Accessories: Wire rack, bake tray, tray handle, and recipe book
Best Oven For Baking In Malaysia

: For The Aspiring Home Baker
If you're toying with the idea to scale up your baking operations, consider picking up one of these ovens for higher efficiency.
7. Electrolux 21L UltimateTaste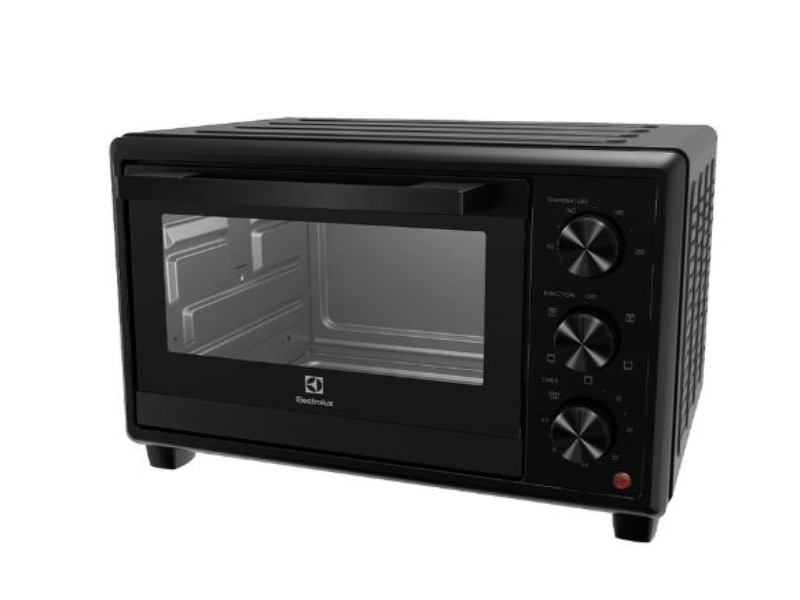 The reasonably-priced Electrolux Ultimate Taste excels at toasting, baking, and grilling thanks to its multi-functional settings. Turn on the desired mode and the temperatures will adjust accordingly for continuous baking if required; just toggle the Stay-On function. What's more, the stainless steel insides aren't susceptible to rusting, which helps to ensure years of reliable usage and ease of cleaning. 
Power: 1500W
Capacity: 21 litres
Weight: 6kg
Dimension: 333 x 456 x 285mm
Accessories: Grilling rack, crumb tray, non-stick baking tray, tray picker
8. ELBA Electric Oven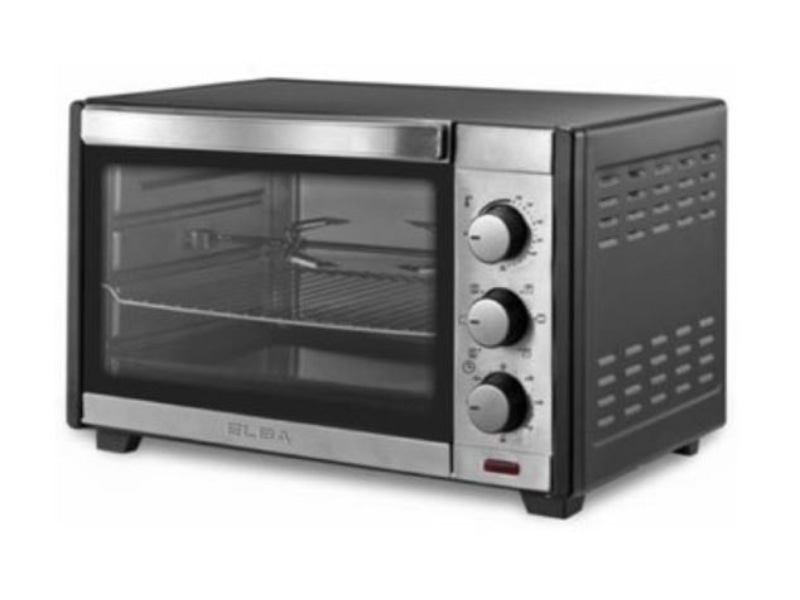 Elba makes some of the best ovens for baking in Malaysia, and this model is no exception. Decked out in sleek muted grey, the large oven has nearly all of the makings of a full-size oven. It has top and bottom heating grills and a built-in convection fan to regulate airflow. The 2000W power output helps to bake in less time than most conventional ovens. And the timer can be set for up to 60 minutes if you're baking something more substantial. 
Power: 2000W
Capacity: 45 litres
Weight: 6.8kg
Dimension: 560 x 340 x 400mm
Accessories: Wire rack, crumb tray, baking trays, tray handle, rotisserie handle
9. The Baker Electric Oven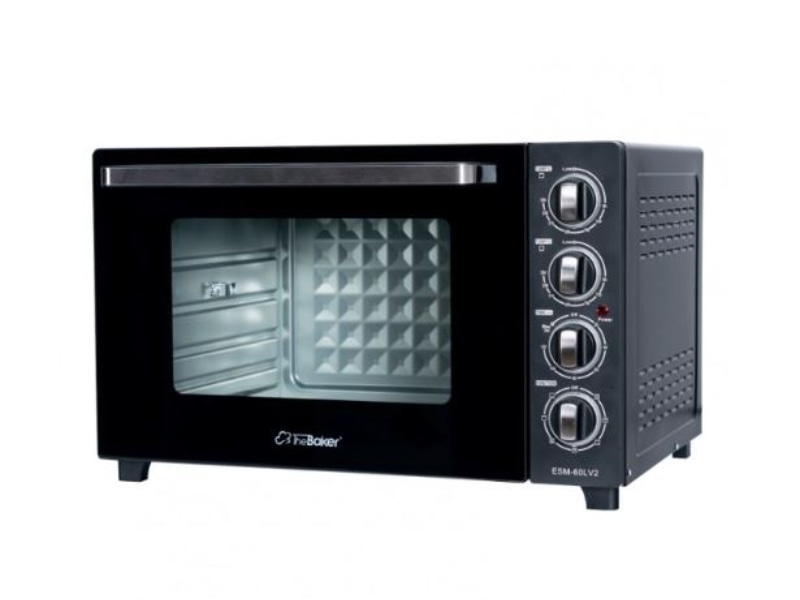 For the size, features, and design this industrial-grade oven offers, you're getting the best bang for your buck. Functionality-wise, it has both timer and stay-on capabilities, glaring interior lights, and a double-layered glass door for added insulation. Whether you're customising a birthday cake or churning out delicate tarts for a house party, this machine will be with you through it all. 
Power: 2000W
Capacity: 60 litres
Weight: 16kg
Dimension: 620 x 420 x 390mm
Accessories: Baking tray, wire rack, crumb tray, rotisserie fork, rotisserie handle
10. Breville Smart Oven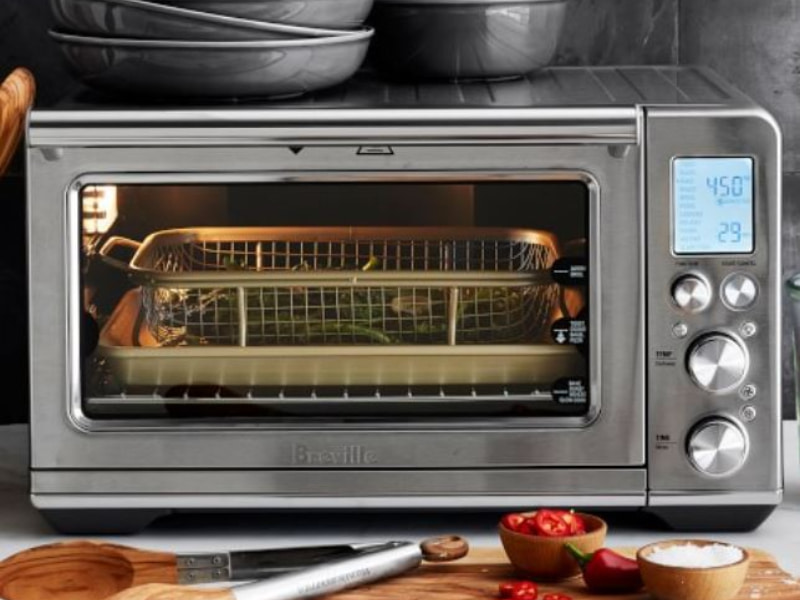 Anything Breville is a splurge. The Australian brand's smart oven will set you back just above two grand, but it's worth the investment if you have an expandable budget. Though it isn't as roomy at 21 litres, it makes up with smart systems to make baking and everything else a breeze. Particularly, the heating system, referred to as "Element IQ", provides consistent and strong power output for a range of cooking techniques. Altogether, this model boasts 10 different preset functions, including a pizza option. 
Power: 2400W
Capacity: 22 litres
Weight: 16kg
Dimension: 403 x 278 x 480mm
Accessories: Air fryer basket, enamel roasting pan, non-stick pizza pan, wire rack, grilling rack
Give Your Baked Goodies A Boost With The

Best Ovens For Baking In Malaysia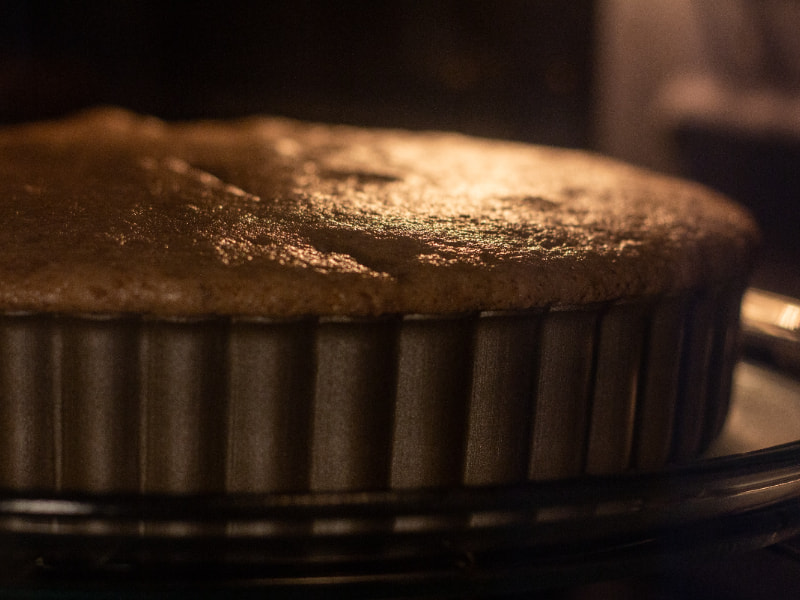 These days, you can get a lot done with countertop ovens (as opposed to built-in ones), offering both casual and serious bakers a quick and flexible way to begin their foray into making cakes, cookies, and the like. We've got more appliance recommendations to spruce up your kitchen: water dispensers, cooker hoods, induction cookers, water dispensers, and home coffee machines.