Did you know that a woman uses somewhere between 5,000 to 15,000 pads and tampons in her lifetime, and that the vast majority of them end up in landfills as plastic waste? As it turns out, our favourite period products have been posing a heavier impact on our environment than we care to know. And if this ballpark figure scares you, consider switching to a more eco-friendly alternative in Malaysia – the menstrual cup. First invented in the 1930s, this sanitary product isn't actually new. But with rising awareness on sustainability, many women today have turned to the handy cup to manage their monthly cycles. It's never too late for you to make the switch, and fortunately, it's not as intimidating to use as you think! Below, we share tried-and-true tips on how to use them and our recommendations for the best menstrual cups in Malaysia.
What Is A Menstrual Cup?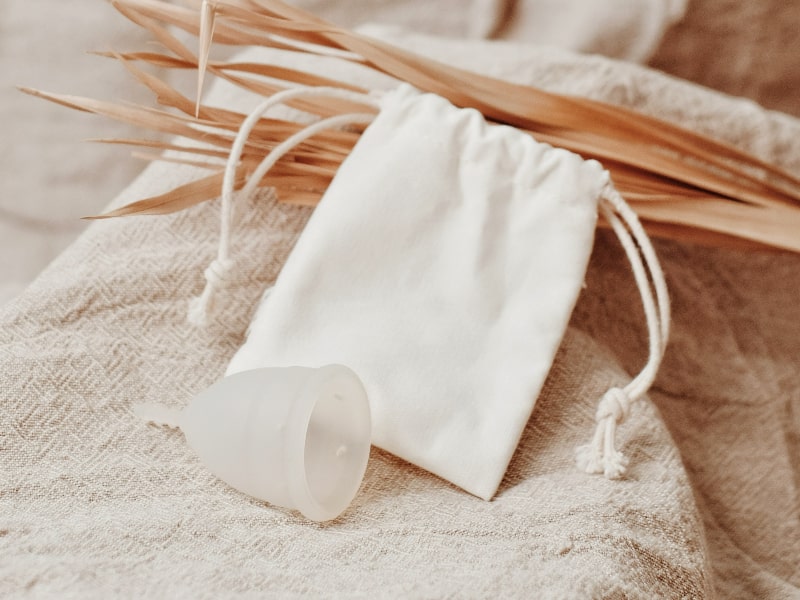 A menstrual cup is a bell-shaped device, with a stem or ring, that's inserted into the vagina to collect menstrual blood. Although it costs more than regular pads and tampons initially, here's why you should consider investing in one:
Made of medical-grade silicone, the menstrual cup is an environmentally-friendly and durable period product.

It's wallet-friendly in the long run, as it can be used for up to

10 years

with proper care.

Depending on your flow, it can be used for up to 12 hours without any 'spillage' during sports (yes, even

swimming

) or while lying down.

It's easy to use, clean, and travel with.

Once you get used to the cup, it doesn't feel like anything at all. That means no icky feeling throughout the day.
Is The Menstrual Cup Available In Malaysia?
Yes! You can find menstrual cups online and in selected pharmacies and supermarkets in Malaysia. In fact, we'll be featuring some of the best menstrual cups in Malaysia just a short scroll down.
How

Do You

Use A Menstrual Cup

?
We're glad you asked. Learning how to use a menstrual cup isn't actually difficult, but the key is to always remain calm. If you're stressed out or anxious, your pelvic floor muscles tense up, making it harder to insert the cup. So take a few deep breaths before moving on to the fold-and-insert method:
Fold the cup down to a smaller size using any method you prefer (refer to video).

While squatting down or standing with one leg up, insert the cup into the vagina. If it's too painful, coat the rim with some water or

water-based lube

to help it slip in easier.

Once inserted, make sure the cup 'pops' back into shape and creates a suction seal. This keeps the cup in place and prevents menstrual blood from seeping out.

To remove, squeeze the base of the cup to 'break' the seal then gently tug on the stem or ring to pull it out.
If inserted properly, you should feel no discomfort at all, although it may take several cycles to figure it all out. In any case, always refer to the product manual for instructions on how best to use the menstrual cup.
How Do I Choose The Best Menstrual Cup?
With so many menstrual cup brands in Malaysia, each with its own sizing, finding one that fits your lady parts best will require some trial and error. Generally, you'll have to take into consideration your age, prior childbirth (if any), cervix height, and how heavy your flow is.
Which

Menstrual Cup Is Best In Malaysia

?
We knew you'd ask. So we've narrowed down five of the best menstrual cups that were conceived and designed right here in Malaysia.
1. The Hivette Cup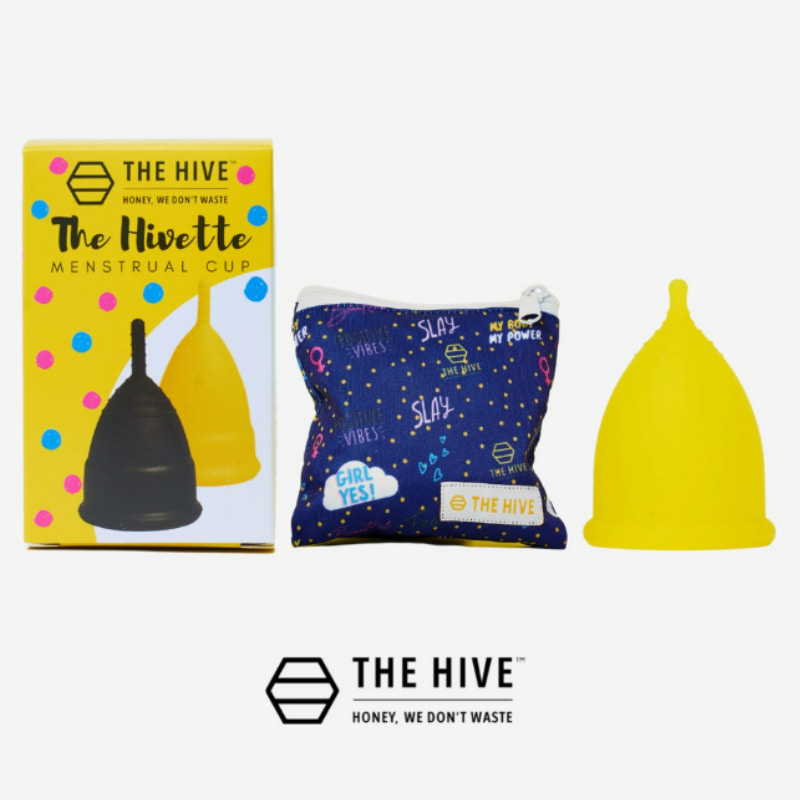 Material: Medical-grade silicone
Sizes: 25ml and 35ml
Includes: Cup, waterproof pouch. Cleanser optional
Introduced by local zero-waste store The Hive back in 2019, The Hivette remains one of the best and most reliable menstrual cups in Malaysia. Made of medical-grade silicone, these black and yellow cups are hypoallergenic and robust enough to withstand a decade of use. And depending on your flow, it can hold up to three tampons' worth of menstrual blood for up to 12 hours. If the cup doesn't fit, The Hive kindly offers a size exchange within 90 days of your purchase.
2. Breeze Cup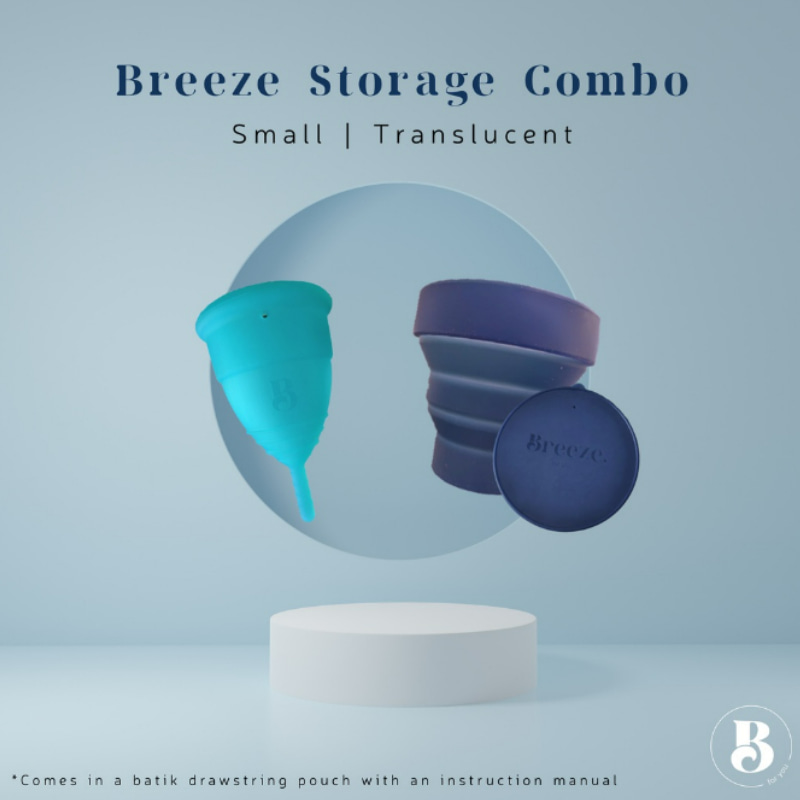 Material: Medical-grade silicone
Sizes: Small (26ml), large (34ml)
Includes: Cup, drawstring pouch. Silicone container, sterilisation tablets optional
If you're not a fan of tampons, The Breeze Cup will ensure you won't have to look back once you get the hang of using it. This extra soft and smooth silicone cup is a breeze to insert and expand, without having to twist and squeeze. It's also 100% tested and proven safe for use in a lady's delicate area. If well taken care of, it can be reused for five to 10 years! For the ultimate convenience on the go, opt for the combo that includes a collapsible silicone container and sterilisation tablets so you can sanitise your cup anywhere in under 10 minutes.
3. Suci Cup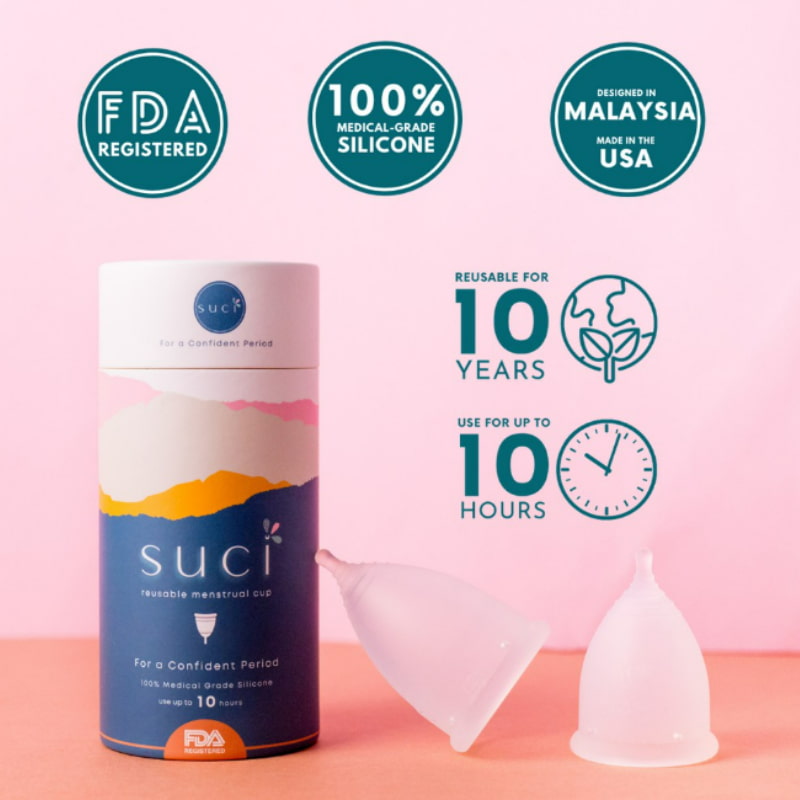 Material: Medical-grade silicone
Sizes: A (25ml), B (40ml)
Includes: Cup, canvas pouch
Another best selling menstrual cup designed in Malaysia is the Suci Cup. This high-quality reusable cup is made of antimicrobial silicone – the same class of materials used to make baby bottle teats and pacifiers – so it's a safe option for any skin type, especially latex-intolerant ones. The soft and flexible cup, coupled with the short stem, ensures a comfortable insertion and fit in your vaginal canal. Although you can use the cup for up to 10 hours, it should ideally be emptied, rinsed, and reinserted two to four times a day.
4. Cherry Cup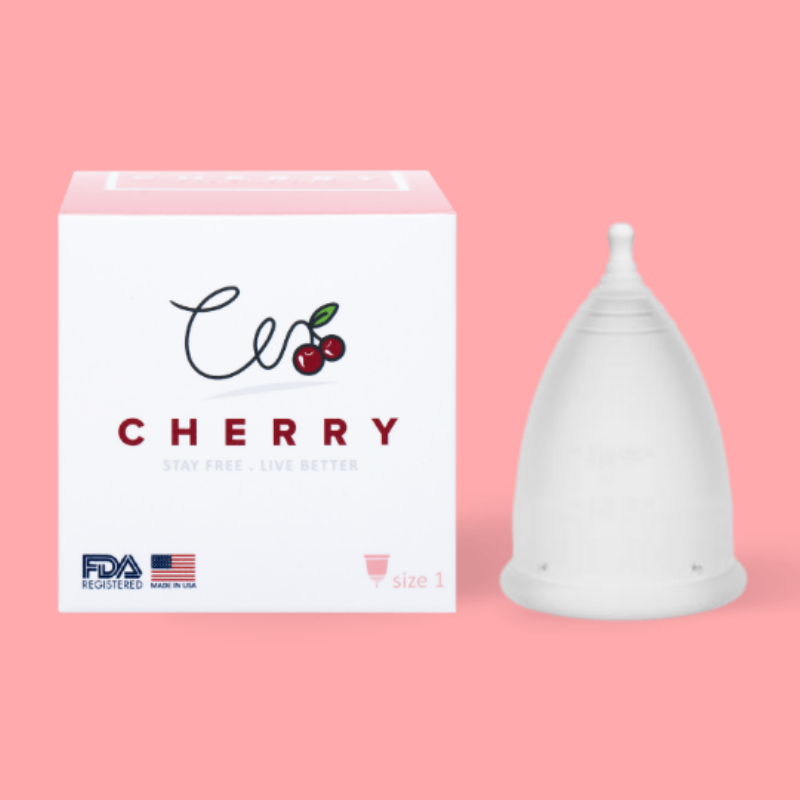 Material: Medical-grade silicone
Sizes: Mini (25ml), Size 1 (30ml), Size 2 (40ml)
Includes: Cup, bag, user manual
Local brand Cherry is another good option to consider for reusable feminine hygiene products. Its USA-imported silicone cup is designed to suit most Asian women, with an elastic rim that helps the cup spring into shape easily when inserted. As it can be comfortably worn for up to 12 hours during travel, exercise, and sleep, it's no wonder nine out of 10 ladies who use the Cherry Cup will never go back to conventional period products. Plus, it comes with a manual so you'll know exactly how to use and care for the menstrual cup. 
5. ButterCup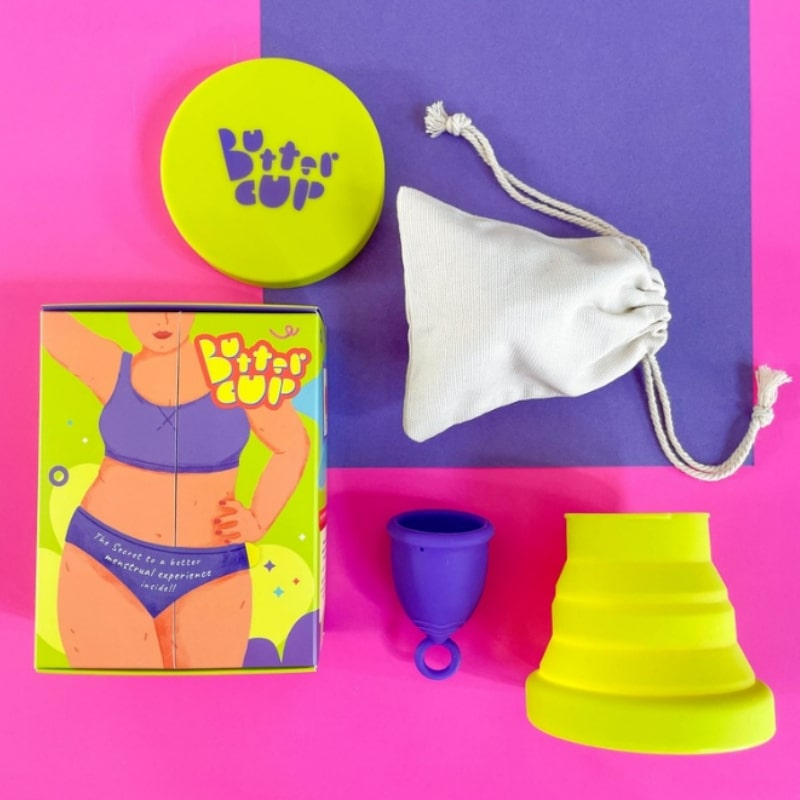 Material: Medical-grade silicone
Sizes: Mini (15ml), M (28ml), L (35ml)
Includes: Cup, cotton pouch. Silicone container, sterilisation tablets optional
Looking to gift the menstrual cup to a friend, or even yourself? The menstrual cup with the best aesthetics in Malaysia goes to ButterCup! Beyond the fun and vibrant packaging, these brightly coloured silicone cups are odourless and hypoallergenic, so they're absolutely safe for ladies. They also feature an innovative ring design, which makes locating and removing the cup that much easier for beginners.  If you're new to the cup, ButterCup recommends practising with the Mini for daily use, then moving on to the M or L cup for periods.
Make These

Best Menstrual Cups In Malaysia

Your BFF During Periods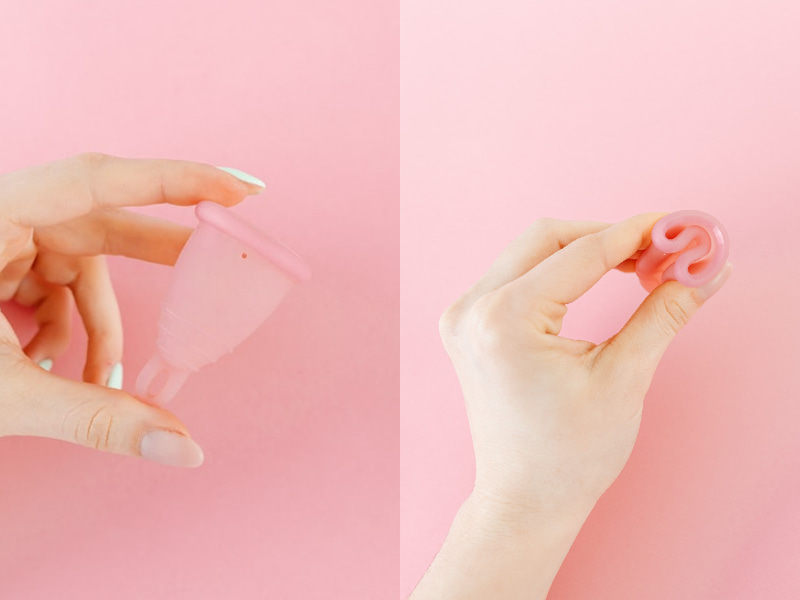 With these best menstrual cups in Malaysia, there's no need to postpone your plans, ladies. You can swim without worries, take a hike without needing to change in between, or practise yoga without worrying that your tampon or pad might shift or leak. Freedom is truly just a cup away!
Related: The 7 Best Pregnancy Tests In Malaysia And How You Should Use Them