With Malaysia's year-long summer, the cool azure waters of the swimming pool can be extremely inviting for kids. While toddlers will settle happily in the wading pool, older kids will want to splash about in the big pool. Either way, it's always a good idea to equip young children with water safety skills and proper swimming techniques so they can properly navigate the waters. This is where swimming classes for kids come in. Apart from learning a life skill, swimming classes are a great way for kids to stay active, build confidence, and meet new friends.
Best

Swimming Classes For Kids

In The Klang Valley
If you think your kid could do with some lessons, here's a shortlist of the seven best swimming classes for kids in the Klang Valley.
Aquabubs Swim School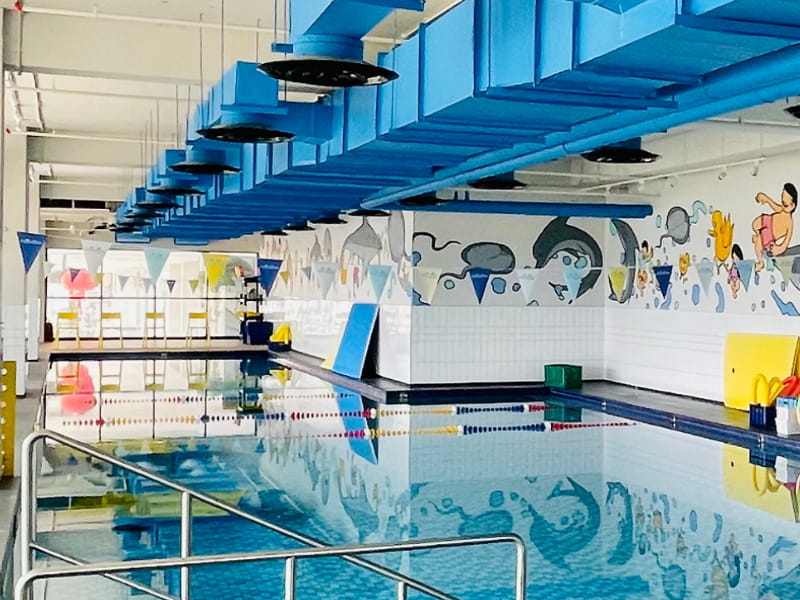 For a gentle approach to swimming, Aquabubs Swim School is as gentle as it gets. The AUSTSWIM-recognised school offers swimming classes for infants and kids in a relaxed and nurturing environment. Even little ones as young as four months can begin to develop water confidence with the help of Aquabubs' friendly instructors. Group classes are generally kept intimate, with lessons carried out in a fun and child-led manner. Private classes are also available on request for more experienced swimmers. In terms of facilities, parents can expect indoor heated pools, waiting and shower areas, as well as on-site parking.
Aquabubs' learn-to-swim programmes:
Baby (4 months – 3.5 years old)

Sharks (3.5 – 6 years old)

Orcas (7 – 10 years old)
Locations:
Bangsar
24, Jalan Liku, Bangsar, 59100 KL
Opening Hours: Wed – Sun, 9.30am – 5pm
KL
G-16 United Point, 10, Jalan Lang Emas, 51200 KL
Opening Hours: Wed – Fri, 12pm – 6pm / Sat – Sun, 9am – 6pm
Contact: 012-488 2472
Website | Facebook | Instagram
BleuFish Swim School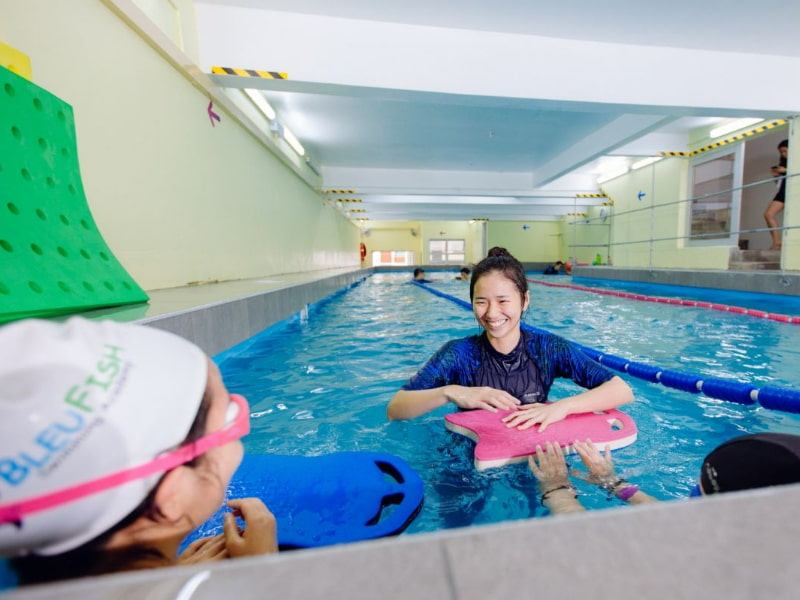 Look up BleuFish Swim School and you'll find that they're often lauded for their fun-loving and enthusiastic coaches. That's because BleuFish's swimming classes for kids are designed to be fun and engaging. This positive learning environment helps children achieve their full potential, which in turn inspires self-esteem, confidence, and character. Parents need not worry as BleuFish's team of swimming teachers are certified by the Malaysia Swimming Teachers' Association and Life Saving Society Malaysia, among others. Apart from the usual amenities, BleuFish centres also house state-of-the-art gym facilities.
BleuFish's kids' swimming classes:
Baby & Me Aquatic Bond Programme  (2 – 3 years old)

Exclusive BFF Learning Programme

Learn To Swim

Programme (4 – 12 years old)
Locations:
Taman OUG
16, Jalan 4/152, Taman Perindustrian OUG, 58200 KL
Opening Hours: Wed – Sun, 9am – 9pm
Putra Heights
32, Jalan Putra Mahkota 7/8E, Putra Point Business Centre, 47650 Putra Heights
Opening Hours: Wed, 5pm – 7pm; Sat, 9am – 12pm; Sun, 9am – 4pm
Contact: 017-358 0656
D Swim Academy
D Swim Academy (DSA) is a mainstay in Malaysia's aquatics industry, with a head office at the Bukit Jalil National Aquatic Centre and multiple branches in the Klang Valley. It's the largest and only Gold Level AUSTSWIM-recognised school in Malaysia, with a track record of producing excellent swimmers over the years. If your kid has dreams to swim competitively, they'll be able to further develop their talents in DSA's elite Swim Squad Programme. But if you want to stick to the basics, DSA also covers junior programmes for babies, kids, and special needs children.
DSA's swimming programmes:
Baby And Me (6 – 48 months old)

Kiddie Swimmers (3 – 4 years old)

Learn To Swim

(5 years old and above)

Swim Squad (7 years old and above)

Special Care Swimmers (5 – 15 years old)
Locations: KL, PJ, Shah Alam, Telok Panglima Garang, Seri Kembangan, Semenyih
Opening Hours: Refer to website
Contact: 1300 222 372
Website | Facebook | Instagram
Finns Boutique Swim Centre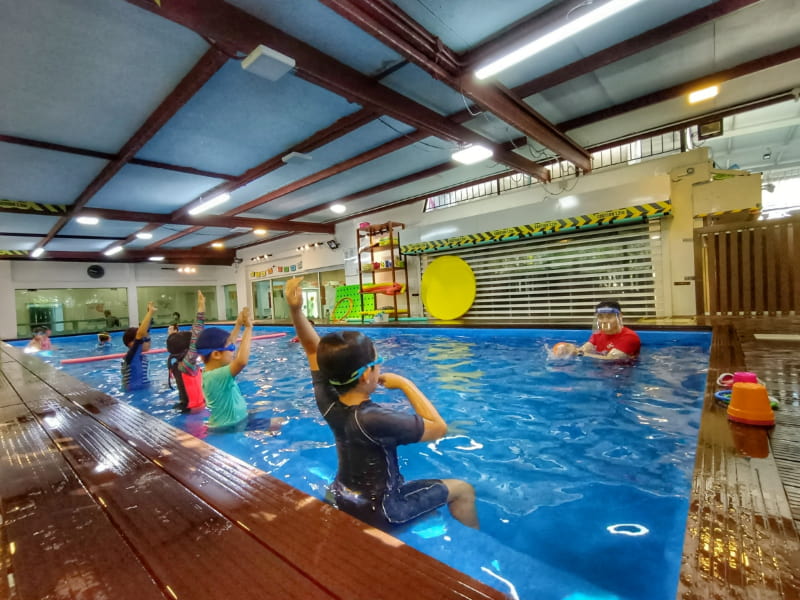 Unlike other learn-to-swim programmes in Malaysia, Finns Boutique Swim Centre employs the JoyLearn Quality Teaching System to help children build confidence in water. Every skill is introduced in its most basic play form, with more explanation added only as learning progresses. This breaks down the learning process into smaller chunks, which means more little wins for your kiddo! Through it all, kids will be gently guided by attentive teachers, who are AUSTSWIM and Swim Schools International (SSI) certified. The kids can also enjoy some fresh air during classes as Finns' custom-built heated pools are outdoors but sheltered.
Locations:
Kuala Lumpur
19, Jalan Damai, 55000 Kuala Lumpur
Contact: 019-282 6329
Subang Jaya
34, Jalan SS19/1D, 47500 Subang Jaya
Contact: 019-221 2329
Opening hours: Tue – Sun, 9am – 6pm
Website | Facebook | Instagram
Happy Fish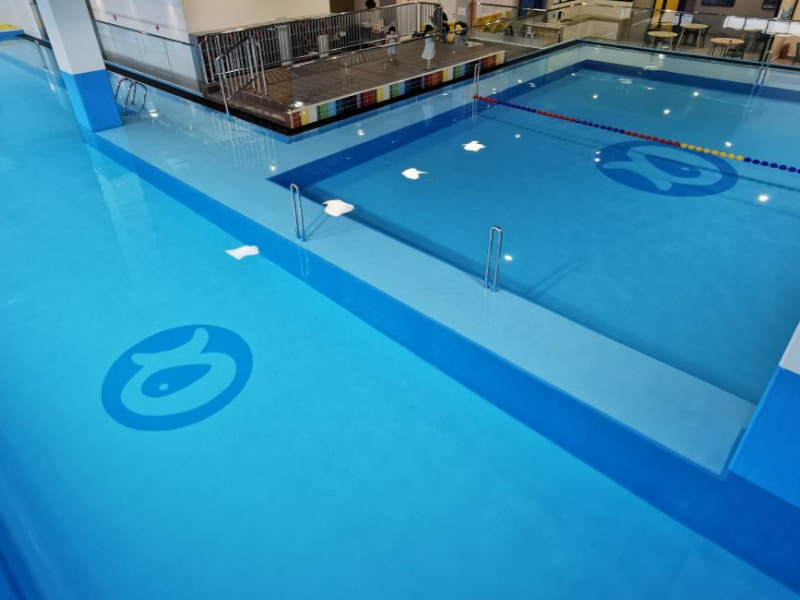 Does Happy Fish sound familiar to you? If it does, it's probably because you've seen one of their five outlets while you were out on the road. What you may not know is that they're actually a leading swim school in Singapore and Malaysia since 2007. Their success is thanks, in part, to their team of dedicated and highly trained instructors who make kids' swimming classes enjoyable. Of course, credit also goes to their comprehensive facilities, in particular the indoor heated pools with state-of-the-art water sanitisation and filtration systems. With the option of group or private lessons, your child can learn to swim with Happy Fish at their own pace.
Happy Fish's swimming lessons:
Baby (4 – 23 months old)

Toddler (2 – 4 years old)

Kid (5 years old and above)
Locations: Mont Kiara, Kota Damansara, Sunway Pyramid, Taman SEA
Contact: 03-9212 9410
Opening hours: Refer to website
Website | Facebook | Instagram
Optimum Train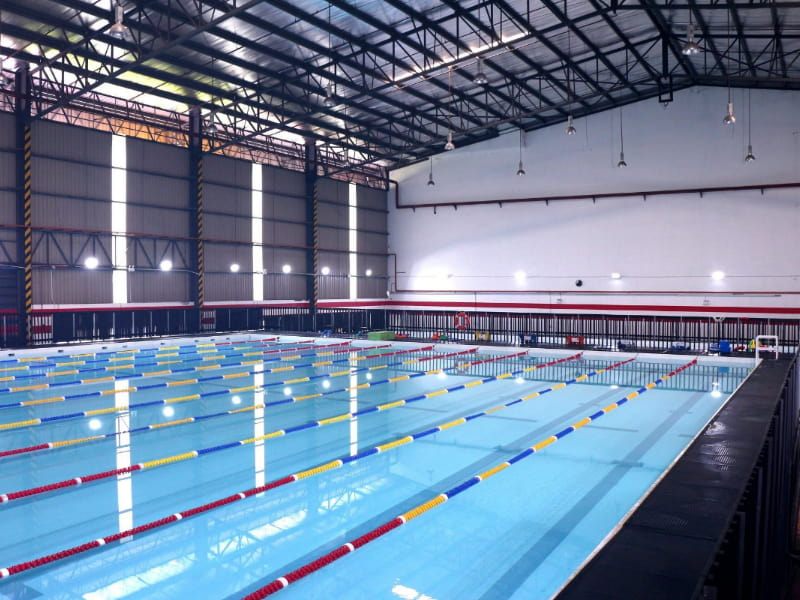 Optimum Train is another stalwart in the industry, with a teaching syllabus recognised by the Amateur Swimming Union of Malaysia. To produce competent swimmers, their experienced instructors prioritise four key areas – water familiarity, water treading, independence, and confidence. This means kids start off swimming for fun and survival, then move on to swimming independently for longer stretches. Regardless of age, all students train in 25m indoor heated pools. They're also offered unlimited free replacement classes for more flexibility.
Optimum Train's swimming classes for kids:
Young Swimmers (3 – 5 years old)

Learn To Swim

(6 – 17 years old)

Pre-Competitive
Locations: Port Klang, Puchong, Klang, Shah Alam, Subang Jaya
Contact: Refer to website
Opening hours:
Tue – Fri, 4pm – 9pm
Sat – Sun, 8am – 7pm
Website | Facebook | Instagram
Splashtastik Swim School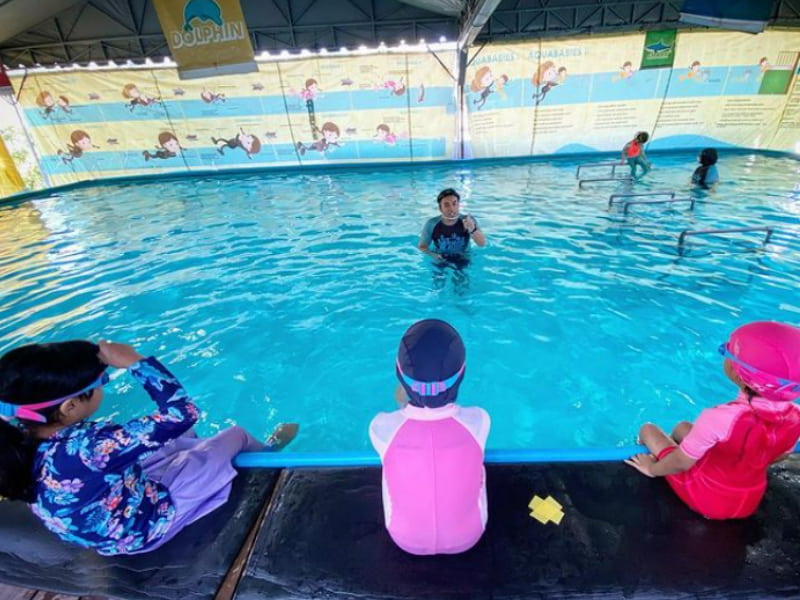 As Splashtastik Swim School believes in consistency, they provide year-round indoor swimming lessons at their aquatic centre in Shah Alam. Their inclusive swim programmes comprise group and private swimming classes for infants, kids, and special needs children, as well as Muslimah-friendly swimming classes for girls. If your kid is adventurous, you can even sign them up for Splashtastik's Discover Snorkeling Programme! All of Splashtastik's classes are kept small, with fun and safe teaching methodologies upheld to SSI standards.
Splashtastik's swimming classes for kids:
Swim4Babies (6 – 35 months old)

Swim4Tots (3 & 4 years old)

Swim4Child (5 – 12 years old)

Swim4Specials (6 months old and up)

Swim4Muslimah (13 years old and above Muslim girls only)

Discover Snorkeling (5 – 12 years old)
Location: Extreme Park Shah Alam, Jalan Lompat Pagar 13/37, 40100 Shah Alam
Contact: 012-381 4184
Opening hours: Daily, 9am – 6pm
Website | Facebook | Instagram
Learn A Life Skill And Make New Friends In

Swimming Classes For Kids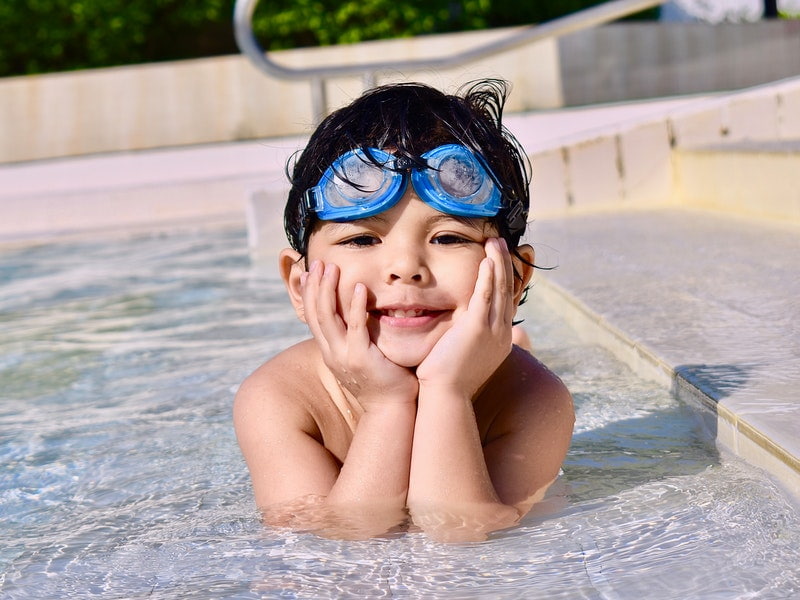 With consistent kids' swimming classes, your child will power through the pool in no time. In the process, they'll also learn valuable life lessons like discipline and perseverance. So it's up to you to choose the right swim school with the right curriculum to meet your child's needs. And don't forget – always keep a close eye on your little one whenever they're in the water!
Why stop at swimming? Keep the fun going (and tire your kid out) at these indoor playgrounds and beautiful parks in KL.