A kitchen isn't complete without a fridge. Heck, a home isn't complete without a fridge. Unless you don't plan to ever have any food in your home, a fridge is a necessity. Almost any fridge will do what you expect it to: preserve your food and keep it fresh. Hence, when narrowing down your choices, it all boils down to your budget, style, and space. To help you out, we list down the best fridge brands in Malaysia, and what to watch out for when making your selection. 
What Are The Different Types Of Fridges?
French door:

The on-trend

refrigerator

design opens outwards as the two doors unveil a spacious, pantry-like layout. The

freezer

is parked in a separate bottom compartment, with either a one-door or two-door configuration. Because of its spacious cavity, the French door is suitable for large families or those looking for more high-end options.

Top freezer:

The classic refrigerator style that's been a mainstay in

kitchens

for decades, the top freezer is a reliable option. Although taller users might find the refrigerator cumbersome to reach, its affordability is worth the slight inconvenience.

Bottom freezer:

Prefer the refrigerator at eye level so you can easily find everything you need? Then the bottom freezer option is the one for you. Generally, bottom configurations have more refrigeration space too. 

Side-by-side

: Not to be confused with the French door, side-by-side models arrange the freezer and fridge next to each other.
The

Best Fridge Brands

In Malaysia For Every Home And Budget
1. LG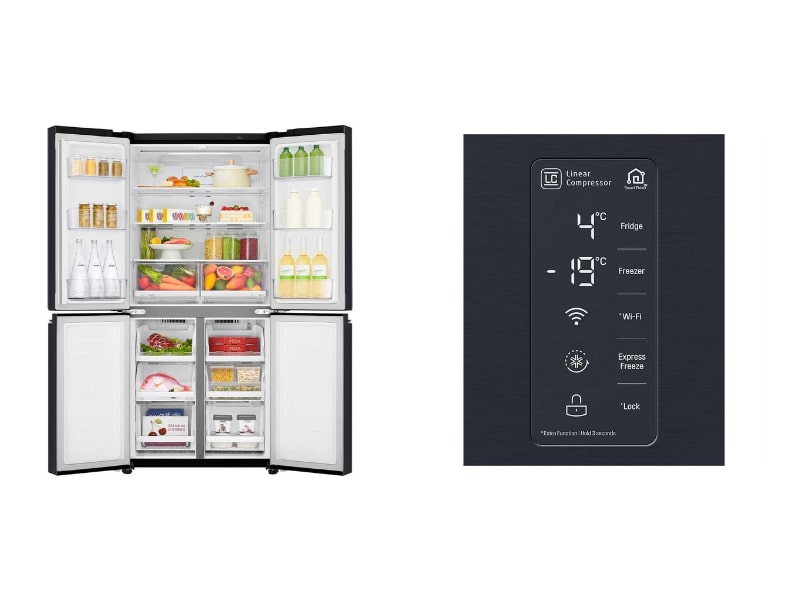 Widely regarded as one of the best fridge brands globally, LG's cooling units are easily on par with the company's TVs and soundbars. Their offerings apply to all budgets ranging from premium units with state-of-the-art features to basic, reasonably priced options. 
Splurge: If you want to splurge on a high-tech fridge, the GC-B22FTQPL is a solid choice. A French door model, it's coated with a stylish matte black finish, an inverter linear compressor, and a dedicated built-in app feature for you to control the fridge with your smartphone. 
Save: For a budget-conscious choice, check out the GN-B272SQCB. The mid-tier fridge has a stainless steel finish and many useful bells and whistles, including a deodoriser and an ice maker.
2. Toshiba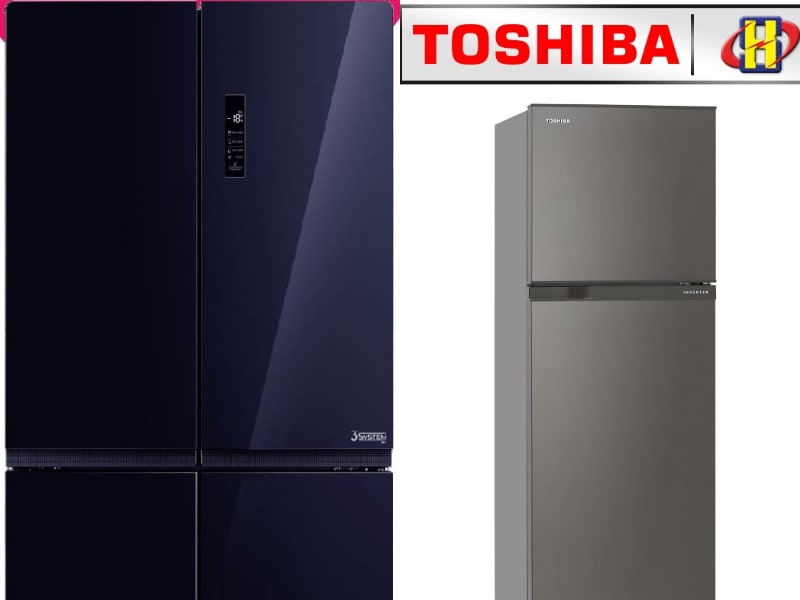 Japan's Toshiba manufactures a variety of large kitchen appliances, including fridges that come in varying styles, sizes, and price tags. As one of the best fridge brands in the market, Toshiba is known for its quality, which is important since you typically invest a sizeable amount of money in a new fridge. You won't want it breaking down in a year or two, that's for sure!
Splurge: Whether you're looking for sleek French doors, a pair of side-by-side doors, a top freezer, or a bottom freezer, Toshiba has got you covered. Their line of French door models—like the GR-RF646WE-PGY—are the priciest, but they also have some really advanced features, including the Convert Zone that expands fridge capacity by 15%, 26 compartments, and an alloy cooling feature. 
Save: Not looking to spend a fortune? Then check out the GR-A28MS. Featuring a smudge-free stainless steel finish, it also has a spacious 12-litre vegetable compartment and adjustable door pockets. 
3. Hisense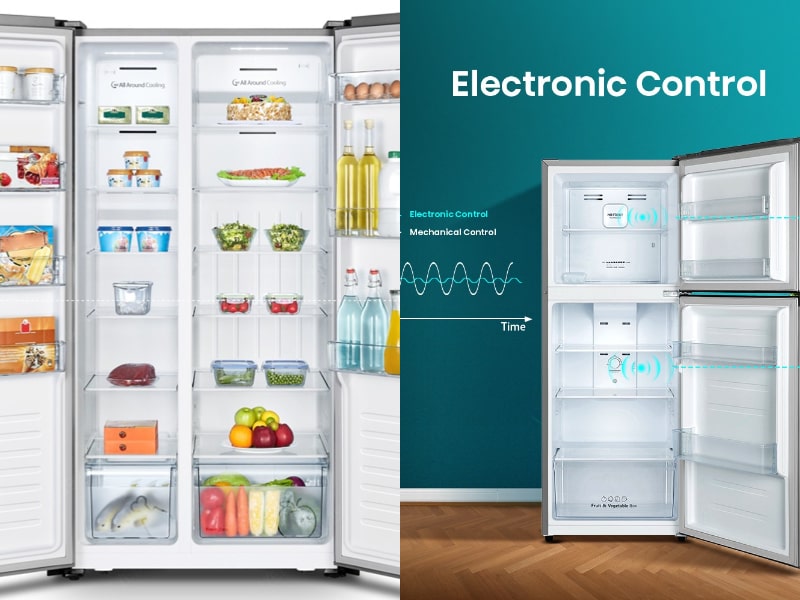 A Hisense fridge can do no wrong if you prioritise reliability and spaciousness. The brand's fridges are competitively priced while having massive doors and storage spaces, making it one of the best fridge brands for large families. That said, it also has single-door variants for those on a budget or couples who don't require extra space.
Splurge: Check out the RS666N4AC1 if you're shopping for a roomy side-by-side option. Sporting a classic silver chrome exterior with multiple compartments, you won't have to worry about defrosting because it automatically circulates cool air to prevent ice crystallisation. 
Save: Prefer something more compact? Hisense's best-selling, no-frills RT256N4CGN ticks all the right boxes. There's an ice maker, an electronic control panel, and an ergonomic build that fits perfectly into any kitchen corner. 
4. Panasonic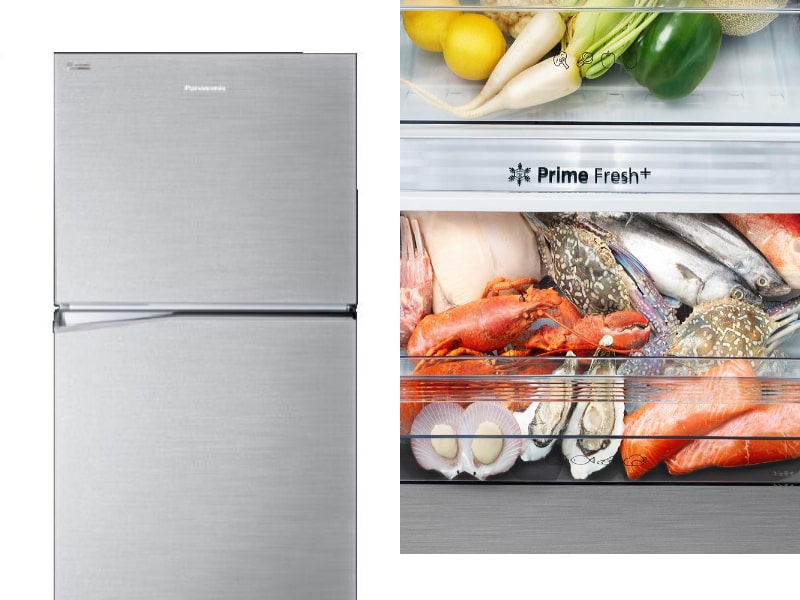 Count on heritage electronics maker Panasonic for modern fridges with great features. But notably, the top freezer and bottom freezer options are some of the best fridges in Malaysia. They all have spacious interiors, adjustable storage, and contemporary doors. 
Splurge: One of the best options is the NR-BX471CPSM. Features are largely similar to the aforementioned fridge, except that it's more energy efficient. 
Save: The other model worth considering is the NR-BL342VS. Suitable for both families and couples, it comes with easy access to food staples, vegetables, and fruits thanks to wide drawers and sections. Besides, it disperses silver ions in the air to filter and remove mould and bacteria growth. 
5. Samsung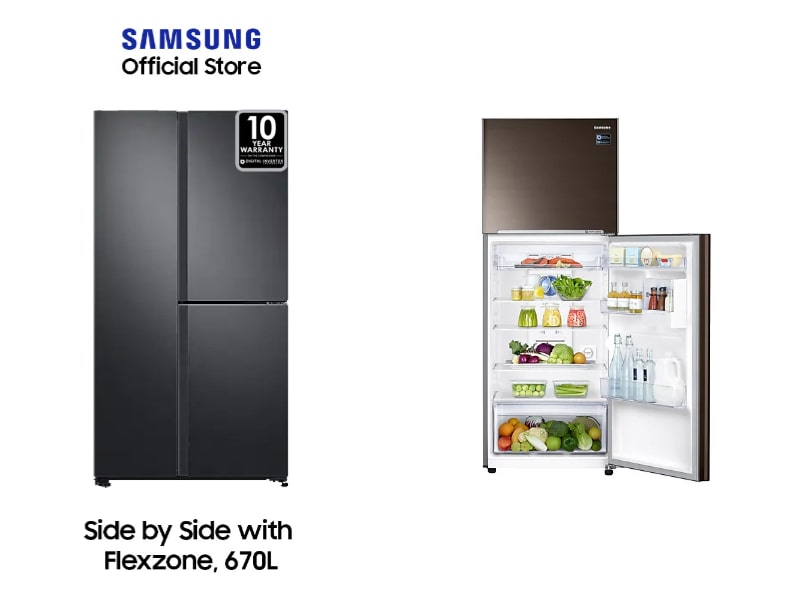 Like its functional tablets, washing machines, and smartphones, Samsung makes some of the best fridges in Malaysia. In addition to functionality, the company also ensures that its fridges are stylish.
Splurge: If your budget permits, the RS63R5591B4 is worth the investment. It has a dedicated FlexZone compartment with four pre-set temperature settings, allowing you to store different foods and items at optimal temperatures. Urgently need a cold drink to temper the heat? At the touch of a button, the Power Cool feature blasts freezing air to bring the temperature down.  
Save: Another quality pick by Samsung is the RT38K5062DX top freezer. This mid-tier fridge has everything you need in a kitchen workhorse: durability, sleek design, and adequate storage for all your day-to-day needs. 
6. Sharp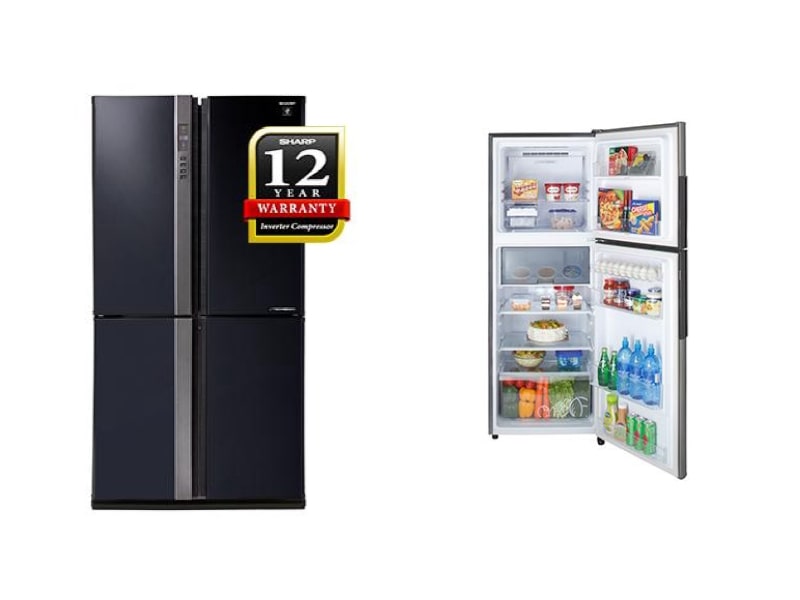 It isn't surprising that Sharp is recognised as one of the best fridge brands in Malaysia. After all, the brand also manufactures other household appliances and electronics such as juicers, microwave ovens, and TVs. 
Splurge: There is a myriad of cooling options, but starting with larger fridges, the SJF858VMBK is a good pick. Available in two colours, it's a side-by-side model with quick freezing and quick cooling features, including a nifty LED touchscreen panel. 
Save: But if you just need a fridge to chill your goods without the niceties, check out the SJ366MSS top freezer variant. It has specialised food compartments, an auto ice maker, and a deodoriser to keep everything smelling fresh. 
7. SMEG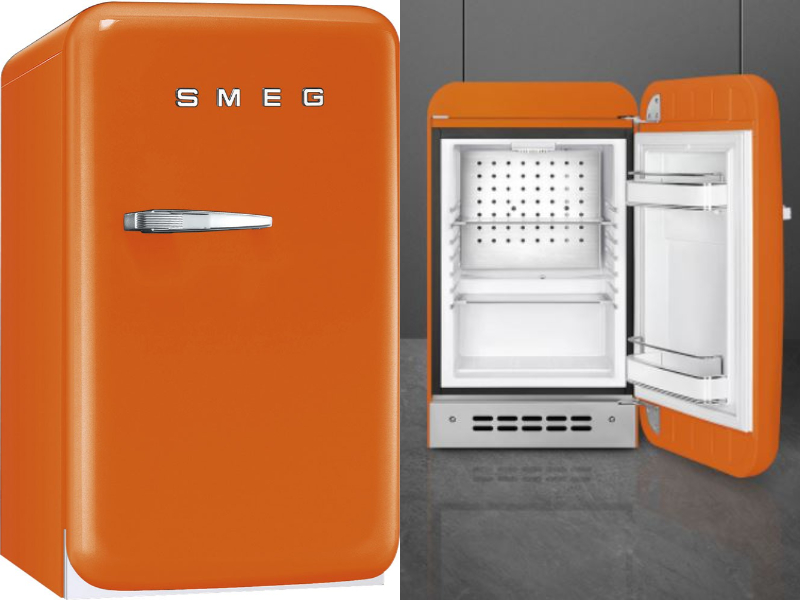 Boasting signature vintage styles worthy of magazine spreads, SMEG appliances are as recognisable and stylish as they are functional. The fridges, in particular, have huge doors hiding spacious interiors to accommodate items of varying sizes, stuffing anything from wine bottles to food containers.
Splurge: If you're going to buy a SMEG, you're splurging. The Italian brand's premium aesthetic comes with a hefty price tag. But if your budget allows, it'll make for a statement kitchen piece for years to come. Decked out in a myriad of eye-catching shades (the orange looks stellar), the best-selling single-door cooler has two adjustable internal storage shelves and a bright LED illuminator for nights when you're foraging for a snack.
8. Electrolux 
Swedish electronics giant Electrolux is one of the best fridge brands in the world. Boasting first-class technology for guaranteed freshness and consistent temperature control, Electrolux fridges are made to last, provided you give them the care and maintenance that's required.
Save: Sporting an unstated, almost washed-out beige colourway, the Ultimate Taste 300 is all about ensuring your precious produce is crisp and garden-fresh. It maintains a stable -2°C temperature to keep meat and seafood fresh without freezing. What's more, the stringent temperature control settings also apply within individual shelves, so no matter where your items are kept, they're receiving sufficient cooling.
Splurge: A step-up from the 300, the stocky 700 is packed rich with features that justify the price tag. It has multiple compartments for items of all sizes, a deodoriser that eliminates up to 99% of nasty pollutants, and carbon filters that remove unwanted smells, among others.
9. Xiaomi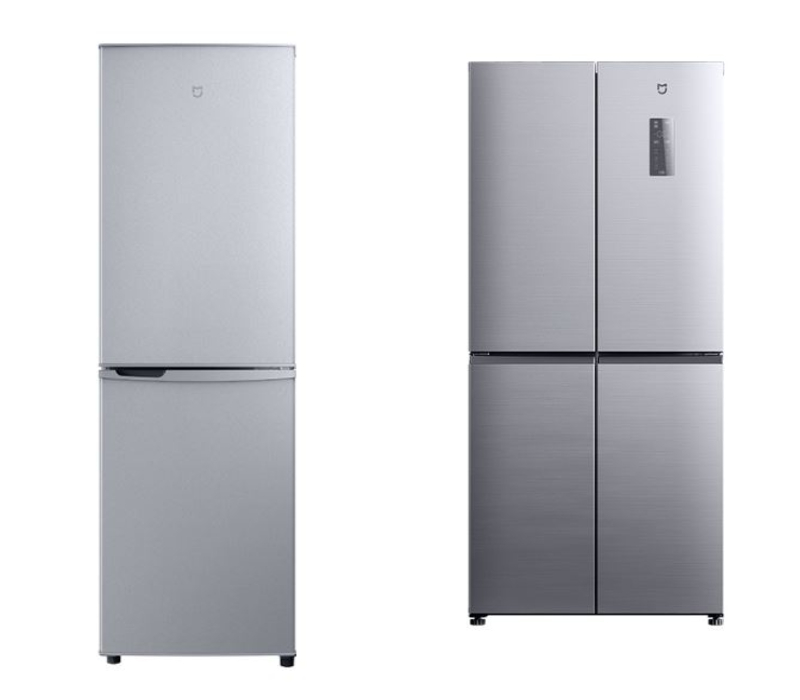 What does the Chinese tech conglomerate Xiaomi not make? Probably not a whole lot. It has phones, steam irons, robot vacuums, water dispensers, air purifiers, and now, futuristic fridges in the mix.
Save: Affordably priced like all Xiaomi-branded appliances, the Mijia 2-Door Refrigerator costs less than a smartphone. And just like all Xiaomi-branded appliances, it doesn't skim on features either. There are seven temperature settings to choose from, adequate compartments, a crisper drawer for easy storage, and a freezer unit.
Splurge: Designed to be an intuitive smart home device, the 4-Door alternative proves to be a worthy upgrade if you want to sync up your appliances through an integrated app. But even if you strip off the cloud synchronisation capabilities, the industrial-inspired model is a great fridge. The 3D-surround cooling creates a loop of chill air that permeates every corner, while antibacterial filters keep germs at bay. Fridges are known for their energy appetite, but the Mijia mitigates it with consumption as low as 0.83 kilowatt-hours of electricity per day while also achieving a running noise of 38dB low noise.
Keep Your Food Fresh With These

Best Fridge Brands

In Malaysia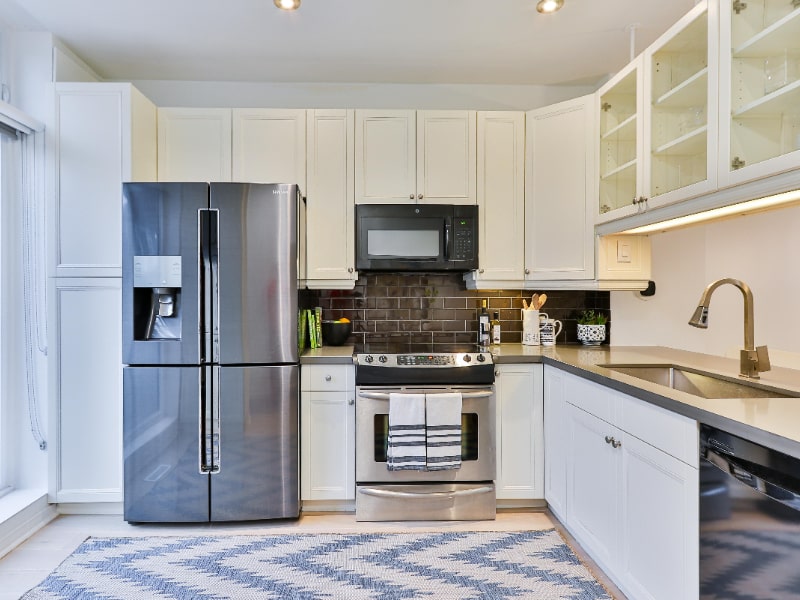 The fridge is akin to the wheels that keep the family engine running. Think about it, everything about food revolves around the fridge. That's why getting a fridge is kind of a big deal. There are tons of factors to consider; from space to budget, it can get overwhelming. With this guide, we hope that you'll find one that will stand steady in your family for years to come.
For more recommendations on reliable home appliances worth spending on, check out our other best-of lists on steam irons, cordless vacuum cleaners, and standing fans.