The first few months of your baby's life can be stressful and worrying. You might be tempted to take a peek at your snoozing baby while catching up on Netflix. Or keep an ear out for your baby's cries while you're catching some ZZZs. But with baby monitors today, having eyes on your little one has never been easier. Like a little sentinel, it gives you an audio or visual glimpse of the crib or the entire nursery, with some offering sleep stats, movement detection, or temperature reading. So how do you determine what's the best baby monitor in Malaysia for your family? We're breaking down the what's what of baby monitors as well as our top picks, so you can make the best choice.
Features To Look Out For When Choosing The

Best Baby Monitor
Audio or video? Local radio frequency or Wi-Fi? Movement detection or without? Ultimately, the best baby monitor for you is the one that fits your parenting style and needs. Here are the most common features of baby monitors, so you can determine what's essential for yours.
Type
Generally, there are three types of baby monitors:
The bare bones

audio-only monitor

that allows you to listen in to your baby's coos and cries.

A

video monitor

that provides audio and live video feed, so you can watch your baby at all times.

A

baby movement monitor

that's essentially a video monitor equipped with sensors to detect any movement in the crib.
Display
Some video monitors come with a separate screen (aka parent unit) that varies in size and resolution. Others do away with the parent unit and require a mobile app to view the live feed. 
Range
Typically, audio-only monitors and video monitors with a parent unit are connected via local radio frequency (RF). Video monitors paired with apps stay connected via WiFi.
For monitors that operate on RF, you'll need to keep in mind the range of transmission in relation to the size of your house. This won't be an issue with WiFi-enabled monitors, although having a strong internet line is vital.
Battery Life
If you won't be able to keep the monitor plugged into a power source at all times, a longer battery life is ideal.
Remote View Adjustment
Basically, the ability for the camera to zoom, tilt, and pan as you control it through the parent unit or mobile app. This will enable you to see your baby better as well as the rest of the nursery.
Talk-Back
The talk-back feature is great for when you'd like to soothe or speak to your baby without entering the room.
Wireless Encryption
For WiFi-enabled monitors, wireless encryption ensures no one outside the home can tap into your monitor's feed to see what's going on in your house. If you do use one, make sure to secure your home wireless network with a password and keep the monitor's firmware updated.
For non-WiFi-enabled monitors, a 2.4 GHz FHSS transmission helps reduce interference and avoid interception.
Special Features
Apart from providing visuals, some baby monitors can also detect temperature, movement, or your baby's vitals.
The

Best Baby Monitors

In

Malaysia
Now that you know what you need, here are six of the best baby monitors in Malaysia, as well as their respective reviews, for you to consider.
Note: Prices of baby monitors are accurate at the time of writing.
Two-Way Baby Audio Monitor
Type: Audio-only monitor
Wireless technology: Wireless digital encryption
Range: Up to 1,000 ft
Price: RM110
If looking into a live video feed feels like a horror movie to you, invest in this two-way baby audio monitor instead. At a little over RM100, these adorable cat-shaped speakers are one of the best baby monitors in Malaysia that packs a bunch of audio features without costing an arm and a leg.
For starters, it's equipped with a two-way talk function with adjustable volume levels, so you can hear and speak to your baby clearly from anywhere in the house. That's made easier with the pocket clip on the 'parent unit', which allows you to carry the speaker with you as you move around the house. Other useful features include the built-in night-light and lullabies to help lull your baby to sleep. All in all, it's a value-for-money baby monitor that's easy to use and gets the job done, as attested by parents in their glowing reviews.
Motorola MBP3XL Video Baby Monitor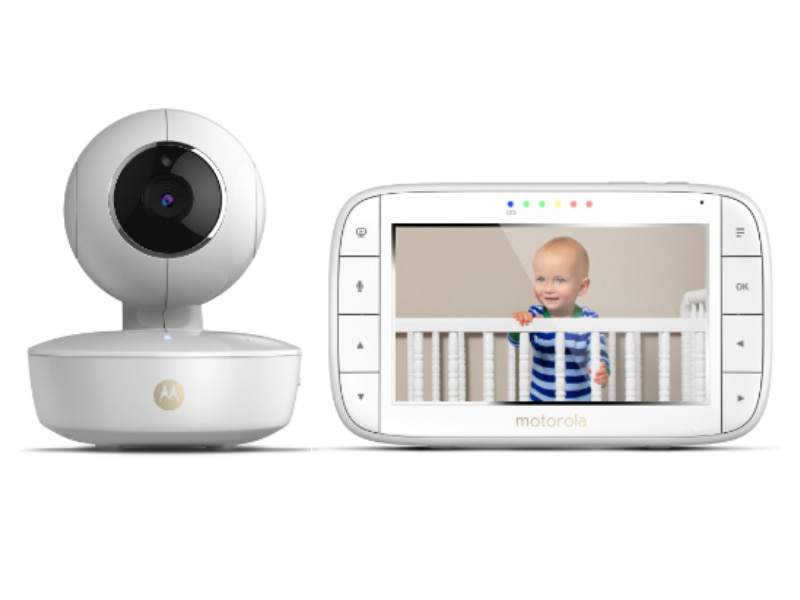 Type: Video monitor
Wireless technology: 2.4 GHz FHSS
Range: Up to 1,000 ft
Price: RM692.23
Motorola is among the best baby monitor brands in the US, and the MBP3XL is a great option that comes with a large 5-inch parent unit. Covering an extensive range with a two-way talk feature, you can easily observe and communicate with your child through the ergonomic parent unit. It also comes with pan, tilt, and zoom functions as well as infrared night vision, so you'll enjoy bright, vivid images anywhere in the room at all times. Audio-wise, the high-sensitivity microphone will be sure to pick up any sobs or wails clearly. If you have multiple kids or rooms to monitor, this monitor is expandable up to four cameras.
VB603 Baby Monitor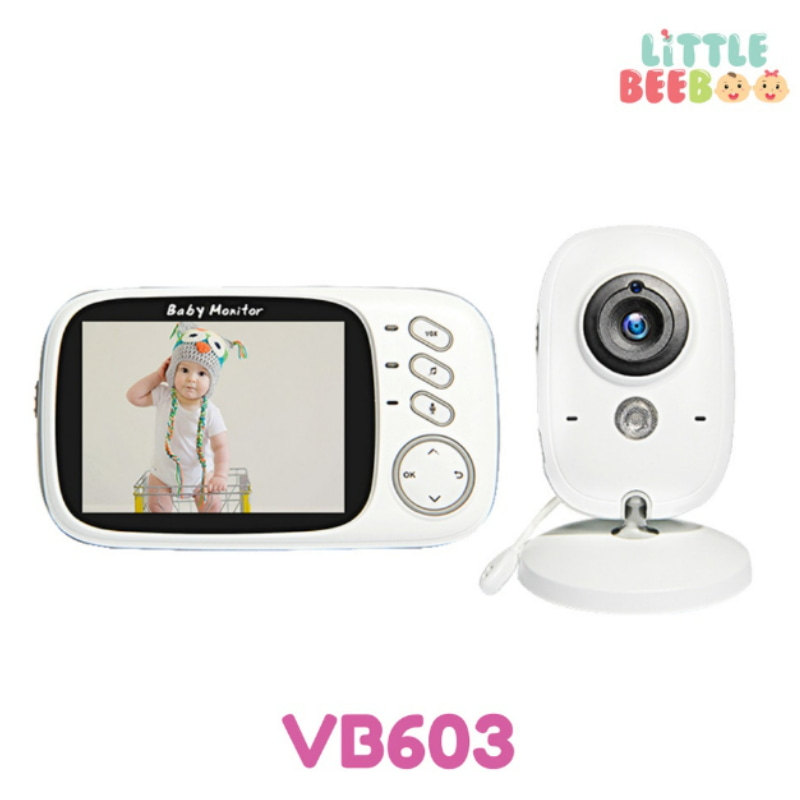 Type: Video monitor
Wireless technology: 2.4 GHz
Range: Up to 850 ft
Price: RM219.99
Looking for something that falls within the mid-range? The VB603 Baby Monitor is one of the best budget options for stable and non-laggy audio and video feeds. Although the compact 3.2-inch parent unit doesn't allow remote view adjustments, it features controls that allow you to speak to your baby and play lullabies during bedtime. According to this baby monitor's reviews, parents have found the device extremely easy to set up and use. However, the parent unit's battery life is weaker so it's best to keep it plugged in for overnight use.
Hubble Connected Nursery Pal Glow
Type: Video and baby movement monitor
Wireless technology: 2.4 GHz FHSS
Range: Up to 1,000 ft
Price: RM449
Sleek and simple, the Hubble Connected Nursery Pal Glow is among the best app-based baby monitors in Malaysia. Once it's synced to your phone via a mobile app, you can seamlessly monitor your baby through the 1080p Full HD camera feed from anywhere with a WiFi connection. Then effortlessly pan, tilt, or zoom on your device for a better view of your baby. Apart from the two-way talk, this smart monitor also detects sounds and motion within its view, and sends alerts straight to your phone. It'll also help your baby fall asleep with the seven-colour night-light or the pre-loaded lullabies and audiobooks that you can select through the app.
Beaba Zen Connect Video Baby Monitor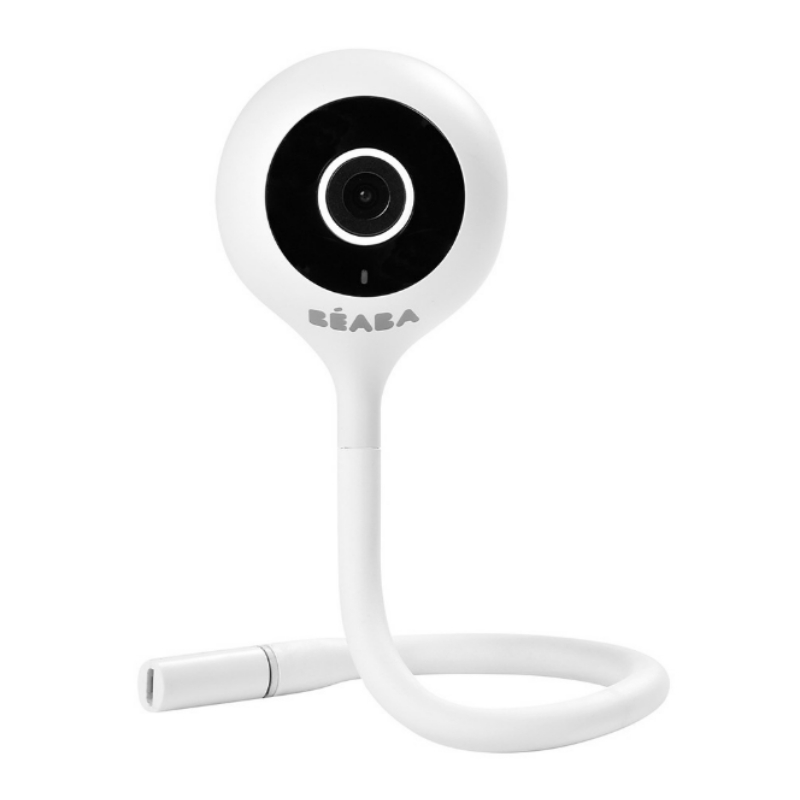 Type: Video monitor
Wireless technology: NA
Range: NA
Price: RM755
The Beaba Zen Connect is an eyeball-shaped 'spy' that offers a modern and reliable solution to monitoring your kid. It doesn't come with a parent unit, but you can easily connect the monitor to your phone and access the video feed anywhere with a WiFi or 4G network. If you need to, you'll also be able to share access to the monitor with other family members. With the Full HD camera and infrared lighting, you'll enjoy high-quality images all day. In addition, the walkie-talkie function allows you to soothe your child or even sing them a song from afar. Strap it onto the baby cot or balance it on a nightstand, this monitor will fit in discreetly in your nursery.
Kodak Cherish F680 Home Security Camera
Type: Video monitor
Wireless technology: 2.4 GHz
Range: NA
Price: RM399
This Kodak home security camera doubles up as a baby monitor and, trust us, it works just like one. The 1080 HD camera, night vision, and 120-degree view will give you an omnipresent eye in the nursery. Not only can you check the live feed through the Kodak Smart Home app, you can also record a video or take a screenshot of a precious moment. You'll also find the walkie-talkie mode and noise detection handy on nights when your baby is extra fussy. If you're concerned about security, the best part about this baby monitor is that you can store videos and photos safely on a microSD card rather than on the cloud. It also comes with rechargeable batteries with up to 5 hours of use per charge – not much but enough to survive a power outage!
Ensure Your Baby Is Safe And Sound With The

Best Baby Monitor

In

Malaysia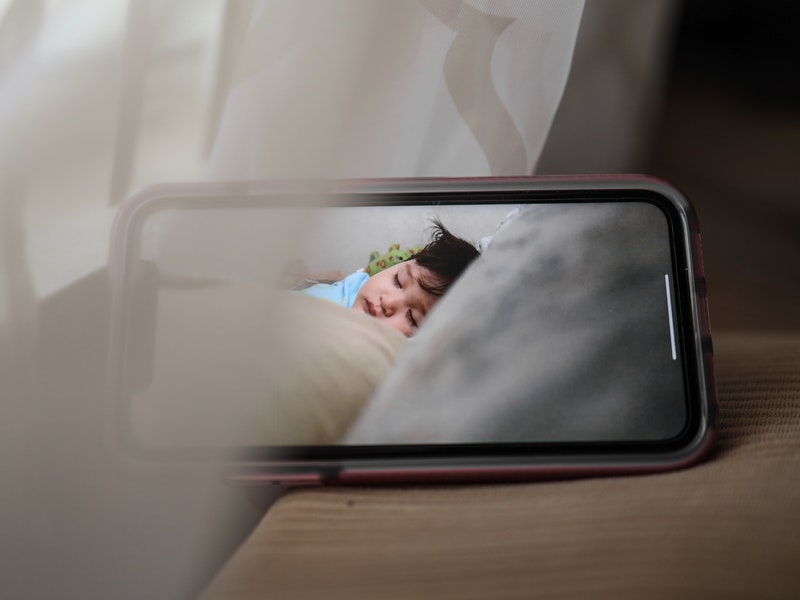 Depending on your parenting style, some parents may find an all-encompassing monitor anxiety-inducing, while others may find an audio-only monitor insufficient. So determine the features that are essential to your family and take it from there! Hopefully, one of our six best baby monitors in Malaysia will fulfil all of your needs.
Apart from the baby monitor, get to know other bedtime essentials that may help your little one sleep better, like the pacifier or sleep sack.