With Halloween coming up, it's the perfect time to chill at home with friends or your partner and watch some horror movies between your fingers. While there's no shortage of movies for you to choose from, it's always nice to watch a movie that's not just pure gore and mindless slashing, but rather one that has a nice storyline that makes you think. Here are our picks for must-watch scary horror movies that will also get you reflecting on life. 
11 Horror Movies To Put On Your Must-Watch List This Halloween
The Others (2001)
Set in 1945, The Others chronicles the story of Grace and her two children. The children are photosensitive, which means they cannot be exposed to sunlight. Grace, played by Nicole Kidman, hires three servants to help out at the house. Shortly after, many strange happenings start to occur. The Others culminates in a climax that will blow your mind, as you unravel the mystery together with Grace.
A Tale Of Two Sisters (2003)
Another family-related horror movie, A Tale Of Two Sisters is a Korean mind-bender that requires you to pay close attention to what's happening onscreen. It chronicles what happens after a young girl named Su-mi comes home after a stint at an asylum. Once home, she tries her best to protect her sister Su-yeon from the abuse of their stepmother; but things are not how they appear to be. With a plot twist that will blow your mind, A Tale Of Two Sisters is a horror movie not to miss if you love psychological thrillers.
The Orphanage (2007)
Another Spanish must-watch horror movie, The Orphanage starts off with a young girl named Laura being adopted from an orphanage. She returns to the now closed-down orphanage 30 years later with her husband and young son; Laura plans to convert it to a facility for disabled children. Things go awry when her son claims to see and be friends with a boy wearing a sack mask; what happens next is both terrifying and moving. Definitely a movie to watch for horror fans that like scary stories with a lot of heart! 
Oculus (2013)
A story that spans the past and the present, Oculus follows the story of two siblings who experience some supernatural happenings. These events result in their parents dying and the brother going to a mental asylum. Years later, they reunite, and but fall prey to the sister's obsession that the going-ons in their past were due to a cursed mirror. Very Lovecraftian in nature, this must-watch horror movie has an interesting storyline that leaves viewers mentally computing what they have seen afterwards. 
The Witch (2015)
Set in the 1630s, fans of period dramas will enjoy The Witch. It follows a Puritan family who gets banished from their colony and then builds their own farm near a secluded forest, and the events that happen after. The supernatural happenings are creepy and unsettling; however, the movie makes viewers think about how it's easy to drive people to evil things through false accusations. Note: This one's a bit of a slow burner, so watch it when you have the mood to patiently process what is happening on your screen. 
Don't Breathe (2016)
Like movies where you feel torturously uncomfortable throughout the entire runtime? Then, Don't Breathe is a worthy addition to your list of must-watch horror movies. In this movie, three friends break into a blind war veteran's house thinking that it'll be an easy target to rob. Little do they know that they've entered the house of a dangerous man who'll do anything to defend his house. The cat-and-mouse game between a ruthless war veteran and amateur robbers will surely keep you on the edge of your seat.
1922 (2017)
Okay, we'll be straightforward; 1922 is a movie that is very slow-boil. Based on a novella by Stephen King, the movie begins by showing you the life of Wilfred, a farmer living in Nebraska, with his wife and teenage son. His wife wants to sell the farm and move to Omaha, but Wilfred isn't having it. Annoyed at his wife's insistence, Wilfred kills her together with his son, who was forced to help. What follows is a satisfying story of "just deserts" that is scary in a disturbing way. 
The Platform (2019)
A must-watch Netflix horror movie with an underlying message, The Platform follows the journey of protagonist Goreng. He volunteers to be trapped for six months in a "Vertical Self-Management Centre" in exchange for a diploma. The centre is actually a tall building with hundreds of floors, with each floor housing two people. The only food received by those in the building is delivered via a platform that moves from floor to floor, which means many on the bottom floors don't get enough or any food. This science-fiction horror Spanish movie is quite disturbing and violent in parts; however, it's hard to not understand the message it is trying to convey. It may not have jump scares, but The Platform will leave you feeling uncomfortable and perhaps reflective of how messed up our modern society is. 
Us (2019)
Directed by Jordan Peele, Us is a very unsettling movie. In this movie, the Wilson family goes on a vacation to the seaside city of Santa Cruz. At their vacation home, they're attacked by a group of house invaders who turn out to be their doppelgängers. The family now has to defend themselves and find out who these intruders are and what they want. Like Peele's previous movie, Get Out, Us presents a thought-provoking commentary on our society. 
The Invisible Man (2020)
A cautionary tale about obsession, a scientist stalks, haunts, and gaslights his ex-girlfriend after faking his suicide. Staying true to its source material, The Invisible Man cleverly juxtaposes supernatural elements with manipulation in abusive relationships. It's disturbing viewing from start to finish; not so much for the scares, but for the fact that no one believes you because they can't see what's causing it in the first place.
The Fear Street Trilogy (2021)
Told in a three-part sequence based on horror novels of the same name, The Fear Street trilogy uncovers the mysterious Shadyside killings. Each film tears down the deadly curse that spans over 200 years, with themes about love and marriage at the centre of it all. Expect all the hallmarks of a solid must-watch horror movie: jump scares, brutal slayings, blood, and foot chases across dark alleyways.
Explore These Must-Watch Horror Movies This October And Beyond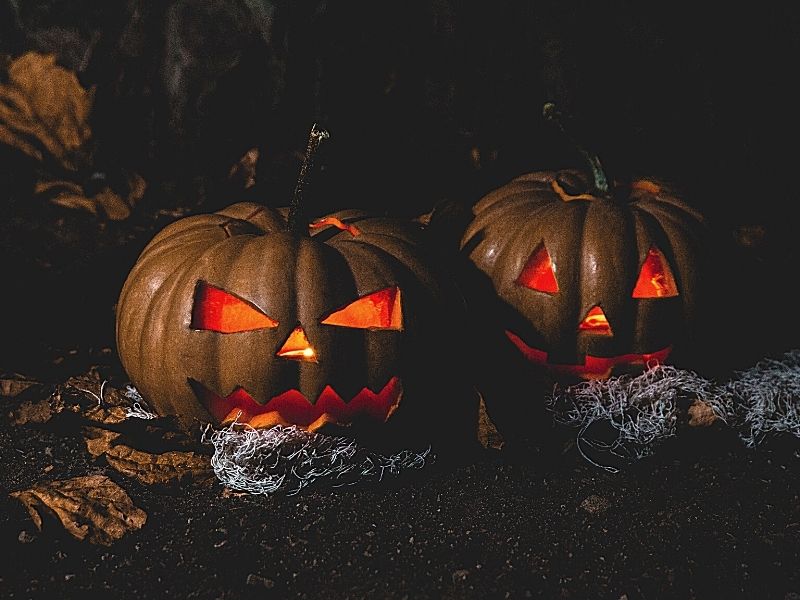 It may be difficult to watch all the above great movies within a day or even a week; it's fine if you continue watching them all the way into November. Just grab your favourite snacks, crash into a comfy couch with pillows to hide behind, and play the movie you want! For an extra scary experience, be sure to have the best-quality speakers and television to watch the movie on.
Can't get enough of horror movies and want more? We dare you to watch these scary Asian films on Netflix with the lights on! Want to kill zombies or hunt for ghosts with friends instead? Then one of these multiplayer horror games might be up your alley. Happy Halloween and may the spooks be with you!