Since its release back in 2016, Stranger Things has grown to become one of Netflix's biggest sci-fi horror series. Que the sleepless nights of binge-watching marathons, fandom theories, and of course, the notorious social media spoilers (please don't be that person). And after a long three-year wait, the series set viewership records by hitting its one billion benchmark shortly after its fourth season dropped. In fact, the fandom was so massive that they completely crashed Netflix the moment volume 2 went live. 
Besides the impressive cinematography and gripping storyline, Stranger Things has also served us with countless '80s fashion goodness. To recap the show's style journey, we've compiled a list of all the characters' best '80s outfits from season one to season four. 
'80s Fashion

Outfits

In

Stranger Things

Season 1
Eleven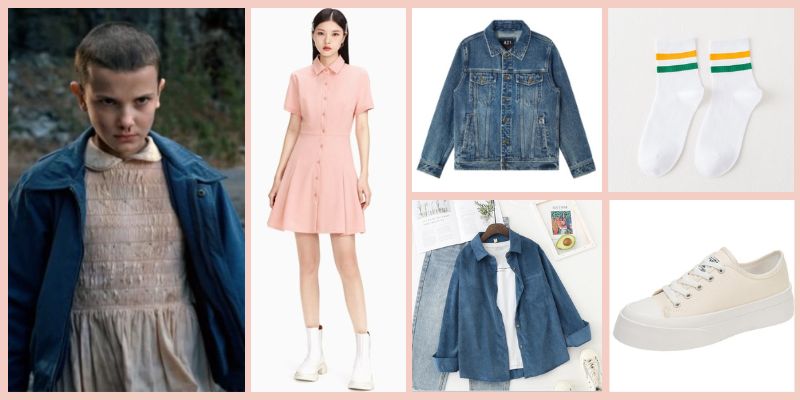 Eleven has had a wild style transformation over the course of the series, but nothing could ever beat the moment she takes down Mike's bullies in her girliest outfit. Frequently recreated in many Halloween outfits, it doesn't take much to put together this ensemble. As long as you have a pastel pink dress and a dark blue jacket, you've already got Eleven's iconic uniform down pat. 
Shop Eleven's '80s style:
Mike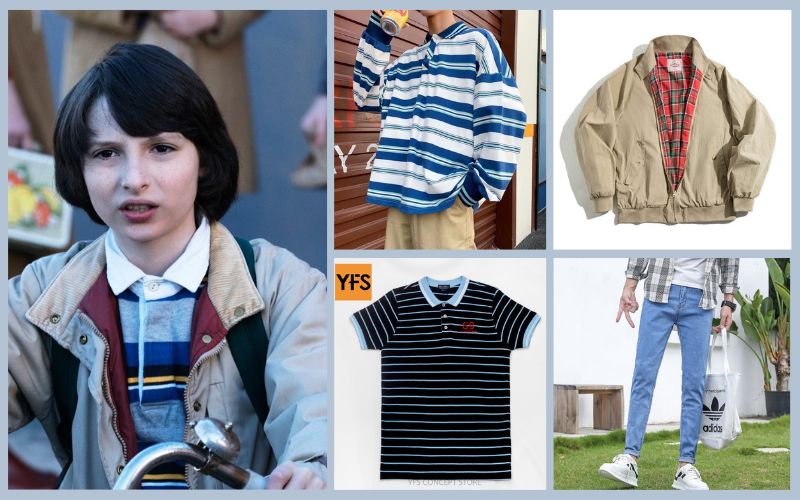 Coming from a pretty privileged and well-to-do family, Mike's outfits are often crisp and neat to reflect his social status. His looks are mostly on the preppy side and rotate from one striped polo shirt after another in his trademark blue colours. 
Shop Mike's '80s style:
Will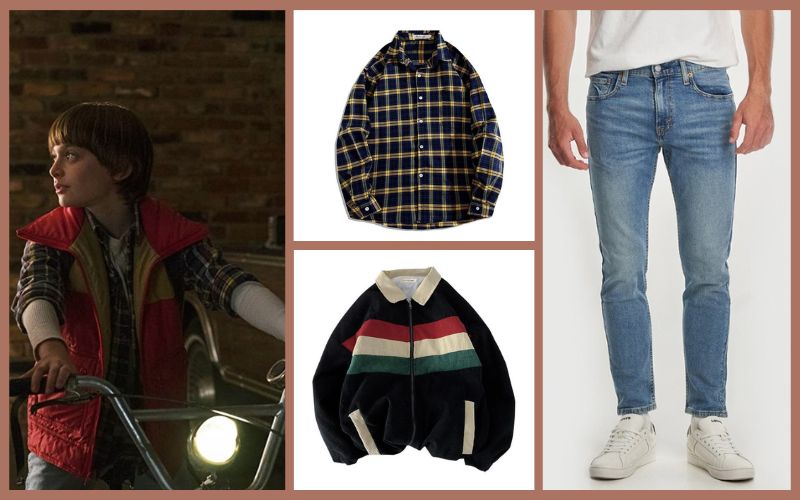 Will's outfits are a lot more aged and worn in comparison to the rest of his friend group. As the youngest son of a single mother struggling to make ends meet, his clothes mostly consist of hand-me-downs that are less trendy and slightly more outdated. 
Shop Will's '80s style:
'80s Fashion

Outfits

In

Stranger Things

Season 2
Billy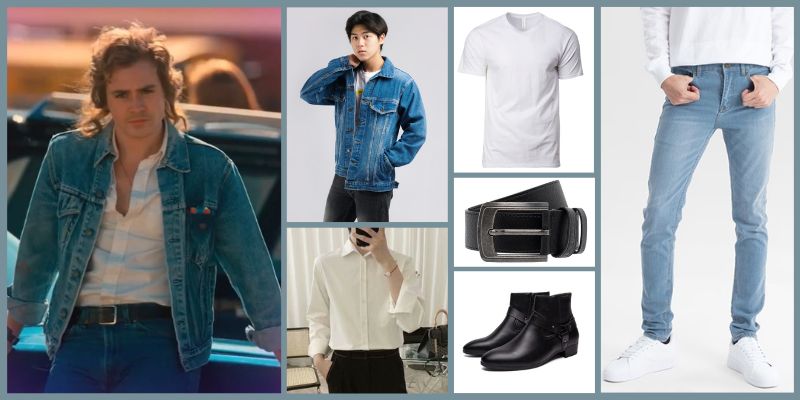 Billy may be a character that many either love (a bit too much) or hate, but there's no denying that he has a killer sense of style. And nothing screams '80s fashion for men more than this rugged denim-on-denim outfit combination. He also adds in little touches by leaving the first three buttons undone and cuffing the sleeves to reflect his bad boy charisma. 
Shop Billy's '80s style:
Steve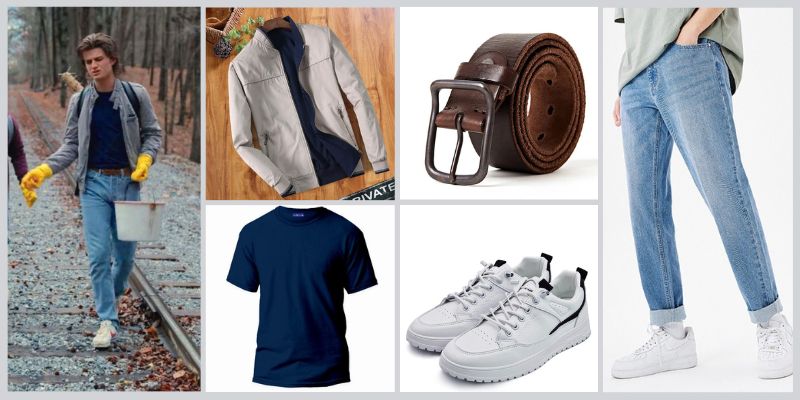 Having grown from his one-dimensional, popular boy personality, Steve Harrington won the hearts of many in the second season of Stranger Things. Similarly, even his outfits have evolved. He's donning a lot less polo shirts and is embracing a sportier yet clean style. His signature look features several '80s fashion staples: the Members Only windbreaker, light-wash jeans, and Rayban Wayfarers. 
Shop Steve's '80s style:
Jonathan 
With an avid interest in photography, Jonathan prioritises functionality in many of his looks which allows him to move about with ease. His outfits consist of a collection of plaid shirts, basic tees, and a whole lot of corduroy and denim jackets. Since the Byers aren't that well off compared to other families, there's not much that has changed in his aesthetic.
However, he does seem to have put in more effort in styling his hair than the previous season. Perhaps that might have something to do with impressing a certain Wheeler sibling? Either way, his sleek side-parting certainly gives him a more polished vibe. 
Shop Jonathan's '80s style:
'80s Fashion

Outfits

In S

tranger Things

Season 3
Max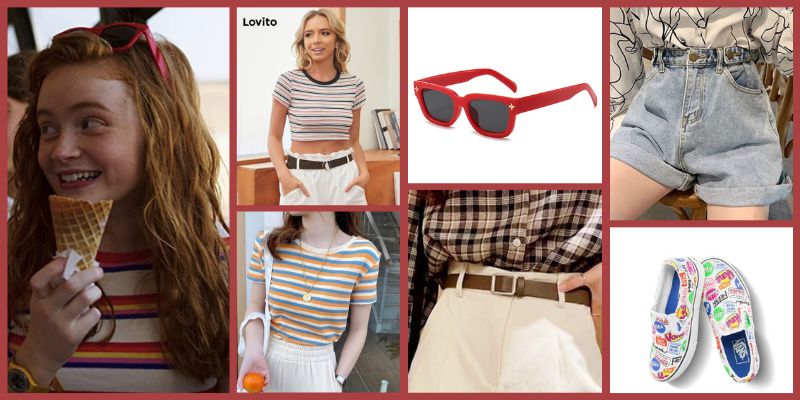 With the opening of the new Starcourt Mall, season three saw a burst of prints and vibrant colours that perfectly encapsulated the frivolity of '80s fashion. But if you're a laidback tomboy like Max, a multicoloured striped T-Shirt and denim shorts are a great way to look cool and comfortable.
Shop Max's '80s style:
Robin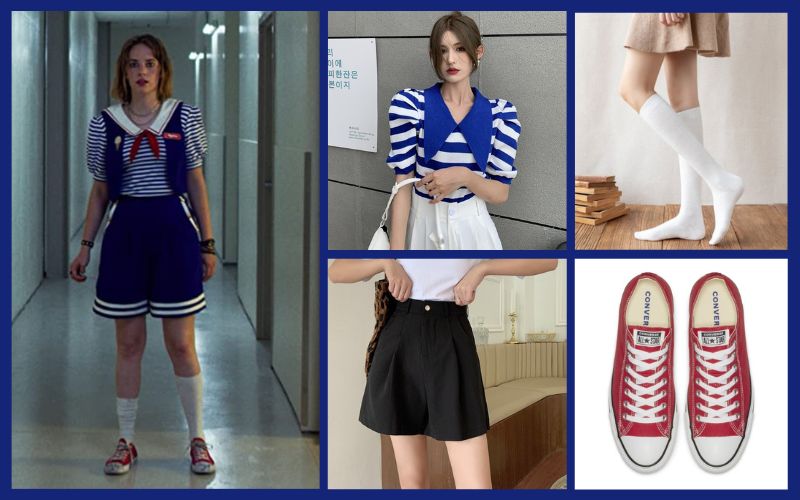 There's always that one part-time job that makes you wear the silliest uniform. 
Working alongside Steve, Robin is also donning the quirky sailor suit as she simultaneously makes fun of him for peaking in high school while bonding over the mundane day-to-day routine at Scoops Ahoy. 
Though instead of the standard uniform, Robin has some notable tweaks to her outfit. She has thin blue stripes to complement Steve's thick red stripes, and her pleated shorts are slightly more voluminous. Not to mention, her blouse also has dramatic puff sleeves—an incredibly trendy design in '80s women's fashion. 
Shop Robin's '80s style:
Nancy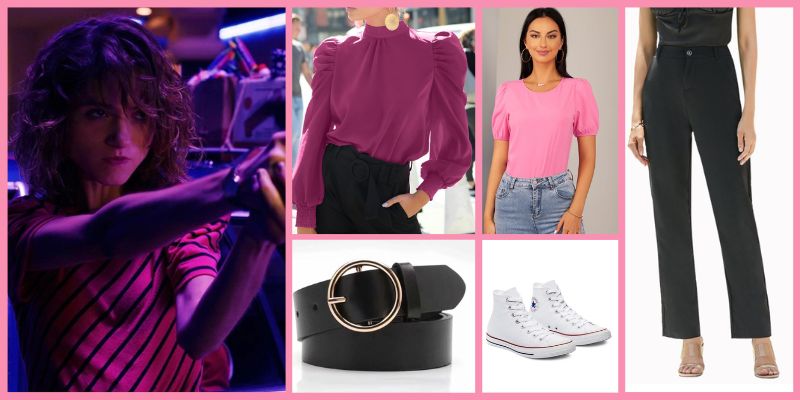 As opposed to the first two seasons, Nancy's outfits in season three are a lot bolder as she ditches her softer style. Even her hairstyle has dramatically changed from her looser curls to the symbolic '80s perm. 
She's often seen wearing midi dresses in bright hues and eye-catching prints, showcasing her maturity as she pursues her journalistic dreams even while facing constant misogyny. But besides her work attire, we're absolutely obsessed over this ultra-stylish, hot pink battle look. Because if you're going to put your life on the line, you might as well do it in style. 
Shop Nancy's '80s style:
Dustin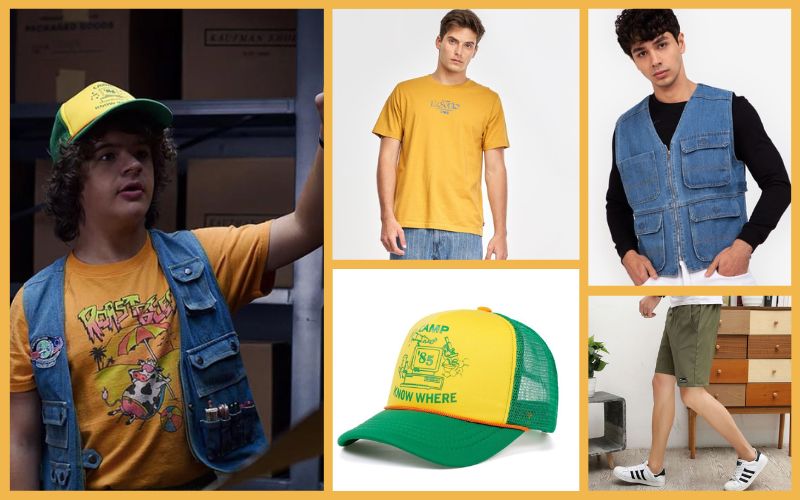 Compared to the rest of the group, Dustin is by far the most adventurous when it comes to fashion. The trucker-hat-wearing tech nerd is never afraid to experiment with graphic prints and colours, blending them into a whimsical combination that only he can pull off. Many of his outfits are consistently fun and playful—a perfect embodiment of Dustin's caring and easygoing personality. 
Shop Dustin's '80s style:
'80s Fashion

Outfits

In

Stranger Things

Season 4
Eddie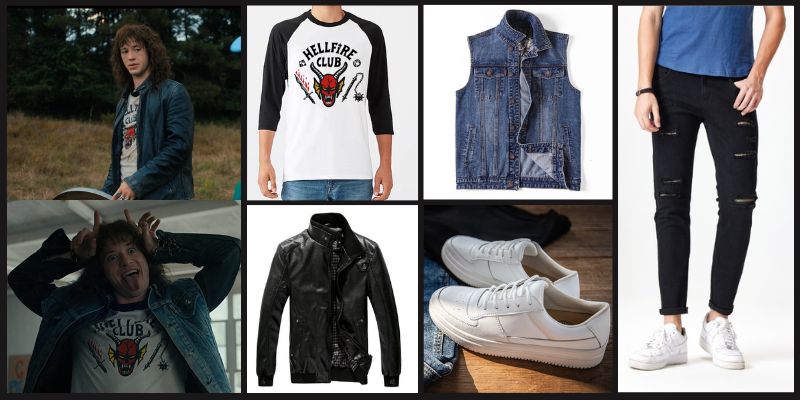 No doubt you've already seen countless of TikTok videos remixing Eddie's horrific "Chrissy wake up" scene into an ironic jingle. Newly introduced this season, fans were quick to fall in love with the eccentric, hot-tempered delinquent. With an intense passion for Dungeons & Dragons and all things heavy metal, Eddie's fashion is a representation of everything that he loves. Besides his Hellfire shirt, his DIO jacket is a special nod to the '80s metal band. 
Fun fact: Costume designer, Amy Parris, even reached out to Ronnie James Dio's estate to directly source Eddie's vintage band T-Shirts.
Shop Eddie's '80s style:
Lucas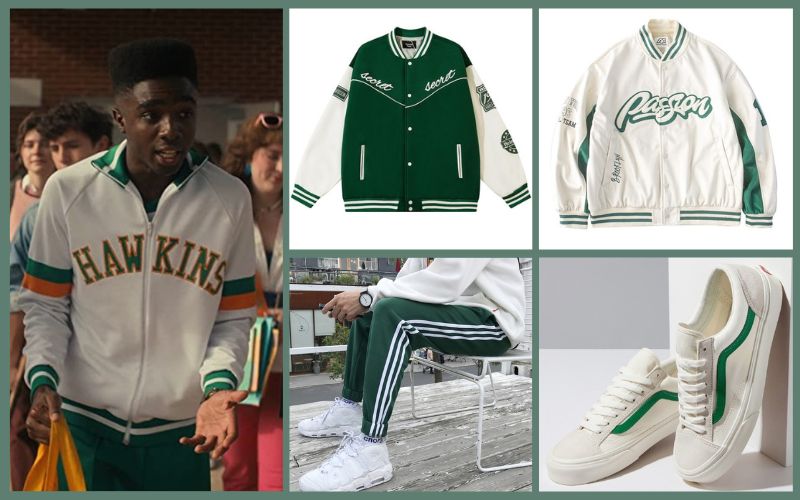 Season four sees Lucas adopt a more athleisure style as he tries his best to fit in with the popular jocks. When he's not in his signature red bomber jacket, you'll often see Lucas dressed in his Hawkins tracksuit attire or basketball uniform. 
Shop Lucas' '80s style:
Recreate Your Favourite

Stranger Things

Look With These '

80s Fashion

-Inspired

Outfits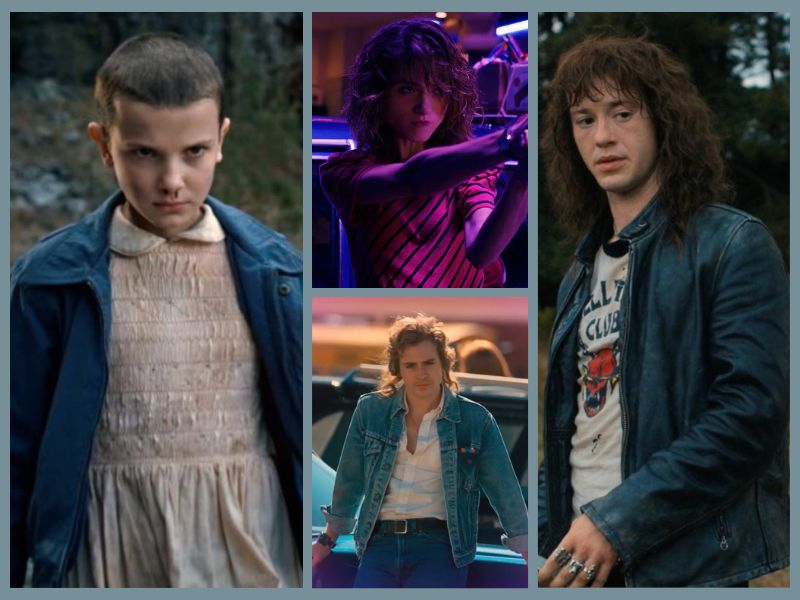 With that concludes the end of our Stranger Things style recap. From Eleven's feminine pink dress in season one to Lucas' athleisure uniform in season four, let us know which character's look is your favourite down in the comments below! Fellas, if you want to take your '80s fashion up a notch, then take the plunge with these mullet haircuts for men. Ladies, you can learn more about all the retro hairstyles of the decades in our guide here.
Don't forget to head over to Style By Shopee to stay up to date with all the latest fashion trends.