Weddings bring all new fashion trends. From a dream bridal dress to wedding accessories and bridesmaid dresses, everything has to be à la mode. As for Muslimah brides, bridal dresses are undoubtedly about elegance, jazz, and modesty. We share some simple (yet chic) Muslimah wedding dress ideas for the upcoming wedding season. Bookmark these designs for inspiration, or who knows, one of them might just be your dream dress.
Add To Cart These Simple Muslimah Wedding Dresses Before They Are Sold Out
Weddings are the day when brides get to be extravagant. However, it doesn't always mean that your bridal dress has to always be heavily embellished or anything from a Haute Couture atelier that can possibly bust the budget for some. Sometimes simplicity is all you need so here are some Muslimah wedding dresses to up your wedding game – don't forget to take notes. You don't need to break the bank for a Neelofa-inspired wedding look!
Pure White Baju Kurung Pahang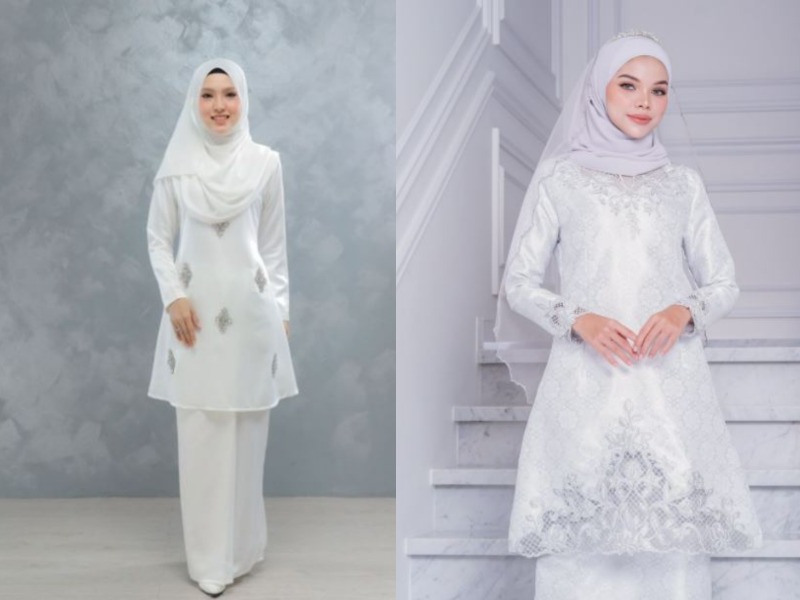 The Baju Kurung Pahang is an excellent choice for hourglass-shaped women or even plus size as it accentuates your curves without cinching your waist. You can always elevate this simple Muslimah wedding dress by adding a necklace or two. It's a trick that, when mastered, can create an effortlessly classy look. 
Shop This Style: 
Pure White And Green Full Lace Jubah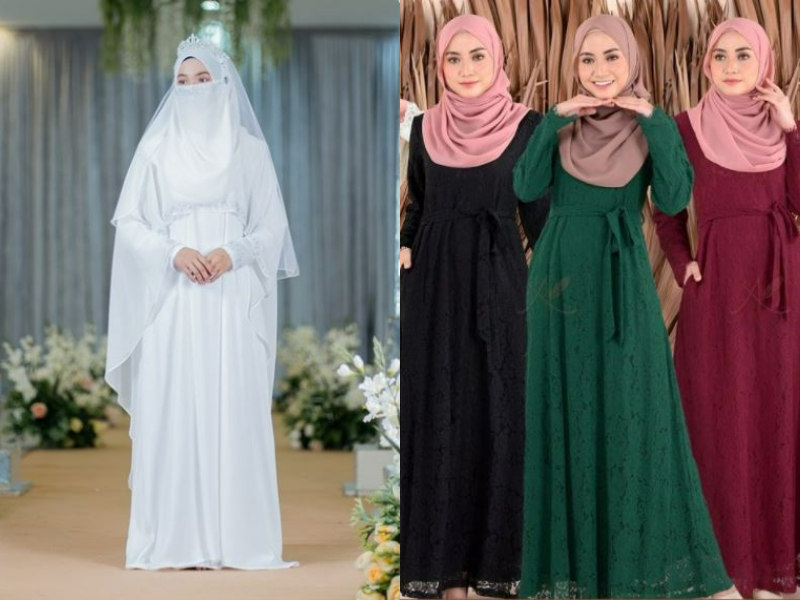 Hijab-wearing brides may opt for a pure white jubah. It is Sharia-compliant, wudhu friendly and makes it easier for the brides to perform a prayer.  If you're considering a non-white wedding dress, Green Full Lace Wedding Jubah is the right fit for you. It looks remarkably elegant with a modern twist that never goes out of style and truly radiates your bridal beauty. You still won't lose your charm even if the wedding is small and simple. 
Shop This Style: 
Soft Pink Dress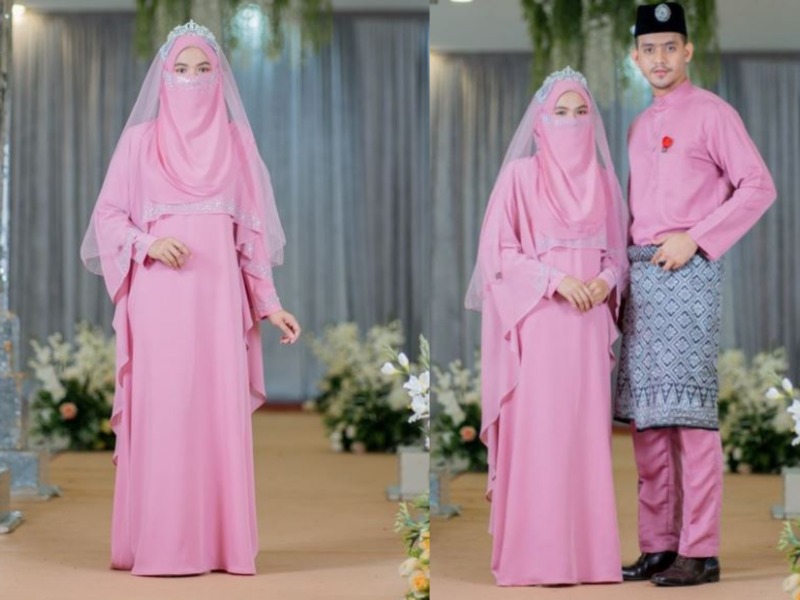 White dresses have always been the top choice for weddings and we're not complaining. However, a soft pink bridal dress can be perfect too for a modern bride who wants to stand out and be different from others. If pink isn't your colour, don't worry as bridal gowns or Muslimah wedding dresses in Malaysia come in endless colour choices and you will find ways to incorporate them into your wedding.
Shop This Style: 
Songket Fabric For Muslimah Wedding Dress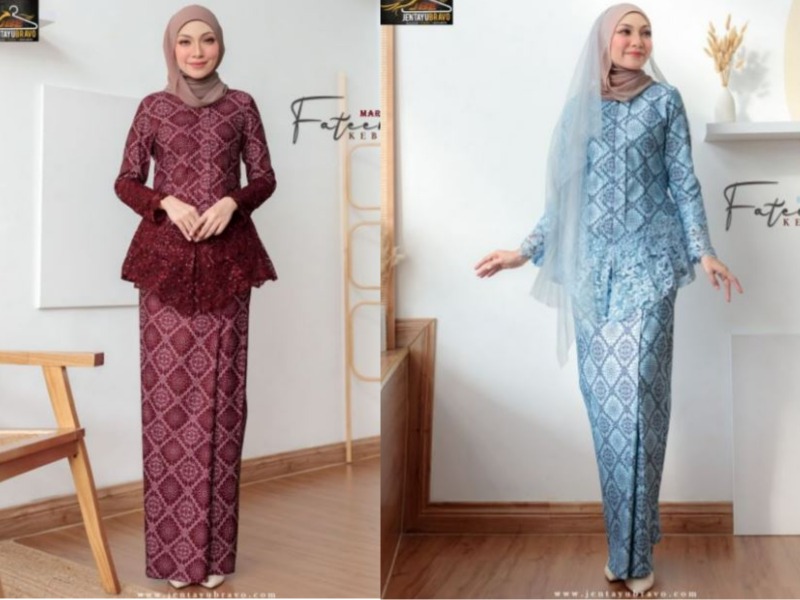 Bridal dresses made of songket fabric produce vintage and classy look. Brides may opt for this traditional Malay textile to make an effortlessly refined Baju Kurung, Kebaya or Kebarung. What makes it so special is that an original songket is wovened with high-quality yarns, gold and silver thread, and only traditional equipment is used during the process. Not just that, the motifs, colours and patterns were often chosen to signify the wearers' rank and position. What's more, songket is a timeless fashion piece that you can pass down for generations!
Shop This Style: 
White Baju Kurung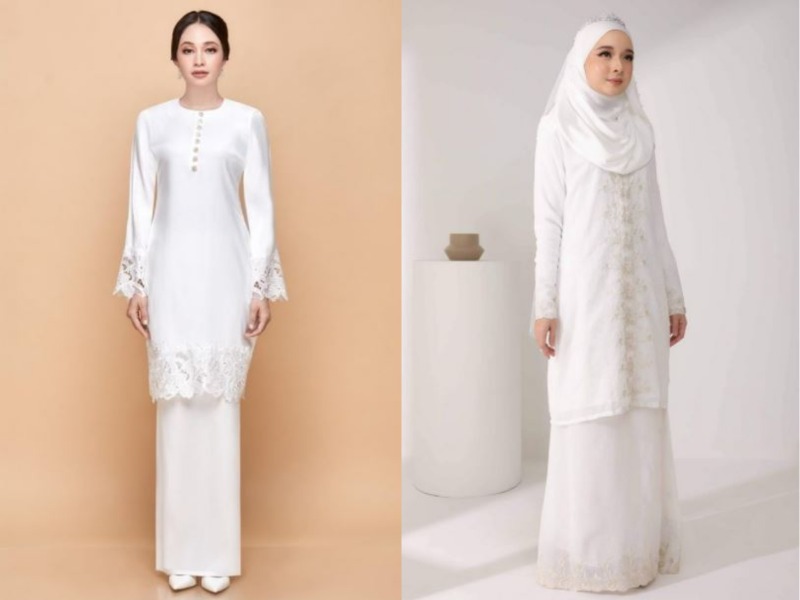 A white baju kurung is a must-have for many Malay brides. It is often worn as baju nikah during the solemnisation/ Akad nikah or engagement ceremony. The easiest way to enhance a white baju kurung is by adding a burst of colour using makeup. This will lend to a flawless and angelic look on your wedding day. 
Shop This Style: 
White Baju Kurung Riau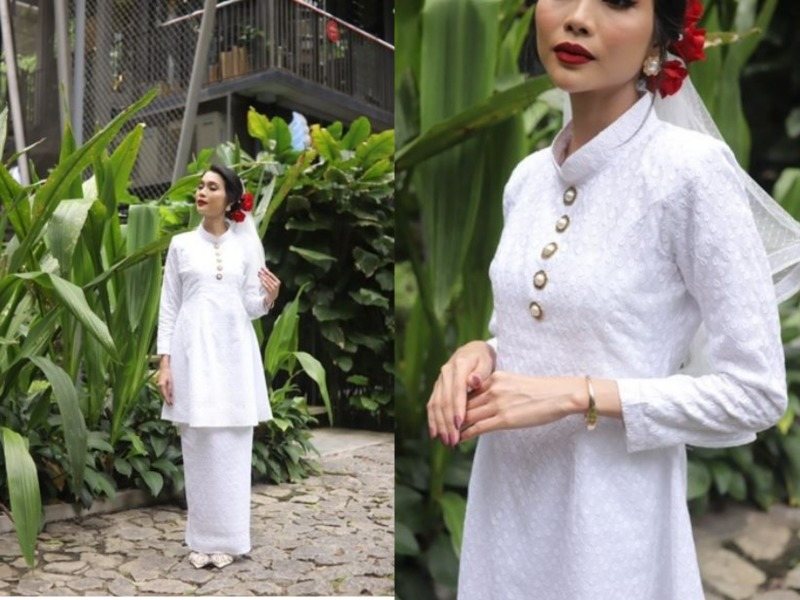 Baju Kurung Riau is almost similar to Baju Kurung Pahang. What makes it different is the collar. Baju Kurung Riau has a mandarin collar or cekak musang collar whereas Baju Kurung Pahang has a round collar. If you're getting a plain Muslimah wedding dress and want to make a statement, add on beaded embroidery or any other intricate details. Pair it with crystal drop earrings to complement your minimalist look.
Shop This Style: 
White Modern Baju Kurung (Baju Kurung Moden)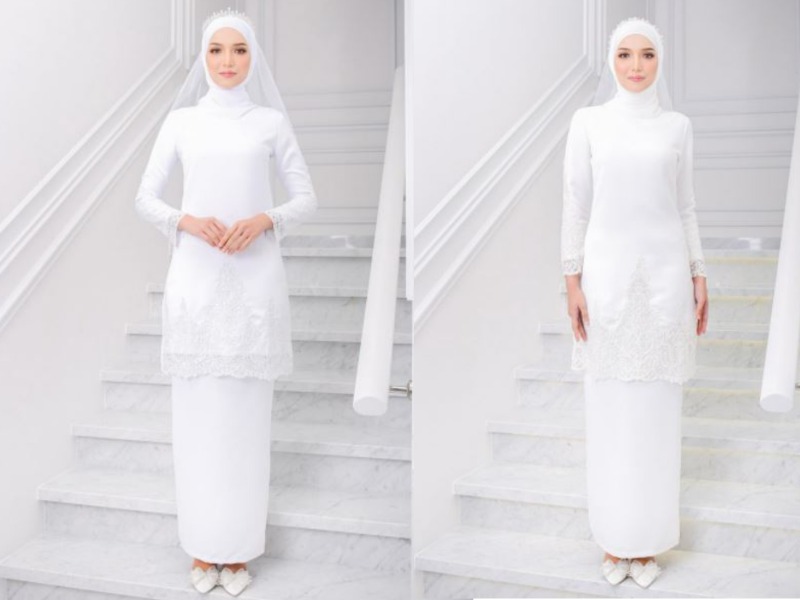 Skip those heavy bridal outfits. For those of you who prefer a contemporary look for a traditional Malaysian wedding dress, a Baju Kurung Moden is right up your alley. Make sure it's a well-tailored fit Baju Kurung Moden for a more refined and designer look. A statement veil can be an exquisite finish depending on your personal preference.
Shop This Style: 
There's Nothing Plain About Keeping Your Wedding Dress Simple!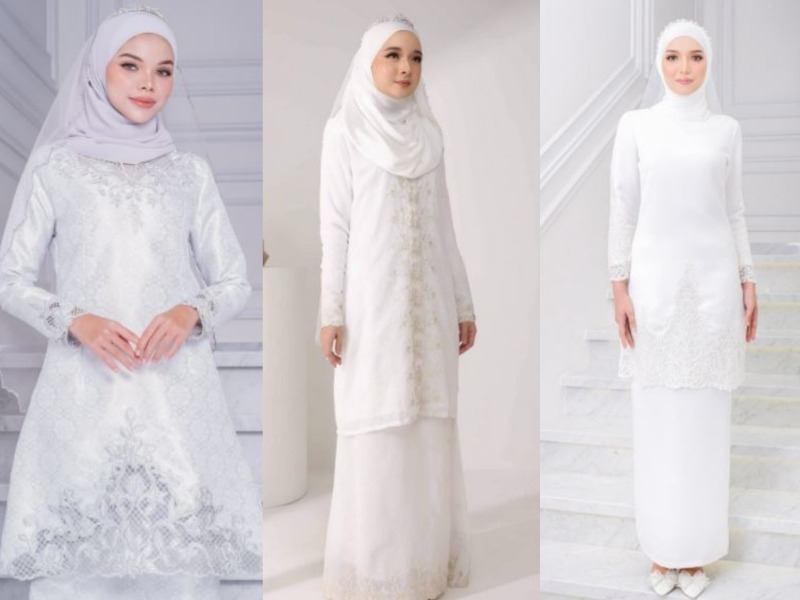 This is your moment to truly express yourself. You don't have to compromise on style just because you prefer a simple, modest, and minimalist wedding. You can still make a big style statement on your big day with makeup, hairstyle, jewellery or accessories that personify elegance and sophistication. Plus, a simple dress is easily repurposed for any event. Who says simple has to be boring?
If you're looking for more Muslimah styles, we have the perfect guides for formal and professional attire that will elevate your office look or if you're on the lookout for trendy outfit inspirations, follow these 11 stylish hijab girls on Instagram for modest fashion inspo.