The French manicure has come a long way from its clean, white-coloured tips. Today, this minimalist nail art is taking on a bolder interpretation with a wider range of patterns and colours. From the classic to pearl embellishments, here are seven eye-catching French nail designs to switch up your style. But before we dive right in, let's first talk about this viral TikTok hack that could help take your DIY French nails to the next level. 
The TikTok Nail Stamper Hack
If you're an active TikTok scroller, you've probably seen countless videos with people using a nail stamper to achieve effortless French nails. Initially, you would have to carefully outline the curve of your nails before colouring in the gap with your nail polish. So those with unsteady hands are going to require quite a fair bit of patience and practice to master the technique. 
With this TikTok hack, all you need to do is apply your nail polish onto the nail stamper and dip your nail in. However, make sure to position your nail at a 45-degree angle before pressing it into the silicone pad. This will keep your nail polish from getting under your fingernails and skin. Don't have a nail stamper? You can even try using this hack with a beauty blender too to achieve the same results. 
Stylish

French Nail Designs

To Up Your Nail Art Game
So what do you think of this TikTok hack? Have you tried it out and loved it or are you going to leave it to the professionals? Regardless of which you choose, we can all agree that the French manicure is a timeless style that looks good on everyone! Interested in trying this nail art for yourself? Below, we've compiled a list of the best French nail designs that are sure to garner compliments! 
Muted Multi-Colours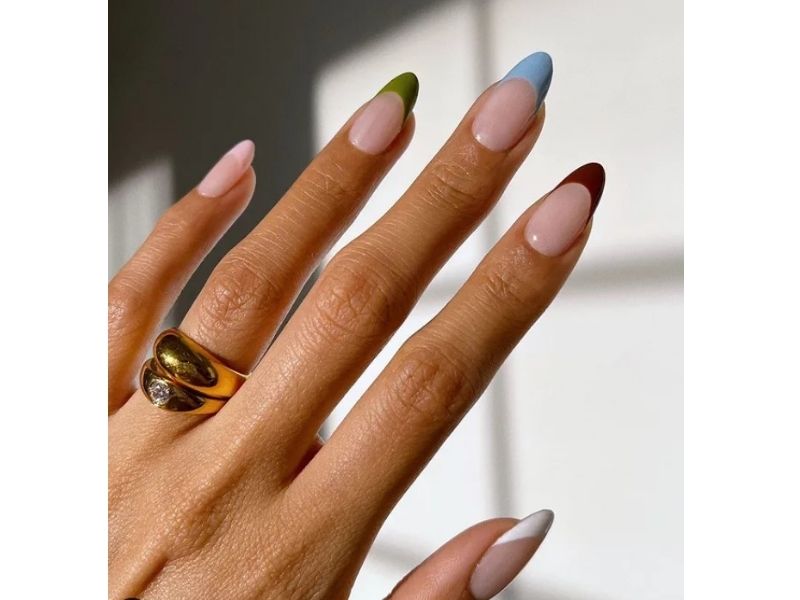 Instead of your standard uniformed look, alternating different hues can be a fun way to amp up your French nail design. Looking for something bold yet classy? Then coat your tips with a neutral colour scheme consisting of earth-toned shades: green, blue, brown, and white. 
Dark Black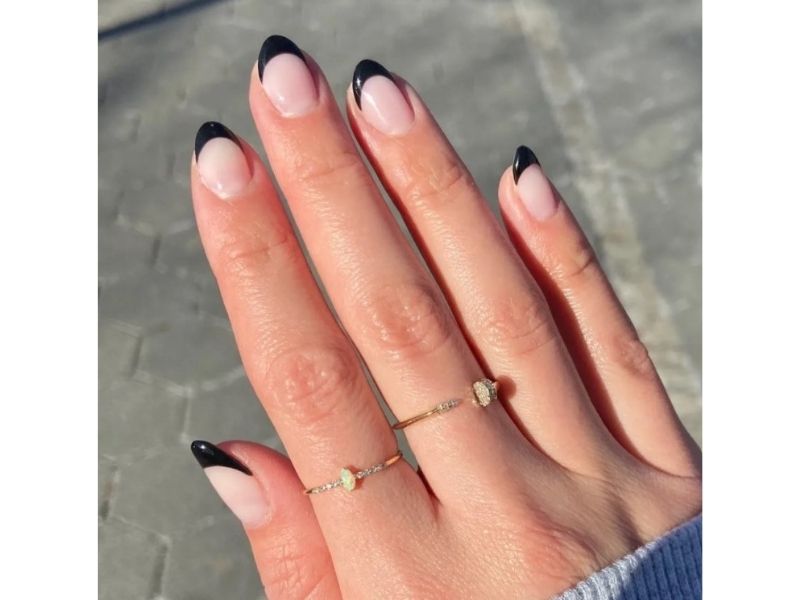 If you're not a huge fan of the classic white French nail design, why not go for a black polish instead? We love how it instantly gives an edgier twist to your nails but is still versatile enough to complement any type of outfit. 
Embellished Rhinestones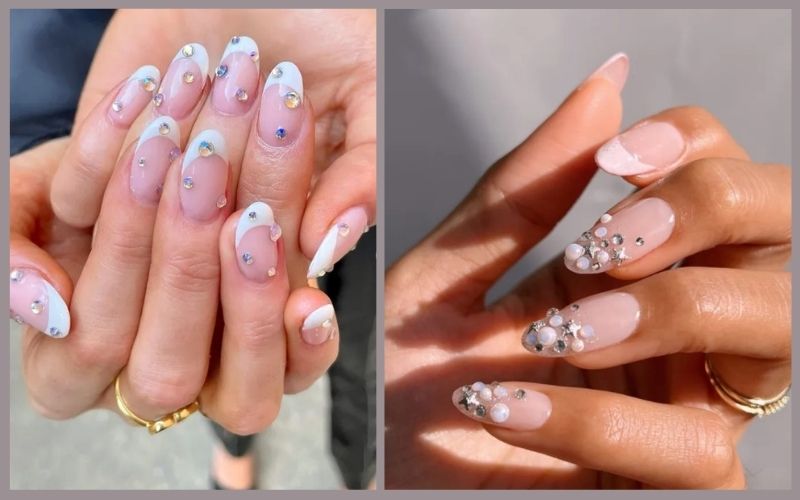 Bold eye makeup looks inspired by teen drama series Euphoria aren't the only ways to wear rhinestone stickers. These pretty embellishments look just as stunning on your nails too! Whether you like to heavily layer on the gems or prefer using them sparingly, there's no limit to how you can rock these nail accessories. 
Playful Nail Stickers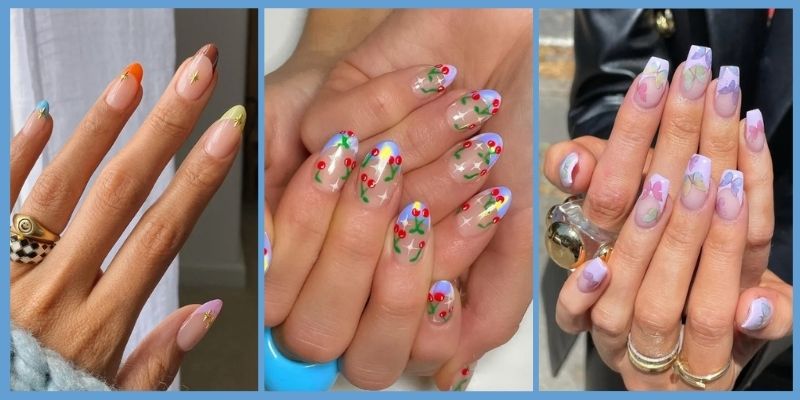 Besides rhinestone gems and pearls, you can also have fun experimenting with some playful nail stickers too! This is a great option for beginners who want a more intricate nail look but haven't quite mastered their detail work yet. From butterflies and cherries to diamond sparkles, there are so many designs that you have fun choosing from. 
Flower

French Nail Design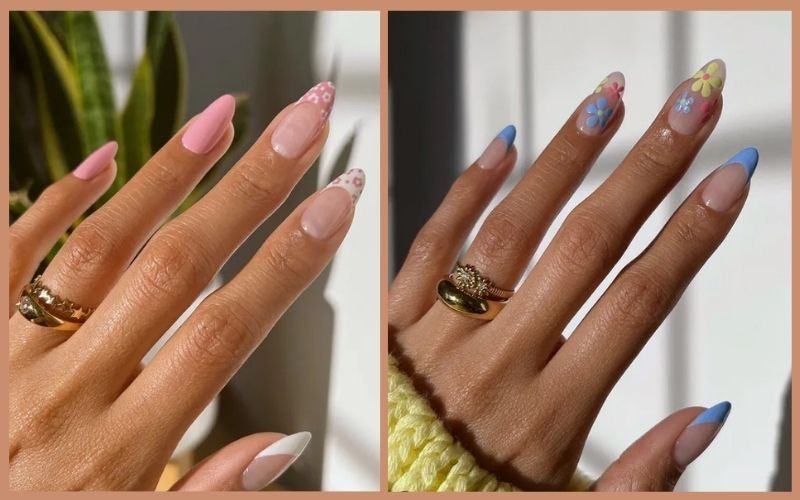 Floral motifs are always a good way to add a delicate, feminine touch to your French nail design. If you're already an expert at doing nail art, you can try putting your skills to the test by dotting your flowers onto the tips of your nails. Otherwise, you could also coat your entire nail with larger flower prints for a more beginner-friendly approach. 
Swirly Frenchies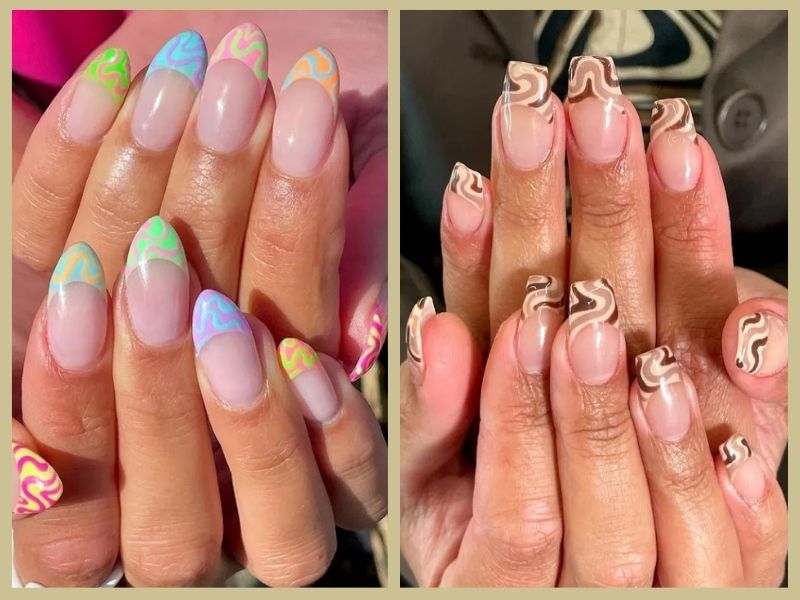 Want to make your nails look as abstract as a modern art piece? Then enhance your French nail design with fun squiggly lines and swirls. Request for pastel hues from your nail salon artist to get a more vibrant style that reflects your soft girl aesthetic. Or if you resonate with the preppy-looking dark academia aesthetic, go for neutral chocolate shades to match your dark colour palette. 
Golden Bling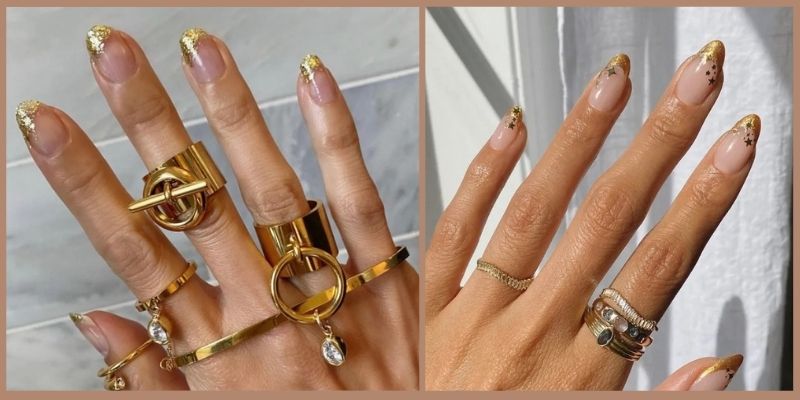 You can never go wrong with glitter polish to add a dash of glamour to your nails. Opt for matching accessories to highlight your shimmery nails even further. For instance, if you're wearing gold nail polish, then slip on some gold stackable rings to tie in the whole look. The same can be done with silver nail colours too! 
And the best part? They're super easy to recreate on your own. Nail artist, Melanie, shared her tips on her IG Reels to glittery tips here. Just like the TikTok nail hack, simply paint your nail polish onto a beauty sponge, and then gently dab the product on. 
Give Your Nails A Makeover With These Trendy

French Nail Designs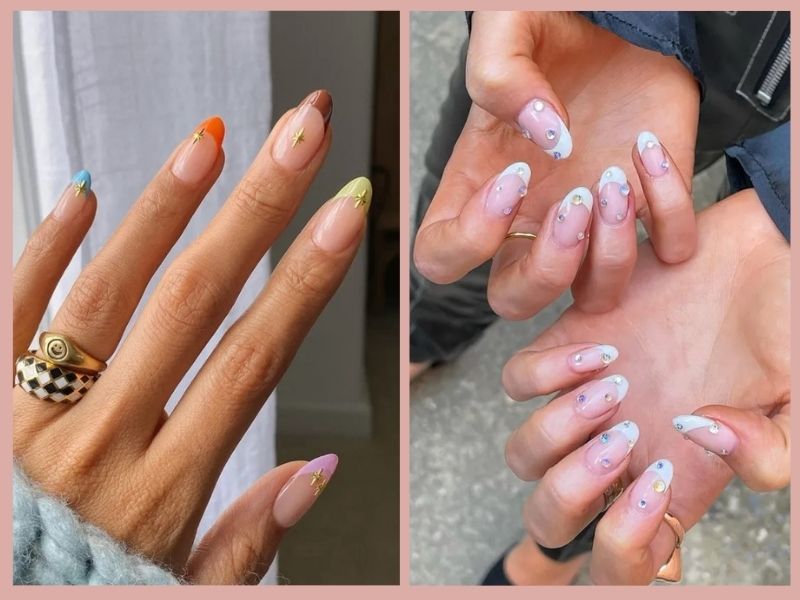 We hope you have fun trying out these French designs to give your nails a fresh new look. Looking for other styles to practise your self-learnt manicure skills on? Then be sure to check out our guide on simple nail art designs for inspiration. For more beauty tips and updates, head on over to Shopee Beauty carou-sale.