Besides Converse, there's one other shoe brand that's taking Gen Z by storm. From the cult-favourite 1460 combat boots to their latest chunky, platform sandals, you've probably seen some form of Dr. Martens shoe in most of your favourite influencers' style looks. Just got a pair of your own but don't know how to style them? Here are 14 different ways you can wear your Dr. Martens outfits to make the most of your new footwear. 
How To Style Your

Dr. Martens Outfit

In 14 Ways
With A Bucket Hat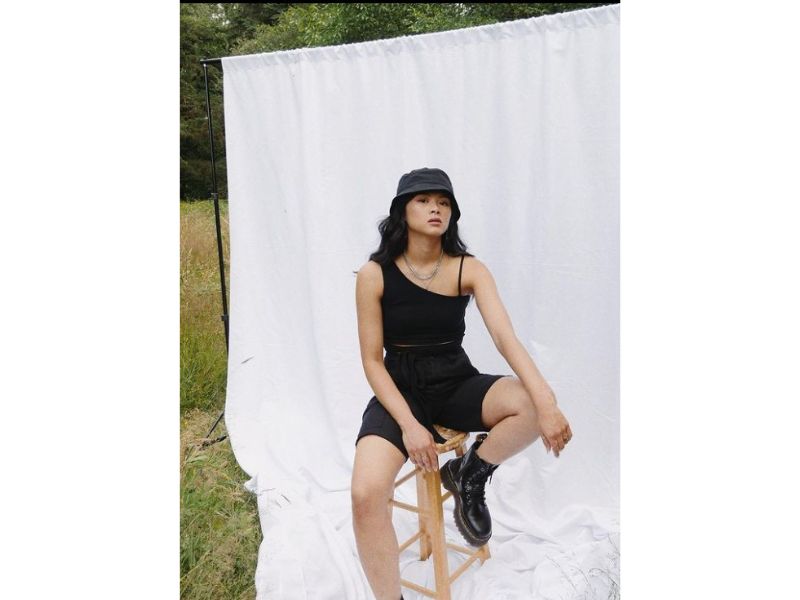 You can never go wrong with an all-black outfit for an effortlessly cool aesthetic. With additional accessories, like a bucket hat or layered necklace, to go with your Dr. Martens boots, your ensemble will instantly go from basic to chic. 
Shop this style:
Related: 14 Cool Ways To Style A Bucket Hat Based On Your Personal Style
With A Beanie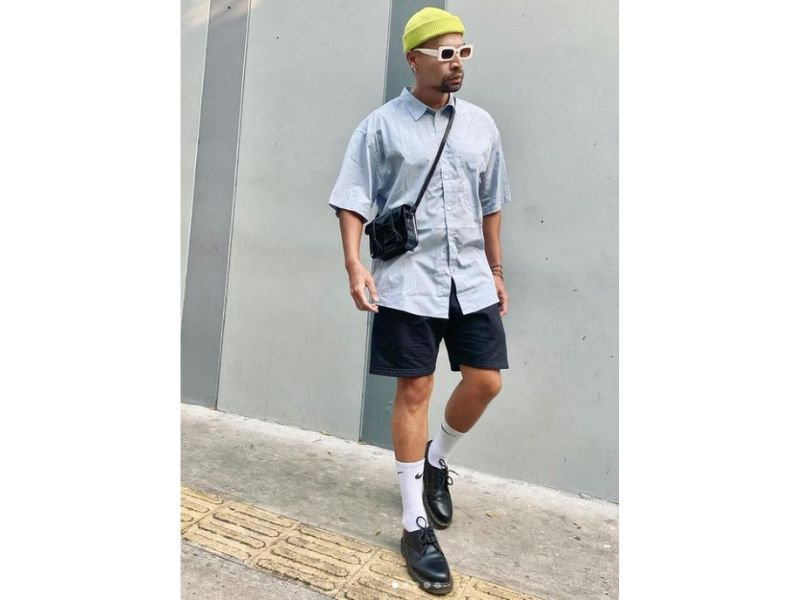 Not a big fan of bucket hats? Then complete your Dr. Martens outfit with a beanie instead! If you have a neutral colour scheme, opt for a striking neon hue to add a pop of colour to your look. 
Shop this style:
Related: How To Wear A Beanie And Still Look Cool
With Traditional Clothes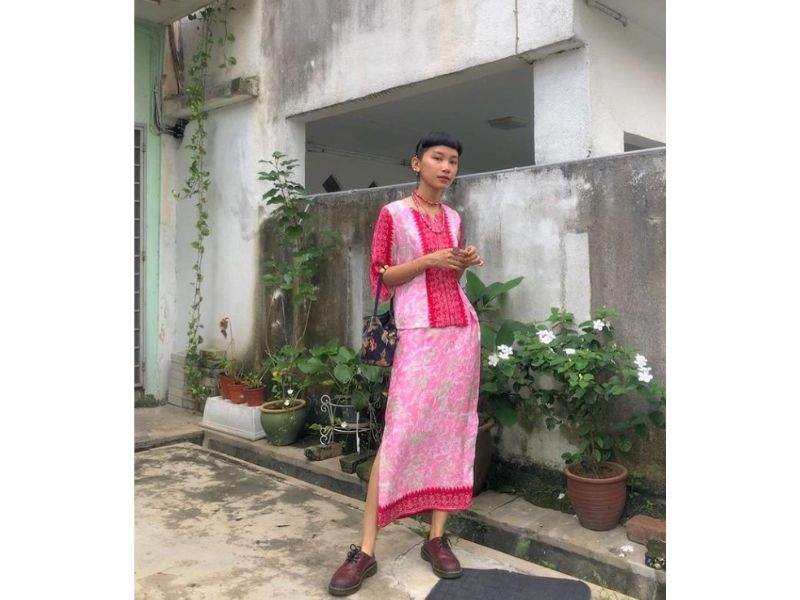 Put a modern twist to your traditional attire by styling your baju kebaya with Dr. Martens' Oxford shoes. Draw inspiration from fashion stylist Deanni and play around with matching hues for a polished yet fun monochromatic ensemble. 
Shop this style:
With A Denim Skirt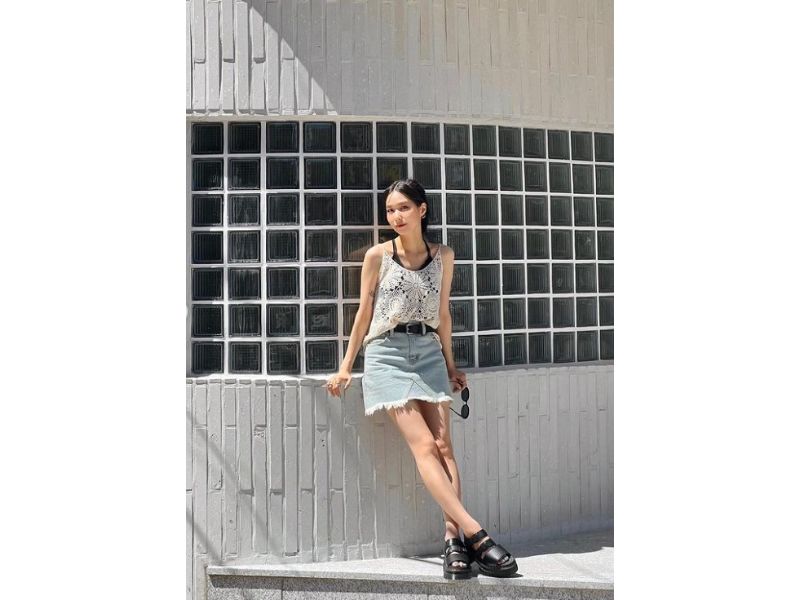 If you're not too big on boots or any other close-toed shoes, these Dr. Martens's strap sandals are the choice for you. Their subtle platform heels are perfect for faking a taller height without compromising on comfort and instantly elevate any casual outfit. 
Shop this style:
With Denim Shorts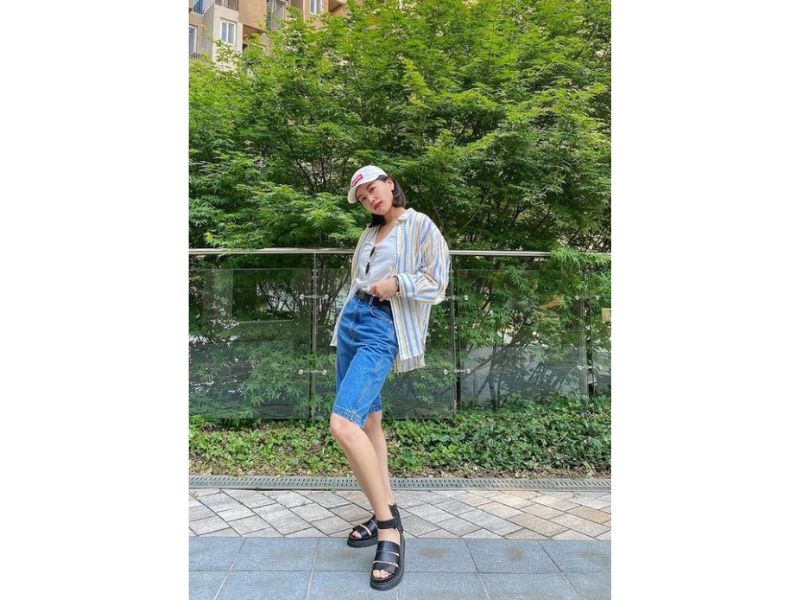 Forget about your classic denim shorts, because 'jorts' (jean shorts) are taking over this season. These bottoms have become an instant fave for their comfortable three-quarter length and baggier silhouette. And there's no better way to complement this new fashion trend than with Dr. Martens' chunky, leather sandals for a rugged touch to your summery look. 
Shop this style:
Anime Couple

Dr. Martens Outfit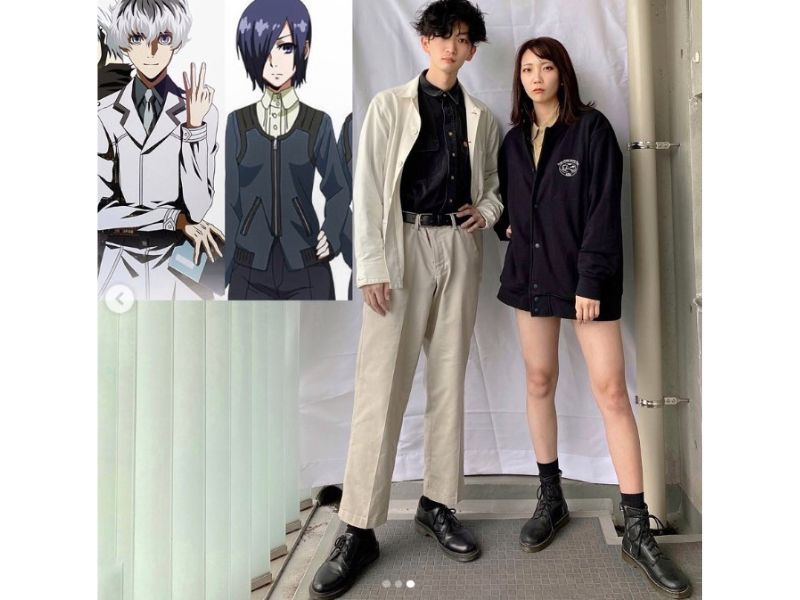 Do you and your beau love binge-watching anime over the weekends? Then why not take cues from Japanese fashion influencers, Sleepy Boy and Karin, and represent your favourite anime characters in your matching couple outfits? For Tokyo Ghoul fans, Dr. Martens' Oxford shoes are a must when recreating Haise's academic look. Meanwhile, the higher-top, lace-up boots are a better match for Touka's edgier, tomboy style. 
Shop this style (outfit 1):
Shop this style (outfit 2):
Related: How To Dress Like Your Favourite Anime Characters Without Being Too "Extra"
With A Dress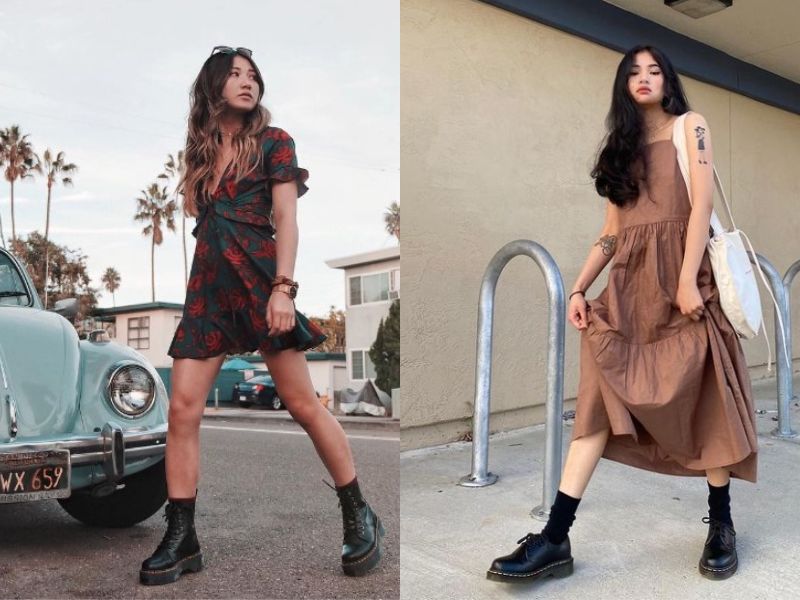 You don't need to limit your Dr. Martens outfits to just pants alone. Contrasting your dresses with a rugged pair of combat boots or Oxford shoes is a great way to add an extra hint of edge to your feminine style. 
Shop this style (outfit 1):
Shop this style (outfit 2):
With Bold Prints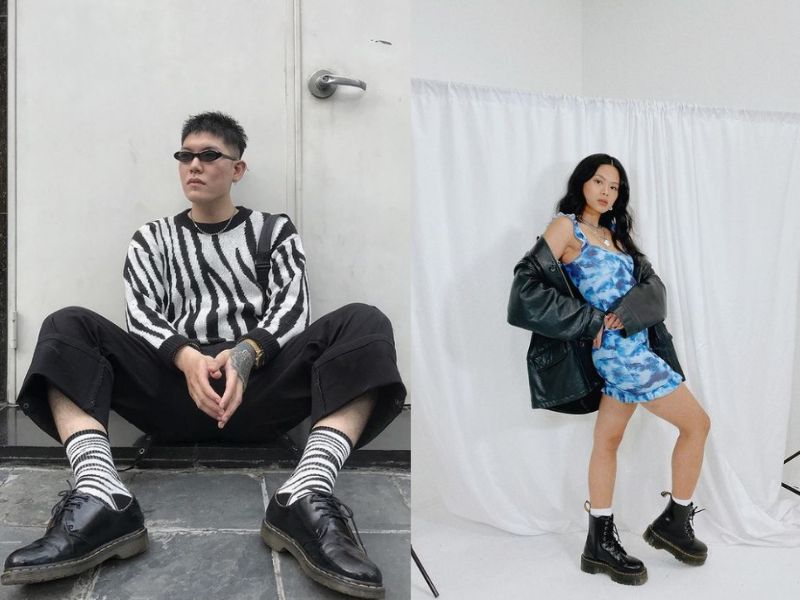 Amp up your styling game by experimenting with prints in your Dr. Martens outfits. Fellas, instead of stopping at a graphic sweater, try coordinating your socks to match the motif of your top. This will give your look an extra point of interest. Ladies, you can bring out your most vibrant patterned dress to make a bold fashion statement. 
Shop this style (outfit 1):
Shop this style (outfit 3):
With A Sweater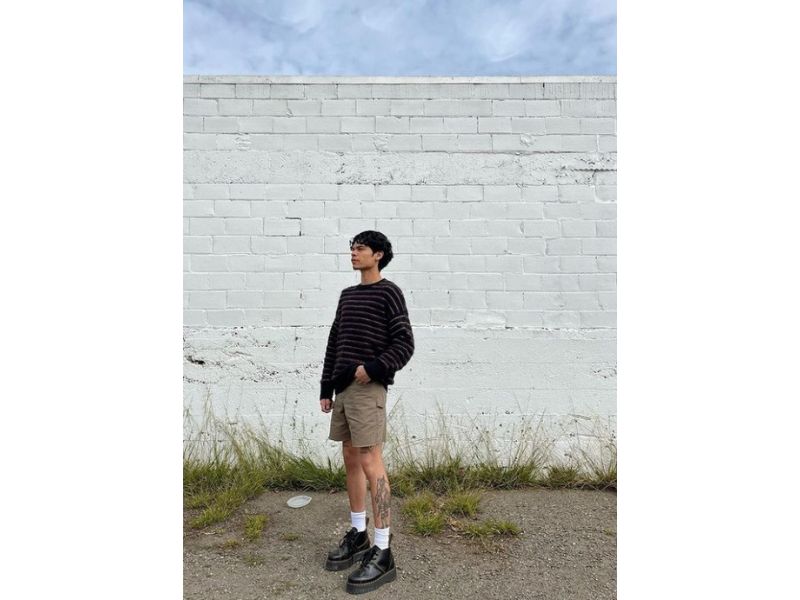 While there's no such thing as sweater weather here in Malaysia, it is possible to incorporate this knitwear piece into your everyday style. Though chino pants are typically the preferred choice, we suggest reaching for a pair of khaki, three-quarter shorts to wear your sweater with. Not only will it give your outfit better ventilation, but it also brings more attention to your boots. 
Shop this style:
With A Blazer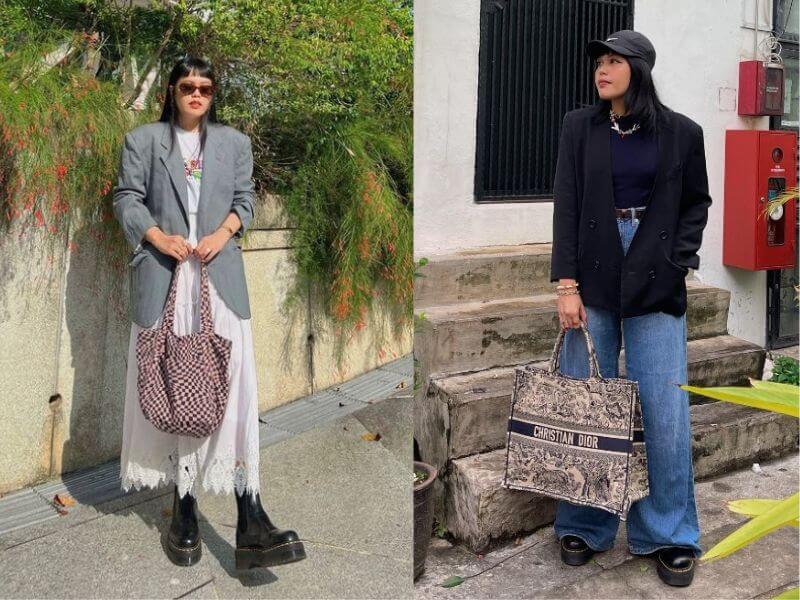 When in doubt, you can always rely on styling your Dr. Martens outfit with an oversized blazer for a relaxed yet sophisticated vibe. The contrast between the platform boots and the semi-formal outerwear strikes an interesting balance between business and punk. 
Shop this style (outfit 1):
Shop this style (outfit 2):
Related: From Cropped To Oversized, Here's How To Style The Blazer Jacket In 14 Outfit Combinations
How To Make Your Dr. Martens Hurt Less
Admittedly, while Dr. Martens are incredible heavy-duty shoes that can last for years and years, their sturdy material can be quite unforgiving on the feet. Try wearing your Dr. Martens indoors around the house for about ten minutes at a time to break in your shoes as much as you can. 
Once, you're able to wear them for over an hour without any discomfort, you can start wearing your Dr. Martens outside. Even then, try not to overdo it and don't wear them for long periods. We also suggest wearing really thick socks and padding the heels of your feet with plaster to protect yourself from blisters. 
Look Cool & Edgy With These

Dr. Martens Outfits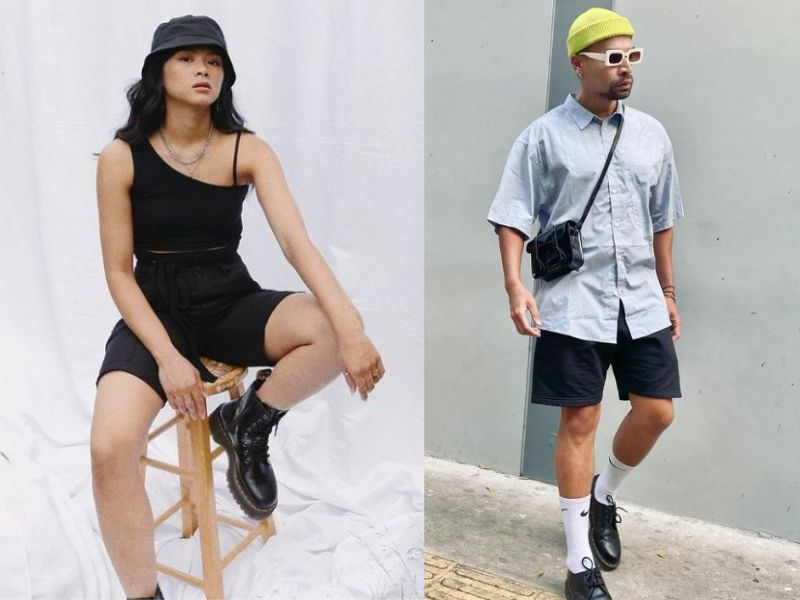 Now that you know what to do to break your shoes in, we hope you enjoy styling your Dr. Martens outfits as they become more of a staple in your wardrobe. Looking to expand your boots collection? Then check out our round-up of the six main types of boots every shoe lover should own.
Don't forget to head over to Style By Shopee to stay up to date with all the latest fashion trends.