Looking for holiday activities to keep your kids busy during the long year-end school break? Well, Christmas is around the corner and there's a new tradition you can add to your annual celebration. Enter Christmas crafts for kids! These awesome festive projects ahead are not only fun to make, they're also functional decor pieces that you can display around the house or gift your loved ones. Plus, unlike watching Christmas movies, your little ones won't just be glued to the screen for hours. Instead, they'll be training their fine motor skills and putting their creativity to use. The best part? It's a wholesome way to spend quality time together during the holiday season.
Keep Your Kids Busy With These Best

Christmas Crafts For Kids
A craft a day for the 12 days of Christmas, and a couple of extras thrown in!
1. Paper Plate Santa Claus 
Spread the holiday cheer with these super smiley Santas that are so easy to make! Just use any leftover paper plates, draw and cut out the pieces to form Santa's face, then stick everything together. You can also add more texture with googly eyes, white poms poms as the moustache or part of the hat, as well as curled paper strips as the beard. Just like this tutorial.
Supplies you'll need: 
2. Handprint Christmas Wreath 
Don't have a Christmas wreath at home? Why not make one together with your kiddos? This simple Christmas craft for kids allows them to use their handprint as part of the design, which adds a nice personal touch if you ask us. You'll definitely remember how adorably tiny their palms were in the years to come. 
Supplies you'll need: 
3. Popsicle Stick Snowflake Ornament 
This is a great Christmas craft for the kids to make if you want to add DIY ornaments to the Christmas tree. To make them extra fancy, make sure to provide your kids with lots of sequins and rhinestones for them to bedazzle the snowflakes. Alternatively, add some outdoor elements to the snowflakes by using twigs instead of popsicle sticks from ice creams. 
Supplies you'll need: 
Sequins

, rhinestones, and embellishments 

Hot glue gun
4. Pasta Christmas Tree 
Young children will love making and designing their very own pasta Christmas tree. Use macaroni and spiral-shaped fusilli pasta, and throw in a few red and green M&M's for a festive colour palette. For older kids, they can try making an upright Xmas tree by following these cylinder-shaped penne or ribbon-shaped farfalle pasta tree tutorials! 
Supplies you'll need: 
Large

M&M's

Paint and marker pens

Glue
Related: Hungry? Here Are 5 Super Easy Pasta Recipes Under 30 Minutes 
5. Tealight Snowman Ornament 
Here's a bright idea to DIY: making snowman ornaments out of tealights! Be sure to select small LED candles in white, plus a few other stationery to decorate the snowman. Once done, simply turn on the 'flame' to light up the snowman's carrot nose. It's an inexpensive Christmas craft for kids that'll bring a smile to anyone's face!
Supplies you'll need: 
6. Accordion Christmas Tree Craft 
Does your child love the art of paper-folding aka origami? Then here's a quick and easy Christmas craft for young kids to make. Just fold the coloured paper into an accordion A-line shape, add colourful circle cut-outs as ornaments, and finish with a star topper. 
Supplies you'll need: 
Coloured paper in several shades of green 

Colourful paper cut into circles 

Scissors

Ready-made star topper (or made with yellow coloured paper)
7. Mini Christmas Yarn Hats
These miniature yarn hats are so darn cute, you'll want to hang them up on the tree, hook them to your keychains, and display them just about anywhere. Thankfully, no knitting skills are required here, thus making it fairly easy even for young crafters. These mini Christmas beanies are also perfectly sized to be stocking stuffers! 
Supplies you'll need: 
8. Pom Pom Pine Cone Tree 
If your kids can't get enough of making DIY Xmas trees out of various materials, here's another one they can try. Grab a few pine cones and paint them in green, blue, or any colour they like. Then deck them with pom poms (or classy silver pearls like this tutorial) using a hot glue gun. 
Supplies you'll need: 
Several

pine cones

Colourful pom poms

Glitter pom poms (as the tree topper) 

Hot glue gun 
9. Toilet Roll Snowman
Here's a clever (and creative) way to recycle toilet paper rolls that you no longer need. Your kids can turn them into cute little snowmen wearing colour-coordinated scarves and earmuffs! Besides snowmen, check out how to make other iconic Christmas characters like Santa Claus as well as reindeers, elves, and more.
Supplies you'll need: 
Toilet paper rolls 

White paint

Marker pens in black and orange 

Ribbons

Hot glue gun

Pom poms

Pipe cleaners 
10. Sleigh Christmas Candy Holder 
Besides opening presents, kids also love chowing down on all the Christmas candies. So why not DIY a cool candy holder like this open sleigh? There's a free printable in various designs, including snowflake and chevron patterns. The best part is, of course, filling the sleigh with fun-sized candy canes, Hershey's kisses, Snickers bars, and other festive chocolates! 
Supplies you'll need: 
White card stock 

Ribbon

Full-sized candy canes

Scissors

Hot glue gun and normal glue
11. Sock Snowman (No-Sew)
Got some old pairs of white socks you're about to throw away? Don't, because you can make round, adorable snowmen with this no-sew tutorial. The fun part is deciding how much rice to fill in the sock, as this will determine how big or small your snowman will be. It's definitely a family-bonding Christmas craft activity suitable for both kids and adults!
Supplies you'll need: 
12. Christmas Tree Twirler / Whirligig 
Too many Christmas trees are never a bad thing, especially if you could use more festive decor around the house. For a fairly simple Christmas craft for preschool kids, get your little ones to make this easy Xmas tree twirler out of a spiral-cut paper plate and coloured paper. Then, watch as they find joy in hanging and spinning this whirligig in their room! 
Supplies you'll need: 
Paper plate

Green paint 

Coloured paper to make circular ornaments 

Scissors

Glue 

Hole puncher
13. Popsicle Stick Gingerbread House
If making an actual gingerbread house is too much of a chore this Christmas, we have good news for you—this popsicle stick version requires much less effort! To personalise this Christmas activity, let the kiddos replace the printable ornaments with 3D bits like pom poms, buttons, sequins, pipe cleaners, and candy canes. Then use the extra popsicle sticks to make reindeers and snowmen.
Supplies you'll need:
Popsicle sticks

Brown acrylic paint

White glue

Scissors
14. Paper Ball Reindeer
It's not Christmas without an appearance by Rudolph, is it? With just a handful of supplies, your little one can craft up this adorable version of the red-nosed reindeer in no time. You could even attach a piece of baker's twine in between the antlers then hang it up on the Christmas tree!
Supplies you'll need:
Coloured paper in light and dark brown

Glue stick

Red pom pom

Googly eyes
15. DIY Snow Globe
Nothing mesmerises a child (or even an adult) more than cascading glitter in a snow globe. Luckily, they're very easy Christmas crafts for kids to make at home! You could let your little ones choose which Christmas figurines to use, so long as they fit the glass jar. Once done, you can use these magical globes as table centrepieces or give them away as souvenirs to loved ones.
Supplies you'll need:
These

Christmas Crafts For Kids

Also Double Up As Holiday Decor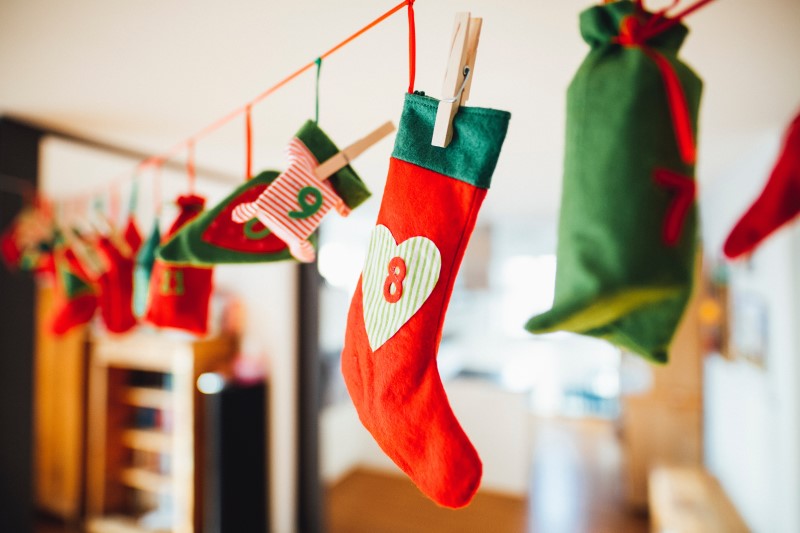 The year-end break may be long, but it doesn't mean it has to be a bore. With these fun Christmas crafts for the festive season, your kids will have a blast making cool holiday decorations and yearly memories! Wondering what other engaging Christmas activities your family can do together? Check out these Christmas party games for kids that even adults would love to play, or these family-friendly board games that are great for all ages and occasions! 
For more school holiday activities to keep your children productive and preoccupied, get inspired by these easy crafts for kids and indoor activities to kill boredom.