A girl's got 99 problems, and remembering her time of the month doesn't need to be one. With the best period tracker app, everything from menstrual cycles to premenstrual symptoms (PMS) can be recorded in a streamlined calendar. And since the app predicts your next cycle, you'll automatically be reminded of Aunt Flow's looming visit before she comes knocking. But that's just the tip of the iceberg. There's more to these apps than meets the eye, so we're here to help you pick out the best period tracker app for your needs.
The

Best Period Tracker Apps

That You Can Download In Malaysia
The best things in life are free, and so are these seven practical period tracker apps.
1. Best

Overall

Period Tracker App

: Flo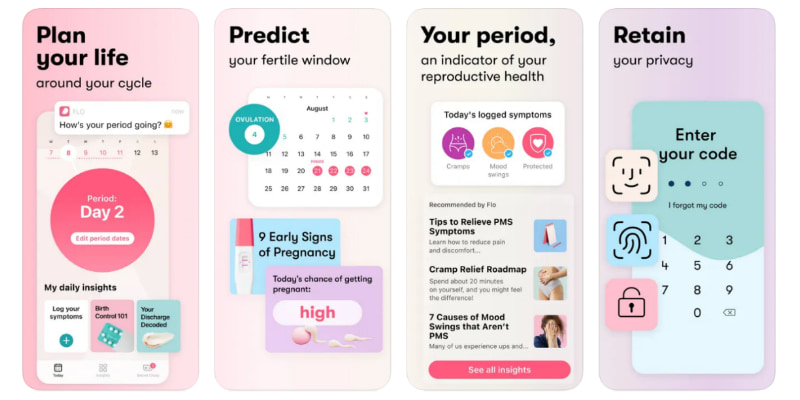 Flo is so popular among Malaysian ladies that it's the top 10 most downloaded Health and Fitness app in the country. It's little wonder as this all-in-one app tracks not only your menstrual stats, fertile window, and peak ovulation days, but also your pregnancy if you've got a bun in the oven. That means you'll be able to follow your baby's growth weekly and understand what's going on in your body. As far as period calendar apps go, Flo is pretty versatile even with just the free features. Its paid subscription plan offers a more tailored experience, premium customer support, plus unlimited access to expert content and video courses.
Download Flo Period Tracker & Calendar – iOS | Android
2. Best Period Tracker App

For PMS: Clue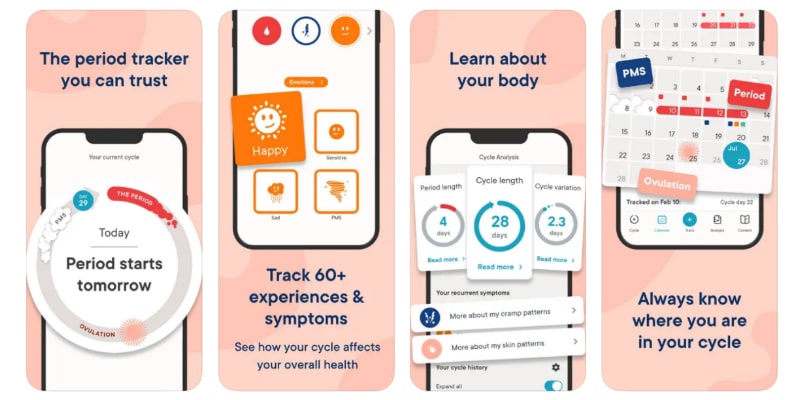 If you're someone who just wants to track your cycles without the faff (like yours truly), Clue does a wonderful job through its clean and modern interface. It provides tracking options for your monthly bleeding and literally any kind of PMS. So you'll get increasingly spot-on forecasts the longer you use the app. To take the burden off your memory, Clue can also send customisable reminders for your next menstruation or ovulation.
Download Clue Period, Ovulation Tracker – iOS | Android
3. Best Period Tracker App

For Fertility: Ovia Fertility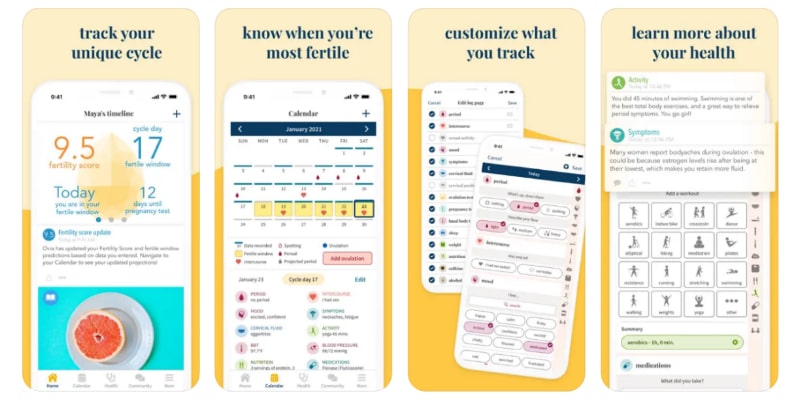 Whether you're trying for a baby or just trying to be on top of your cycles, Ovia Fertility is your best bet. This period calendar app excels in tracking basal body temperature (BBT), cervical fluid, cervical position, and other key fertility information, so it can pinpoint ovulation and periods with accuracy. It also rounds up a daily fertility score, so you know exactly when you should get busy. With Ovia's highly personalised algorithm, even ladies with irregular periods can benefit from using the app.
Download Ovia Fertility, Period Tracker – iOS | Android
4. Best Period Tracker App

For Couples: Blood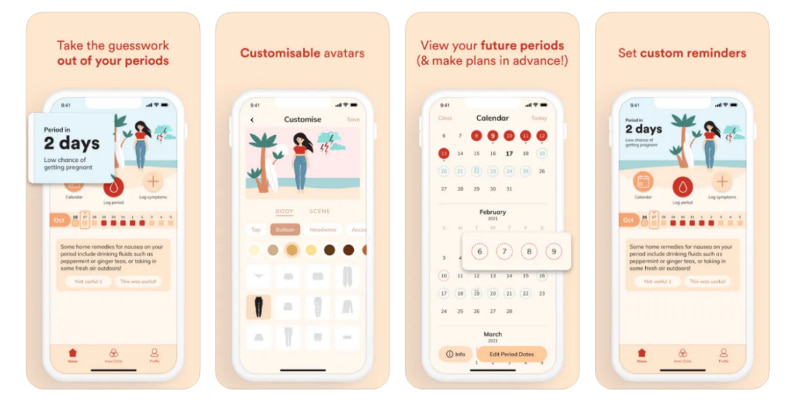 Blood is great for logging the usual menstrual cycles and symptoms, and receiving forecasts and health insights. But what makes it stand out is the 'Couple' function that allows you and your partner to interact about all things period. Not only will your partner be able to glean info on your upcoming cycle, they can also send an encouraging note to cheer you on. That way, they'll never have to bear the brunt of an inexplicable mood swing again! Another fun feature in this period calendar app is the customisable avatar that you can dress and accessorise as you please.
Download Blood: Period & Cycle Tracker – iOS | Android
5. Best Period Tracker App

For Data: Glow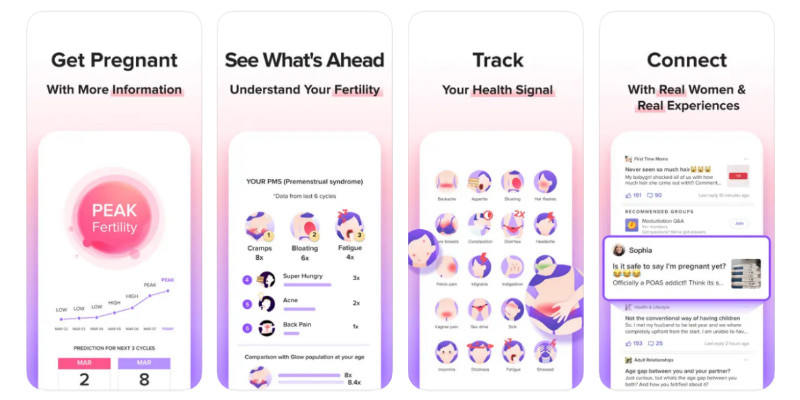 Recommended by experts, Glow is one of the best period tracker apps on the market for the wide range of data it collects. You'll be able to track your menstrual cycles and chart more than 40 health signals – from PMS to sexual activity to BBT – through its daily log. All of which will help you make more informed decisions on how to avoid or attempt pregnancy. If you're looking to interact with a community of ladies who are trying to conceive, just like you, you'll find them on Glow's lively forum!
Download Glow Period, Fertility Tracker – iOS | Android
6. Best Period Tracker App

For Apple Watch: Cycle Tracking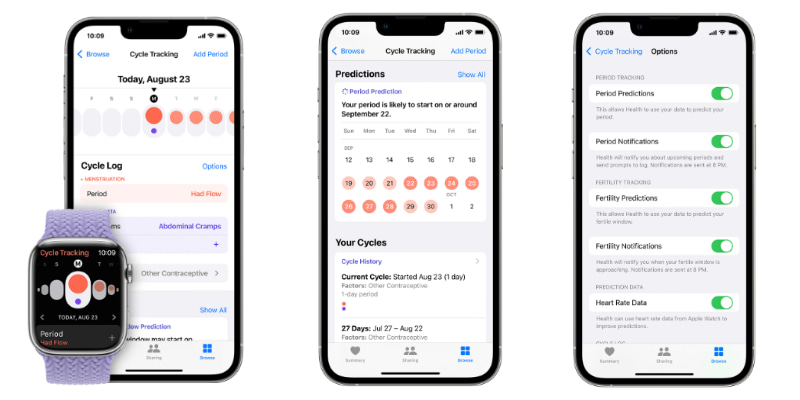 Everyone knows you can pay for a meal with a tap on the wrist. But did you know that you can also track your menstruation the same way? That's what the Cycle Tracking app on the Apple Watch is for! Synced to the iPhone's built-in Health app, Cycle Tracking enables you to log your cycles and symptoms, as well as fertility information like pregnancy test results and BBT if you're looking to get pregnant. For ladies on-the-go, you can opt to receive alerts on your watch when your period or fertile window is approaching.
7. Best Period Tracker App

For Teenagers: Period Tracker Period Calendar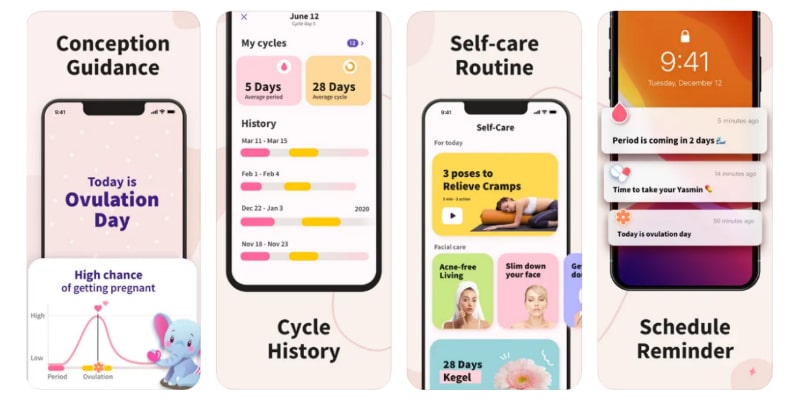 For girls who have just gotten their periods, here's a cute period calendar app that will encourage them to track their monthlies. The app's user-friendly design is easy to navigate, which makes finding out past periods and upcoming ones a breeze. It also comes with a handy reminder feature that will ensure you don't miss your birth control or daily supplements.
Download Period Tracker Period Calendar – iOS | Android
Sync Your Life With Your Cycles With The

Best Period Tracker Apps
With the best period calendar apps, you can plan for a big date, a beach getaway, or an important work meeting around your time of the month. And if you're trying to get pregnant, these apps will come in handy when you need to recap your fertility info during doctor's visits. Just remember, as useful and accurate as these apps can be, they only serve as a reference and not as a contraception.
For more apps to make your life easier, check out our round-ups of the best travel, augmented reality, and pregnancy apps.