Like K-pop, the presence of Korean cuisine is apparent almost everywhere in Malaysia. And Korean BBQ is one of the standouts. Imagine this: The sounds of marinated meat sizzling over a charcoal grill as you feast on the many side dishes while waiting for the proteins to cook through. That sounds absolutely divine, doesn't it? You can easily find Korean BBQ places in KL and PJ, but not all offer an authentic grilling experience like what you'd get in Korea. So, we've narrowed it down to the best Korean BBQ joints in the Klang Valley for a chow-down. 
But First, A Quick Introduction To Korean BBQ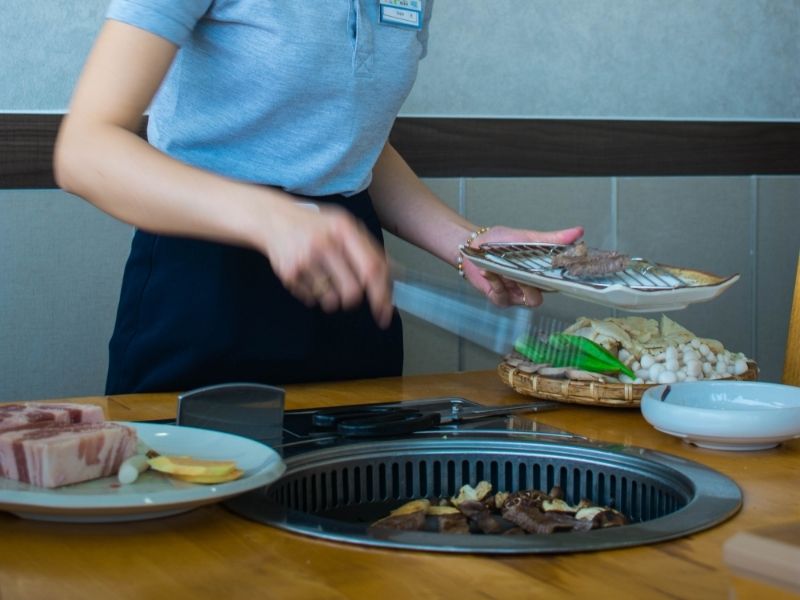 Korean BBQ refers to the cuisine in which beef, pork, or chicken is grilled on special charcoal or gas grills that are inlaid into the dining table itself. It's not any different for Korean BBQ in KL. Depending on preference, the meat can be marinated or not. Commonly used parts are sirloin, tenderloins, and drumsticks. When serving, the grilled meat can be eaten as it is or wrapped in lettuce with a clove of garlic. Together with a wide variety of side dishes or banchan, varying from kimchi to pickled radish, served on small plates. 
The Korean BBQ Places In KL For Delicious Grilled Meats
1. Don Don Korean BBQ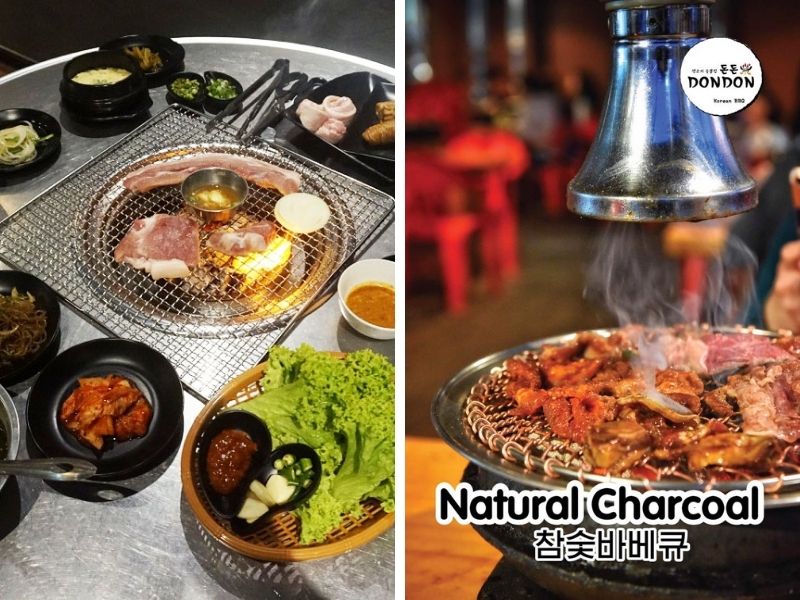 A Korean chef launched Don Don Korean BBQ in 2019 at the bustling Desa Sri Hartmatas area and the rest, as they say, is history. In less than three years, the restaurant has become one of the most popular Korean BBQ places in KL and is said to be frequented by Korean expatriates. While charcoal is commonly used, this outlet takes it up a notch with oak wood charcoal, delivering a unique smoky aroma that's infused into the grilled meat. Don't forget to give the signature spicy hagfish a try, which is generously seasoned with chilli and garlic.
Address: 33G, Plaza Crystalville, Jalan 23/70a, Desa Sri Hartamas, 50480 Wilayah Persekutuan Kuala Lumpur
Opening Hours: 
Mon – Fri: 4.30pm – 2am
Sat – Sun: 1.30pm – 2am
Contact: 010-225 7076
2. Gangnam 88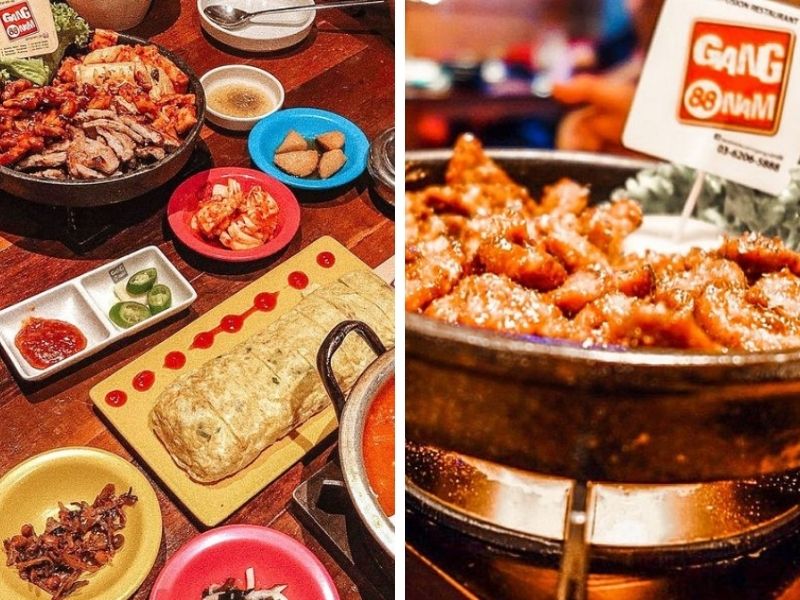 A huge poster of singer-rapper Psy adorns a private room at this Korean BBQ place in KL as if to let you know that the food here is as much a hit as the entertainer's worldwide banger Gangnam Style. Nestled in the ever-buzzing Solaris Mont Kiara, Gangnam 88 serves the usual Korean BBQ fare with other additions that will tickle your fancy if you're in the mood for something else. For instance, the ginseng chicken soup here is ravishingly flavorful as the broth is steeped for hours with red dates and chicken essence. Naturally, the spring chicken, which is generously stuffed with chestnut and rice, is also fall-off-the-bone tender. 
Address: No. 1-1, Jalan Solaris 3, Solaris Mon't Kiara, Off, Jalan Kiara, 50480 Wilayah Persekutuan Kuala Lumpur
Opening Hours: 
Tues – Thurs: 11am – 10pm
Fri – Sat: 11am – 11pm
Sun: 1130am – 10pm
Contact: 03-6206 5888
3. Apple Samgyupsal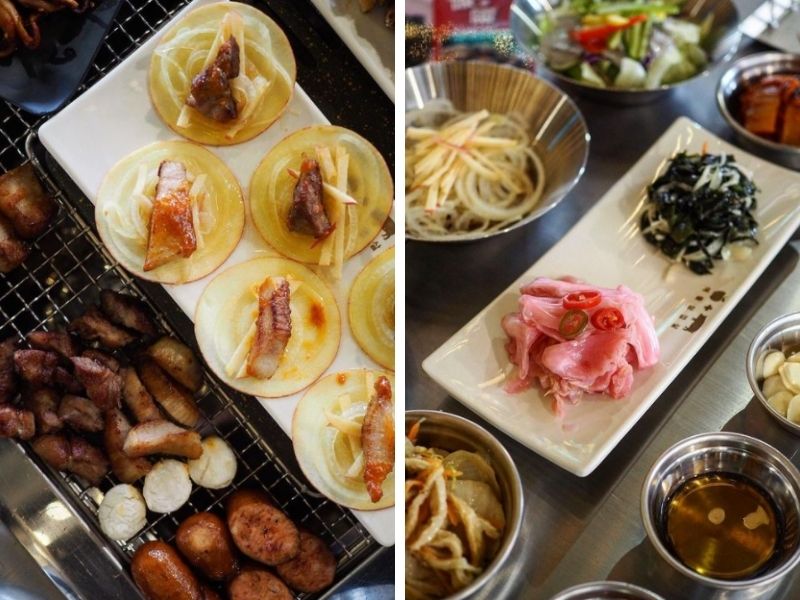 Apples? Yup. The meat at this KL Korean BBQ restaurant is marinated in apple sauce for 24 hours and then smoked with applewood chips before grilling. Essentially, this unconventional method gives the meat a tangy finish that cuts through the greasiness of the fat. In fact, apples are in many of the dishes and beverages here including salads, wraps, and soju. If you've got an appetite for Korean instant noodles or ramyun, you're in the right place as it offers unlimited refills for all flavours! Slurrp!
Address: 22, Jalan 1/109e, Taman Desa Business Park, 58100 Wilayah Persekutuan Kuala Lumpur
Opening Hours: Daily, 5pm – 2am
Contact: 03-7972 8911
4. Daorae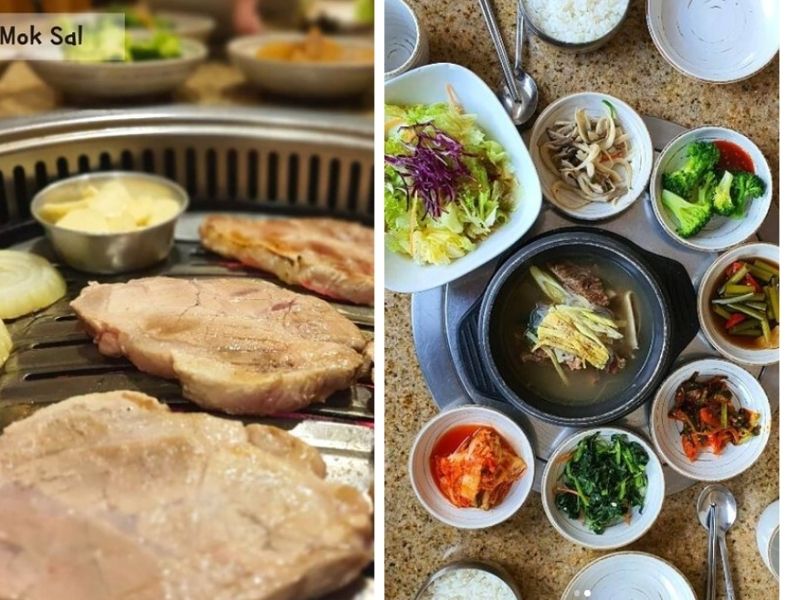 Situated on the second floor above banks and offices, families and friends looking for a fuss-free Korean BBQ experience will look to Sri Hartamas-based Daorae for their fix. Come with an empty stomach as you feast on a premium selection of pork loins and beef sirloin strips. And the best part? The friendly servers here do all the cooking for you, so just sit back and enjoy the meal! While you're here, don't forget to order the tteokbokki, which is a Korean rice cake cooked in spicy chilli paste. Otherwise, the chives pancake is also a hit.
Address: 27 & 29 Jalan 23/70A, Sri Hartamas, Desa Sri Hartamas, 50480 Wilayah Persekutuan Kuala Lumpur
Opening Hours:
Daily, 11.30am – 3pm, 5.30pm – 11pm
Contact: 03-6203 2616
5. Palsaik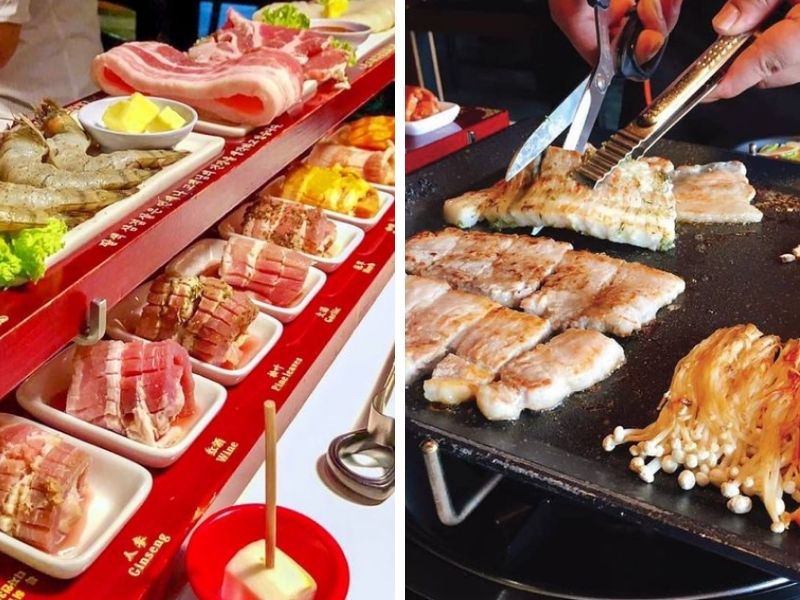 KL Korean BBQ chain Palsaik moved its Scott Garden outpost to Mid Valley Megamall in 2019. Since then, it has been drawing throngs of eager foodies. The hallmark dish here is a pork platter consisting of eight meat cuts seasoned with distinctive sauces. From curry to speciality herbs, this option is great for large groups. Separately, you can have cheese or an assortment of mushrooms to pair with the grilled meat. 
Address: G(E)-013A, Ground Floor, Mid Valley Megamall, Mid Valley City, Lingkaran Syed Putra, 59200 Kuala Lumpur
Opening Hours: Daily, 10am – 10pm
Contact: 017-803 8533
6. GuiGui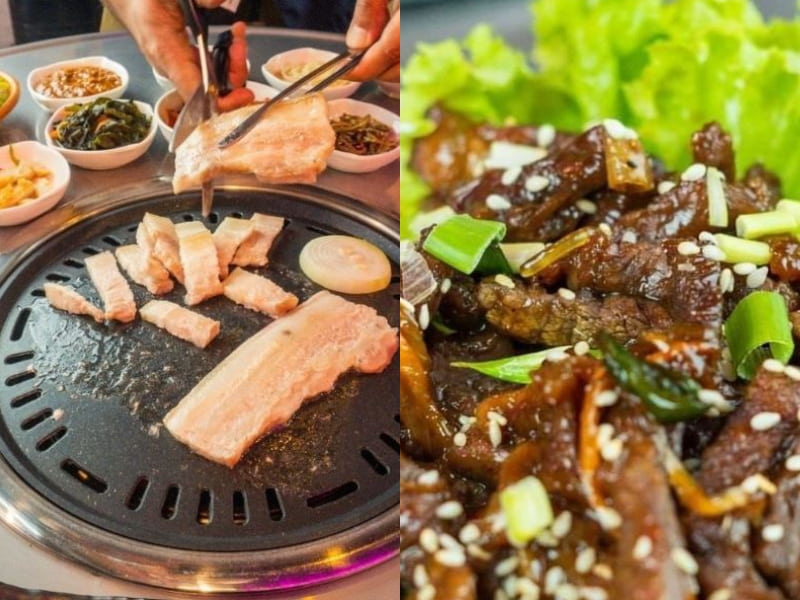 Among the flashing lights and commotion from the watering holes of Kwai Chai Hong, Petaling Street's bustling tourist district, GuiGui provides stomach-filling respite to patrons hankering for warm grilled meats. Pork belly is the star of the show here, which yields a melt-in-your-mouth texture after spending time on the grill. Wrap it in lettuce with some condiments, and you'll have a delicious morsel for your devouring pleasure.
Address: 143, Jalan Petaling, City Centre, 50000 Kuala Lumpur
Opening Hours: Daily, 12pm – 12am
Contact: 011-1155 2608
7. Kung Jung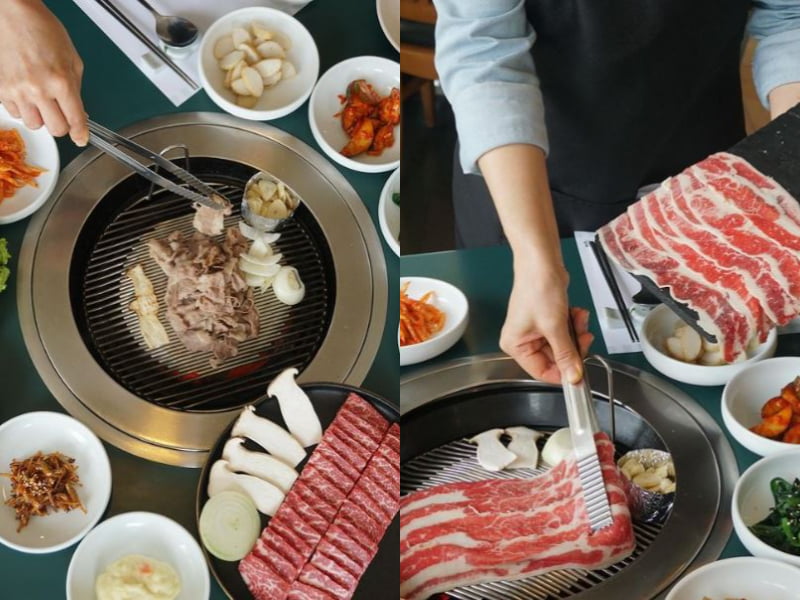 One of the earliest Korean BBQ restaurants in KL, Kung Jung has established itself as a reliable go-to for tried-and-true Korean cuisine over the past decade. The in-table BBQ proceedings start with stoking coals, which will be essential in creating the smoky flavours the grilled meats are known for. Popular protein options are the charbroiled sirloin and marinated spare ribs, which you can cook on your own or have the servers do it for you. If this much red meat is overbearing, dial things down with a Korean-style pancake that contains shredded vegetables and is seasoned with a dash of salt.
Address: Lot No 3.1 Level 3 PNB Perdana,  50450 Kuala Lumpur
Opening Hours: Mon – Sat: 11.30am – 2pm, 5.30pm – 9.30pm
Contact: 03-2166 7181
Don't Forget About These Best Korean BBQ Places In PJ Too
1. Sae Ma Eul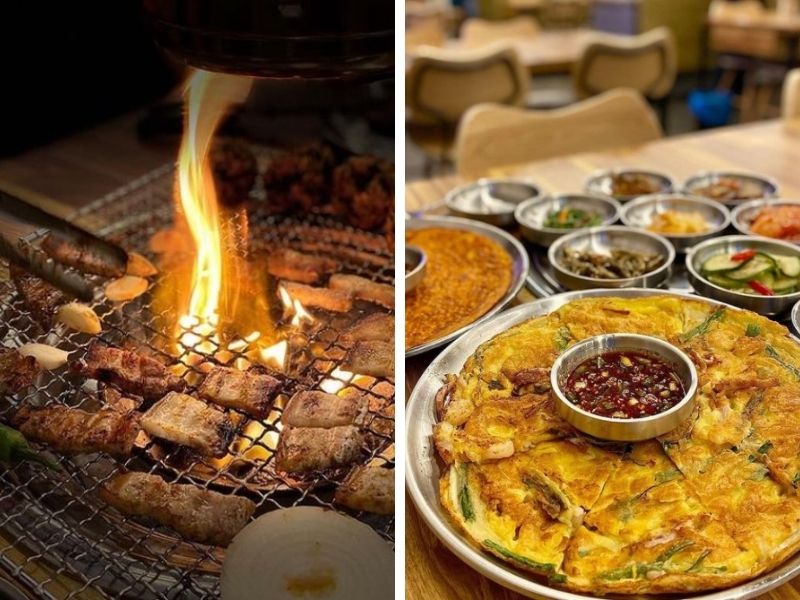 A long-time favourite among Korean foodies in the Klang Valley, Sae Ma Eul is one of the more well-known Korean BBQ branches in PJ since it set up shop in the neighbourhood shopping centre Jaya One some years ago. Since then, patrons have been flocking here for fresh ingredients and well-seasoned cuts. For starters, a must-try here is the beef brisket marinated in house-blend soy sauce. Asians can't stray away from their penchant for rice and here at Sae Ma Eul, why not try out their seafood spicy rice balls? It's a do-it-yourself dish that allows creativity, so you can decide just how big or small your servings are. 
Address: D-69-G, Block D, The Square, Jaya One, Jalan Universiti, Pjs 13, 46200 Petaling Jaya, Selangor
Opening Hours: Daily, 11.30am – 10.30pm
Contact: 017-803 8533
2. BBQ Ma Eul Cup Bab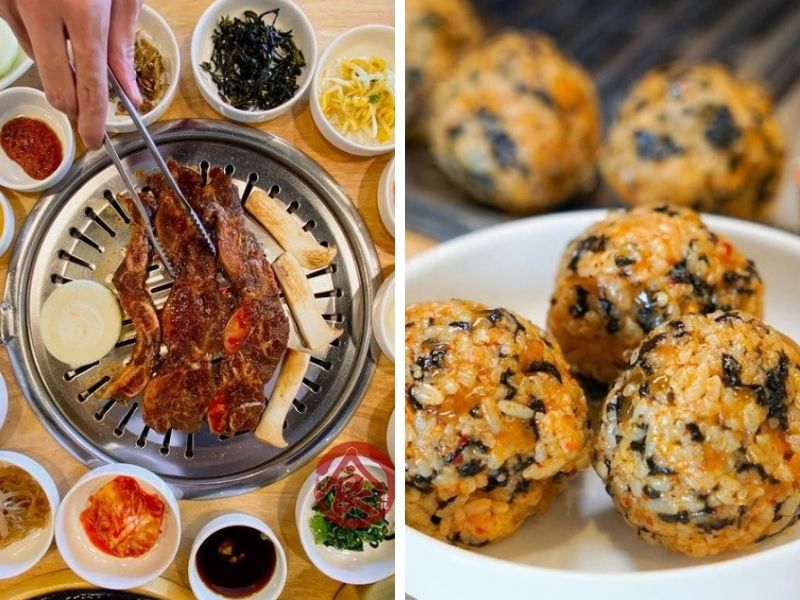 You've not fully experienced the F&B scene in Damansara Uptown—the busy intersection of towering office buildings and F&B establishments located off the LDP highway—without a trip to BBQ Ma Eul Cup Bab. Operated by a Korean family, this PJ-based Korean BBQ restaurant serves prime cuts of pork and beef, as well as seafood like prawn and squid. Specifically, the pork ribs steal the show with fall-off-the-bone textures that will have you wanting seconds in no time. On top of the usual side dishes, be sure to also try out the kimchi pancake here, a simple and delicious treat made with batter, sliced kimchi, and spring onions. 
Address: 48, Jalan SS 21/58, Damansara Utama, 47400 Petaling Jaya, Selangor
Opening Hours: Daily, 12pm – 12am
Contact: 016-283 8059
3. QingHeGu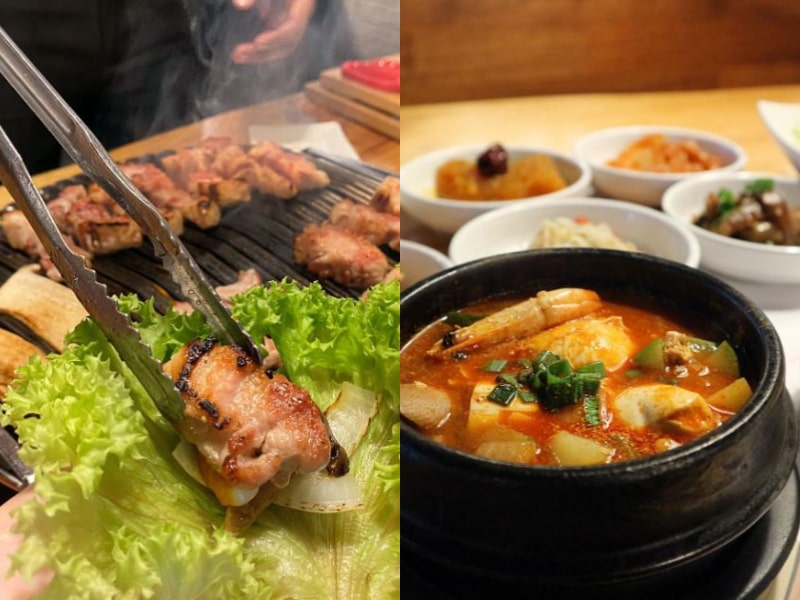 If the clamouring crowd at BBQ Ma Eul Cup Bab is too overwhelming, take a walk down the road to QingHeGu. The fully air-conditioned restaurant occupies two spacious lots, giving patrons a little more room as compared to its neighbouring competitor. The menu spans the best parts of pork, beef, and lamb to appease even the pickiest carnivore. For variety, you can't go wrong with the classics like Korean steamed eggs, japchae, and naengmyeon.
Address: 82G, Jalan SS 21/39, Damansara Utama, 47400 Petaling Jaya
Opening Hours: Daily, 12pm – 11pm
Contact: 03-7732 6655
Enjoy A Night Of Feasting At

Korean BBQ Places In KL

And PJ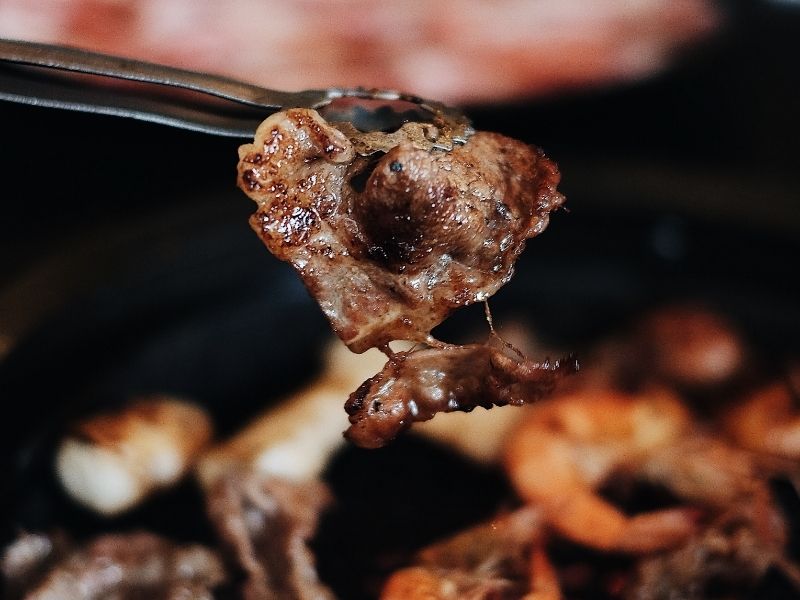 There's really nothing quite like Korean BBQ. With an abundance of well-seasoned meat options complementing equally generous portions of side dishes, you'll only leave satisfied and thinking about the next meal! Food aside, it's also a communal affair. Taking turns to man the grill and the passing of side dishes are part and parcel of the Korean BBQ experience. Looking for more good K-food in your area? Look to our list of authentic Korean restaurants that are operated by native Koreans, or these halal and Muslim-friendly options.
Cover image credit: @kung_jungkorean via Instagram