When one is in the mood for a chow-down, banana leaf rice often comes to mind. Originating from South India, the dish is one of the most popular foods in Malaysia, especially the Klang Valley where options are aplenty. As the name suggests, the rice together with accompanying dishes and flavorful gravies are served on banana leaves. The spread is a generous one, and no one ever leaves a banana leaf meal unsatisfied. At these restaurants is where you'll find the best banana leaf rice in KL and PJ. Ready your appetites, everyone. This list will make you hungry. 
Important note: We try to be as accurate as possible with details, but these are unusual times, so please check before heading out to avoid any disappointment. These restaurants offer delivery services if you prefer to stay home. Just call them up to arrange. 
Where To Get The

Best Banana Leaf Rice In KL
Vishal Food & Catering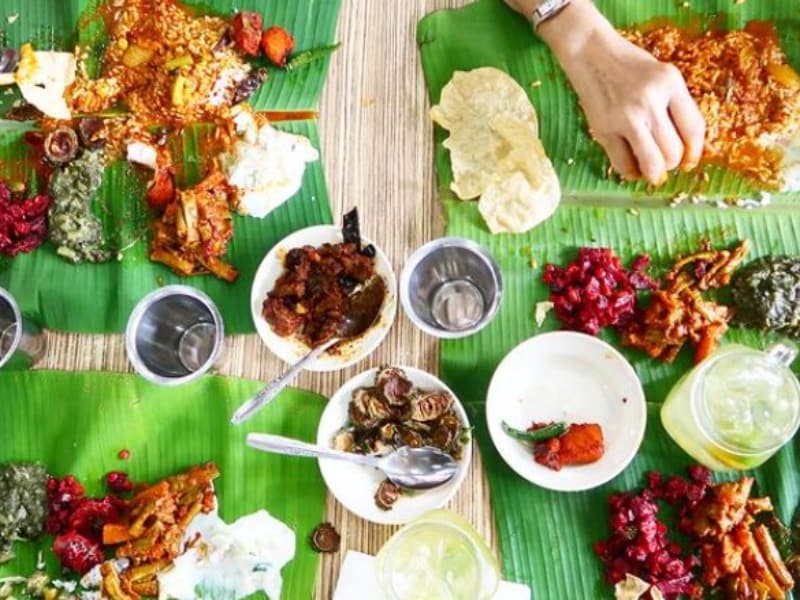 At Vishal Food & Catering, banana leaf rice is enjoyed in a communal setting with long tables arranged next to each other like a mess hall. Specialising in Chettinad and North Indian cuisines, hungry diners flock here to savour the fiery curries and gravies, so be warned if you can't stand the heat. The chicken varuval and mutton varuval are also a must-try, together with an assortment of vegetables including fried bitter gourd and stir-fried cabbage. 
Address: 22, Jalan Scott, Brickfields, 50470 Kuala Lumpur
Opening Hours: 8am to 8pm daily
Contact: 03-2274 0995
Moorthy's Mathai Indian Rice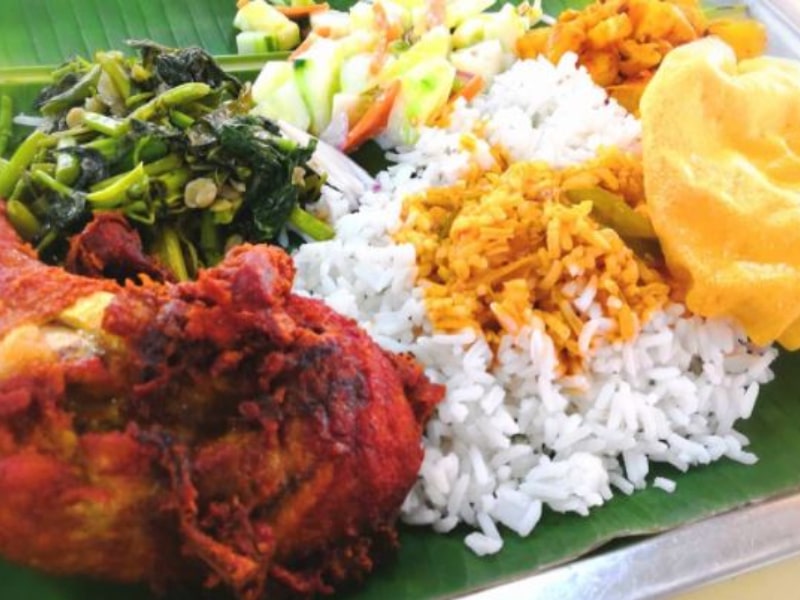 For years, this self-service stall nestled in a Brickfields hawker centre has been serving some of the best banana leaf rice in KL. The selection may not be as elaborate, but it's enough for a filling lunch. If you require recommendations, the fried fish and deep-fried calamari are favourites among the lunch crowd. Don't forget to drench it all up with curries and dhal for the full banjir experience!
Address: 144A, Jalan Vivekananda, Brickfields, 50470 Kuala Lumpur
Opening Hours: 10am to 3pm daily
Contact: 012-288 0940
Bala's Banana Leaf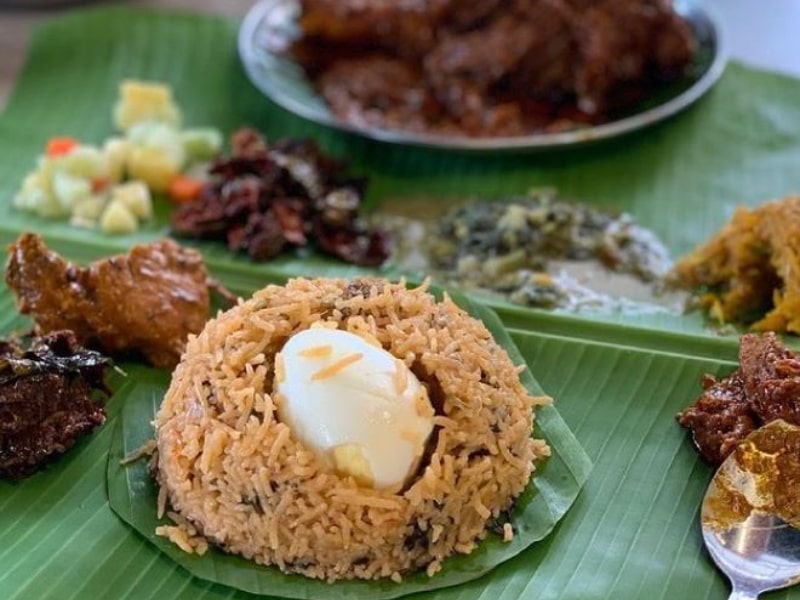 City dwellers vouch that the best banana leaf rice in KL can only be had at the bustling Bangsar neighbourhood. Competition here, like the curry, is appropriately fierce. Located right around the corner of Lucky Garden, Bala's Banana Leaf is one of the favourites, mostly known for its generous portions and fresh ingredients. The usual offerings like mutton curry and chicken varuval are unmissable, but give the seafood dishes a try as well, especially the unique stingray masala.
Address: 25, Lorong Ara Kiri 1, Bangsar, 59100 Kuala Lumpur
Opening Hours: 8am to 9pm daily
Contact: 017-862 2759
Sri Nirwana Maju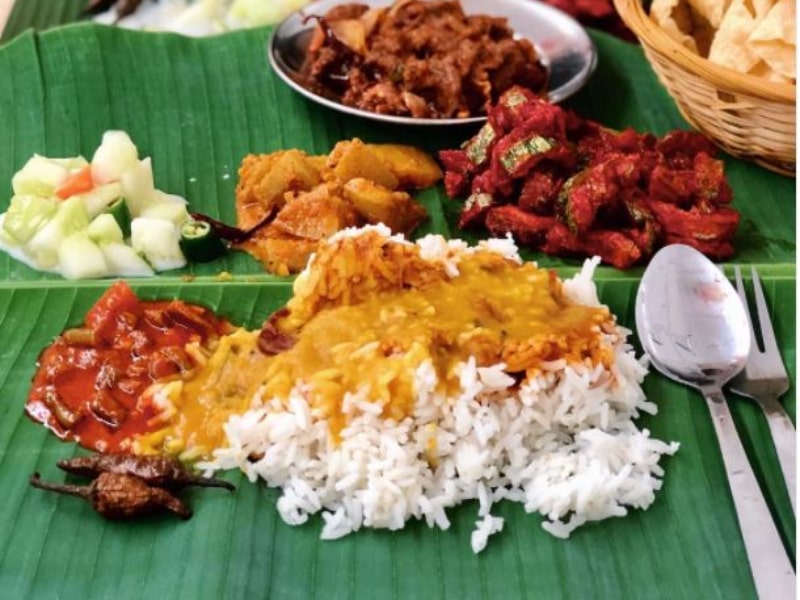 Located just a short distance away from Bala's is Sri Nirwana Maju. Sharing a row of shop lots with bars and bistros along Jalan Telawi, this ultra-popular joint is infamous for its snaking queues under the hot sun. The popularity isn't unwarranted, though. Their mouth-watering fried squid and signature dried chillies and pickles are crowd-pullers. Together with aromatic curries and sauces, the waiting time for the best banana leaf rice in KL is all worth it.
Address: 43, Jalan Telawi 3, Bangsar, 59100 Kuala Lumpur
Opening Hours: 11am to 8pm daily
Contact: 03-2287 8445
Aunty Manju's Home Of Banana Leaf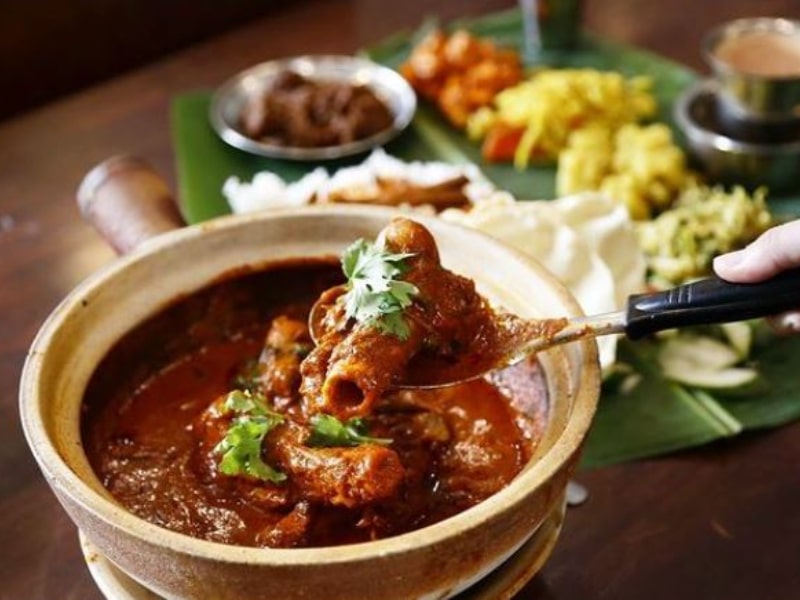 To folks living in TTDI, Aunty Manju's serves the best banana leaf rice in KL. The reason for this claim is the assortment of side dishes and vegetables. For starters, the tofu sambal is a tasty appetiser that packs a punch. Pair with the signature mutton bone marrow curry or the tender mutton varuval, then flood it with gravies of your choosing. Now that's a meal to die for!
Address: 18, Jalan Tun Mohd Fuad 1, Taman Tun Dr Ismail, 60000 Kuala Lumpur
Opening Hours: 7am to 8pm daily
Contact: 03-2389 0227 / 012-322 6022
Where To Get The Best

Banana Leaf Rice In PJ
Kanna Curry House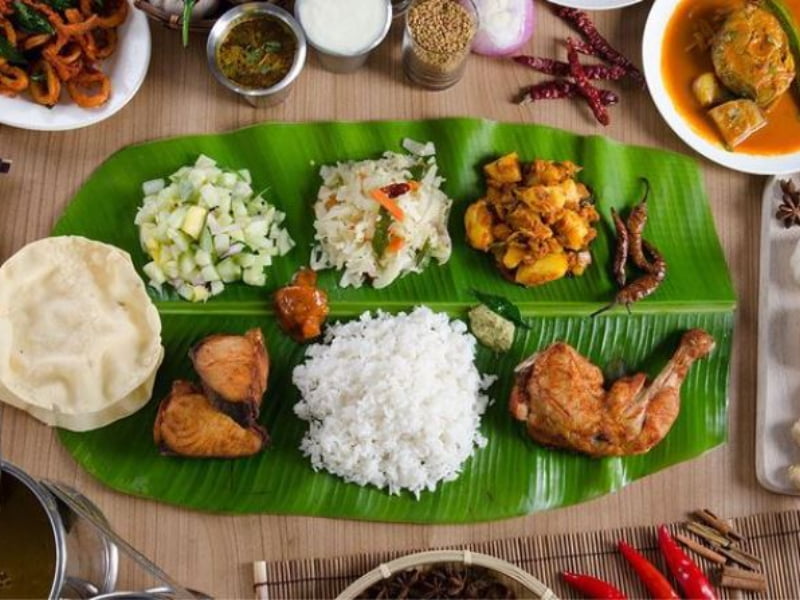 Kanna Curry House at PJ's Seksyen 17 is an old-timer, having been around for decades. Despite many years of business, it has managed to maintain the standard of its offerings. The crowds during office hours and weekends are a testament to that. Ask around and most patrons will ask you to try the pressure-fried chicken, which is juicy on the inside and delectably crunchy on the outside. As for curries, you have five to load your rice with; from crab to salted fish!
Address: 29, Jalan 17/45, Seksyen 17, 46400 Petaling Jaya
Opening Hours: 8am to 8pm daily
Contact: 03-7958 4814
Acha Curry House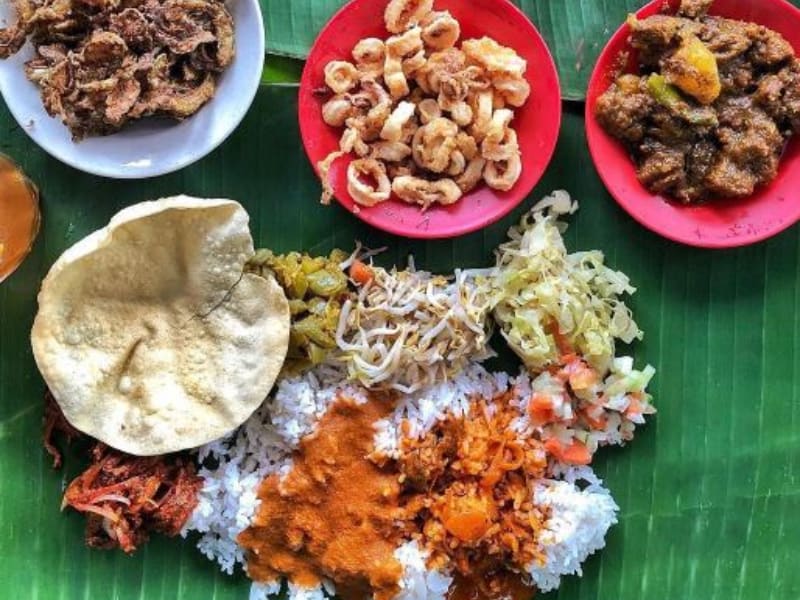 Previously operating out of a narrow shop, Acha Curry House has moved into a spacious corner lot earlier this year. The location may have changed, but the quality remains ever the same. The restaurant's curries are all aromatic and packed with flavour, with the crab curry and salted fish curry lauded as crowd-pleasers. For sides, be sure to try the sambal anchovies with caramelised onions!
Address: 42, Jalan SS 2/4a, SS 2, 47300 Petaling Jaya
Opening Hours: 10.30am to 2.30pm daily
Contact: 012-273 5096
Sri Ganapathi Mess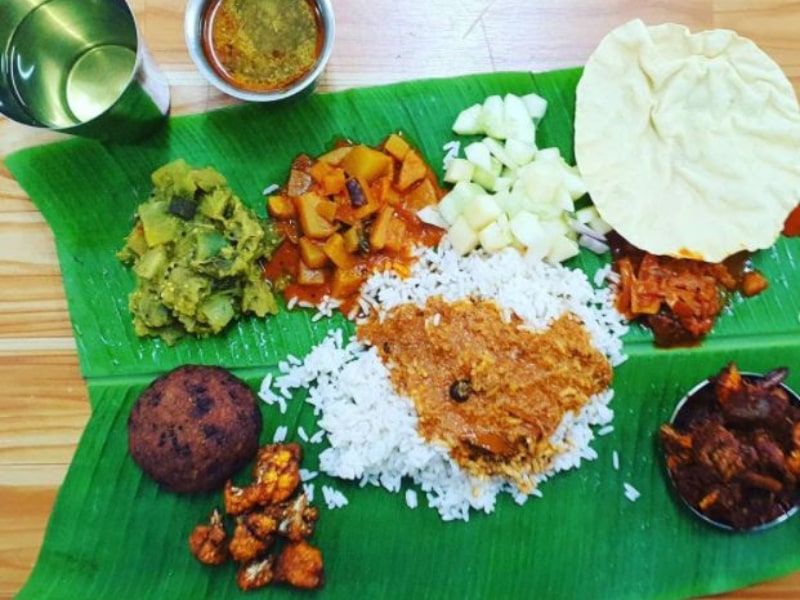 When it comes to banana leaf rice in PJ, Sri Ganapathi Mess is the worst kept secret. It's "hidden" within a single-storey house with a small signage board out front. But folks at this part of PJ know this is where you get fresh fried chicken, fragrant curries doused with spices, and generous servings of vegetables. After finishing the deed, wash it all down with an icy cold cup of mango lassi.
Address: 47, Jalan 1/10, Section 1 46000 Petaling Jaya
Opening Hours: 11am to 4pm daily
Contact: 010-238 9747
Sri Paandi
Come to Sri Paandi for a tasty and affordable banana leaf meal in PJ! Although the prices are cheap, it still retains a high standard of quality for its food. The most popular dish here is the deep-fried fish, which comes with crispy golden skin encasing moist and tender flesh inside. If you're fasting from rice, the tandoori chicken and naan combo is also a good option here. 
Address: 39, Jalan Dato Mahmud 11/4, Seksyen 11, 46200 Petaling Jaya
Opening Hours: 8am to 8pm daily
Contact: 03-7960 0576
Fix Your Cravings With The

Best Banana Leaf Rice In KL

& PJ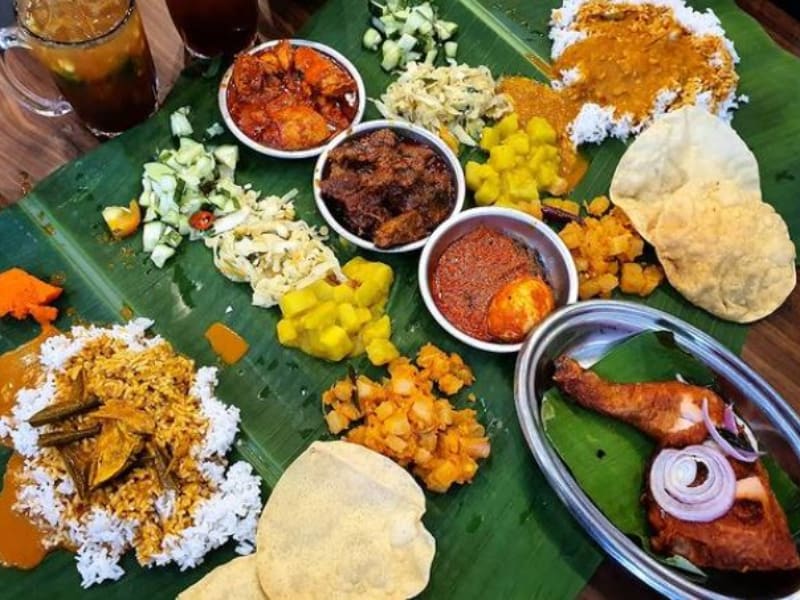 Like nasi kandar, banana leaf rice is one of the many iconic rice dishes in Malaysia. That's why there's no shortage of restaurants specialising in the dish around the Klang Valley. That said, you can't go wrong with the establishments on this list should you need help finding the best banana leaf rice in KL! Craving for dim sum instead? Check out this list of steaming hot baos and siew mais for the perfect brunch. Miss having hotpot? You can now bring hotpot home with these instant pots for a quick yet delicious steamboat meal!