From Twenty-Five Twenty-One to Forecasting Love And Weather, the month of March has certainly been a treat for all K-drama fans. Joining alongside these trendy releases is Netflix's hottest webtoon-based series: A Business Proposal. Longtime avid K-drama watchers will enjoy seeing all old-school romantic tropes revamped with a comedic twist that fits 2022's modern standards. 
Think fake dating: a rich CEO falls in love with a poor girl who took on the identity of her friend, and an office romance all jumbled up into one. If you're in need of a lighthearted pick-me-up, this series is worth checking out. Plus, the fashion is totally on point! Here are 12 stylish Korean couple outfits that you and your bae can draw inspiration from to wear on your next date. 
Korean Couple Outfits

Inspired By

K-Drama A Business Proposal

For Every Type Of Couple
The Besties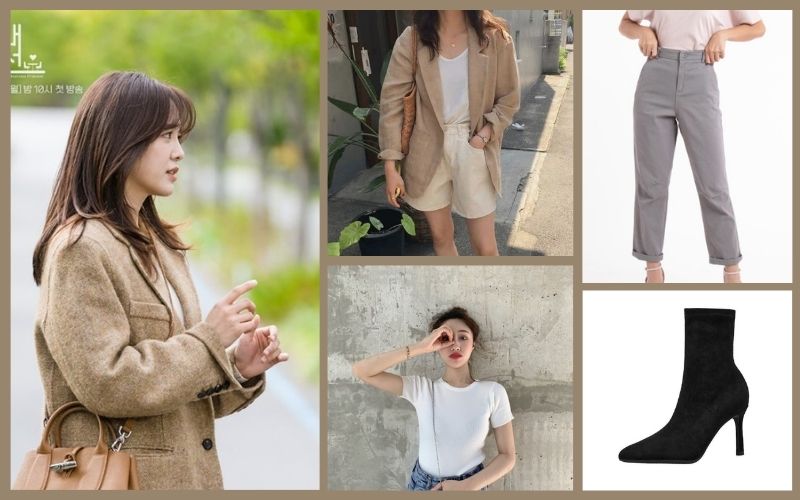 You don't need to be in a relationship to wear cute couple outfits. Take cues from best friends Shin Ha-ri and Jin Young-seo to start matching in style! And what better way to coordinate outfits than with a sleek blazer jacket? Here, Ha-ri favours a lighter neutral colour palette consisting of khaki, white, grey, and black hues. These shades do an excellent job at highlighting her warm-toned auburn locks and complement her pink undertones. 
Shop Shin Ha-ri's style: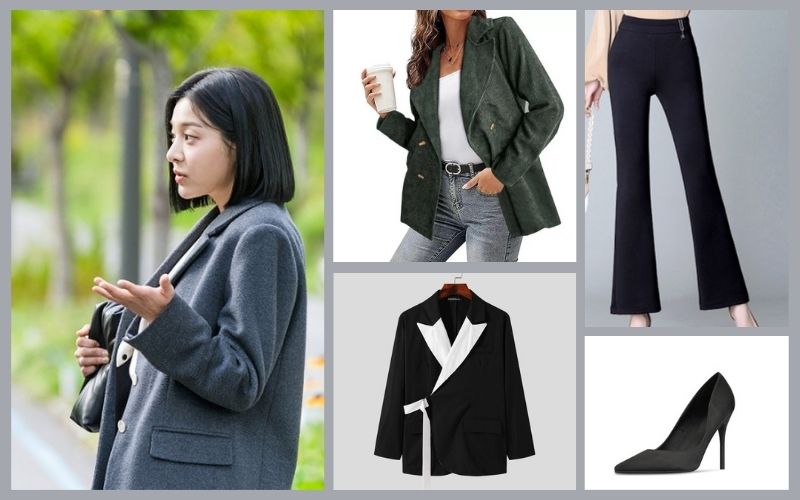 Meanwhile, Young-seo's colour palette leans towards darker shades of black, green-grey, and white. Apart from her business-chic aesthetic and tying in her inky black blunt bob, these cool-toned hues contrast perfectly to Ha-ri's earthy ensemble. 
Shop Jin Young-seo's style:
The Glam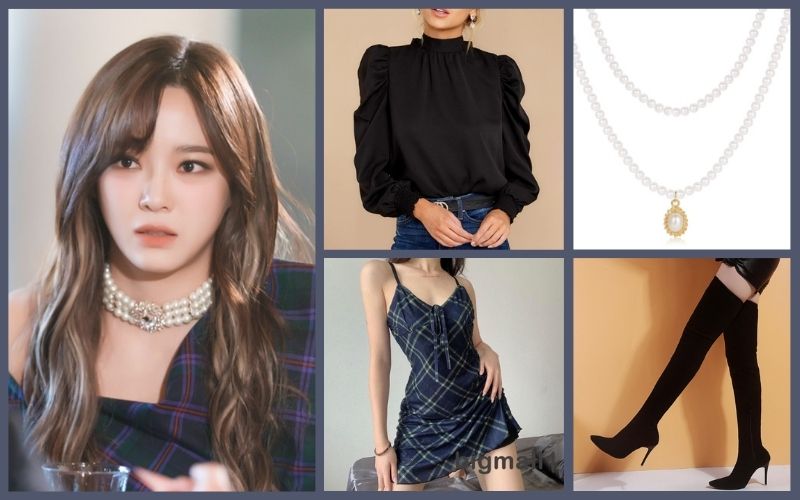 Let's move on to our loveable and chaotic main leads! This Korean couple outfit is only from episode two and Ha-ri is already seen coordinating with Kang Tae-moo through matching prints, albeit unintentionally. 
Her plaid mini dress from Vivienne Westwood looks stunning on its own. But we absolutely love how the thigh-high boots add an edgy flair to her ultra-glam outfit. Don't have a puff-sleeved dress? Simply layer a puff-sleeved blouse underneath a slip mini dress instead to get a similar vibe. 
Shop Shin Ha-ri's style: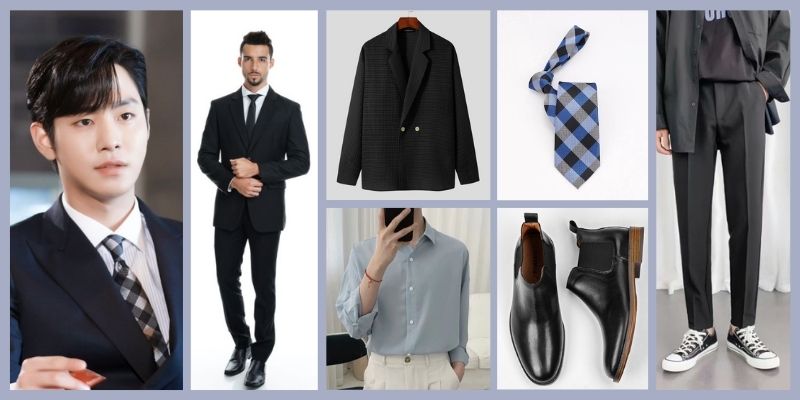 As Kang Tae-moo is your archetypal rich CEO chaebol, his look is more on the formal side in comparison to Ha-ri's. That said, sometimes, it's the little details that count. His striking plaid tie is a nice accented accessory that complements Ha-ri's plaid dress in a subtle and understated way. 
Alternatively, you could put a more smart-casual spin on his Korean couple outfit with just a few tweaks to match Ha-ri's bold look. For instance, instead of a suit, opt for an oversized blazer and replace your Oxford shoes with Chelsea boots. 
Shop Kang Tae-moo's style:
The K-Drama Chaebols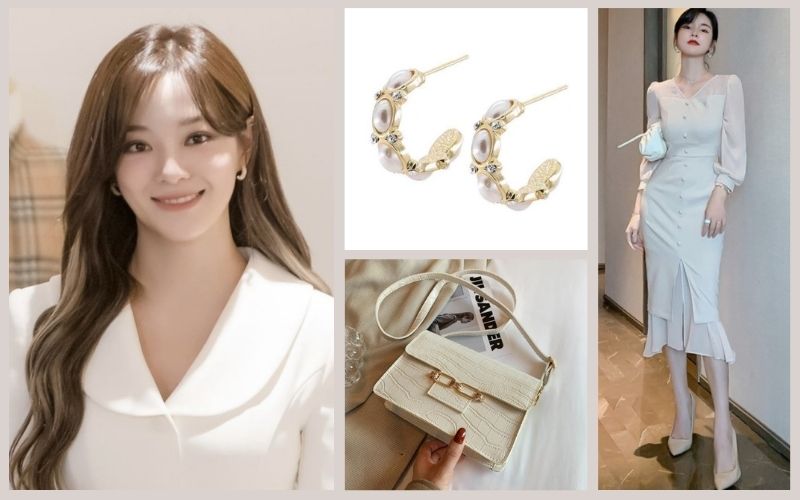 It's not a K-drama without a Korean couple outfit that exudes expensive chaebol energy. On her date with Tae-moo, Ha-ri is donning a beautiful ivory midi dress with a matching sling bag and nude pumps. Simplicity is key to nailing this classy aesthetic, hence why even her chosen accessories are kept light and minimal. 
Shop Shin Ha-ri's style: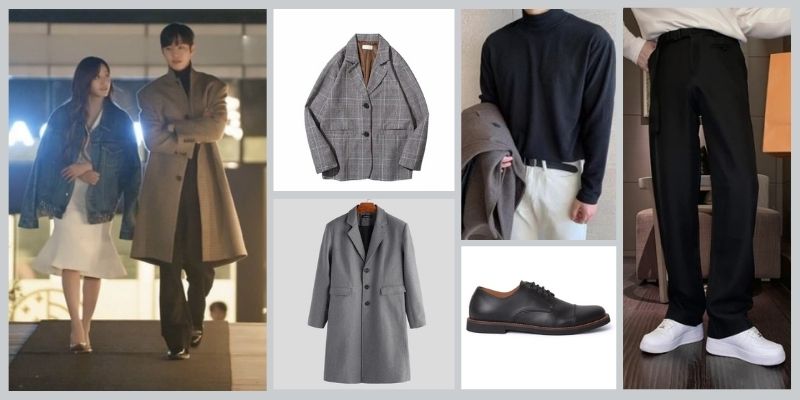 Opposite her, Tae-moo contrasts Ha-ri's all-white ensemble with his all-black (well, almost) outfit. Outside of his corporate suit, Tae-moo looks especially dashing in a black turtleneck shirt and tailored pleated pants. He's also got a long grey coat thrown over, making his already tall frame even taller. 
Shop Kim Tae-moo's style:
The Hot Gym Couple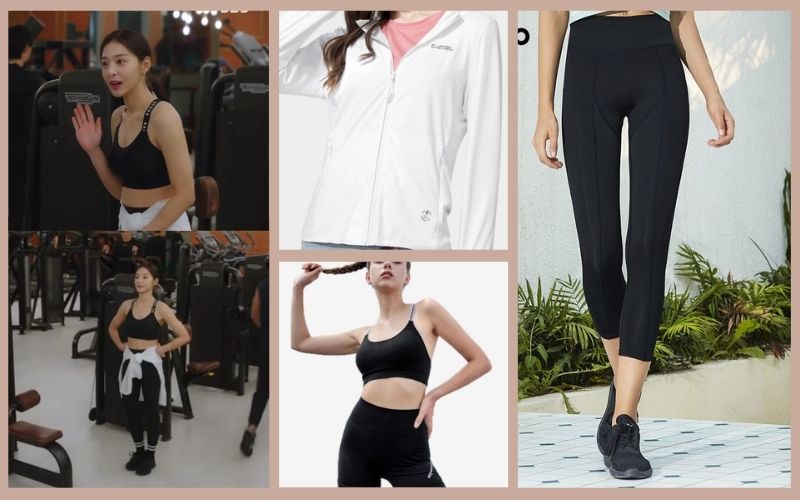 If you and your boyfriend love working out together, this Korean couple outfit from K-drama A Business Proposal is for you! Young-seo is ready to break a sweat in a fuss-free sports bra from Under Armor paired with some high-waisted leggings. A combination of sporty and sexy, you really can't go wrong with a simple black outfit like this. 
Shop Jin Young-seo's style: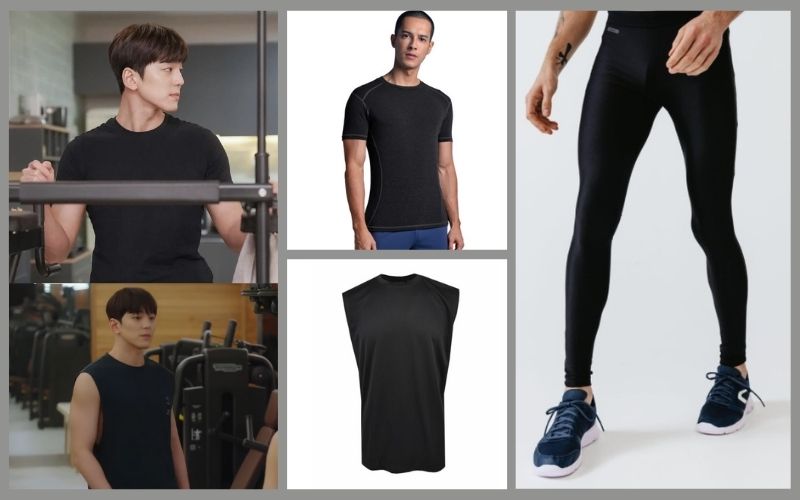 TikTok was on full simping mode at the sight of Sung-hoon's workout attire. He's ditched his eyeglasses and opted to leave his bangs down as opposed to his usual side-parting, giving him a more youthful look. 
His sleeveless muscle T-shirt highlights his biceps, but fans were also quick to point out that "even his armpit hair looks attractive". Alternatively, if you don't feel comfortable exposing your arms (or underarms), you could opt for a black compression T-shirt instead. 
Shop Cha Sung-hoon's style:
The Stay-At-Home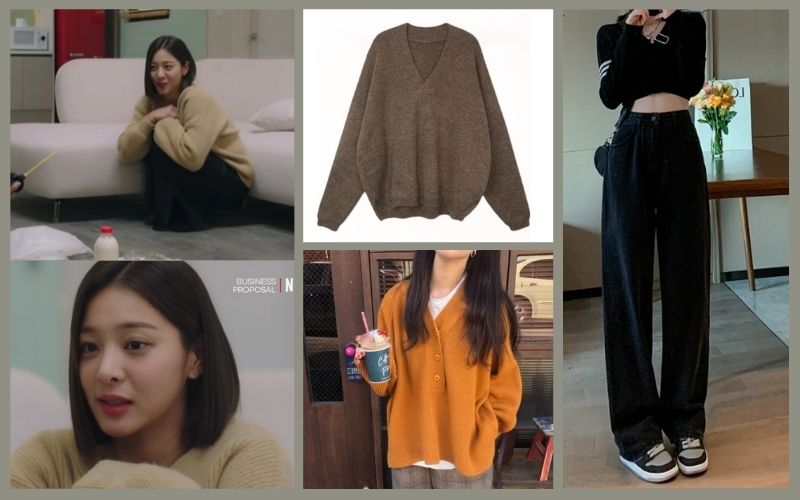 Loungewear is another popular Korean couple outfit that you see often in K-dramas. It's effortlessly chic while also being super comfortable! In K-drama Business Proposal, Young-seo brings on a fancier take to the casual trend with her minimalist get-up. 
Instead of the usual sweatshirt and sweatpants combo, she's rocking a chunky V-neck sweater and wide-leg pants. While it's certainly not practical to wear such an outfit indoors, it's a cute look for a cafe date with your bae!
Shop Jin Young-seo's Style: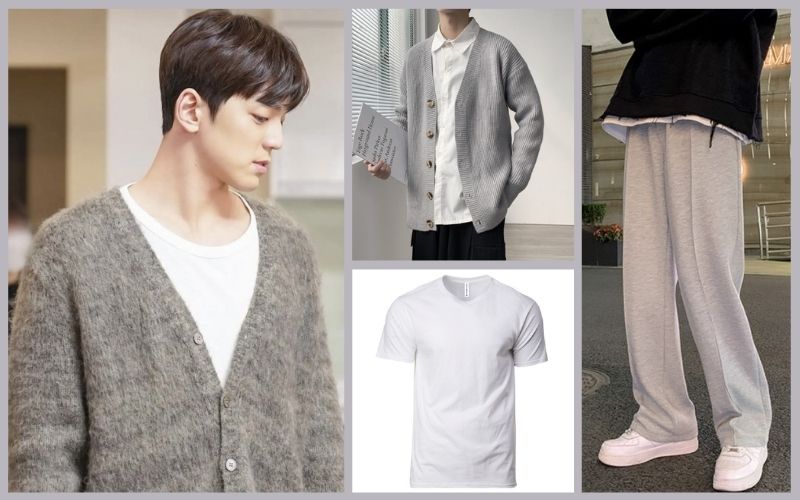 Playing off Young-seo's knitted style, Sung-hoon is also giving off major boyfriend-material vibes in a cosy, button-up cardigan. He maintains a seamless monochromatic colour scheme with light grey sweatpants, looking clean and stylish. 
Shop Cha Sung-hoon's style:
The Working Couple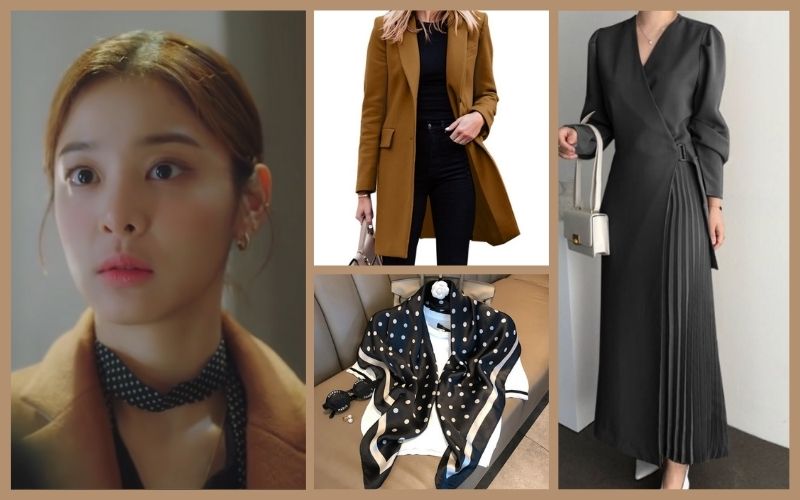 Besides blazers, Young-seo can often be seen wearing long coats; an outerwear favourite that Sung-hoon reaches for constantly in his work attire. Coincidence? We think not! For the most part, most of Young-seo's outfits are typically on the more neutral side.  But we love how beautifully she contrasts Sung-hoon's get-up with a fun polka-dotted scarf and a warm brown coat. 
Shop Young-seo's style: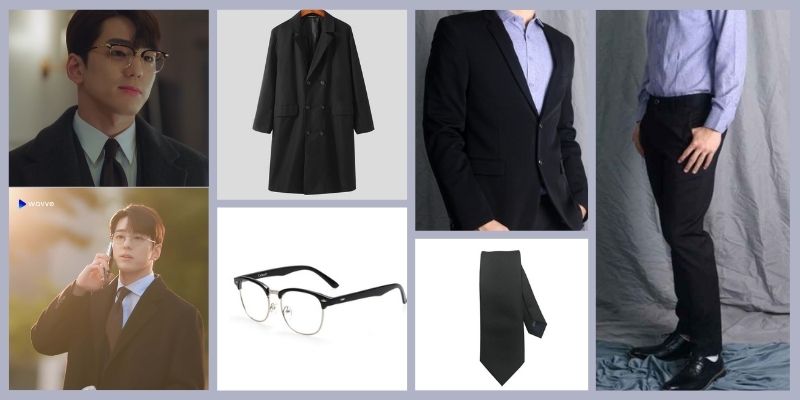 If there's anyone who's making a stronger case for men with glasses, it's Cha Sung-hoon, especially when paired with a formal suit. We can see why Young-seo fell in love at first sight (and that kissing scene in Ep7 though)! And like Young-seo, he too has a long coat draped over his shoulders. His non-coloured hues perfectly represent his serious yet calm energy to complement Young-seo's slightly brighter jacket that captures her larger-than-life personality. 
Shop Sung-hoon's style:
Bonus Outfit(s) From Shin Ha-ri
The Boyfriend Repellent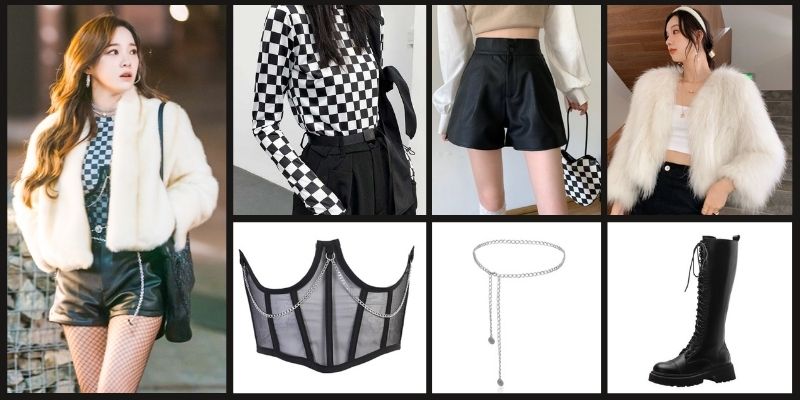 Yes, we know, this section isn't on Korean couple outfits, but it feels criminal to not talk about the fashionable looks Ha-ri is serving. We're obsessed with this girl-crush concept Ha-ri was rocking in the first two episodes of K-drama A Business Proposal. Even if it was used to ruin a date (spoiler alert: she failed). Forget about the less is more approach for a moment, and pull out all stops with prints, textures, accessories; the whole works! 
Shop Shin Ha-ri's style:
Cute In Gingham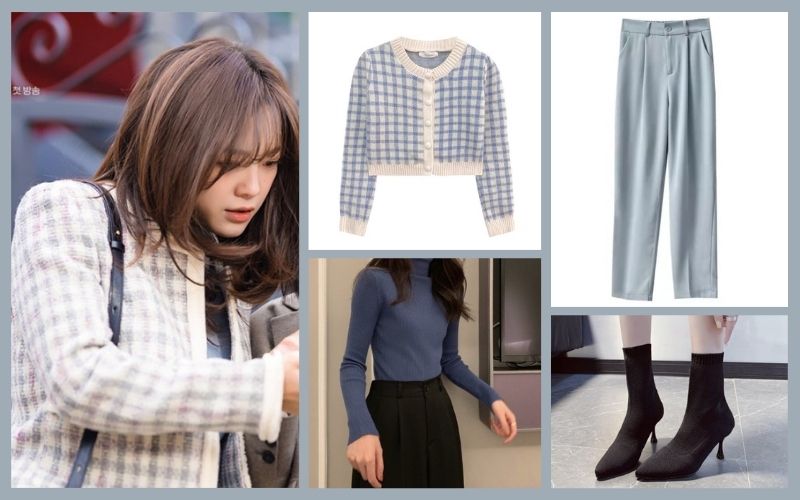 It's clear to see that plaids and checks are definitely Ha-ri's favourite patterns. When she isn't in a blazer or a lab coat, you can often find her dressed in a cropped checkered jacket. Her other office wardrobe go-tos? Turtlenecks and pleated wide-leg pants reign to look work-appropriate yet stylish. 
Shop Shin Ha-ri's style:
Achieve #RelationshipGoals With These Cute

Korean Couple Outfits

From

A Business Proposal K-Drama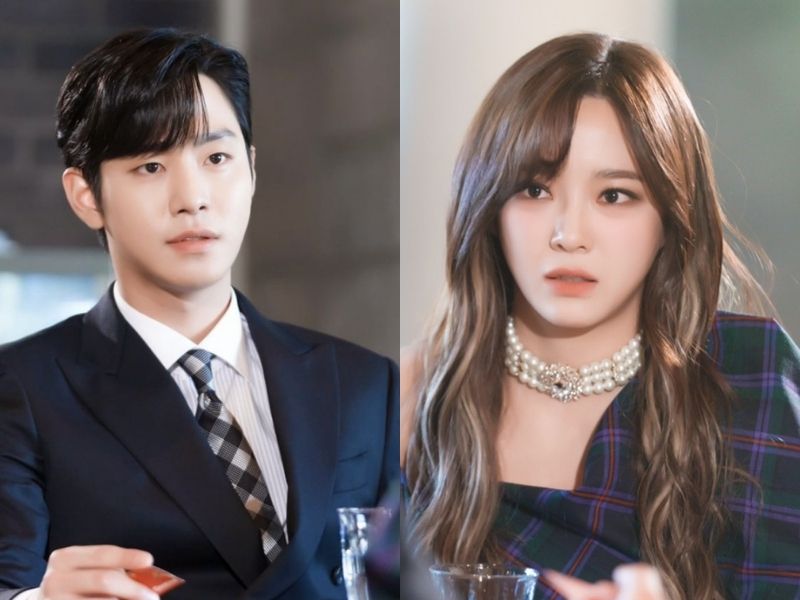 Whether you prefer glamorous, business-chic, or cosy-casual, we hope you and your beau have fun recreating these Korean couple outfits from Netflix's trendy K-drama, A Business Proposal! Are you also a fan of Twenty-Five Twenty-One? Then check out our guide to Baek Yi-jin's best Korean casual outfits. You can also head over to Style By Shopee to know more about the latest trends and fashion updates!
Find more Korean-inspired trends here.