Twice has us so in the feels for their new English single, "The Feels". Their catchy disco beat is super infectious, successfully stealing our hearts and never letting go. Needless to say, it's the perfect love song anthem to get you up and dancing to the groove. And like all K-pop music videos, the fashion is totally on-point. But if there's only one major style takeaway we had to choose, it's the eye-catching plaid outfits! Besides being the print of the moment, plaids are also a staple that always comes back in trend year after year. From flannel shirts to gingham dresses and plaid skirts, these chic outfits from Twice's "The Feels" MV are definitely major inspo on how to style the checkered print. 
How To Style

Plaid

Shirts, Skirts

&

Dresses:

Outfit

Ideas From Twice's 'The Feels' MV
With A Matching Bustier Top Over A White Tee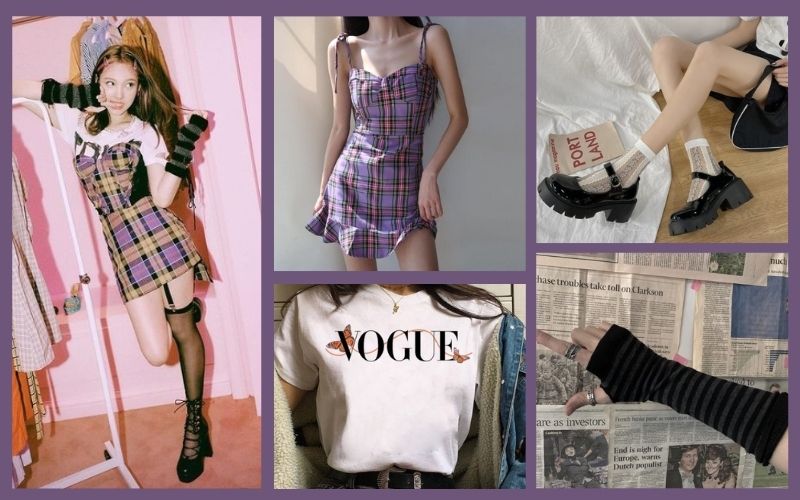 One of the easiest ways to style your plaid skirt outfit is with a matching top. Nayeon's look is fully coordinated from head to toe with a purple tartan skirt and top set from Vivienne Westwood. She's also got a white True Punk T-shirt (also from Vivienne Westwood) underneath, providing extra coverage while giving her look a '90s vibe. As for shoes and accessories, she opts for a pair of close-toed platform heels and hair clips. A true E-girl aesthetic if you ask us!
Shop Nayeon's look:
With A Super Cropped Sweater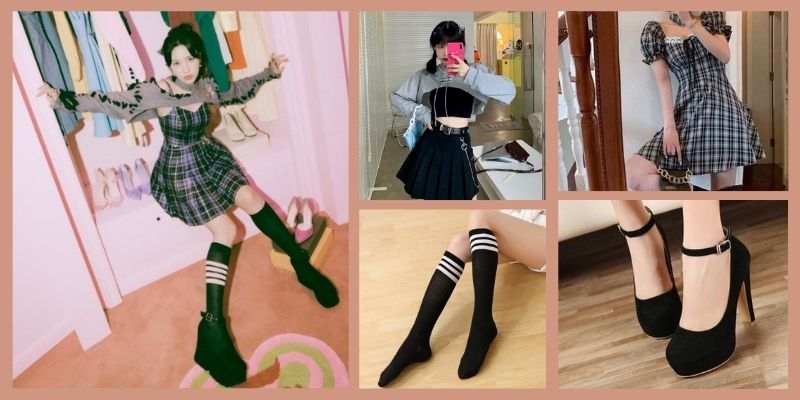 Take cues from Mina to turn your basic plaid dress into a killer, punk-rocker-chic look. Her extra-cropped sweater from Acne Studios adds a grungier touch to her blue plaid ensemble while still allowing the print to shine. Meanwhile, Thom Browne's 4-bar, black knee-high socks put a more gothic spin on the preppy piece. 
Shop Mina's look:
With A Cropped/Striped Blazer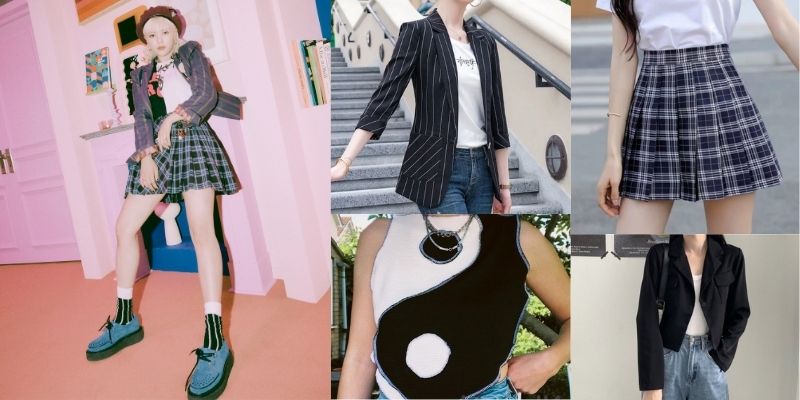 For those who prefer a mix of preppy and punk, Jeongyeon's plaid skirt outfit is for you. Don't be afraid to mix prints like this striped cropped blazer and blue checkered skirt pairing to showcase your sassy attitude. The trick to making clashing prints work? Just make sure that the colour palette remains consistent throughout the look. 
Shop Jeongyeon's look:
With A White Button-Up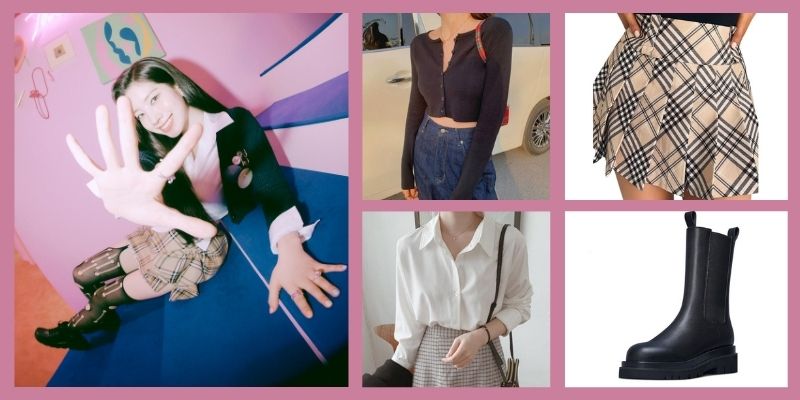 When in doubt, bring out the white button-up! And if you're somehow still doubting its versatility, Dahyun and Sana's plaid skirt outfits will surely change your minds. For a slightly neater and more polished look, Dahyun's cardigan and ruffled bow plaid skirt will be right up your alley. Otherwise, opt for Sana's striking red checkered skirt outfit combination for a bolder interpretation of the school-girl concept. 
Shop for Dahyun's look: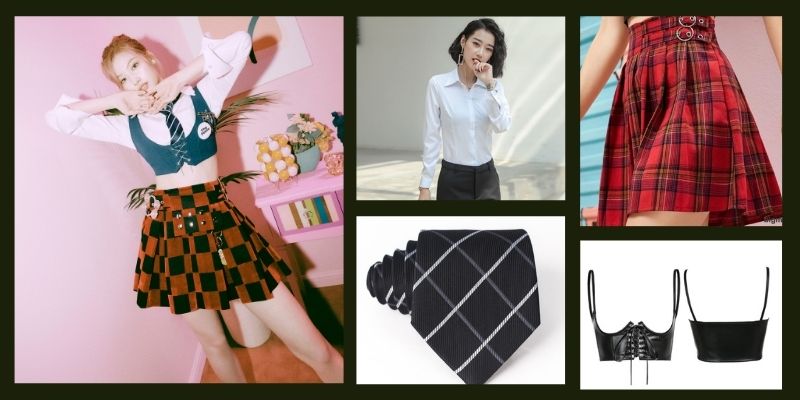 Shop for Sana's look: 
With Combat Boots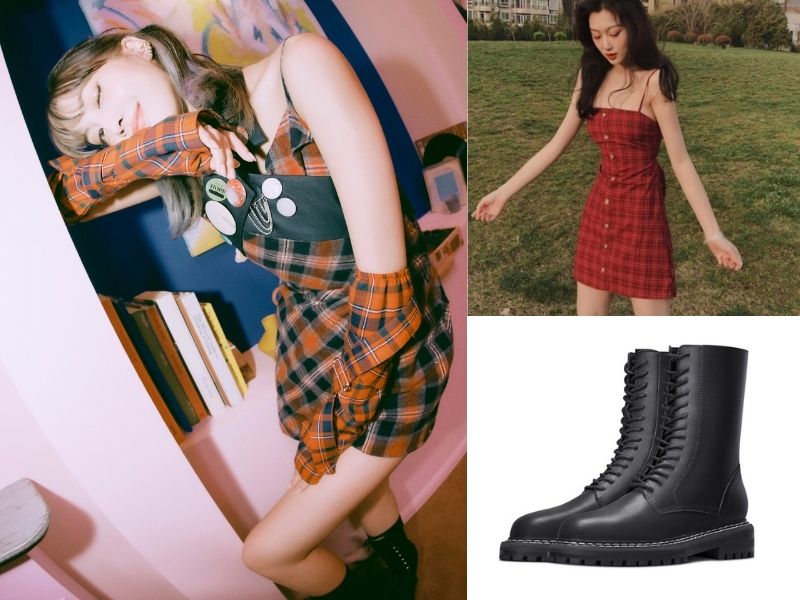 Momo's look is by far the most effortless, but it still makes a statement! Here, she brings the full focus to her mini dress and lets it do all the talking. The only accented pieces included are two black sashes adorned with badges—think girls' scouts with a twist—and a pair of combat boots. 
Shop Momo's look:
With A Classic LBD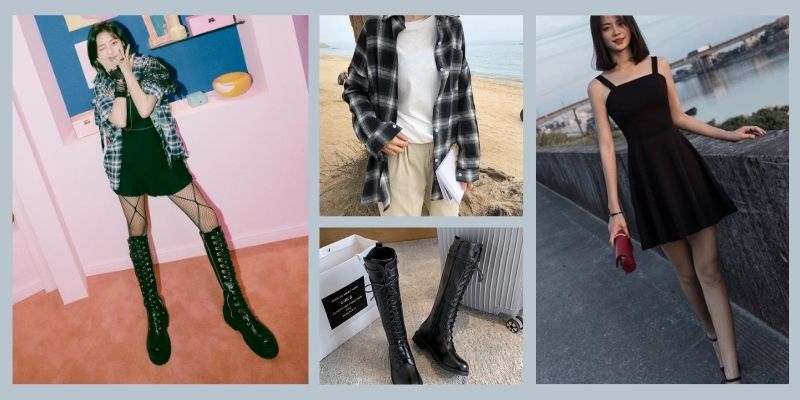 Got an old flannel plaid shirt that's been sitting at the back of the wardrobe? Now's the best time to bring it out! Not sure what to wear it with without looking drab? Copy Jihyo's style in the music video, as she pairs hers with a classic closet staple: a little black dress (LBD). Then, to prevent her flannel outfit from appearing too plain, she jazzes things up with minor details like the silver buckle straps and body chains. Well, that alongside the impressive knee-high platform boots and fishnet tights. 
Shop Jihyo's look:
Bonus Looks From Tzuyu & Chaeyoung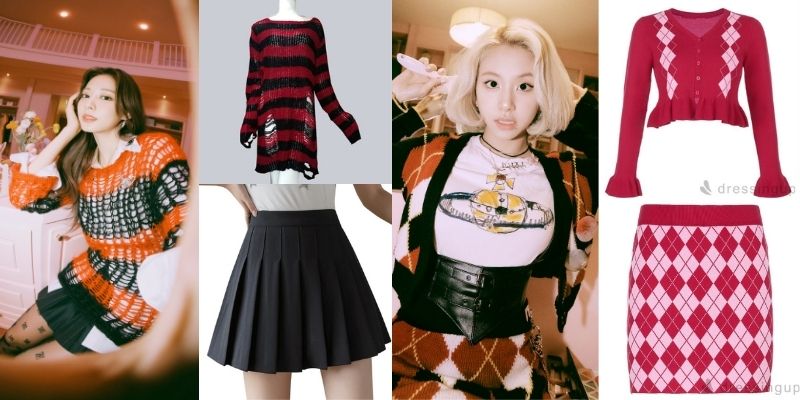 Although both Tzuyu and Chaeyoung's looks aren't exactly plaid, they're still very much on-theme with their co-members. And it's all thanks to the clever pattern choices of their outfits that somewhat match the plaid fashion narrative. Meanwhile, they've both stuck with red and black hues to tie in with the other members' colour palettes. 
Shop Tzuyu's look:
Shop Chaeyoung's look:
Twin With Your Twice Bias With These Matching

Outfits

Comprising

Plaid Skirts

&

Dresses
Styling plaid shirts, dresses, and skirts into cool outfits isn't that difficult, as proven by Twice's wardrobe above. As such, we hope you're all set to slay Twice's "The Feels" choreo on TikTok. Are you also a Blackpink fan? Then feast your eyes on these best fashion and beauty moments from Lisa's "Lalisa" solo comeback (for the 100 millionth time). If you're more of a K-drama lover, keep an eye out for these K-drama characters who have impeccable style.
Find more Korean-inspired trends here.