Most game nights revolve around the likes of Monopoly and Cards Against Humanity. While there's no denying how fun those games are, they get stale over time. Don't get bored, though, because there are local alternatives just as entertaining—perhaps even more so since they're anchored in relatable nuances and stereotypes. Proudly Malaysian-made, these board and card games provide hours upon hours of good fun through the colourful lenses of the country we call home. 
Malaysian

Board

&

Card Games

To Consider For Your Next Gathering
The Lepak Game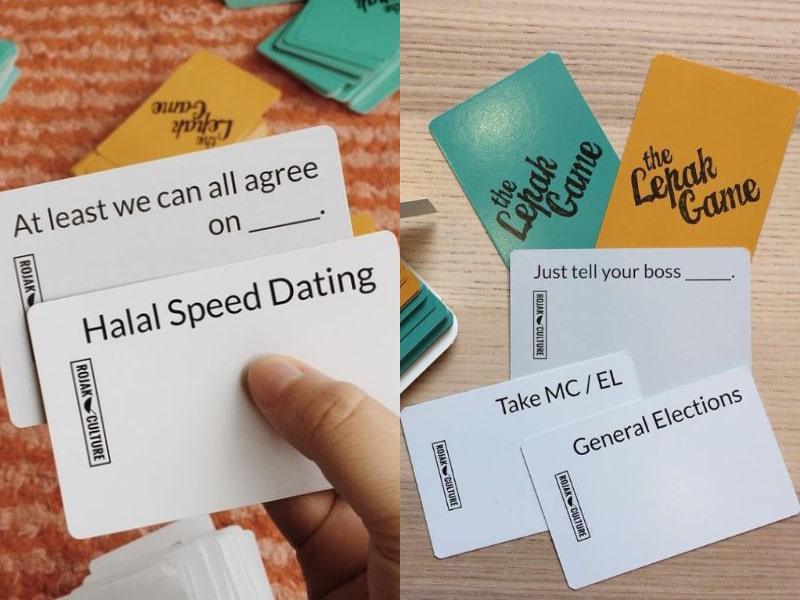 Like Cards Against Humanity, but with a local twist and less risqué. The Lepak Game fuses hilarious commentary with conversation starters that we as Malaysians know all too well. Each round a "boss" draws a yellow card containing a phrase or question, and it's up to the other players to match with a blue card. There are no right or wrong answers here; you must bodek (persuade) the "boss" to choose your card to win. 
Price: RM119 for the basic deck, RM36 for the expansion pack
Number of players: 4 – 8
Website | Facebook | Instagram 
The Malaysian Dream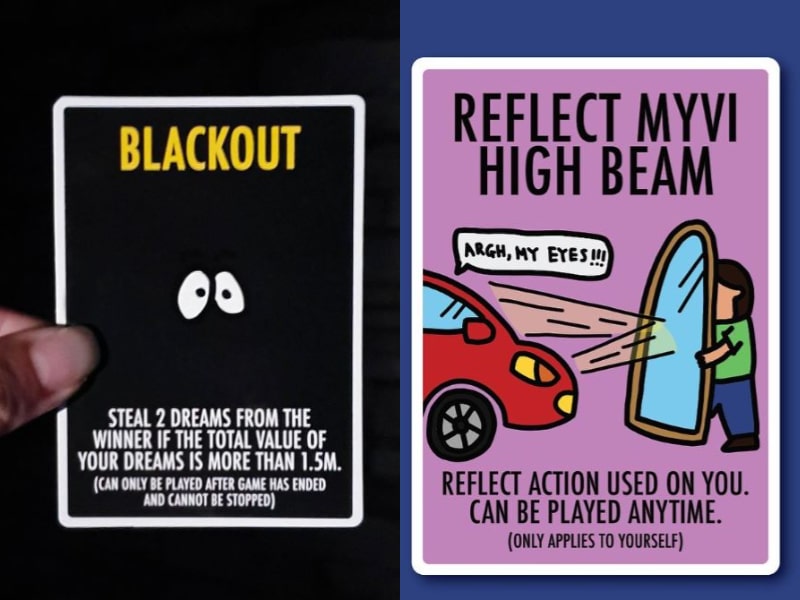 Conceived by the great minds behind MGAG, The Malaysian Dream is a card game that celebrates the important things (referred to as "dreams") of an average Malaysian, from finding parking in a busy shopping mall and paying off student loans to spending a fortune on a wedding. The goal is to collect as many dreams as possible, and how does one do so? In true Malaysian fashion—with money. 
Price: RM39
Number of players: 4 – 6
Website | Facebook | Instagram
Drama Pukul 7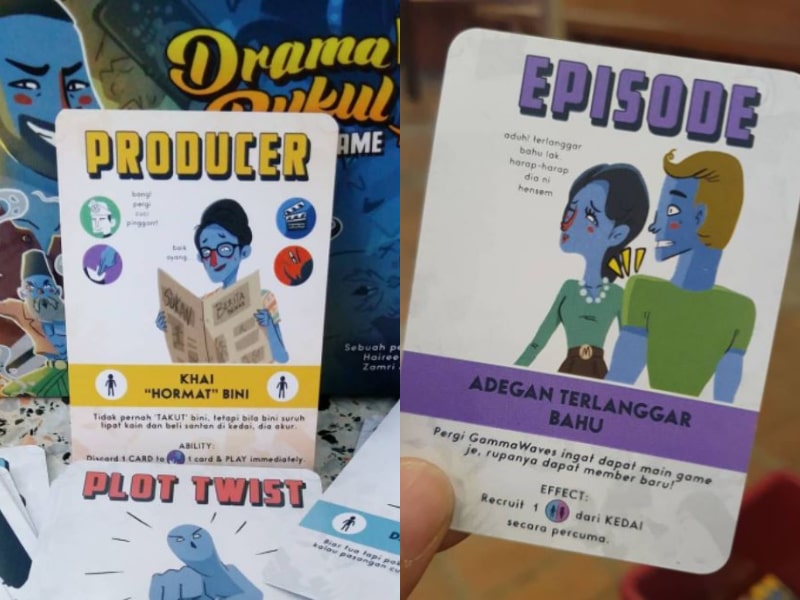 Playing on the tropes of Malay dramas, Drama Pukul 7 is a Malaysian board game that puts you in the director's chair to throw in melodramatic twists and backstabbing plot lines to make your episode as over-the-top as possible. From uncovering a secret affair to discovering that everything was just a dream, being over-the-top is one trait you need to win this game. 
Price: RM85
Number of players: 3 – 6
HR: The Toxic Workplace Game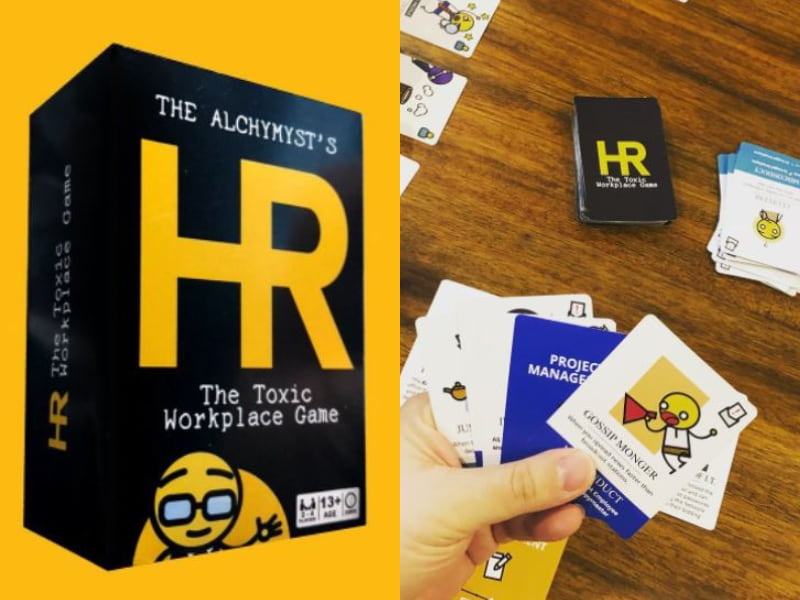 Office politics is the bane of work culture. It destroys reputations and careers, contributes to dwindling mental health, and makes for a terribly fun card game. That's right, in HR: The Toxic Workplace Game, your assignment is to be a swindling, two-faced, despicable corporate junkie. Choose between smooth-talking your way out of a warning letter and sabotaging your colleague's project with a lawsuit, you'll have to do what it takes to climb the corporate ladder. 
Price: RM50
Number of players: 2 – 4
Website | Facebook | Instagram 
Kaki-Lima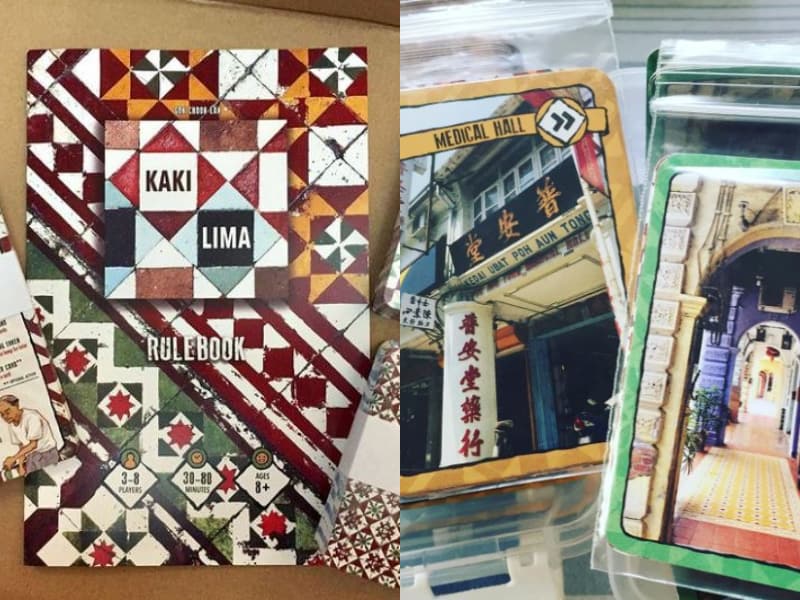 Travelling to Penang soon but don't know where the good spots are? Kaki-Lima is a Malaysian exploration board game that sends you around Georgetown's many famous landmarks, visualised through the works of local artist Charis Loke. Putting an interactive spin on mundane travel guides, Kaki-Lima is played through the perspective of a local as you complete a series of tasks ranging from grocery shopping at the Chowrasta Market to visiting art galleries at HIN Bus Depot. 
Price: RM168
Number of players: 2 – 4
Kuih Muih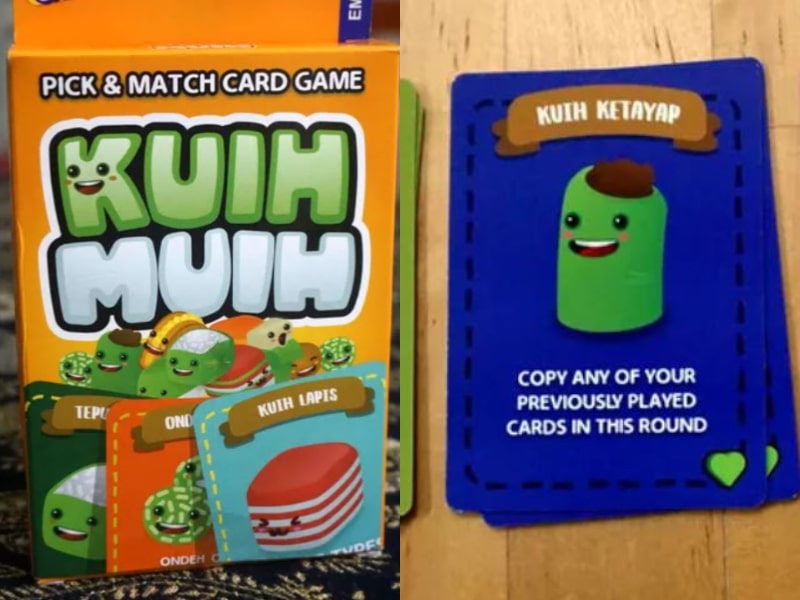 A Malaysian take on the popular Sushi Go!, this card game will have players scrambling to collect points in the form of the delicious kuih. The game is rather fast-paced, but strategic thinking is required if you want to win because each kuih comes with different points and combinations. The player with the most points wins, but be wary of power cards—opponents can steal points through them! 
Price: RM39.90
Number of players: 2 – 6
Codenames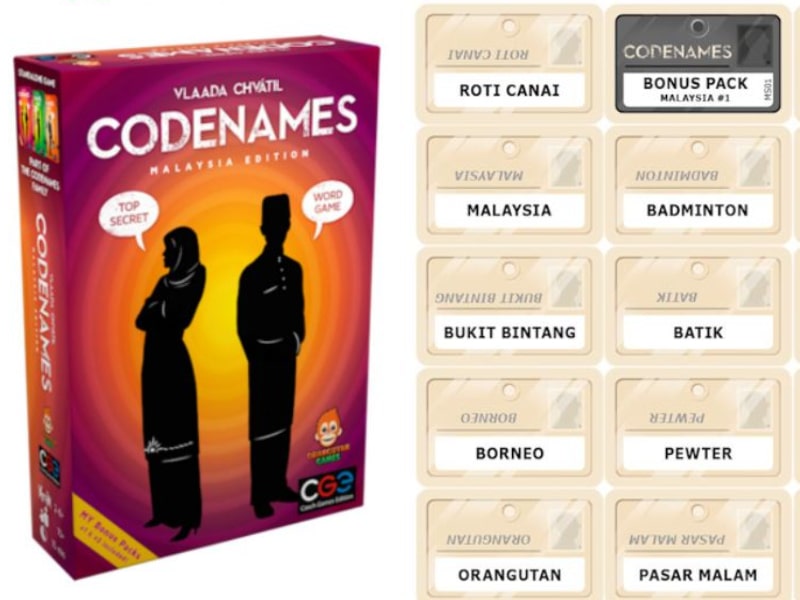 Do you have what it takes to decipher codes a la the great 007? Codenames pits you against each other in a game of wits and lingo. A spymaster is chosen to represent a group of secret agents. Using only one-word clues, the spymaster must direct its secret agents to find the right words on the board while avoiding those that belong to the opposing team. The Malaysian rendition of this popular board game also features unique words like durian, roti canai, and Bukit Bintang. The question is: Can you guess it right?
Price: RM99
Number of players: 2 – 8
Pasaraya: Supermarket Manager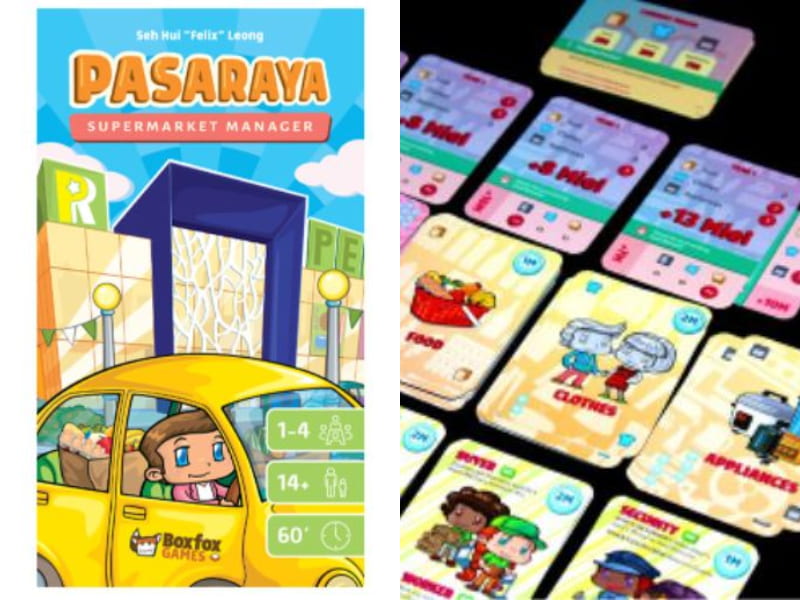 Being an entrepreneur isn't a walk in the park. You need to be on the pulse with everything in the business, from stocktaking to manpower. In Pasaraya: Supermarket Manager, you'll learn the ropes of entrepreneurship by running a supermarket and overcoming all odds to beat the competition (opponents). 
Price: RM116
Number of players: 2 – 4
But Honestly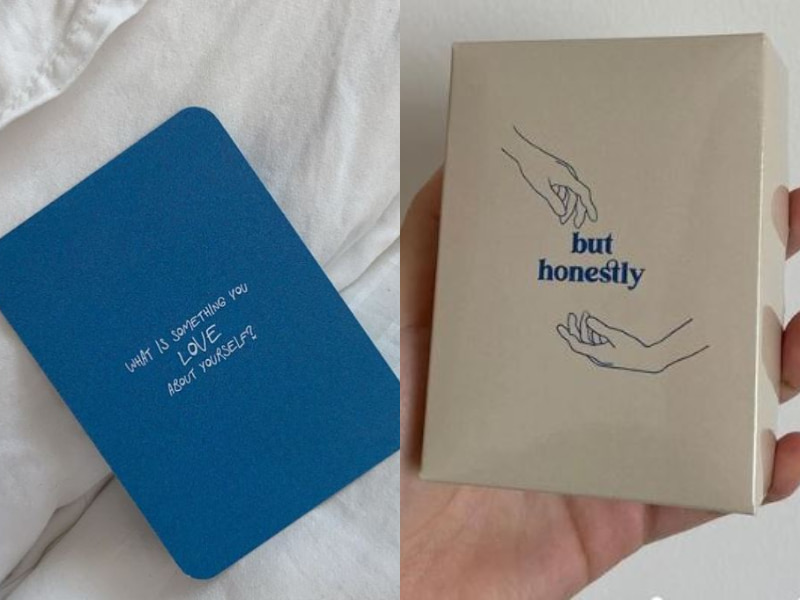 Board games are normally centred around escapism. That's not the case for But Honestly, a conversation starter that promotes introspection and reflection, allowing friends or even strangers to share their experiences in a non-judgemental setting. The premise is simple: Players take turns drawing question, action or wild cards from three different decks with varying levels of vulnerability, and answer the question or complete an action with unfiltered honesty. 
Price: RM69.90
Number of players: 2 – 8
Explore Local Culture Through These Malaysian

Board

And

Card Games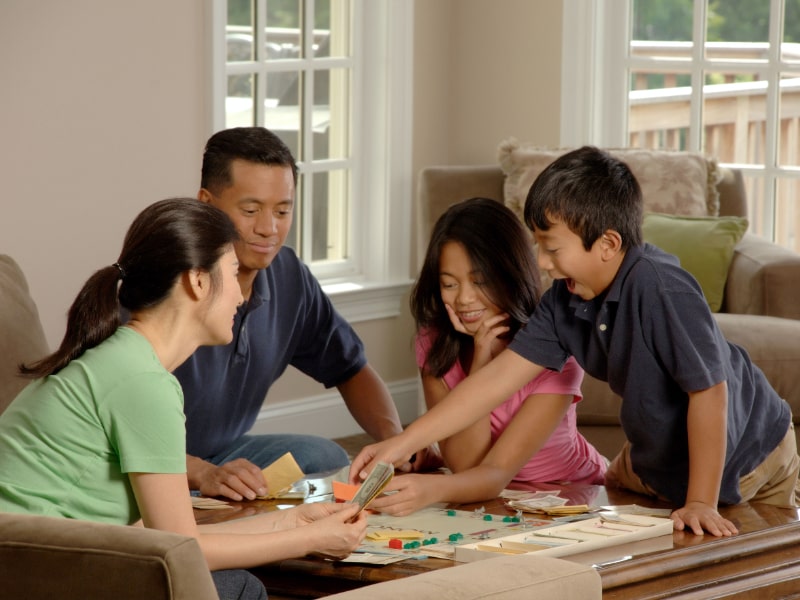 The aforementioned Malaysian board and card games are a healthy antidote for those looking to decrease screen time. Furthermore, everyone will feel engaged, invested, creative, and not to mention, very competitive. Whether you're into nerve-cracking strategy games or hilarious fill-in-the-blanks, these interactive titles will keep you busy and entertained for hours. 
More of an outdoor person? Spend your off days gazing at these mesmerising waterfalls in Selangor, hiking Klang Valley's best trails, or scale to new heights at these rock climbing and bouldering facilities.