With the plethora of zombie movies and TV shows to choose from, did we really need another added to the list? Yes. Yes, we do. By now, you've probably all binged through every single episode of South Korea's latest thriller, All Of Us Are Dead on Netflix. Apart from having to deal with the world going to absolute chaos, you've also got teenage angst thrown into the mix. Think coming of age meets dystopian genre—what's not to like? 
Admittedly, seeing as it's set in a high school setting, there's not much variation fashion-wise. But with the rise of the preppy and academia aesthetics, even the characters' regular Korean school uniforms look trendy. Here's a deeper dive into each of their outfits to help you recreate their looks IRL. 
The

Korean

School

Uniform

Aesthetic Based On The Characters From

All Of Us Are Dead

 
Cosy Hoodie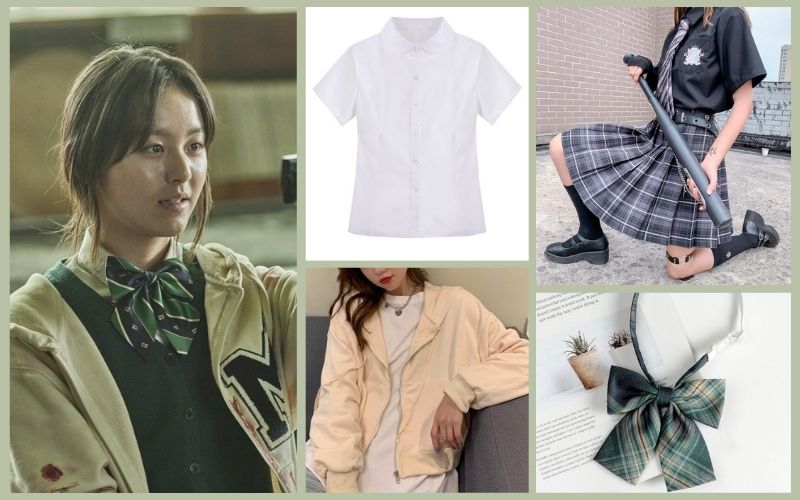 Though Nam On-jo occasionally freezes out of fear, she knows how to be a strategist when the time calls for it. She's also the peace-maker within the friend group and is usually the one resolving arguments to maintain their teamwork. 
Her uniform is the most casual out of the girls. She's thrown on an oversized hoodie to keep herself warm and her hair is messily tied in a low ponytail. Because, hey, if you're going to get zombie guts all over you, it might as well be on a ratty 'ol jacket. 
Shop On-jo's Korean school uniform style:
Preppy Sweater Vest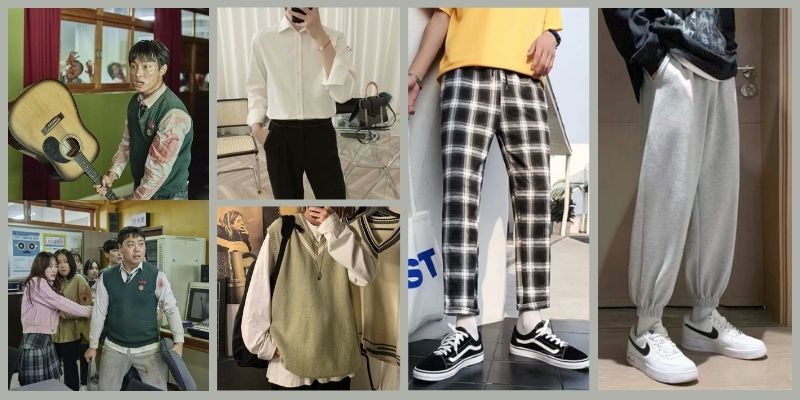 Best friend, On-jo, might describe Lee Cheong-san as stubborn and reckless while others may call him brave. Whatever you choose to call him, Cheong-san's self-sacrificial plans has consistently helped the group make their narrow escapes.
As for his uniform attire, he's opted to go the sweater vest route together with the other guys in the cast. However, Yang Dae-su has replaced the school's plaid pants with a more practical alternative: sweatpants. 
Shop Cheong-san's Korean school uniform style:
Related: Sweatpants, Elevated: 7 Stylish Ways To Dress Up Your 'Lazy Day' Joggers
Monochromatic Green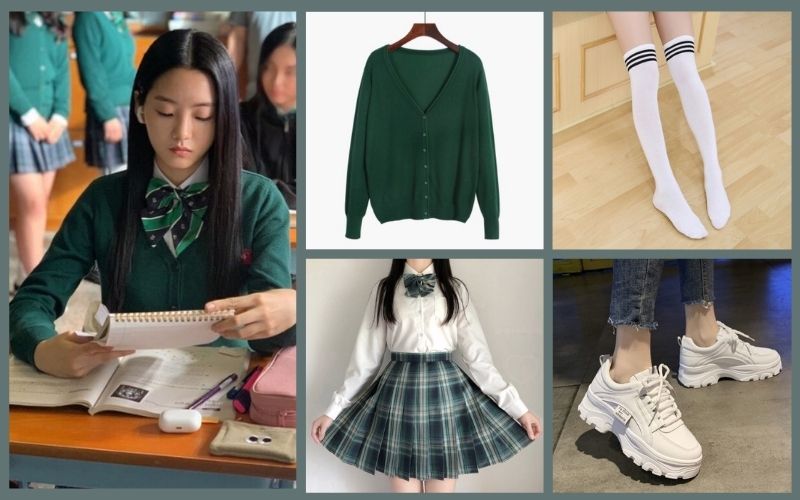 As the class president, Choi Nam-ra is always level-headed even in the direst situations. Despite her seemingly cold exterior, Nam-ra ensures that the team is considering all options before putting their plans to take action. While this realistic practicality of hers can rub her classmates the wrong way, it also helps them to acknowledge their bitter circumstances. True to her model student character, Nam-ra's uniform is by far the neatest. There are very few changes to her ensemble, but this simple, monochromatic preppiness is the charm of her look. 
Shop Nam-ra's Korean school uniform style: 
Smart Blazer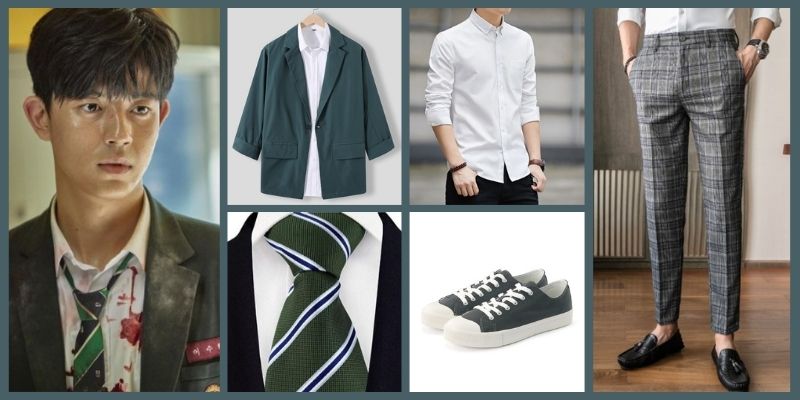 Moving on to everyone's favourite heartthrob, Park Solomon's character as Lee Su-hyeok has us all swooning over his handsome looks and kind personality. On top of his ability to stay calm under pressure, his martial arts skills come in especially handy when fending off zombies. 
Unlike the other guys, Su-hyeok's uniform is just a tad bit more formal, favouring a pressed blazer over the knitted sweater vest. 
Shop Su-hyeok's Korean school uniform style:
Soft Girl Cardigan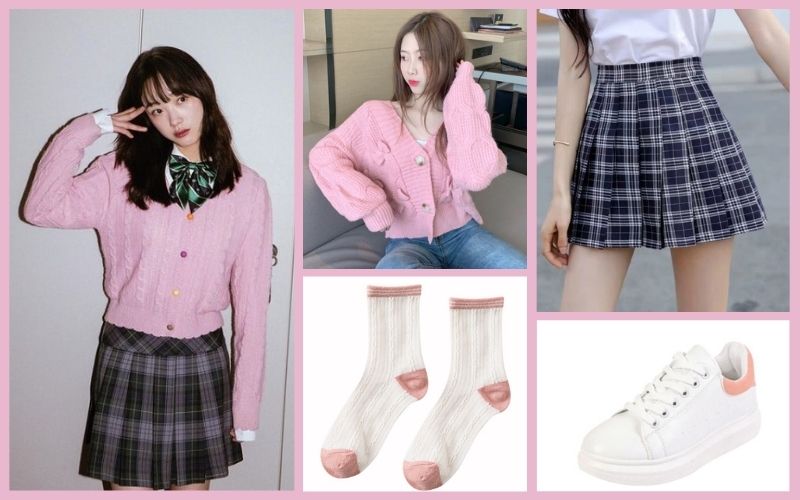 Lee Yoo-mi may have won (and broken) our hearts in Squid Game, but we definitely can't say the same for her character in this series. Lee Na-yeon (Yoon-mi's character) is often yelling at others for solutions but without actually contributing anything herself. 
While most of the girls are donned in green, Na-yeon's Korean uniform features more pink accents. Interestingly, although pink is often associated with femininity and sweetness, it can also symbolise unconfidence and childishness. Whether done intentionally or not, Na-yeon's soft girl outfit certainly stands out—not exactly what you'd want in a zombie apocalypse. 
Shop Na-yeon's Korean school uniform style:
Related: Styling Cardigans Tips For Women: 9 Outfit Ideas To Copy RN
Pretty In Pink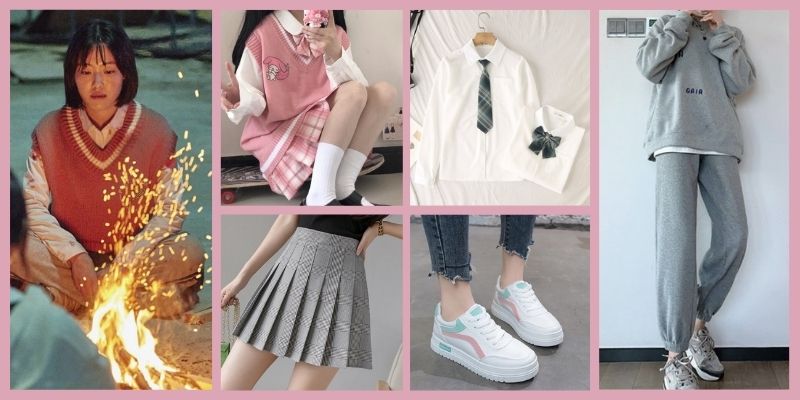 Besides Na-yeon, Seo Hyo-ryung is also in pink. However, in contrast to Na-yeon's whiny and selfish behaviour, Hyo-rung portrays a much softer and compassionate personality. Though not much of a planner, she's willing to do whatever it takes to survive and helps the group execute their strategies. 
Shop Hyo-Ryung's Korean school uniform style:
Athleisure-Chic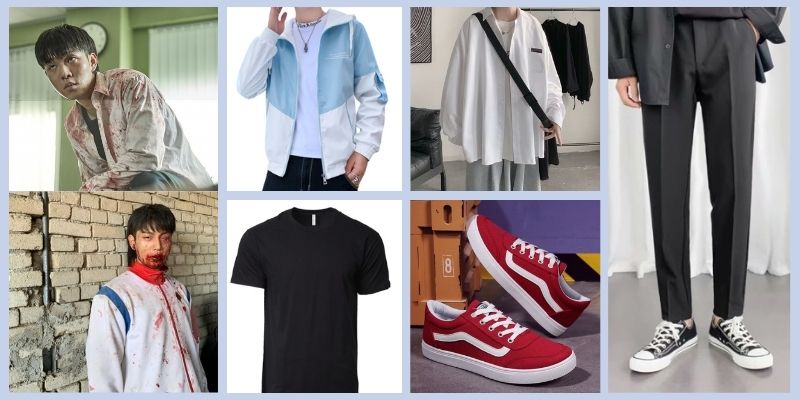 Finally, we're onto our last character on the list. And if you thought Na-yeon was bad enough, Yoon Gwi-nam earned his spot as the villain we all loved to hate. Throughout the series, we see him gradually become progressively evil as he transitions from a bully to a psychopathic murderer. While the main cast demonstrated the importance of survival through teamwork, Gwi-nam isn't above using his classmates as human shields. 
His uniform takes on the stereotypical style of every rebellious school bully you've seen in K-dramas. He's ditched the tie and left his shirt unbuttoned. Meanwhile, his shoes are a bright fire-red instead of the standard white or neutral-coloured sneakers. 
Shop Gwi-nam's Korean school uniform Style:
Can You Escape The Zombies From

All Of Us Are Dead?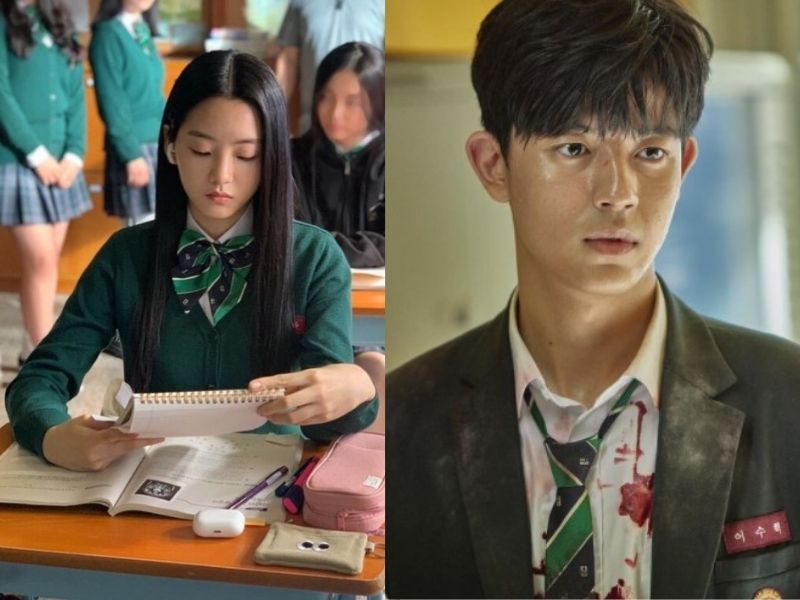 Which character do you think you would act like in a zombie apocalypse? Tell us your favourite look and what you'd do to make it out alive down in the comments below. Just graduated from high school? Then draw inspiration from K-drama Nevertheless to get your outfits sorted for your first year in college! 
Find more Korean-inspired trends here.